Original V-Kool Window Tint
Authorised V-Kool Tint Film
---YEAR END PROMOTION Automotive/Residential/Commercial Tint Installation ---
https://forum.lowyat.net/topic/3169621
Get V-KOOL tint for a better heat rejection and UV protection!!!
:)

V-KOOL XIR Technology
There's more than meets the eye when it comes to the V-KOOL difference. The superior XIR technology used in our window films is not just seen, it is felt.
When compared to conventional solar control films, #V-KOOL's superior spectrally-selective performance is obviously felt because dyed and ceramic films absorb infra-red solar heat and make glass hot whereas V-KOOL Solitaire Series films possess infra-red heat reflection capabilities that keep both the glass and interior of your car at a more comfortable temperature. #VKoolTint

-->The technology behind V-KOOL's revolutionary performance is in a complex process of embedding multiple stacks of heat reflecting precious metals.

-->The super clear substrate is embedded with atomic layers of Gold, Silver and Indium Oxide.

-->This complex process gives V-KOOL its amazing heat reflection qualities without looking reflective or dark. V-KOOL is made of precious metal – Gold, Silver and Indium Oxide.

-->Gold is used to fortify the metals for extended durability. Silver and Indium Oxide create superior heat rejection performance while keeping the film highly transparent.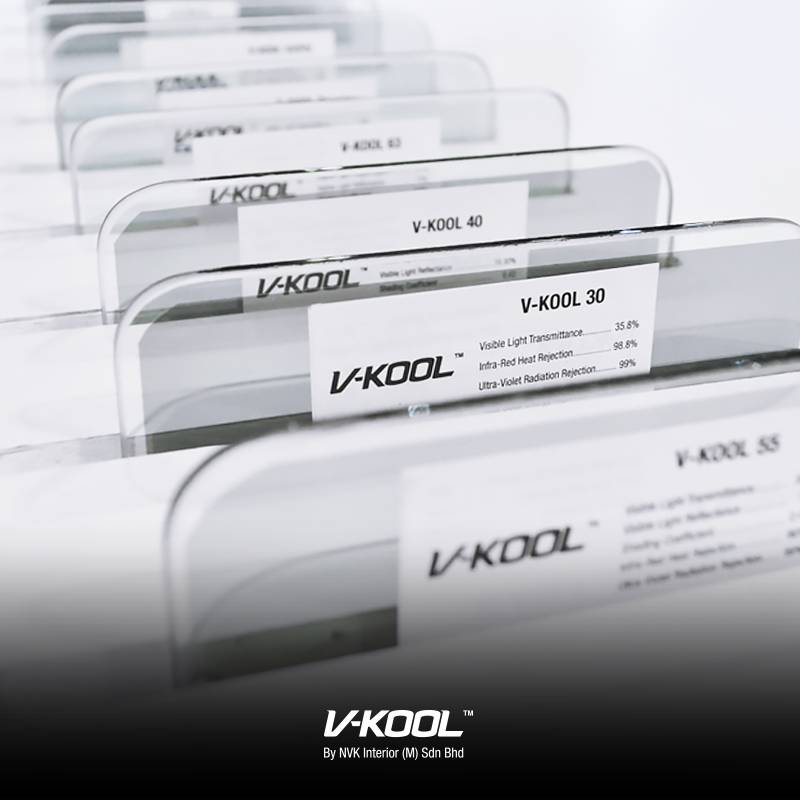 Terms Explanation
(VLT) Visible Light Transmitted is the amount of visible light that means how much light can pass through the window, the higher means the clearer it looks.

(TSER) Total Solar Energy Rejected is a metric that describes the total amount of solar energy (UV + visible + IR) that is blocked, or rejected, from passing through the window.The higher the percentage, the higher the percentage of solar energy deflected.

(IRR) Infra Red Rejection as a guide to the level of heat rejection. However, IRR only covers a fraction of TSER.The TSER is the "true" heat rejecting value fo a film, because it takes the entire solar spectrum into account

(UVR) Ultraviolet Rejection is the percentage of ultraviolet energy deflected away from the window film. Ultraviolet rays can cause upholstery and furnishings to fade. It can also cause skin damage and skin cancer. It's why The Skin Cancer Foundation recommends window tint as part of a comprehensive skin care program.
Contact/PM/Whatsapps-------018-3199068
Last edited: