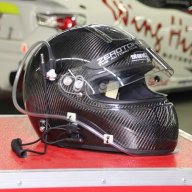 Jul 6, 2000
5,390
3,135
5,213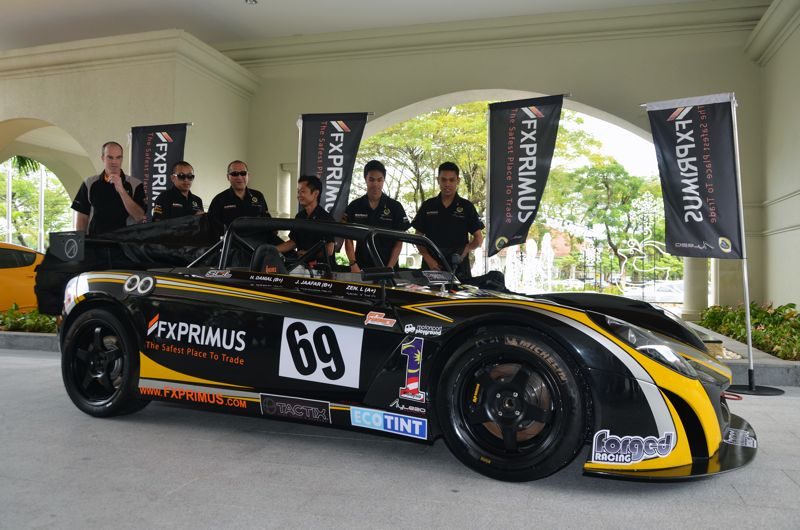 Malaysia took another step into cementing itself as a serious contender in the world of motorsport with the unveiling of Team 1Malaysia FXPRIMUS Aylezo; an endurance racing team put together to compete in the inaugural Gulf 12 Hours race in Abu Dhabi.
On hand to officiate the launch of the Team was Minister in the Prime Minister's Department Dato' Seri Nazri Aziz who also officially unveiled the logo for the PRIMUS Child Foundation – a foundation created to increase the level of awareness and knowledge of child development, and to transform the lives of children worldwide through sustainable programs.
Also present was the President of the PRIMUS Group Ltd, Mr. Terry Thompson, who in his speech made an interesting observation of the 1Malaysia concept. He said, "We at FXPRIMUS are very proud to be the title sponsor of Team 1Malaysia FXPRIMUS Aylezo. When I was first presented with the idea of sponsoring the race team here in Malaysia, I asked what the name 1 Malaysia stands for and after I understood the significance of that name, we decided that this is something that we must be part of. This is because we at FXPRIMUS believe in the same underlying principles of being ONE and united regardless of what ethnic or cultural background someone comes from since we currently do business in over 155 countries across 6 continents and we have a multicultural team working to support these markets."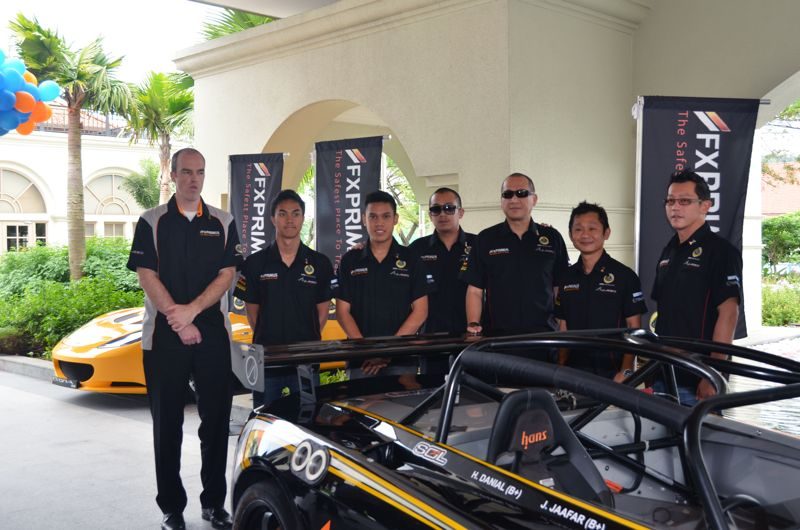 "At FXPRIMUS we believe that whenever we decide to go into a new market we must always contribute first to the local community. As such, our support of the local motorsport industry through our sponsorship of Team 1Malaysia FXPRIMUS Aylezo demonstrates our belief in not only the team but also the capability of Malaysian drivers to shine in the international motorsport circuit. We are further pleased knowing that our drivers will be racing a car built by motorsport legend Lotus with full technical support from Lotus Cars Malaysia."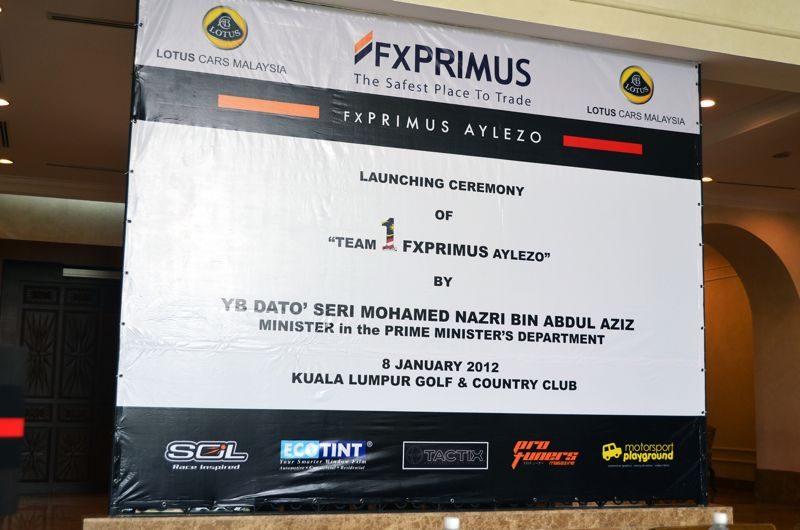 Team 1Malaysia FXPRIMUS Aylezo will compete in the 1st edition of Gulf 12 Hours race that is happening on the 20th January 2012. The race is also the first ever endurance race to take place at the world renowned and glamorous Yas Marina Circuit in Abu Dhabi.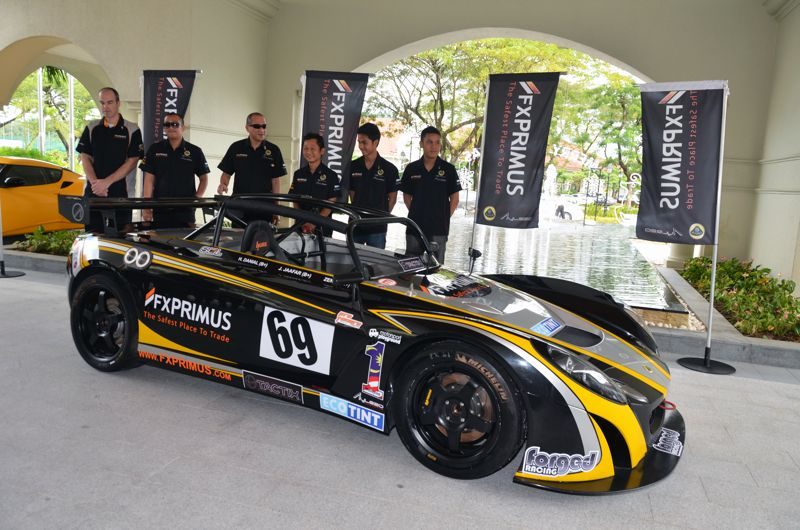 The endurance race will feature 48 cars from around world with Team 1Malaysia FXPRIMUS Aylezo as the only Team to represent Malaysia.
The race also acts as an affiliate and commercial link between Malaysia's very own 12 hour endurance race, the Merdeka Millennium Endurance Race. Organisers of both races will share information, commercial partners as well as make it easier for teams to compete in both events, officially opening Malaysia to the rising scene of endurance racing.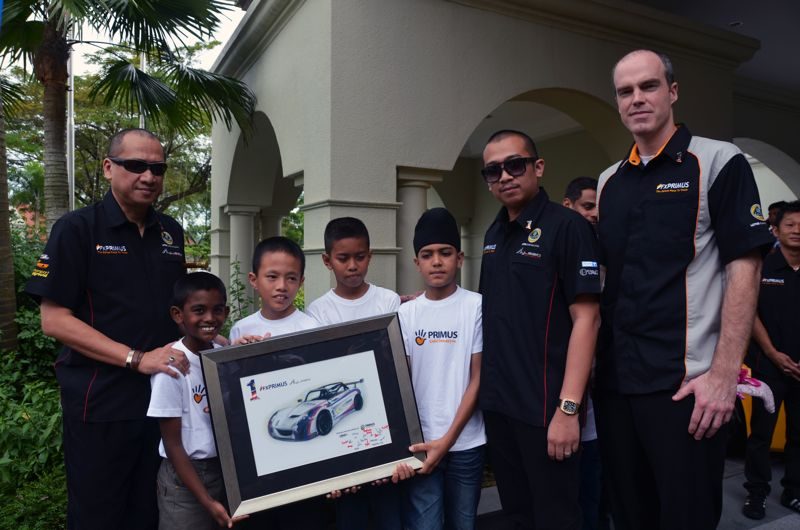 Unlike other races, Gulf 12 Hours is a 'by-invitation only' event. Teams that wished to take part in the race had to write an official letter to the race organiser, show their merit and experience and upon selection, were then invited to compete in the race.
Team 1Malaysia FXPRIMUS Aylezo is operated by its founder, owner and driver – Zen Low and by its Team Principal Mohamed Nedim Dato' Seri Nazri Aziz. Currently in its third year of racing opera- tions, the Team is a professional racing outfit featuring twenty-two personnel and one race car – a Lotus 2-Eleven that is maintained by professional engineers from Lotus Cars Malaysia and Aylezo Motorsports.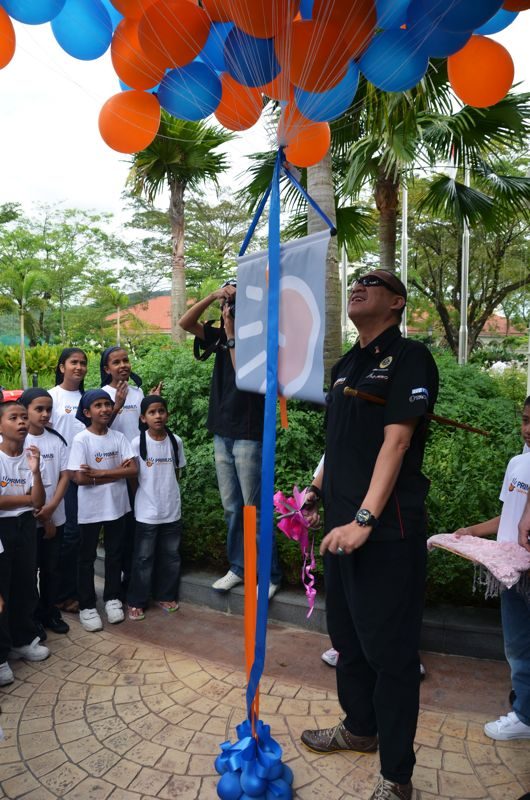 Backed by FXPRIMUS, a Mauritian-based financial investment company as well as an array of Malaysian companies like Tactix Tools, EcoTint, Motorsport Playground and Sol Helmets, the Team also features an impressive line-up of very experienced race drivers.
Team owner Zen Low is a veteran of numerous endurance races. He is supported by first ever Malaysian Formula One driver Alex Yoong as well as UK-based Formula 3 racer and Malaysian wunderkind Jazeman Jaafar and Petronas Formula Xperience racer Hiqmar Danial.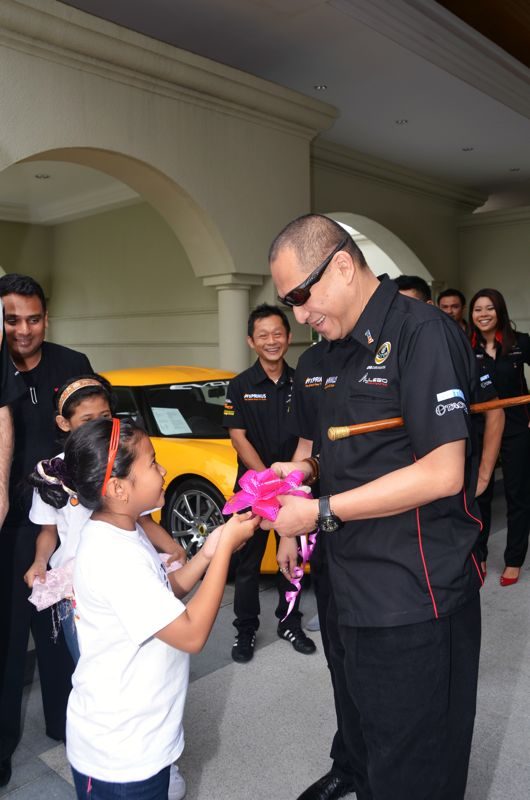 The team is flying to Abu Dhabi a few days before the race to prepare the car and to familiarise themselves with the time and weather. We here at On The Road will also be flying with them and will be providing you with live updates and pictures from the Yas Marina Circuit.
To follow the progress of the only Malaysian team at the Gulf 12 Hours, log on to
TopGear Malaysia
from the 18th January onwards to get live updates on the race as well as to see their latest pictures. For more information, please contact:
Zen Low
+6 019 8181 869
zen@aylezomotorsports.com