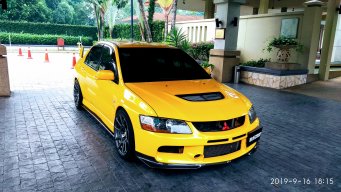 Oct 8, 2010
6,605
1,265
1,713
Hi, Guys. Planning to get a used car for fun drive. I love old honda ( i dont have much money for the newer one ), it is easy to maintain, cheap to take care and i prefer the older design.

Planned to get something lighter and faster beside my daily driven euro r. In my mind, i am thinking of :
- civic eg 2doors
- civic ek 2doors
- crz ( the hybrid )
- jazz ( ge or gk )
- dc5

It can carries either b16, b18 or even k20.
Price range rm60000
What do u guys think?

Honda forever...classic way better
Out of those I'd get the DC5 but it's not lighweight compared to the rest and for you I'd think rather redundant if you already have a CL7. And for around 60k, I'd rather get a real Evo 5/6 which is about the same body size and weight but way faster. Lol
EG and EK are great but IMHO too overpriced. If have to choose between them, I'd get the EG coz looks nicer and not as rare so at least easier to get parts.
CRZ is a hybrid and slow, Jazz even slower. Both are out of context if you want faster cars! Unless you want to dump tons of money in it along with the higher headache during the journey.
So in summary, none seems the right choice! Lol. Or maybe an EF as suggested by Izso is better, if you still must have a Honda.