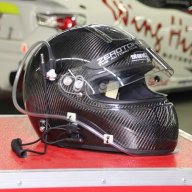 Jul 6, 2000
5,450
3,156
5,213
Yes, there's quite literally nothing from idle, right up till a couple of hundred revs before the 1.4L TSI compact SUV begins to haul. This will take some getting used to, especially if you've never been acquainted with today's small turbo engines. Still, the new Tiguan's 150ps 1.4L Turbo TSI is impressive, even when taking into consideration this initial laziness.
So, prod the pedal and the Tiguan will lurch in a second or so, but bury the throttle and soon you'd discover there's quite a gush from the mid to end, even despite power tapering off prematurely, this engine continues to entertain with its passion for revving high.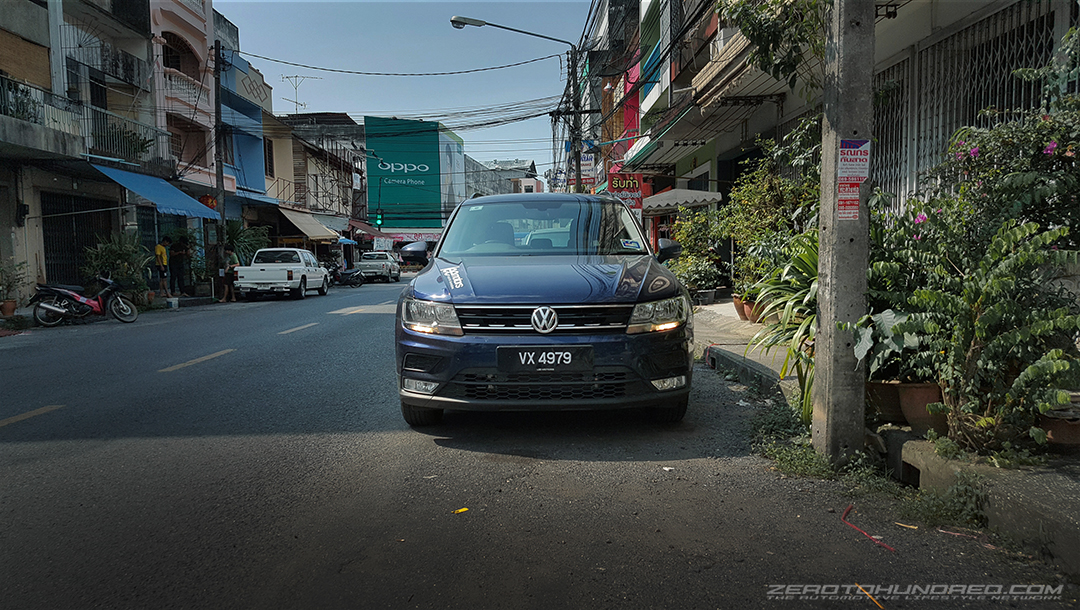 2017 VW TIGUAN 1.4TSI SPECIFICATIONS
Engine
: 1.4-litre 4-Cylinder Turbo TSI engine
Power
: 150hp @ 5,800rpm
Torque
: 240 Nm/1750-4000 rpm
Zerotohundred
: 8.9 seconds
Transmission
: 6-speed wet clutch DSG
Price
: RM148,990 Comfortline / RM168,990 Highline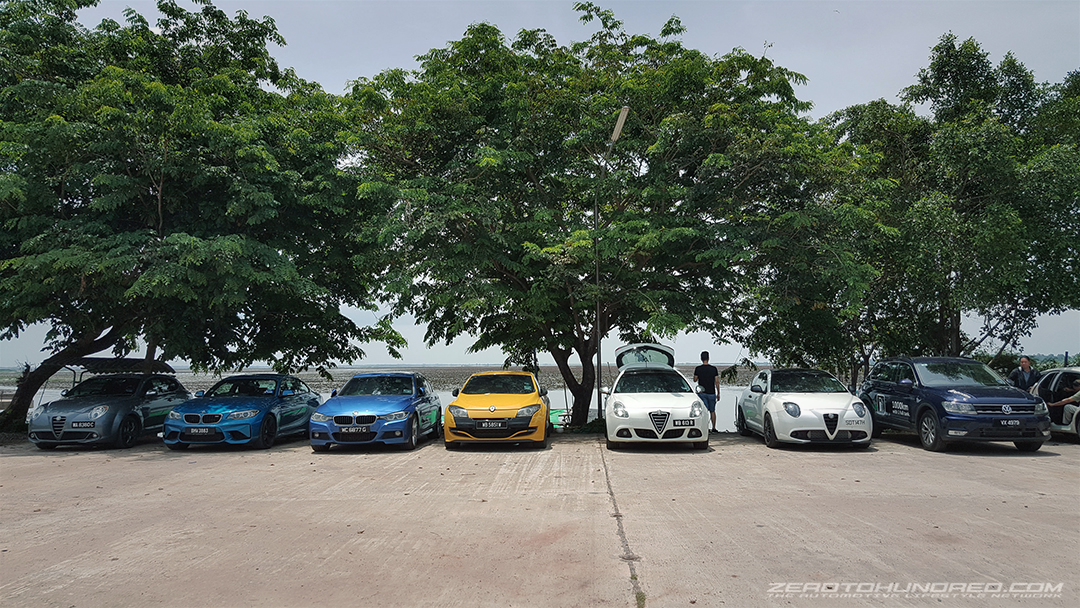 Thanks VW Lee Motors
Before we proceed further, I'd like to give a mention to VW Lee Motors Alor Setar for exclusively preparing this zero-mile Tiguan for our first drive review to Hatyai Thailand. It was routine northern drive and dine with the boys and nothing is more right than to do it in a SUV.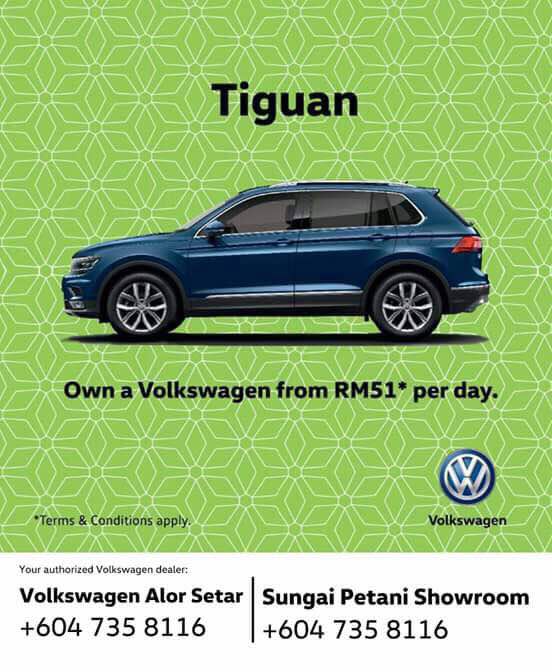 So, if you're about to purchase the VW Tiguan after reading my review, do consider VW Lee Motors, I heard they're knocking off RM5,000 the retail price for the coming Hari Raya festivities, so give them a call!
<iframe class="instagram-media instagram-media-rendered" id="instagram-embed-0" src="https://www.instagram.com/p/BTIxs4FF_mX/embed/captioned/?cr=1&v=7&wp=556#%7B%22ci%22%3A0%2C%22os%22%3A874.6850000000001%7D" allowtransparency="true" data-instgrm-payload-id="instagram-media-payload-0" scrolling="no" style="background: rgb(255, 255, 255) none repeat scroll 0% 0%; border: 1px solid rgb(219, 219, 219); margin: 1px 1px 12px; max-width: 658px; width: calc(100% - 2px); border-radius: 4px; box-shadow: none; display: block; padding: 0px;" height="577" frameborder="0"></iframe> <script async="" defer="" src="//platform.instagram.com/en_US/embeds.js"></script>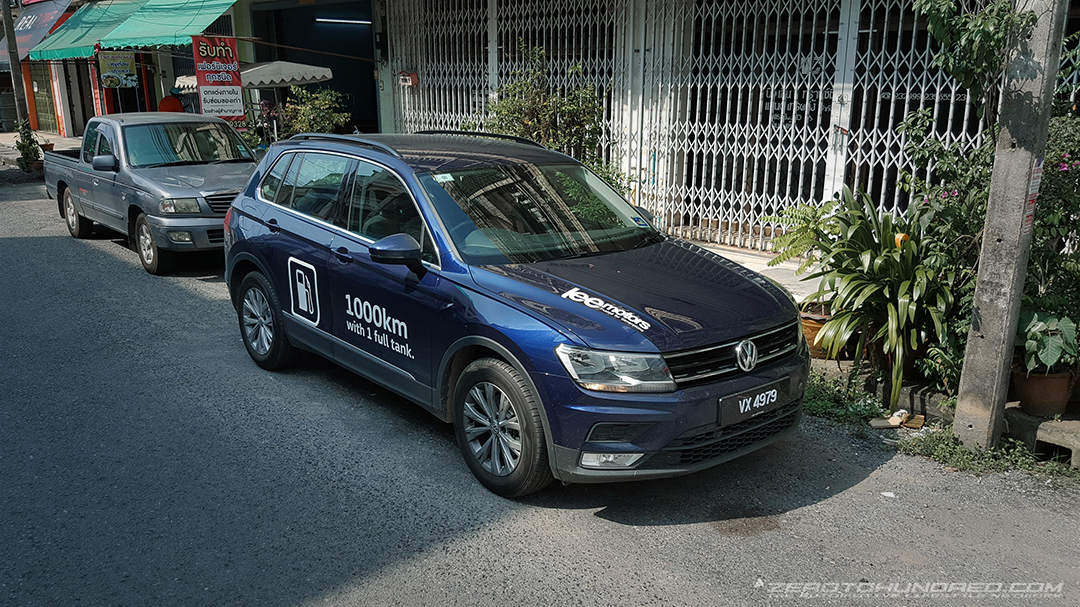 Tiguan Journey Continues
Keep the throttle floored and the Tiguan will be more than happy to take you past 200 rather briefly, pulling some decent G's too. I was grinning at times, admiring the Tiguan's value for money-ness in performance. Especially because of its undeniably sweet wet-clutch 6 speed transmission from the Golf GTI. This DSG box makes all the difference in the Tiguan experience. So nope, it's not as gutless as the haters claim.
That's up till say, a slow car creeps onto "your" lane, you release the throttle and that precious boost you've painstakingly built is lost. Get back on the throttle and you'd be dumbfounded by its lack of go at times. This is precisely when the Tiguan start to frustrate.
Throttle response is the most distinctive part of the 1.4TSI. The small cc turbo engine will either pull hard at full boost or hover nicely off boost, but provides virtually nothing in the middle. Yet, it is safe to say, general driving wise, power in the Tiguan is always adequate, rarely found wanting.
It will take effort to get it up to speed and some planning to maintain it. So, to get the most of the 1.4L TSI, you'd need to cane it, or it can be too tame a car, almost tired. Then you realise this is still only a 1.4L TSI, yet feels a whole lot more than 150ps when it goes. That's what I find pleasing about the new Tiguan, to be able to give bigger engines a run for their money.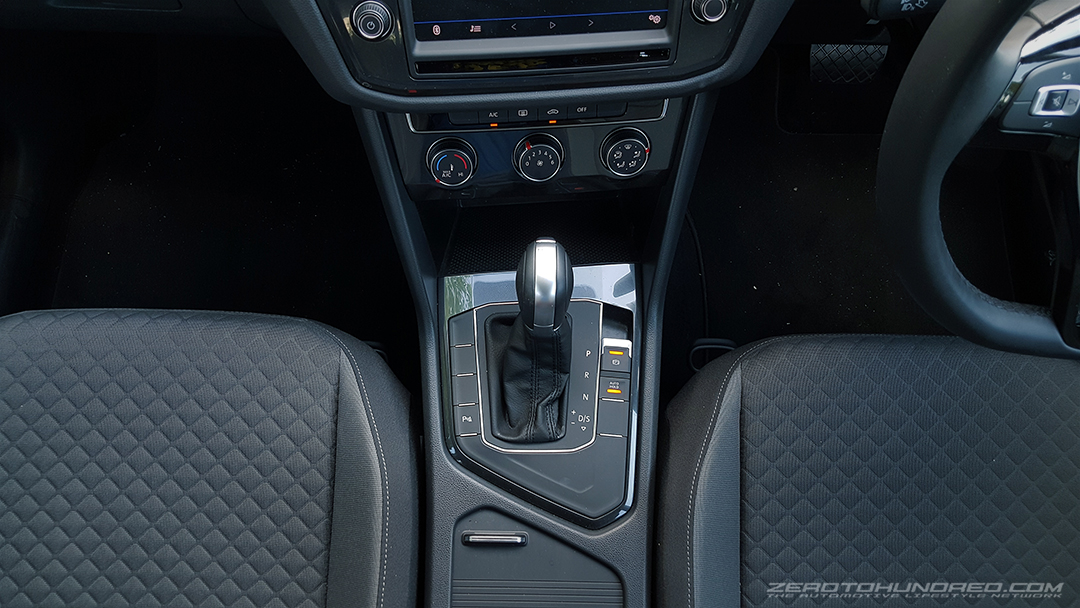 TRANSMISSION
Ultimately, the Tiguan wouldn't have been this good if not for the 6 speed wet clutch DSG lifted from the Golf GTI. Every gearshift feels ripe at full acceleration, accurate at moderate urban running and seamless when at a traffic crawl.
It's comforting to know they've binned the dreaded 7-speed dry box too. This new wet clutch package feels creamy, is quick and very robust. If anything, the 6 speed DSG makes up for any dissatisfaction one may have of the small engine. There is not once I detected weird shift moments or clunks whatsoever. It is also probably the only car in class with a transmission this good. You might want to remember the above aspect before deciding your next SUV.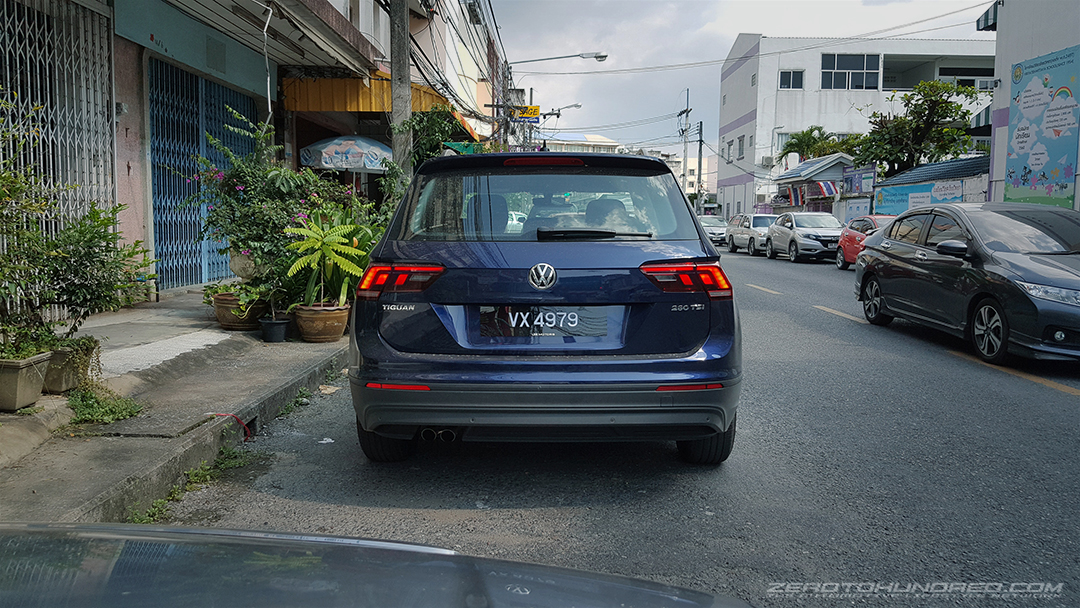 CITY DRIVING
In traffic the Tiguan is well behaved and peaceful. Auto hold is function is great for stop-go crawling through the packed streets of Hatyai. Steering and throttle pedal is nicely weighted in feel and dosage, equating to a pleasant trot through towns and cities. Even when maneuvering through the city, it feels very Golf like, but a jacked up version.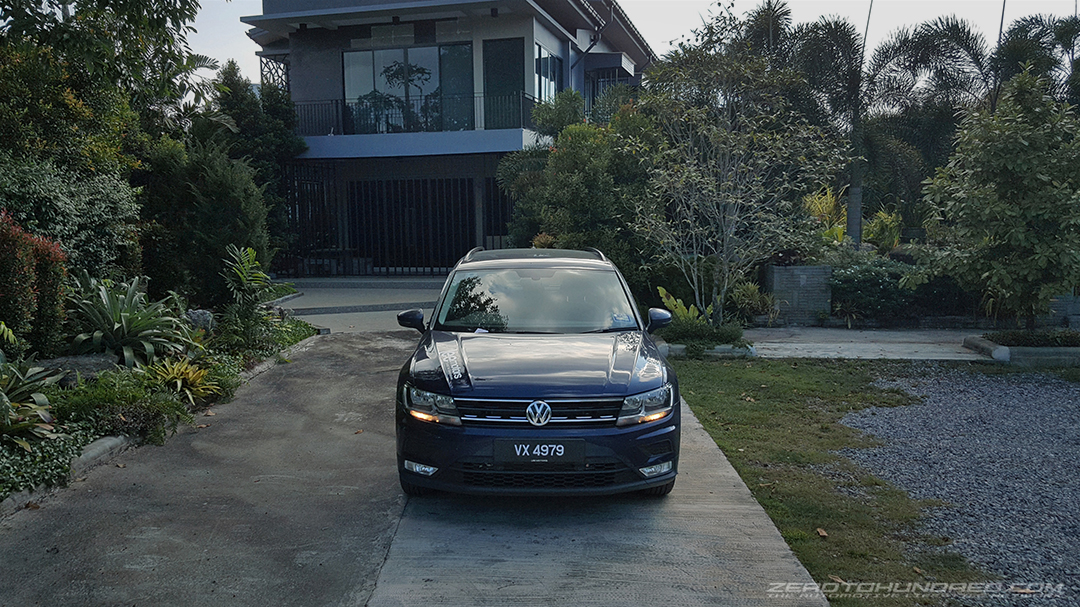 THE LOOK
The Tiguan's all new body is very likeable and almost look more than it cost. It looks a lot more mature and purpose built too. It is also longer and wider than before. There's plenty of influence trickled down from current VW models, especially the Passat inspired nose. There's also the Tiguan-unique 3D taillights, which adds to the appeal of the SUV from the rear.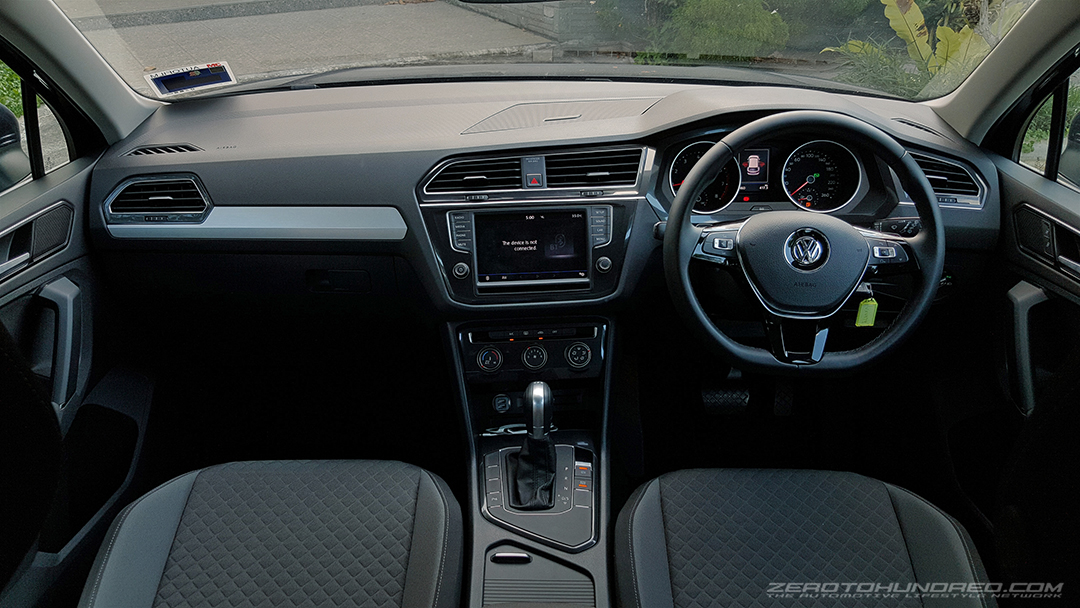 AMENITIES
Okay here is where it gets a little hard to decide. The Comfortline at RM148,990.00 is basic. It's decent, it's very usable but can look like a plain jane. In this base config, you get halogen reflector based headlights, analog instrument cluster, fabric seats and no keyless entry.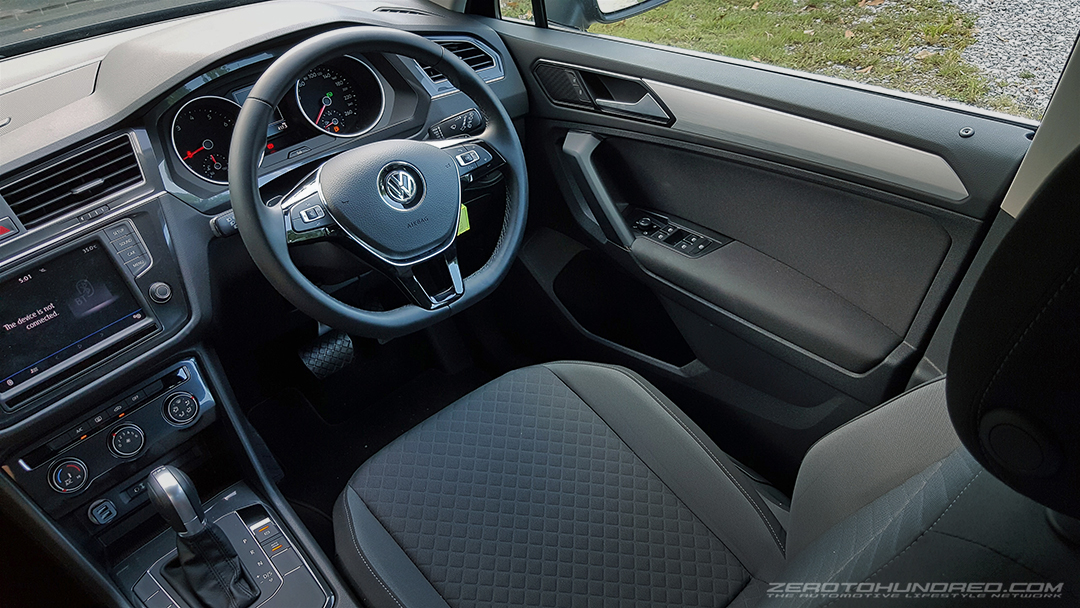 The Comfortline is what I tested for a handful of days traveling from Alor Setar through to Hatyai and back. Now to be honest, it's a good base model, it would likely drive the same and be just as great a family SUV as the more expensive Highline. But if you can, and I believe most of you would, do go for the Highline. It'll improve the Tiguan experience substantially.
Leather Seats, LED headlights, LCD instrument cluster and keyless entry found only in Highline Spec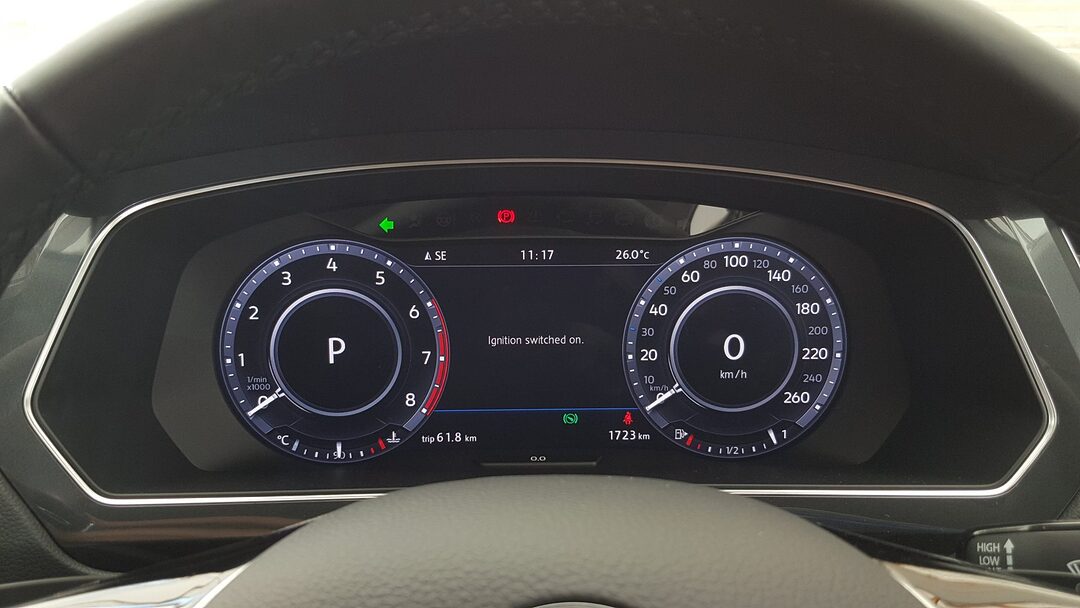 LCD Instrument Cluster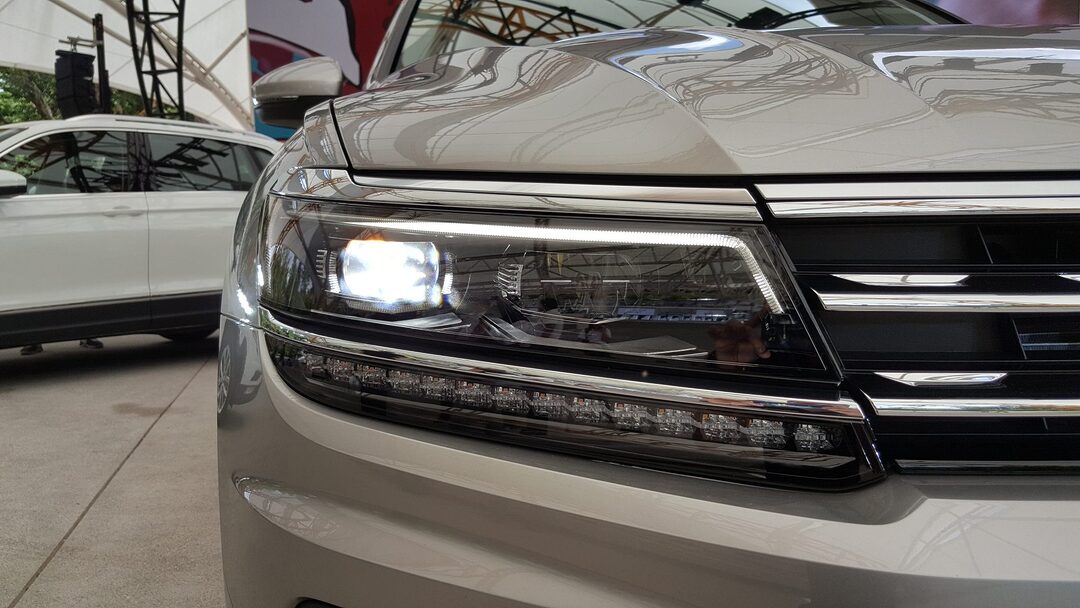 LED headlights
With the Highline spec at RM168,990.00, things get much juicier with the inclusion of LED headlights, multi function 12.3″ TFT Display as the primary instrument cluster instead of the base model's analog speedo and tacho, leather upholstery and the KESSY keyless system.
In either models, rear passengers get airplane type foldable seat trays which had proven damn useful in my weekend escapade with the Tiguan. It is sturdy and has a mechanism for lock or release. There's a million things you can use the trays for as you would on a plane and I wonder why not more cars have it today.
Factory Sound system is better than good, has touchscreen display with cool proximity sensor that changes as your hand nears it. The UI / Theme is well designed and has all support for mobile connectivity usage of today. Audio wise, you'd be pleased that even in the Comfortline, the Tiguan makes great sound and bass. In fact, the sound system is an aspect I enjoyed very much during the road trip.

SUSPENSION
New Tiguan rides really great anywhere. It sure drives like a Golf would and feels almost as agile as the hatch. I've tasted it on a good mix of highways, faux highways, Thai strip laden concrete ways, urban Hatyai town and such. Ride quality wise, it is on the medium to firm side but never hard or harsh.
This Golf influence even apply to the Tiguan's overall handling and driving confidence. It'll happily do 180kmh or more on the highway if you like and would continue to feel well planted at speed. Ex hot hatch owners or young at heart SUV adopters will definitely appreciate the Tiguan's handling characteristics. There's is however a noticeable degree of road feel and noise that the Tiguan fails to filter. But it makes up with an overall smooth and effortless ride. In any case, I'd still say they got the suspension right.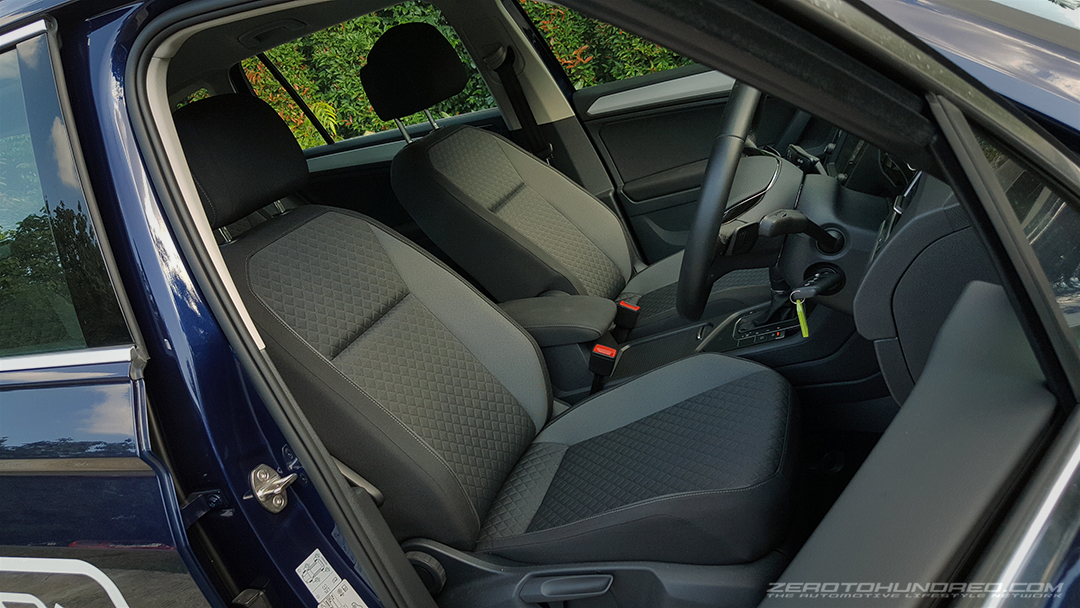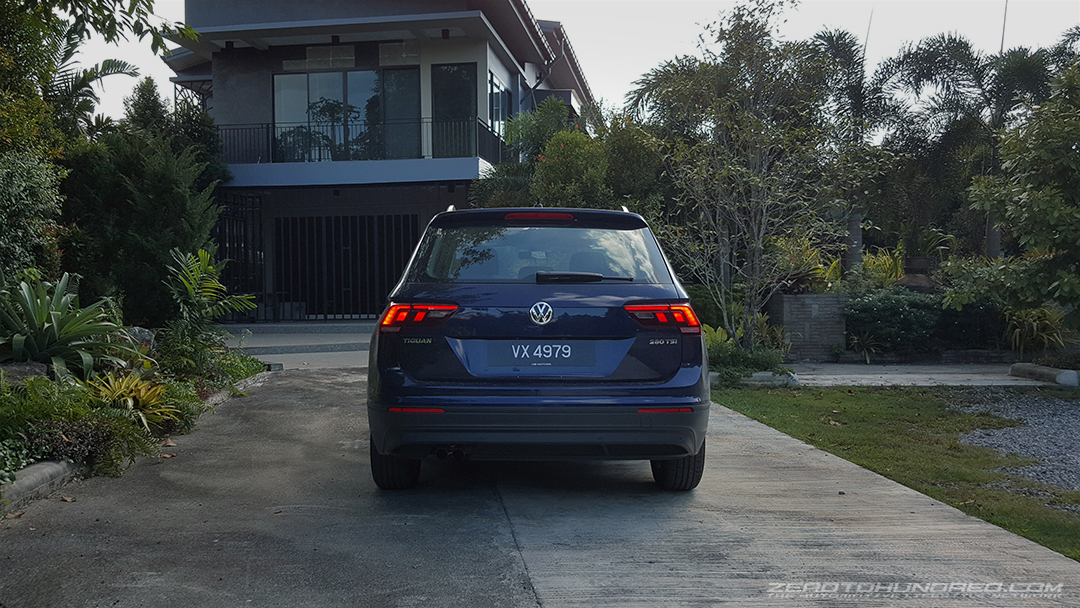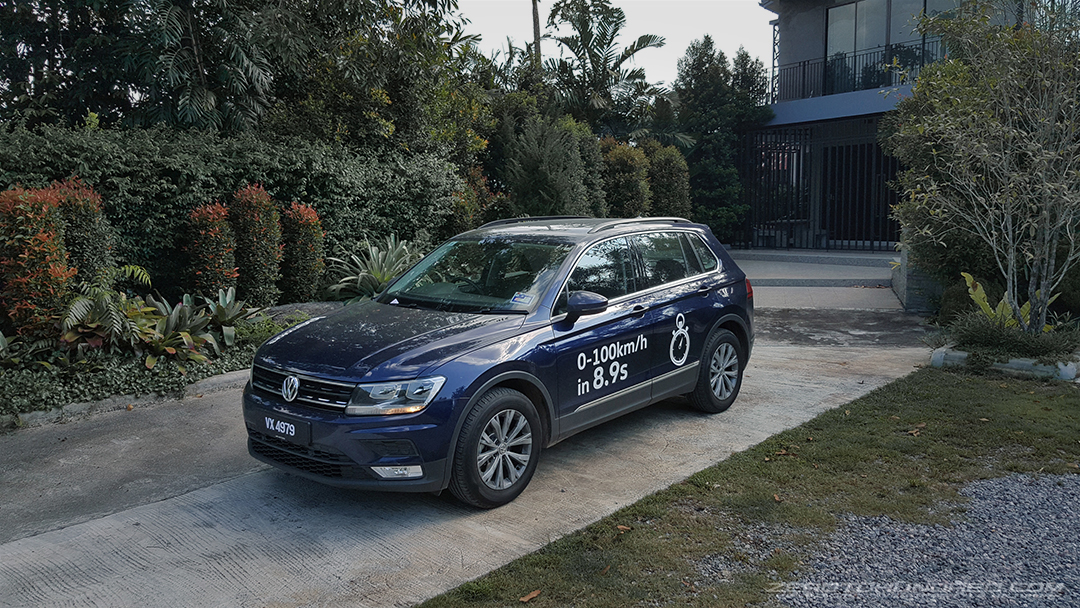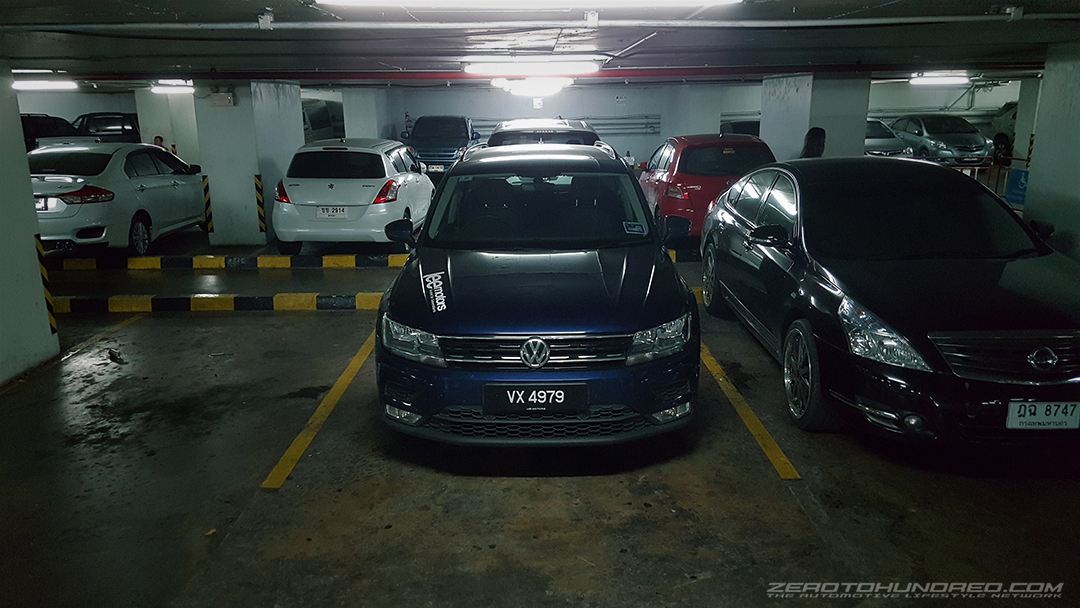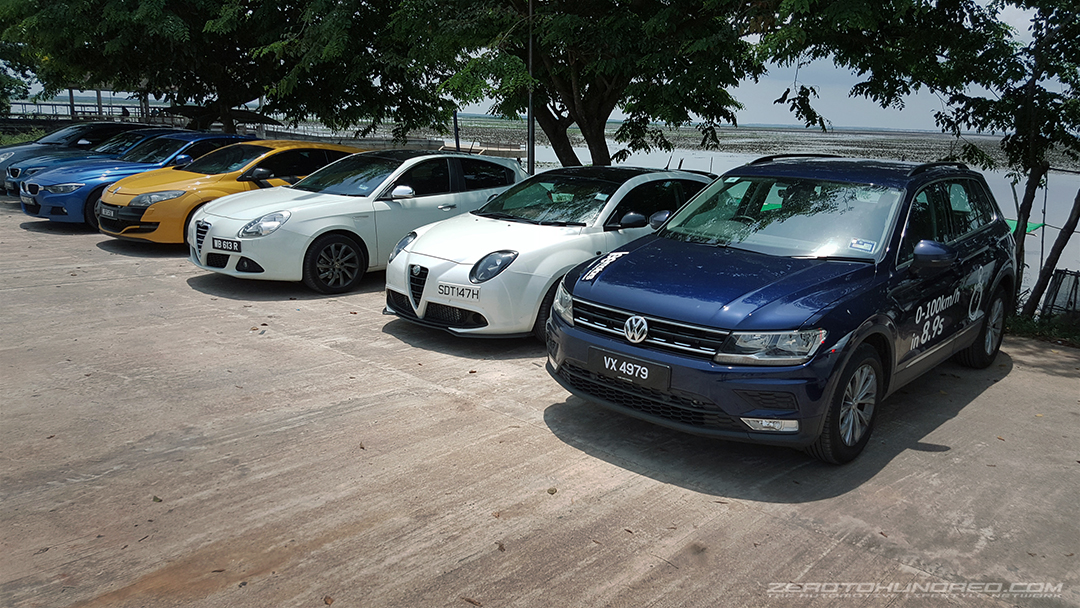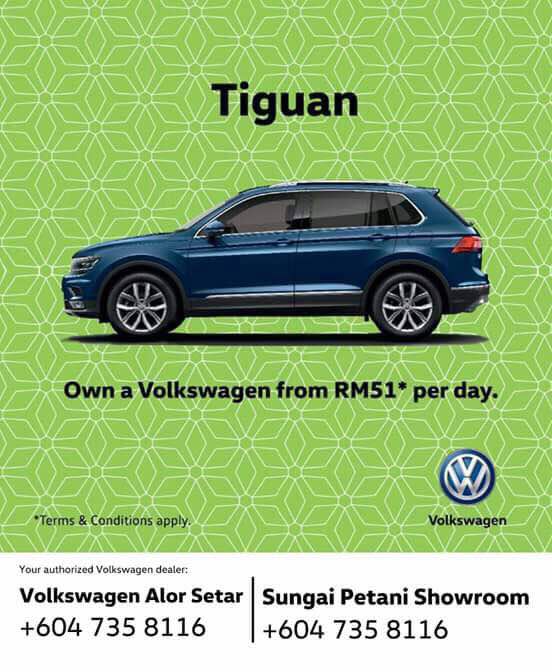 So, if you're about to purchase the VW Tiguan after reading my review, do consider VW Lee Motors, I heard they're knocking off RM5,000 the retail price for the coming Hari Raya festivities, so give them a call!