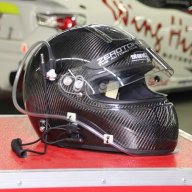 Jul 6, 2000
5,470
3,172
5,213
Hahaha, feeling is subjective AND relative. But honestly I think you were very forgiving, or you drove a Myvi before driving the 118i.

Based on the numbers I've quoted from its peers, its nowhere near "fast". Of course, one can argue the Mercedes A180 also takes 8.6s ZTH. So in the end its just on par with its peers.

But is it fun to drive? Yes, can be, driving a slow car fast. Gonna be very booooring when the road opens up. Frankly the chassis is very sound, sticking the 320i engine inside would be a lot of fun.
Let's just say there are peers of the 118i that is just as quick or could out accelerate it, but as the ZTH aspect fades away after the 1st hour novelty, the 118i is still the fastest car all-round, being blessed with a chassis made in heaven and other driver oriented characteristics.
although the absence of paddle shifters is quite an anti-climax