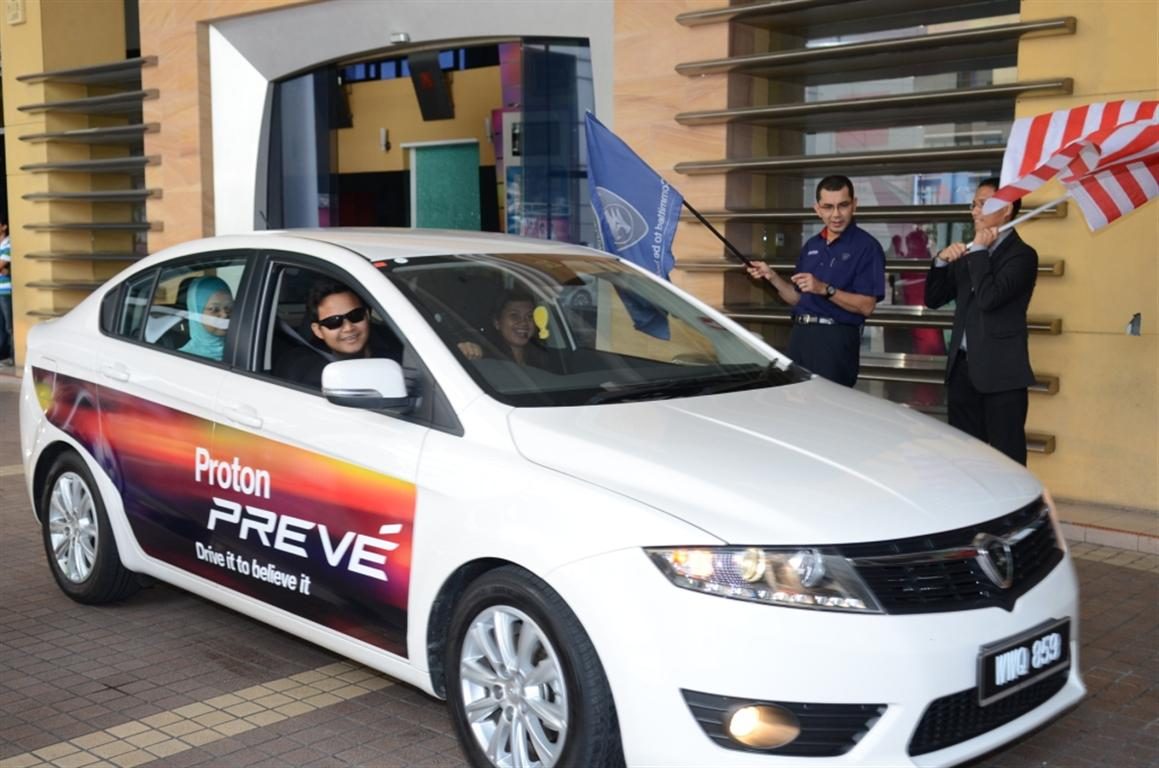 It's been hardly a few days now, since its launch, and Proton is taking to the streets with a nationwide tour of Malaysia, just to showcase the nation's first global car!
<!--more-->The
Prevé
nationwide motorcade, which was flagged off from Sri Pentas in Bandar Utama, continues what has been a longstanding PROTON tradition in bringing its latest model to the people. The convoy includes eight Prevés, four Inspiras, and one unit each of the Persona and Exora.
As part of its tradition, PROTON also presented car keys to several individuals who have the distinction of becoming the first Prevé owners. The keys were presented by PROTON Holdings Berhad Group Managing Director Dato' Sri Haji Syed Zainal Abidin Syed Mohamed Tahir at the PROTON Platinum Showroom in Mutiara Damansara, the first stop for the motorcade after Sri Pentas.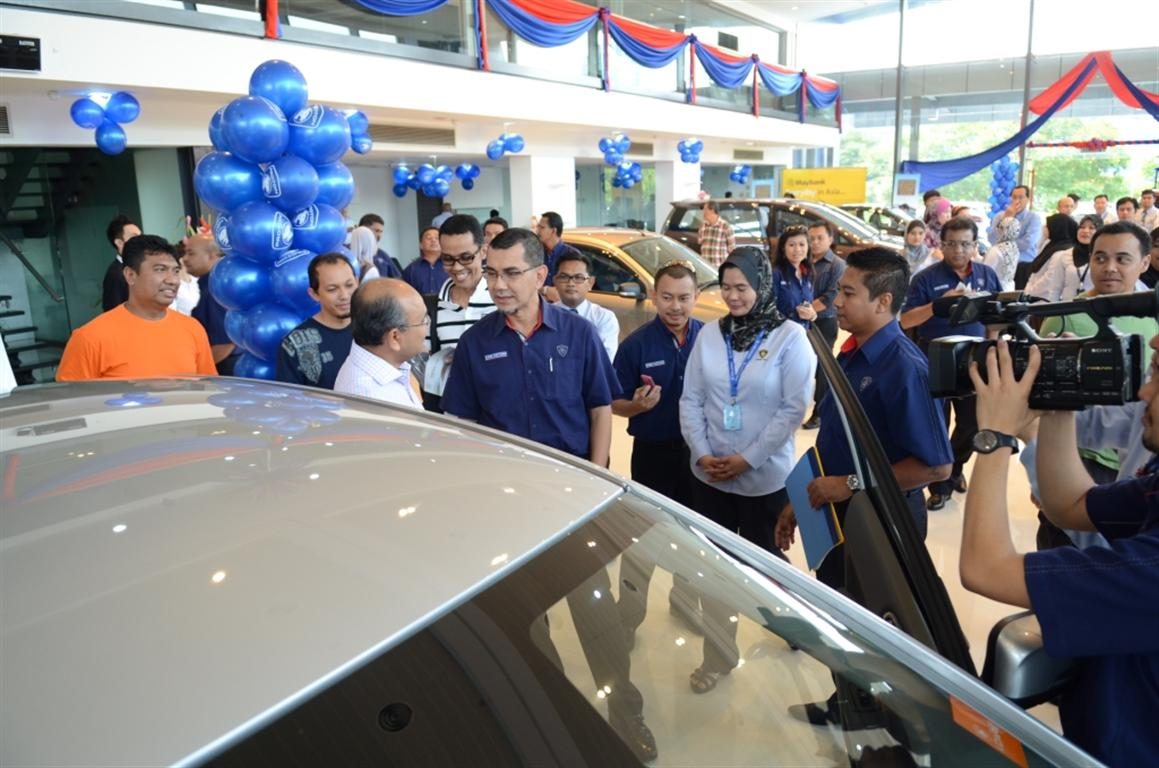 "The Prevé is an incredibly dynamic vehicle which brings a new and higher level of safety, performance, comfort, build quality, technology and styling to Proton cars. The launch of this car marks a new and exciting era for PROTON, and this is an achievement we wish to share with all Malaysians who have been a strong and instrumental driving force of PROTON's continued success," said Dato' Sri Haji Syed Zainal.
In expectation of the high turn-out by curious customers who have been waiting to see and test-drive the Prevé for the first time, the Mutiara Damansara Platinum Showroom was specially decorated to welcome visitors who began arriving as soon as the showroom entrance opened at 9.00am.
Two of the early birds who saw Prevé for the first time were particularly pleased with the standard of quality of the car. "I am pleasantly surprised by how different this car is compared to previous models by PROTON. Its features, like the 7-Speed ProTronic 7-speed CVT, with pedal shifters are really impressive," said R3 Satria Neo owner Mohd Shafik, 26, from Mutiara Damansara.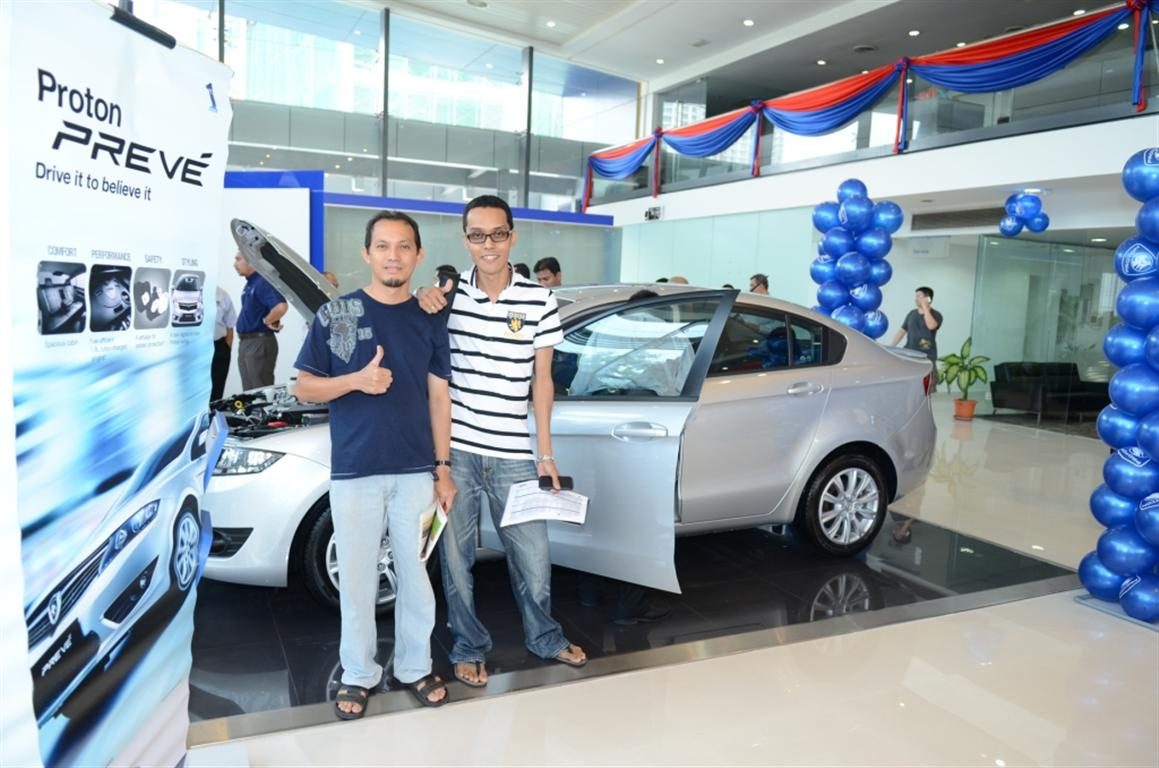 Meanwhile, Mohd Sobri from Mutiara Damansara said, "The exterior of car looks unique to me and I'm very satisfied with interior as well. This is such a big change for PROTON. I can't wait to test drive this car because of its turbo-charged engine as I have experienced what it does to the Exora Bold. I'm considering a trade-in of my Wira for the Prevé."
From Mutiara Damansara, the Prevé Motorcade made its way to the EON showroom in Jalan Chan Sow Lin in Kuala Lumpur, where a short meet and greet session between Dato' Sri Haji Syed Zainal and the customers was held. As with the Platinum Showroom in Mutiara Damansara, customers had began to flock at the showroom since early morning and their numbers increased towards noon.
The Motorcade then proceeded to make two more stopovers - for unveiling ceremonies of the Prevé at Menara Maybank in Jalan Pudu, and at the Ambank Berhad headquarters in Jalan Yap Kwan Seng. At Menara Maybank, the convoy was welcomed with overwhelming support and cheers from the staff of Maybank, who had gathered to witness the unveiling of Prevé by Dato' Sri Haji Syed Zainal and Maybank President & CEO Dato' Sri Abdul Wahid Omar.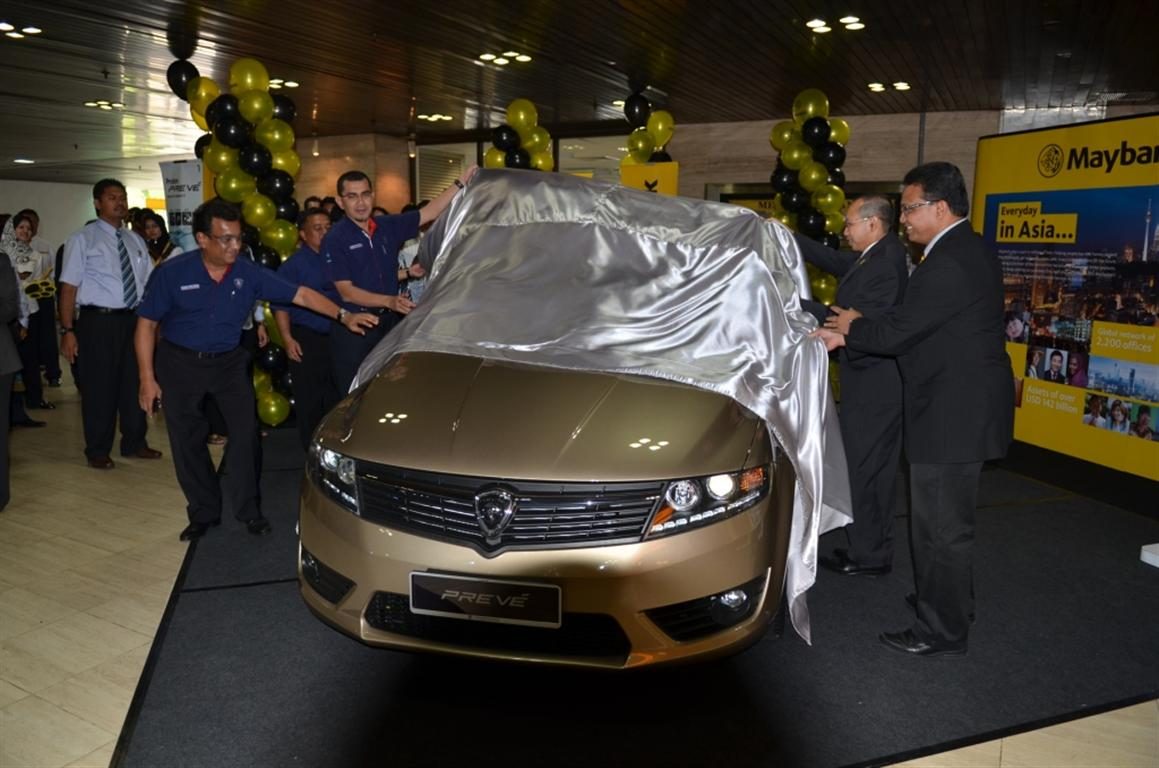 "Maybank has always been a strong partner of PROTON, with one in four Proton cars sold in Malaysia today being financed by the Bank," said Dato' Sri Abdul Wahid. "We are confident that this new model will be a success especially with the sleek design and attractive features that it incorporates."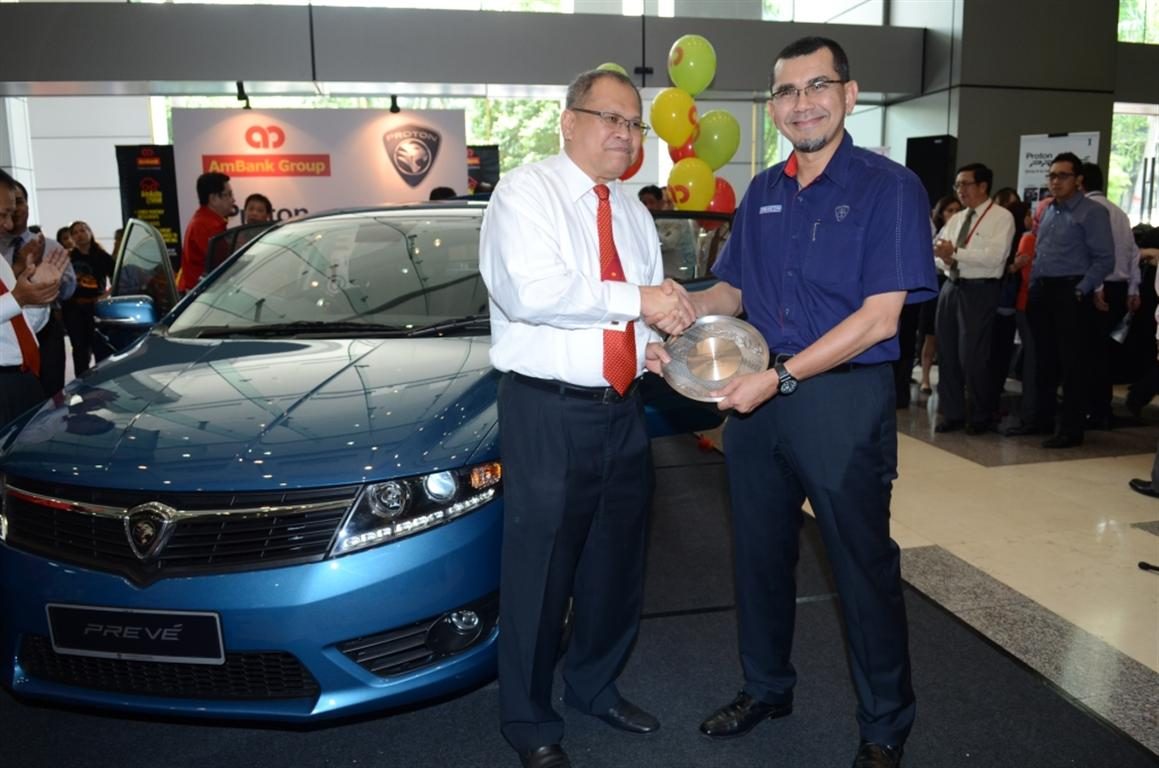 After the unveiling ceremony of the Prevé, Dato' Sri Abdul Wahid proceeded to flag-off the Motorcade for its next journey to Ambank Berhad headquarters where another unveiling session of the Prevé was due. The turn-out at the unveiling session by the staff of Ambank was equally overwhelming as they gathered at the lobby of the building to get a closer look at the Prevé for the very first time after it was unveiled by Dato' Sri Haji Syed Zainal and Ambank Group Deputy Group Managing Director Datuk Mohamed Azmi Mahmood to thunderous applause.
"We are pleased to host PROTON's motorcade for its new Prevé launch and as our valued partner, we are delighted to have them visit our building to give our customers a first-hand view of the new model and also, to help them to make an informed decision should they decide to purchase the car from PROTON with AmBank's financing," said Datuk Mohamed Azmi Mahmood.
"Proton has been an excellent partner for us and we are happy to support them as our business partner," he added.
Following the unveiling session and a flag-off by both Dato' Sri Hj Syed Zainal and Datuk Mohamed Azmi, the Prevé convoy continued its journey for the rest of its first day nationwide tour to two more stopovers in Senawang and Melaka before resting for the night in Johor Baru.
Day two of the nationwide tour will see the fleet of vehicles travelling 560km covering Yong Peng, Segamat, Bahau, Temerloh, Mentakab and eventually coming to a stop in Kuantan.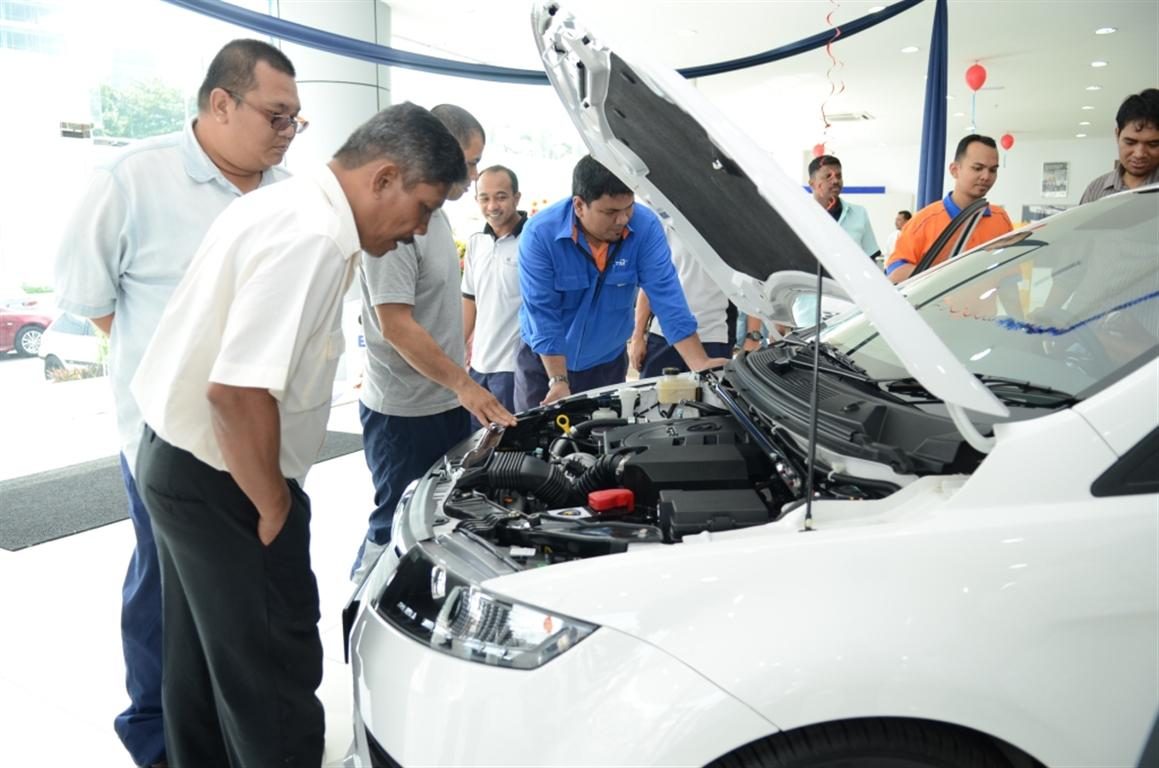 The third day's journey meanwhile, involves a 450km journey which will take the Motorcade to Kemaman, Dungun, Kuala Terengganu, Jerteh, Bachok and Kota Bahru. The Prevé motorcade will then proceed to Tanah Merah, Jeli, Baling, Sik, Alor Setar, Sungai Petani and Penang on the penultimate day before ending the five-day tour with stopovers in Juru, Ipoh and finally at Jalan Ampang on 21 April 2012, where Dato' Sri Syed Zainal Abidin will be welcoming the return of the Motorcade and launch a new PROTON Showroom.
Proton Prevé is now available for viewing at all authorized PROTON showrooms nationwide and comes in in six colour choices: Blue Lagoon, Fire Red, Tranquility Black, Solid White, Genetic Silver and Elegant Brown.
Last edited: