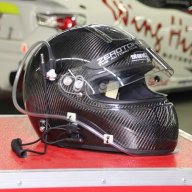 Jul 6, 2000
5,507
3,198
5,213

Massive Crowd On First Day Of KLIMS 2006,
KLIMS 2006 - Kuala Lumpur International Motorshow 2006
Photos: Wong SW
Words: KLIMS 2006
KLIMS 2006 Related Links:
Kuala Lumpur, 26 May 2006 – The 3 year wait for the Kuala Lumpur International Motorshow 2006 (KLIMS 2006) definitely built up an intense anticipation as the halls at Putra World Trade Centre filled up with massive crowd of visitors on the first day. It was not an everyday sight to watch shiny hot cars revolving on platforms, glamorous brand ambassadors, skaters, performances and demonstrations all happening at the same time under the same roof.
Khairul Annuar, a visitor at KLIMS 2006 said there were so many new and exciting car exhibits at KLIMS this year complemented by a wide array of car accessories. One of the interesting highlights of the day was the LLumar Security Film "RM10,000 Smash Contest" happening at the LLumar booth where a visitor a day will try to break the glass tinted with LLumar Security Film to win RM10,000. One day down and the glass is still standing strong as the first visitor today gave up after trying to smash the glass 5 times. Mr Prasad from LLumar also commented that the motorshow drew an enthusiastic mix crowd with many families coming to visit the show.
Visitors are drawn to KLIMS 2006 not only for the hot cars and latest accessories, the happening buzz surrounding KLIMS 2006 Road Safety Campaign at Tun Razak Hall 2 (Mezzanine Floor) are a crowd puller too with their exciting contests and interesting games. autoTRACK, the co-organizer of the campaign said that the Road Safety Campaign Contest received an enormous response with over 500 visitors registered to join the contest to win the Volvo car holidays and Proton Savvy on the first day itself. The Safe Drive Program activity was also a big hit among children and adults alike with more than 20 participants walking away with goodie bags each worth RM100 of premiums sponsored by Red Bull. The obstacle course stimulation involves 3 participants controlling their respective remote control car along a mini track where the first participant who reaches the finish line abiding all safety rules win.
Other than delivering the awareness of road safety, KLIMS 2006 also has many exhibitors delivering different types of fundamental messages of safety at their booth. Hawk Power Marketing, an exhibitor at KLIMS 2006 will also be conducting lock cracking contests at their booth and demonstrations around the halls to highlight the importance of car lock safety by a special expert from Taiwan, Mr King Yu. According to a representative from Hawk Power Marketing, the lock cracking contests remains unlocked since a similar contest that was held at Johor last year.
Visitors must not miss the appearance of 3 Japan GT Championship Race Queens, Hisami Asakura, Kaoru Sumiya and Aki Oguchi on Sunday 27th May 2006 at 2 to 4 pm at KLIMS 2006! This will be the second time they will be making an exclusive special appearance for the promotion of the Japan GT Championship Malaysia, at the Motorsportchannel.com booth at the Road Safety Campaign Area (booth 2M19), and touring to Edaran Tan Chong Motor (booth 2B06), presently sponsor of the Japan GT Championship 2006 at Sepang Circuit. Included in the programme are dance performance, photograph and autograph signing session and a special tour around KLIMS 2006 by the Japan GT Championship entourage which includes the GT Association and Sepang International Circuit team.
There are only 9 more days till the motorshow ends and visitors will have to wait for another 3 years to be part of this spectacular event, so do not miss out on the biggest and hottest motorshow now happening at the Putra World Trade Centre, Kuala Lumpur.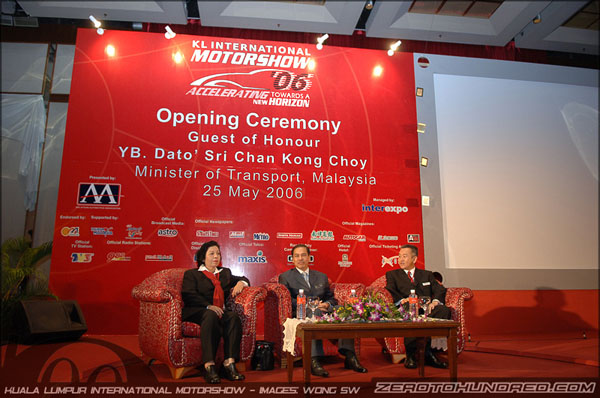 For more information on KLIMS 2006, kindly contact Beatrice Lim, Interexpo (M) Sdn Bhd at
Tel:+603 - 7710 3333, Fax:+603 - 7710 3818 or E-mail at beatrice@interexpo-my.com
Expo Information
Exhibition: 26 May - 4 June 2006
Venue: Putra World Trade Centre, Kuala Lumpur,
Opening hours: 11am to 10pm on weekdays, 10am to 10pm on weekends
Ticket Prices
 
Category
Criteria
Ticket Prices
Adults
Above 12 years old
RM15.00 on weekdays
RM20.00 on weekends
Children
12 years old & below
RM5.00
Students
Produce Student Identity Card or in School Uniform
RM5.00 on weekdays only
Family
Husband & Wife accompanied by children aged 12 years old & below, up to a maximum of five children
RM30.00 on weekdays
RM40.00 on weekends
Handicapped
Produce handicapped card / physically handicapped FREE
Accompany person – FREE ( 1 person only)
About Malaysian Automotive Association
The Malaysian Automotive Association (MAA), formerly known as the Malaysian Motor Traders Association (MMTA), was established in November 1960. The aim of MAA is to support the development and protect the interest of motor traders in Malaysia, as well as to make representation to the various Government bodies on issues pertaining to the automotive industry.
Besides serving as a liaison with the Government agencies, MAA also communicates industry positions and objectives to the media frequently. To-date, MAA has 264 members, comprising of 41 full members who are franchise holders and assemblers, 5 associate members nominated by franchise holders and 218 subscriber members from various institutions and associations (banks, stock brokers, etc) who have an interest the local automotive industry.
Given the continued growth of the Malaysian motor industry, the role of MAA will continue to be one of great importance.
About Interexpo (M) Sdn Bhd
Interexpo is a leading event organizer in Malaysia which comprises some of the most experienced exhibition professionals in the country. The management team has more than 50 years of combined experience in organizing events that serve niche and dedicated industries.

Interexpo has affiliations with a network of sales offices worldwide that help it to reach out globally. Interexpo is well equipped to organize and manage events that cater for different vertical industries as well as targeted visitors that are both from the trade and public. Among the shows in Interexpo's portfolio are AE Asia, Beauty Expo, CORE Asia, Franchise International Malaysia and Kuala Lumpur International Motorshow.

Press Release issued for and on behalf of Malaysian Automotive Association & Interexpo (M) Sdn Bhd for KLIMS 2006, by Sanns Communications Sdn Bhd.

For further information, please contact:

Ms Melissa Hong
Sanns Communications Sdn Bhd
Suite D-05-05, 5th Floor, Block D, Plaza Mont' Kiara, 2, Jalan Kiara, 50490 Kuala Lumpur.

Tel: +603 6201 9877
Fax: +603 6201 9887
E-mail: melissa@sannscom.com

 
More Images Below:
Last edited: