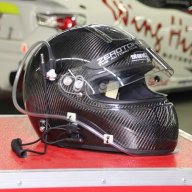 Jul 6, 2000
5,391
3,135
5,213
Honda North America has announced their Civic Type-R crate engine purchase program at the annual SEMA show just hours ago. What this means is that ordinary mortals can now buy "off the shelf", the legendary 306hp 2L 4cylinder Turbo Type R engine that powers the latest Civic Type R.
Update: So there's a snag, chances are you're gonna need to an approved member of the HPD grassroots support program as said by
R&T here
:
"To be eligible to purchase a Type R engine, you have to be a part of the company's HPD Honda Racing Line grassroots support program."
Price
The engine will retail US$6,519.87 or RM27,579.05, via Honda Racing Line program. The Honda Racing Line program is a Honda performance parts entity that has been supplying racing components to US racing enthusiasts for many years.
<iframe class="instagram-media instagram-media-rendered" id="instagram-embed-0" src="https://www.instagram.com/p/BKSHeoMDA5e/embed/captioned/?cr=1&v=7&wp=658#%7B%22ci%22%3A0%2C%22os%22%3A171.41%7D" allowtransparency="true" data-instgrm-payload-id="instagram-media-payload-0" scrolling="no" style="background: rgb(255, 255, 255) none repeat scroll 0% 0%; border: 1px solid rgb(219, 219, 219); margin: 1px 1px 12px; max-width: 658px; width: calc(100% - 2px); border-radius: 4px; box-shadow: none; display: block; padding: 0px;" height="587" frameborder="0"></iframe>
<script async="" defer="" src="//platform.instagram.com/en_US/embeds.js"></script>
Honda NA, "For years, Honda racing enthusiasts in the U.S. watched with envy, as Europe- and Asia-based amateur racers were able to load their cars with Civic Type R crate engines. The wait is over. The 306-horsepower (SAE net) K20C1 engine that powers the new Civic Type R will now be available to U.S. grassroots and professional racers for verified, closed-course racing applications through the
HPD Honda Racing Line program
"