Jun 29, 2006
1,305
136
1,663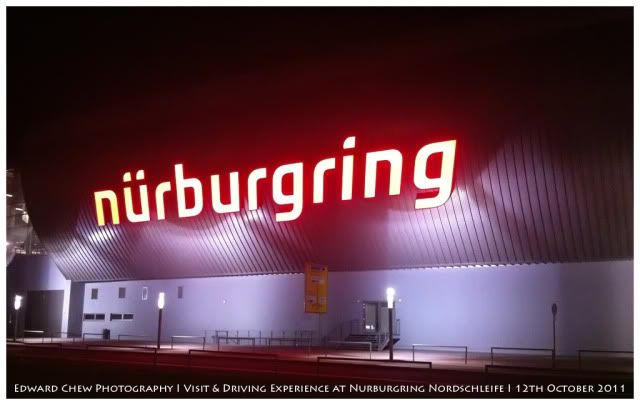 Eeeee. Yeah. It's Nurburgring!. It's the Green Hell and I'd know by now you'd be really envious of my experience. I'm sure I'm not the first Malaysian to have been there, and driven in the 'Ring as I personally know of a few friends who've done it, and I know if you are reading this, you would have already driven on the Nurburgring too, except that it's on the Gran Turismo!
Okay. Cut the crap. So I'm just like you, i've driven countless laps of the Nurburgring on the Gran Turismo (1000miles challenge in a 92HP classis + unknown number of laps in various cars) and On & Off heard news of new and fastest lap times on the Nurburgring AND SO, I've set that, one day, I'll have my own car shipped to Germany and whack it in the Green Hell (as my friend likes to call it).
I set to do it after age of 30 because I think it would cost a good 5 figures, minus the car of course. But looking back at it today, the experience, I wish I could have spent even more on it if not for the insurance coverage.
So how did it start, and that I actually made the trip there few years before the age 30 that I had set?
I remember it was the Hari Raya holidays when I was heartbroken. So, very spontaneously, I made a visit to Kuantan which I've never been. Left my house at 7am in the morning, and just before 9am, I've reached the toll plaza, No! Not the one in KL, but the one in Kuantan. Yes. 180km/h the whole journey.
I love the beach, as much as I love Bitches. Oppps... I treasured all the beaches I could stop along the coast of Kuantan and at the end of the day back to Hyatt Regency, I had an expensive RM90/person buffet. Then I lay on the long chair, watched vieos, surfed facebook on the iPad2 and stumbled upon this on my friend's wall -
Looking for a travel buddy in Europe for a month.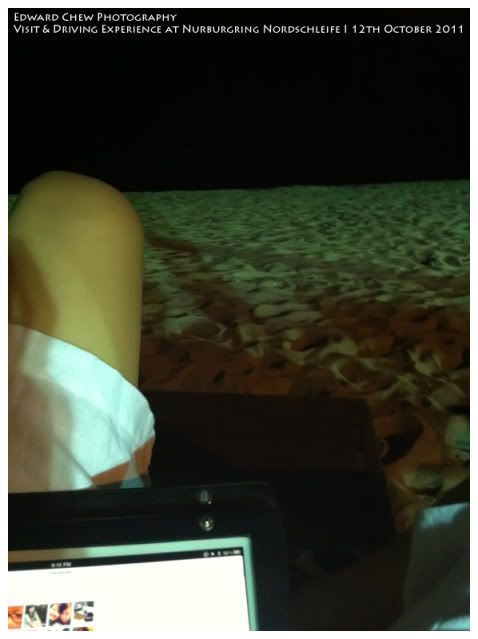 Ahem! Immediately, I decided that I'm all IN for this trip! I contacted the friend, found out the estimated costs and took a month worth of leave, which, till today people are still wondering how the hell I convinced my manager to release me for a whole month. Muahaha. The ingredients are complex, and it took me 55 minutes to get the Yes.
Okay, Sorry. I know I'm still not revealing the important points that you are more concerned about. But that's me, I like to describe things in details.
To cut it short, I convinced my travel buddy to add Nurburgring into the itenerary. There, a month/30 days of itenerary planned in 3 days 3 nights. Flights, Hotels, Transports bla bla bla all booked and paid.
And 2, 3 days prior the flight, I dropped by Motorsports Playground and CEO Remus was kind enough to arrange a simulator for the practise. It is a challenging (or dangerous) circuit so I took the opportunity seriously.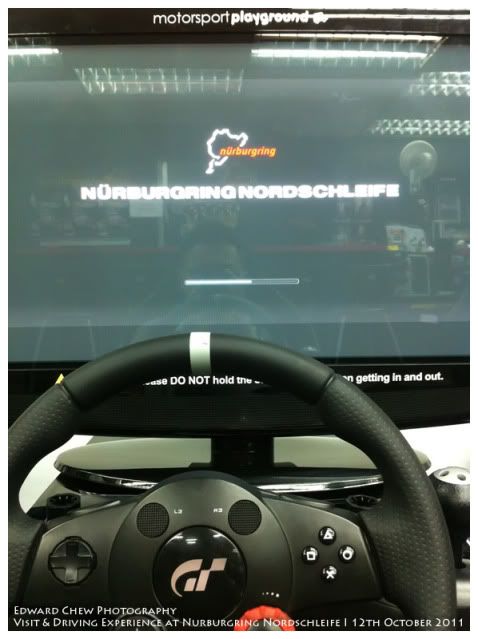 Yeah, 9.33minutes was my best lap. I was expecting to drive a Polo. So I simulated the drive with a Suzuki Swift and a Citroen.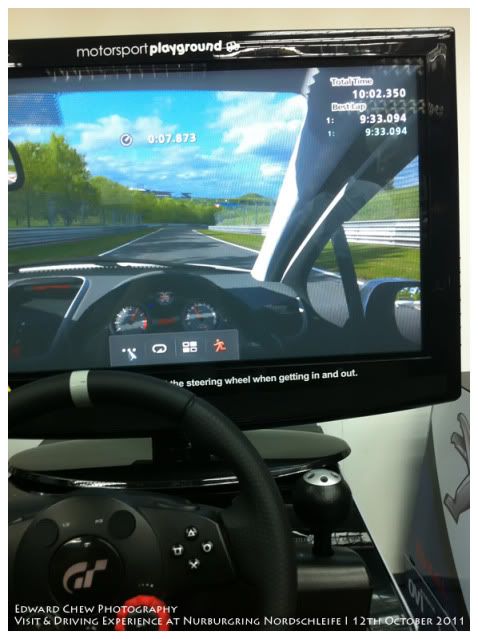 Tried the night raining condition as well, just in case.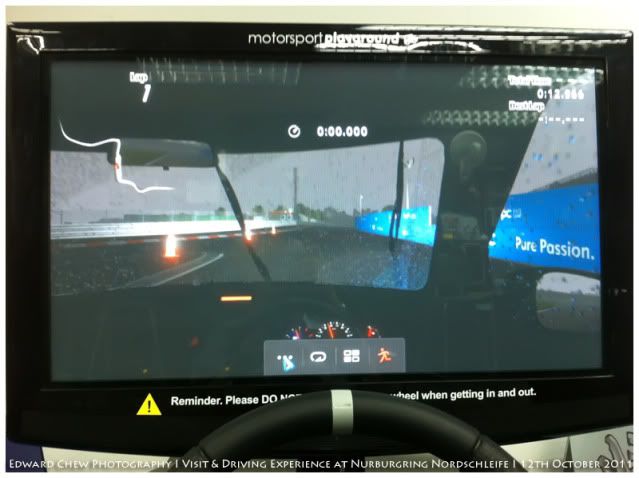 Fast forward to 12th October 2011, we arrived Cologne, Germany, by train. After crashing London, Paris, Belgium and Amsterdam. Collected the car from Europcar. It was supposed to be a VW Polo, but we were given a so called free upgrade to an Opel Insignia, which is a huge wagon, comparable to the size of a VW Passat Wagon.
Why? Cause it's already on Italian plates and we will be driving it down Europe to Munich. Smart! On the Positive side, we need not worry of our huge luggages. Hehe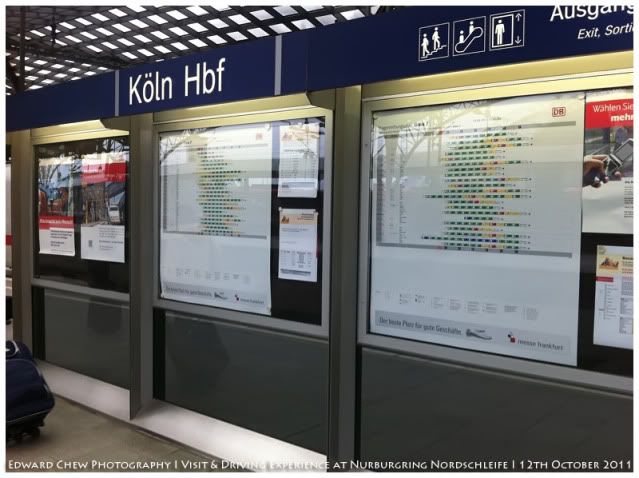 This is the one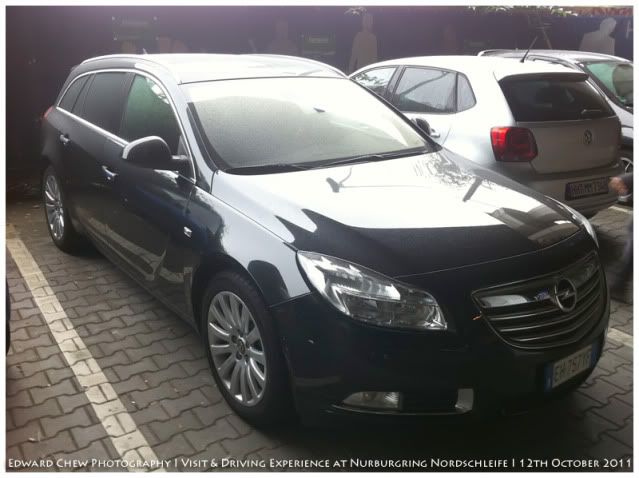 Left hand drive. Oppps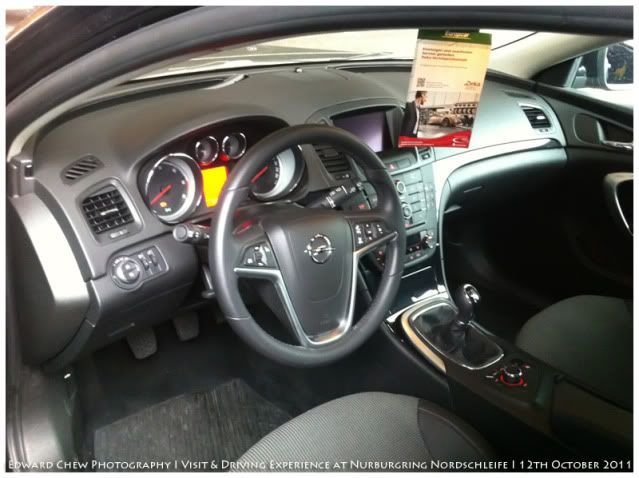 There's a turbo at least!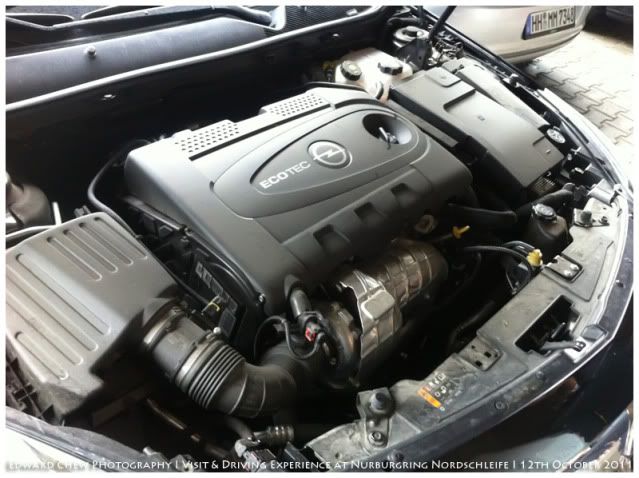 One of the nicer car at the Parking lot.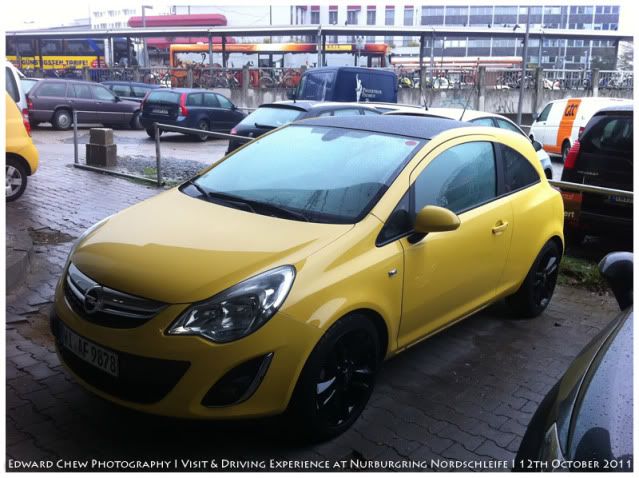 And that's a VW Passat Wagon to compare.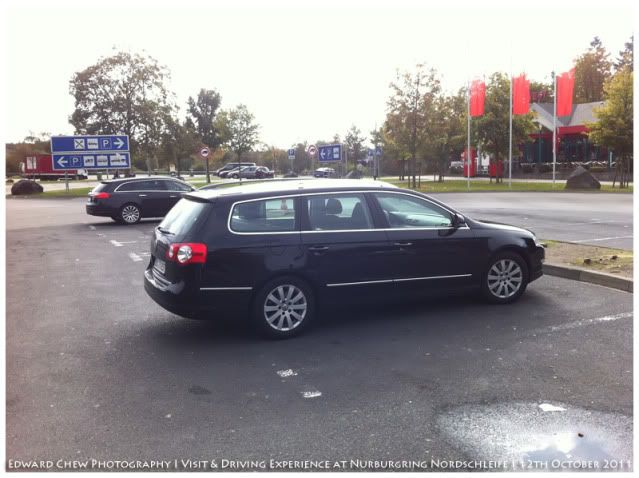 It's about 76km from Cologne, Germany to Nurburgring Nordscheleife. And trust me, you better have a GPS with you! Because, First, you'll need to deal with left hand drive, then driving on the right lane, shifting with the right hand, and navigating yourself out of the confusing tiny road to get to the main road. Thank god, I was just a co-pilot for this extreme task. Hahaha!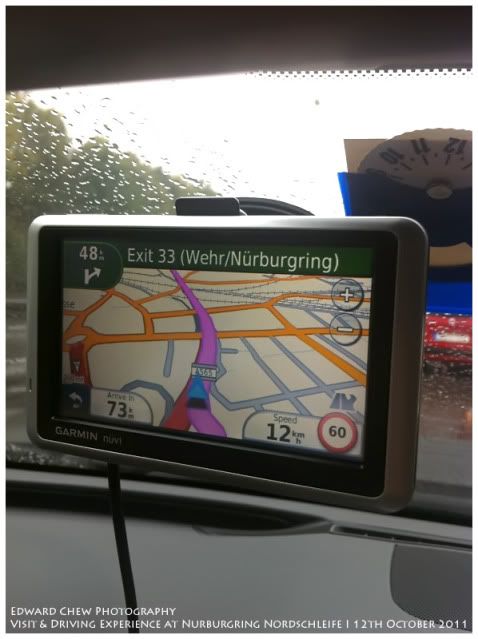 I was very excited when I first saw the first Nurburgring road sign. Hehehe. Then it kept torturing me as there's still some distance and we were stucked behind a slow moving truck on a long long single lane country road, but it was way nicer than any road you can find in our city!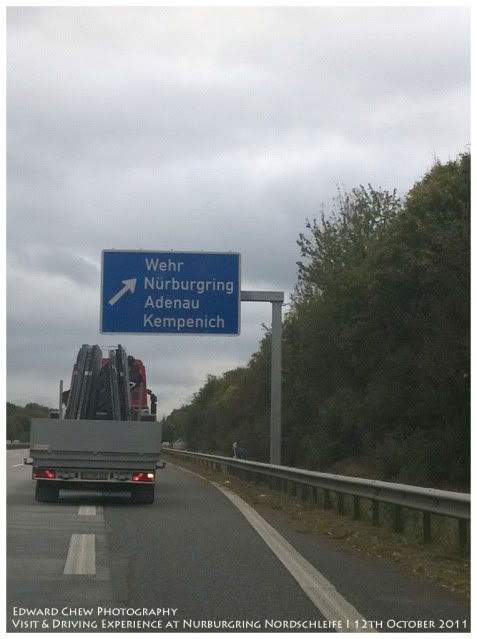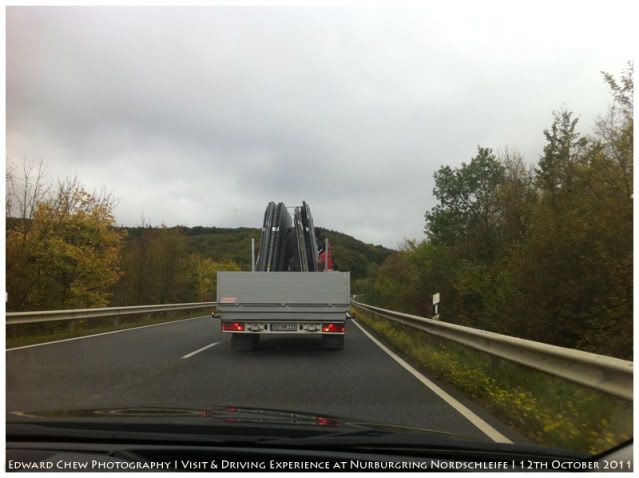 When you see this petrol station, be very happy! Cause you are at the right place.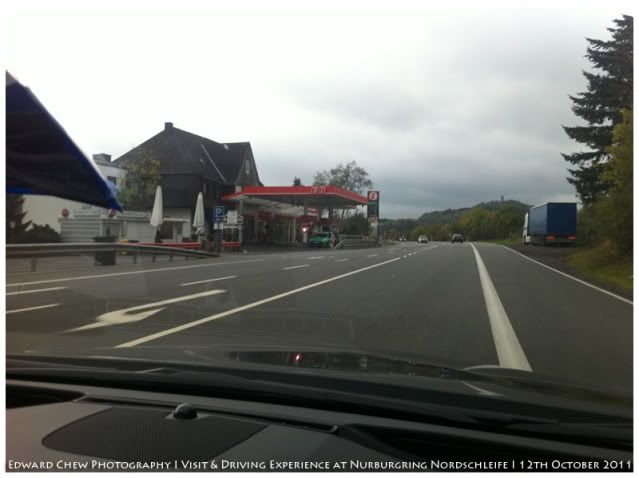 Look for this short tunnel then enter. Can you see the barriers on the overhead bridge? Hehe. And that's how wide (narrow) the last long straight is.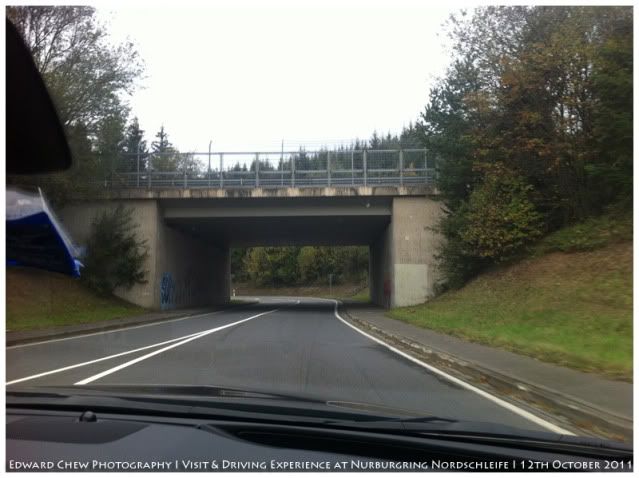 Finally, we've arrived, and at 5.00pm! After how many hundreds, or thousand words you have read. Hahaha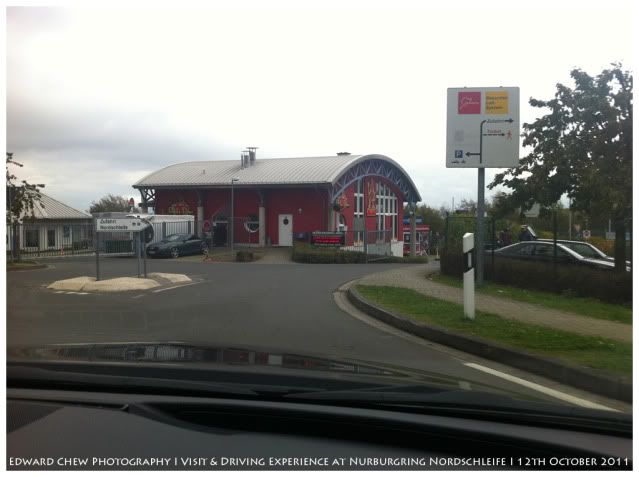 So this is where you're supposed to go, which is at the very last long straight as seen on Gran Turismo, not that pitlane that you could see at the starting line on Gran Turismo.
Not many know about this, but you could get a better idea watching the video below. Very important.
A guide to your first lap of the Nurburgring - YouTube
Or below to Google Map pinpointing the exact location of the place. I remember I entered the tunnel near Hotel Dottinger Hohe as shown in the map, which is from L92 to L93. So you figure out yourself how to get there. :-)
<iframe width="425" height="350" frameborder="0" scrolling="no" marginheight="0" marginwidth="0" src="http://maps.google.com/maps?q=50.346402,6.965658&amp;hl=en&amp;num=1&amp;t=h&amp;vpsrc=0&amp;ie=UTF8&amp;z=14&amp;ll=50.346402,6.965658&amp;output=embed"></iframe><br /><small><a href="http://maps.google.com/maps?q=50.346402,6.965658&amp;hl=en&amp;num=1&amp;t=h&amp;vpsrc=0&amp;ie=UTF8&amp;z=14&amp;ll=50.346402,6.965658&amp;source=embed" style="color:#0000FF;text-align:left">View Larger Map</a></small>
The first thing I looked for was... the Toilet. Hahaha. It is located below the restaurant, opposite the merchandise shop. Don't blame me, this is quite an important detail too, I believe, Maybe.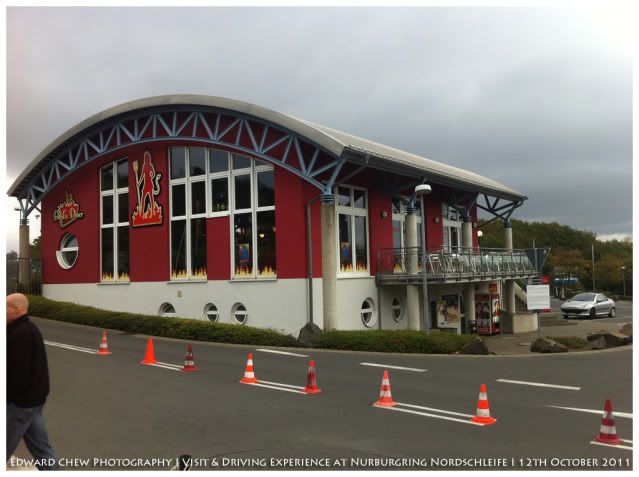 Wait, if you do get to the toilet, you will discover something, the Hall of Fame. (they provide marker pens too Haha)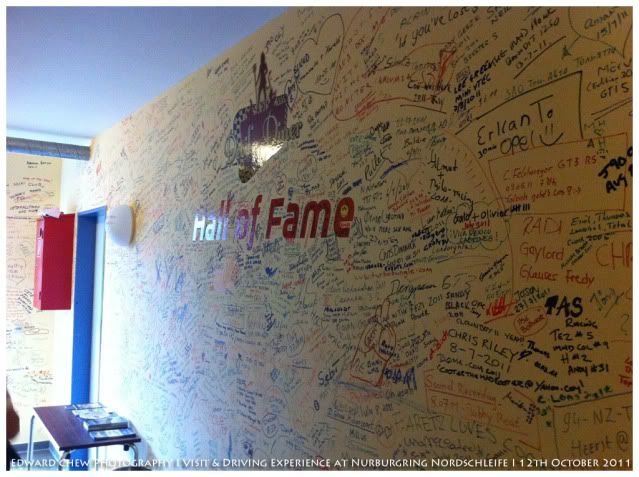 Could you spot my name?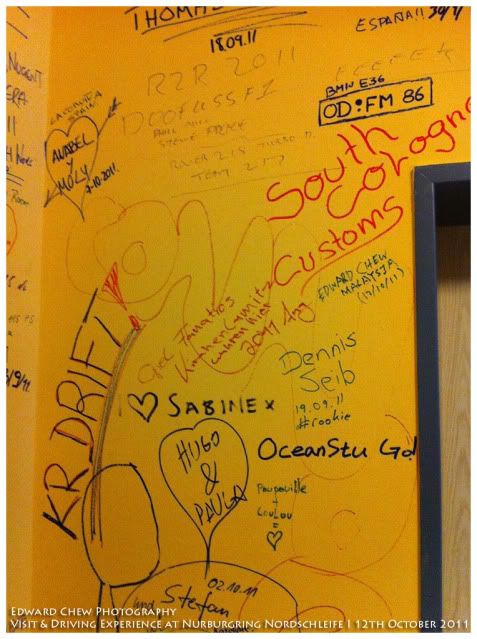 Okay. Heading out now. The circuit was booked by, I believe a few manufacturers as I can see various brands of factory sedans, SUVs and some even with "camouflage" for the whole day. And the track will be opened to public by 5.30pm to 7.00pm.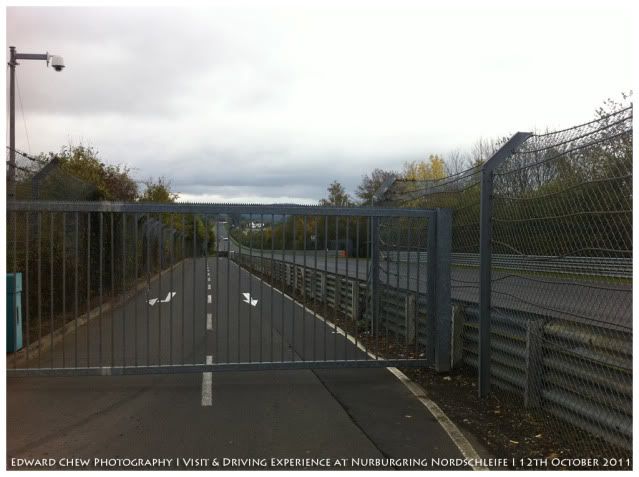 This is where you purchase the Ring Ticket or Ring Card. It's EURO24/RM103 per lap. You can use credit cards here as well.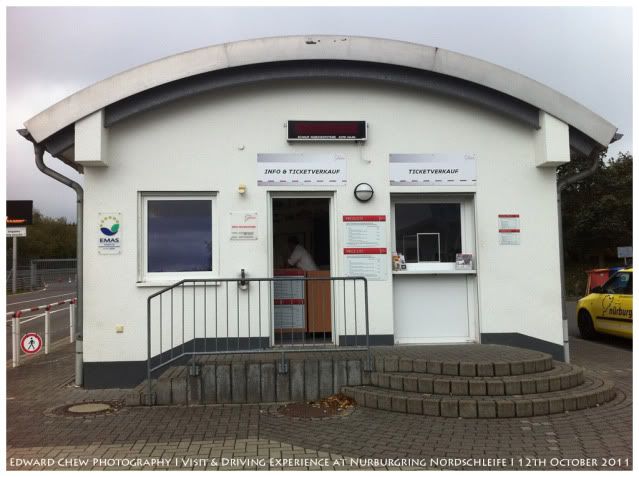 On the left of the building, this is where you'll use the ticket/card you have purchased, do it the "Touch & Go" style as we do in Malaysia and the pole will be opened.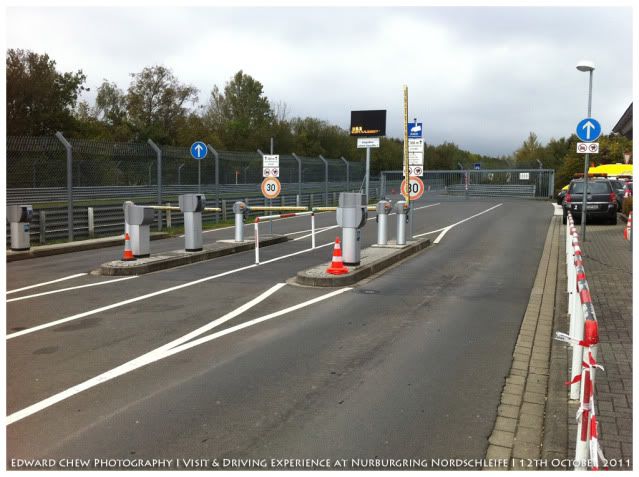 So the next thing you wanna know must be what car I'm going to drive right?!
Well to acquire a car to drive inside Nurburgring, there are few options.
1) You can rent the track prepped cars from
www.rent4ring.de
or
www.rentracecar.de
, They are at affordable prices if you ask me, ranging from 149 Euros for a Suzuki Swift up to 1,499 Euros for a Porsche.
Back when I was in Malaysia, I was ready to book the Golf GTi with DSG for 219 Euros as I'm not good with a stick shift but upon reading the insurance coverage, I had to abandon the idea. :-(
Why? In the case of an accident or worse, a totalled wreck, I'll need to bear as much as EURO5,000 depending on the car model, and the excess will be taken care of by the insurance company. That's definately too much to risk!
2) So we agreed that we gonna drive the car that we rented to drive around, down the track! Hehehe. Which we are to bear up to 800 Euros only for whatever accident that happens. Still remember which car it is?
It's the Opel Insignia Wagon! =.= Pathetic...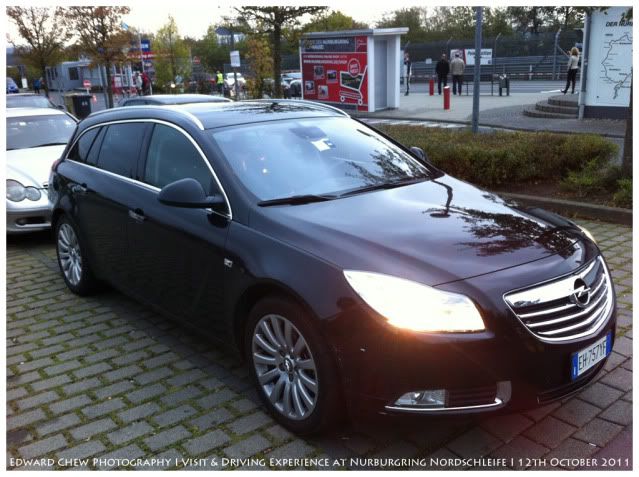 *
Visit and Driving Experience at Nurburgring Nordschleife - Part 2
Last edited: