GoKart Lover
Senior Member
GoKart Lover
Senior Member
Jul 14, 2005
120
73
3,028
What is the brand do you think most will be using as a fake engine oil? Where do you normally buy your engine oil? Please share your opionion :)
Below are some news of fake oil (Sorry news are in chinese)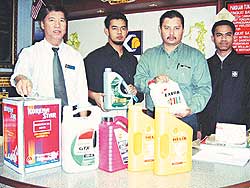 ■ 陈进松(左一)展示劣等润滑油从铝珍倒入名牌润滑油出售。在场者左二起依祖汀、副执法主任阿斯旺阿立芬及阿斯旺依斯迈。
translate : Showing the bad quality oil from aluminium tin mix into branded bottle for sale.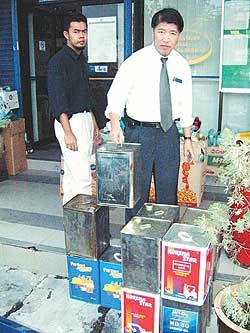 ■ 执法组展示起获的劣等润滑油。
(居林18日讯)劣等润滑油以名牌润滑油出售,从中牟取多倍的盈利。
translate: Bad quality oil in aluminium tin.
Translate : Showing all the branded empty bottle ready to fill with bad quality oil
Translate : Special tools to re-wrapping the bottle opener so it looks like brand new engine oil bottle.
Last edited: