Known Member
Senior Member

Known Member
Senior Member
Oct 31, 2008
457
40
1,528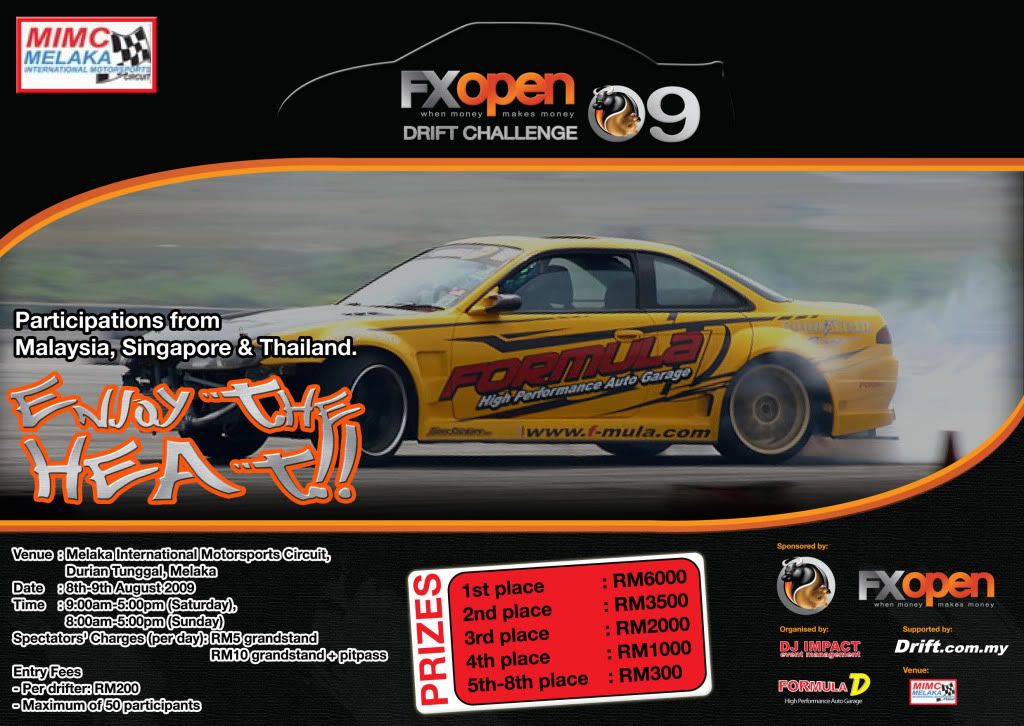 There is a
DRIFT
event happening very soon at Melaka. This is a very very interesting event by
FXOpen
. On a new track, a new event, a opportunity must not be missed. Happening at the
Melaka International Motorsports Circuit
located at Durian Tunggal. It is two day event starting from
8th August 2009
to
9th August 2009
. The time of the event can be found on the poster above.
Now if you guys are interested in the event do checked out the passes, they are pretty cheap starting at
RM5/entry
.
If you are a drifter and looking for a competition to join and become the next
DK
. JOIN!! this event at a entry fee of
RM200
and
ONLY
limited to the first
50 participants
.
DO
check out the winning prize. Its the
HIGHEST
payout so far for a DRIFT event. You know you want to win this event. It's time to grab some huge cash!!!
FXOpen would be participating this event itself. How? FXOpen Drift Car, yes thats right, FXOpen will be racing in this drift event. The car is build in collaboration with
Formula-D
, a high performance car garage to make the FXOpen Drift Car is
PERFECT
one.
So now, wait no more. See u guys n gurls there!!