What if one day you came across an opportunity to swap your job with another person, like actually, completely switching places?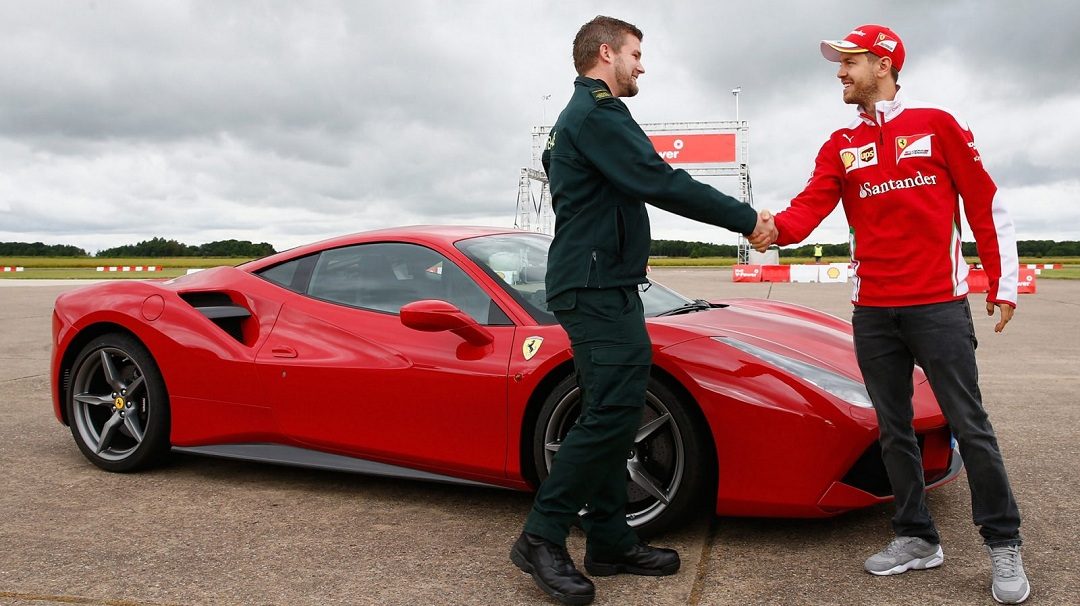 Shell V-Power set up an occasion where Scuderia Ferrari F1 driver, Sebastian Vettel undertakes a unique job swap with Alex Knapton, an ambulance driver of South Central Ambulance Service.
Vettel took Alex in the 3.9-litre turbocharged V8 Ferrari 488 GTB for a lap and showed him just how to be fast on a circuit. Vettel then joined Alex for a lap in the three-tonne ambulance, capable of doing a modest 88 mph (142 km/h).
Both of them became teacher and student for a day, learning from and teaching each other their professional driving style.
Driving a high performance car at high speed is more demanding than driving an ambulance at national speed limit? Well, each of the driving discipline has their own challenges to be honest.
As Vettel pointed out, he needs to ensure the car is controlled to a point that it has sufficient traction to transfer all of its power, Alex listed the things he need to consider - road conditions, road surfaces and other road users, apart from the weight of the ambulance.
To date, Vettel has more than 40 Grand Prix wins under his belt while Alex has handled more than 1,300 emergency calls. Watch the video as both drivers do the unusual lap battle through a designated circuit.
<iframe src="https://www.youtube.com/embed/oHTXYbtXx44" allowfullscreen="" frameborder="0" height="315" width="700"></iframe>
Alex went first in the agile, red Ferrari before Vettel took on the same lap in the blue-flashing three-tonne ambulance. The video made me giggle since it is pretty entertaining to see both drivers trying to master driving challenges in totally different environments.
Alex chuckled as the Ferrari took him to an outstanding pace through the corners and Vettel had a hard time pushing the ambulance beyond, um 75 mph. But I bet both of them had an unforgettably fun day.
Last edited: