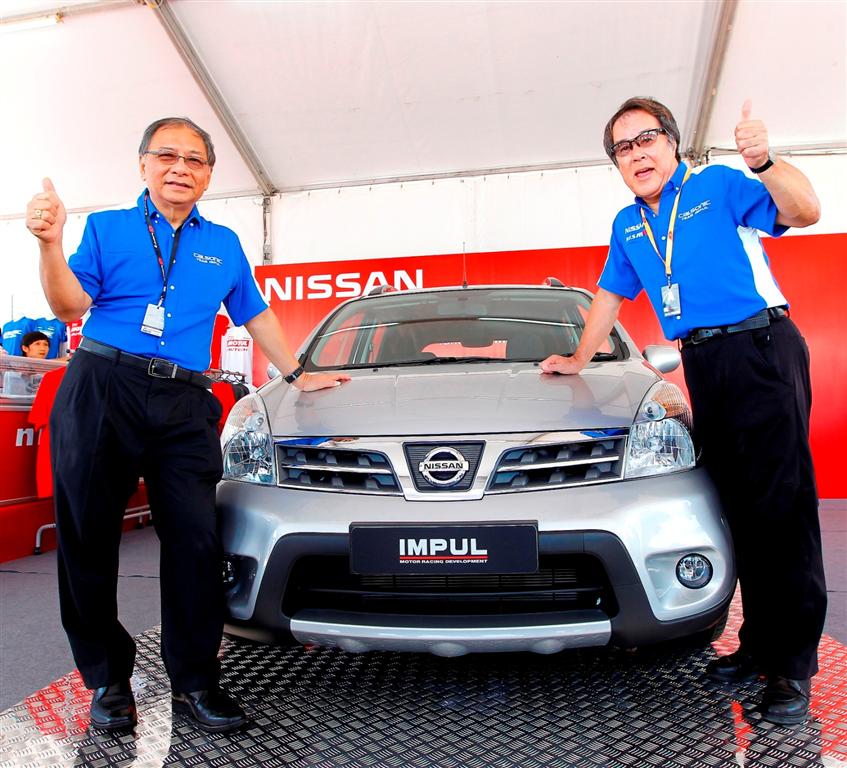 Edaran Tan Chong Motor (ETCM) has loosed two new Nissan variants that's been fiddled by well-renown Japanese Tuning company - IMPUL, to bring you the Nissan Livina X-Gear and Nissan Sylphy both Tuned by IMPUL which feature exclusive accessories that have been specially customized for the popular Nissan models.
<!--more-->
Present at the launch was Dato' Dr. Ang Bon Beng, Executive Director of ETCM, who said "We are very excited to be able to offer enthusiasts these sportier variants of our popular Nissan Livina X-Gear and Nissan Sylphy which have been specially tuned and developed by ETCM's business partner, IMPUL of Japan. These variants are intended to cater to those who aim to drive something sportier and more exclusive."
Both the Nissan Livina X-Gear and Sylphy that's been Tuned by IMPUL gets a nicely polished IMPUL Blast 2 Exhaust Muffler made of stainless steel that's got the IMPUL logo etched on the end of the tailpipe. Black polished light-weight 17" IMPUL Aura SX-20 Alloy rims that's 20%-30% lighter than conventional 17" rims lends some shroud of mystery and darkness to both variants.
So now both of them has the looks, it's also 'gotta' strut the strut with IMPUL providing both the Livina and Sylphy with a suspension tune-up that brings the vehicle a little closer to ground-zero, but nothing too drastic that would affect comfort too much, but just enough to help increase lateral force support when cornering.
Lastly, IMPUL also provides an Aerokit Rear Wing Spoiler that helps both vehicles more inclined towards the masculine side of it all.
The Nissan Livina X-Gear Tuned by IMPUL is priced at RM90,800.00 while the Nissan Sylphy Tuned by IMPUL is selling at RM125,988.00 for the 2.0XL and RM135,988.00 for the 2.0XV. Prices are inclusive of insurance, road tax, registration fee and ownership claim fee in Peninsular Malaysia.
All IMPUL parts come with a 3-year or 100,000-km warranty (whichever comes first, subject to terms and conditions) on manufacturing defects if they are purchased and installed by ETCM on a brand new Nissan Livina X-Gear or Nissan Sylphy.
If you're already driving either the Sylphy or Livina or both, you'd be happy to note that ETCM also offers the said items at selected showrooms.
For more information on availability and installation, visit their website at
www.impul.com.my
, or if you have any queries you may contact the IMPUL division via
Email: impul@tanchong.com.my
or
Tel: +603-4047 8786