Key stake holders and industry players got together this morning at the GE-NAZA Electric Vehicle Experience, which was hosted by both General Electric (GE) as well as NAZA Group of Companies.
<!--more-->The event, part of GE's collaboration with the NAZA Group of Companies (NAZA), was officially launched by Yang Berhormat Dato' Sri Peter Chin Fah Kui, Minister of Energy, Green Tech and Water.
At the event, both GE and NAZA sat down to discuss their potential future collaboration about EV deployment in Malaysia as the main topic for discussion "Building an EV ecosystem".
This focuses on EV technology applications, infrastructure requirements as well as incentives, regulations, policies and strategies needed to accelerate the growth of EVs in Malaysia.
The event was also held as part of the 2012 GE Innovation Day in Kuala Lumpur to showcase GE's innovative solutions co-created with local industry partners. The event underscores GE's commitment to working in partnership with local firms to provide innovative solutions to address challenges faced in Malaysia across a myriad of industries.
Stuart Dean, Chief Executive Officer of GE ASEAN said, "We have made great strides in our Ecomagination strategy over the last seven years worldwide with revenue from clean energy exceeding USD21billion. This growth is twice as fast as the Company average. In Malaysia, we have a long term commitment to support government efforts in green technology."
"Our collaboration with NAZA in Malaysia to develop EVs, support Malaysia's national commitment of a 40% reduction of carbon emissions by 2020. Our investment of resources and innovative capabilities through co-creation opportunities across ASEAN will see us teaming up with some of the region's best infrastructure companies to build for the future and transform environments," he added.
On GE and NAZA's efforts within the EV space, Minister of Energy, Green Tech and Water Dato' Seri Peter Chin Fah Kui who officiated the EV launch said, "We are proud to support this commendable initiative by GE and NAZA, as a step towards creating awareness and promoting the growth of an industry that will help Malaysia shift away from fossil fuels so that we operate a cleaner transportation network.
Advancing the adoption of electric vehicles as well as the development of related infrastructure is crucial to our agenda to accelerate the national economy."
Joint Group Executive Chairman of Naza Group Datuk Wira Haji SM Faisal Tan Sri SM Nasimuddin, who was present at the event, commented on the partnership with GE, "The NAZA Group constantly seeks to collaborate with the World's best brands. Our relationship with GE is testament to that and we hope to set the standards for the EV market in Malaysia."
GE and NAZA's collaboration in the EV space began last year when a Memorandum of Understanding was signed between the two companies. The MOU provides a platform for both parties to endeavor to collaborate in joint-lobbying and education to raise public and government awareness, engage in further opportunities such as utilizing GE technologies in NAZA's electric vehicle manufacturing line, and running electric vehicle pilot tests in several cities across Malaysia.
GE's breakthrough technology touches every part of the EV infrastructure – ranging from charging stations and software solutions, as well as circuit protection equipment and transformers. NAZA's role as a key player in the industry will go hand in hand with GE's offerings to optimize the EV experience. GE will continue its partnership with NAZA to explore the development and implementation of sustainable energy solutions for EVs, from ordering, installing, financing and tracking.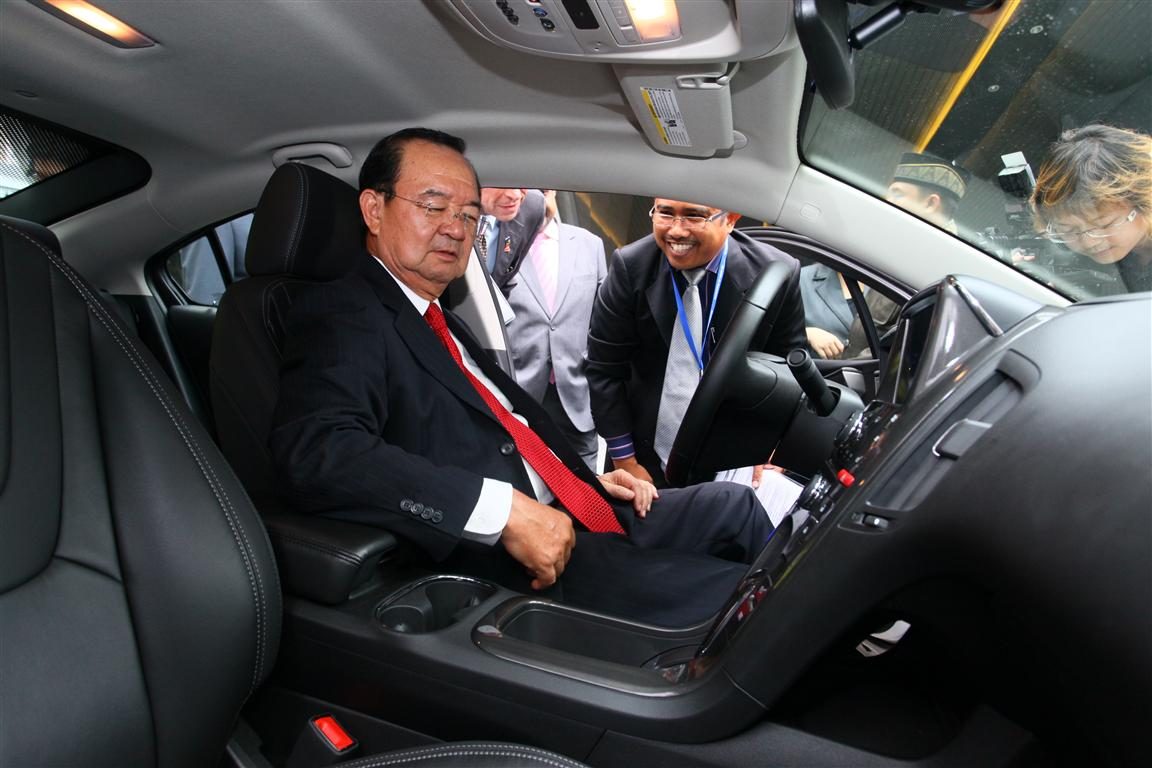 Dr. Nazily Mohd Noor, Chief Executive Officer of Malaysia Green Technology Corporation, who was a panelist at the plenary session said, "While the Government plays a lead role in putting the necessary policies and incentives in place, there is a need for the support of private entities such as automakers, battery technology developers, engine manufacturers, and component suppliers to achieve our vision. We are pleased that we have the support of both GE and NAZA."
GE and MGTC signed a Memorandum of Understanding (MOU) in September last year to collaborate on public awareness campaigns to promote green technology and sustainability initiatives through sharing of best practices and green technology development through 'Ecomagination'.
Guests and customers at the GE-NAZA EV Experience were given the opportunity to test drive the Chevrolet Volt, a full–performance and full–speed electric vehicle.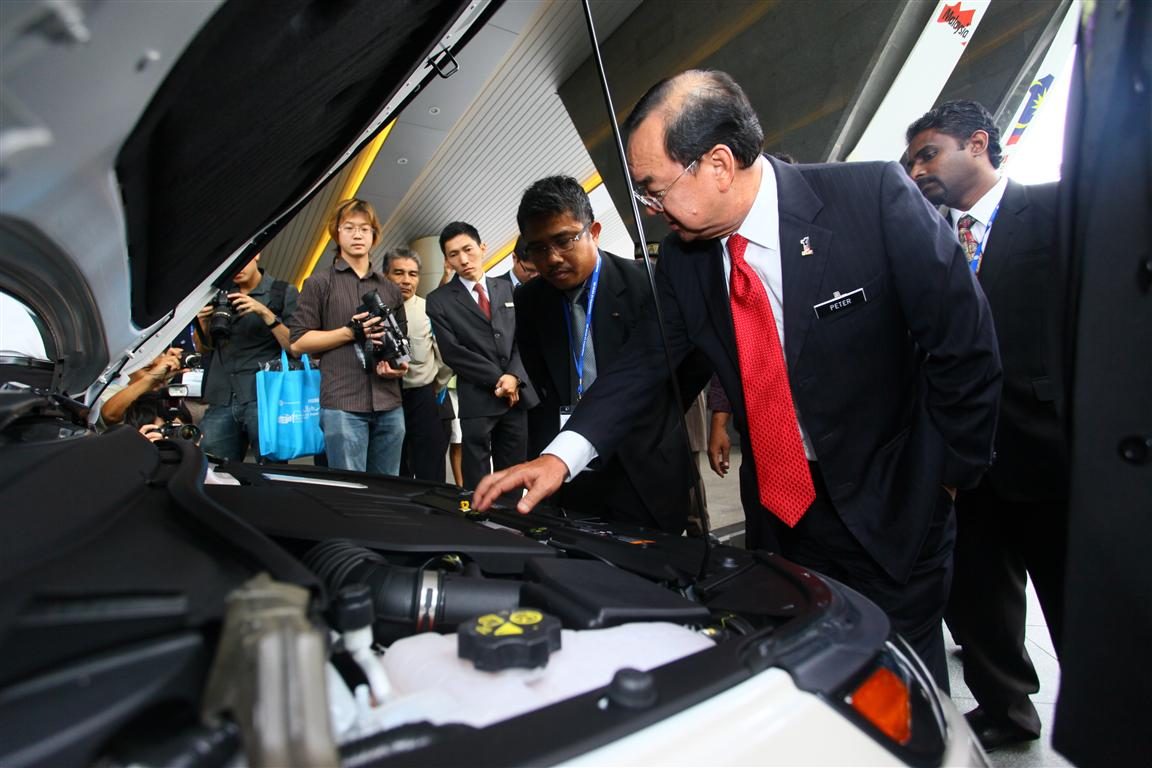 Supported by the Malaysian Green Technology Corporation (MGTC), a Government agency under the Ministry of Energy, Green Technology and Water, the event saw public and private sector collaboration to promote clean and energy efficient transportation for the country, in line with the National Policy on Green Technology.
A plenary panel discussion was also conducted during the 'GE-NAZA EV Experience' by industry experts like Datuk Maruan, Chief Operating Officer, NAZA Quest Sdn Bhd, Mohamad Madani Sahari, CEO of Malaysia Automotive Institute and Azli Mohamed, Director of Growth Initiatives - Malaysia, GE ASEAN, among others.
<iframe src="http://www.youtube-nocookie.com/embed/Hvmti_pZaiw?rel=0" frameborder="0" height="337" width="600"></iframe>