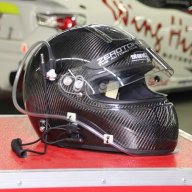 Jul 6, 2000
5,506
3,198
5,213
You know you're in for an awesome drive when the manifest states a brand new and yellow 458 Italia, a Scuderia, a couple of GT3 RS old and new, a couple of R8s, both V8s and a handful of F430s just to name a few. This Breakfast drive to Port Dickson is just one of the many social activities organized by
Blue Jackets
, a relatively new high-end car lifestyle society established early this year with many more outings planned and a blast to Thailand is just one of those huge entourage planned for 2011.
The Blue Jackets invite states, "Boys, There will be a drive this Sunday 15th May. Our destination this weekend is to PD. Some interesting routes have been planned. Attached is the invite for the drive for your information. Meet at RHB along Jalan Tun Razak at 8am"
The Manifest:
Ferrari 458 Italia - Yellow
Ferrari 430 Scuderia - Black
Porsche 996 GT3 RS - White / Blue
Porsche 997 GT3 RS - Orange / black
Ferrari 430 - White
Ferrari 430 Spider - Red
Ferrari 430 - Red
Ferrari 430 - Red
Ferrari 430 - Red
Lambo LP500 - Orange
Porsche 997 Turbo - Grey
Porsche 997 C4S - Black
Aston V8 Vantage - White
Merc C63 AMG - Black
Audi R8 - White / Black
Audi R8 - Silver
Porsche Cayman - Grey
Porsche Cayman - Grey
Nissan GTR - Silver
Nissan GTR - White
'(00) Mini Cooper S - Green
Erwin Azizi, the man behind to Blue Jackets Society mission briefs the attendees about the 101s of convoying in a group. He also stressed the importance of good behavior during the inevitable occasional high-speed thrills and ethics of negotiating traffic.
Still our favourite 911. The 997 GT3 RS
The Car of the Man behind the BJ Society. 996 GT3 RS. Even the Lightweight Porsche hood insignia sticker was deemed heavy and removed.
Star of the Drive. The one and only, Brand spanking new Yellow F458 Italia in KL
The only Scuderia among the 430s of the morning
Not to be trifled with. the C63 AMG. With dollops of German V8 power to scare any American muscle.
As the Supercars thunder through the toll plazas throughout the route
Gracing the good 'ol welcoming Port Dickson Town.
As we arrive and park nearby the coffee shop for warm Nasi Lemak, boiled eggs and Kaya Butter Toast
The only true Japanese exotic after the NSX
Currently the most desirable Italian Ass after
Bianca Balti

GT3 RS and MINI CS
Exotic Mods' Killer R8 V8 exceeds the magical 300km/h
Before having its Toyo T1R chewed by the gruesome stretch of trunk roads
The awesomest sounding Ferrari V8 of the day, screaming through the
Kreissieg Exhaust
Stopping by the highway for a re-count
Cayman on Techart Monoblocks
Possibly Malaysia's most customized LP500 also sporting bad-boy
Kriessieg Exhaust
Sinful.
Rare and clean V8 Vantage
As we return to reality we stopped by Terrace Arms in Kota Damansara for chilled beverages
As Colin Chapman said, To add speed, add lightness, swap the number plate for a cardboard piece.
ah, the Silver / Orange GT3 RS Combo
Lotus boys were there to join the havoc
More Blue Jackets' Drives: