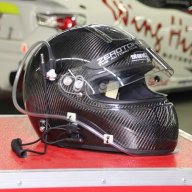 Jul 6, 2000
5,507
3,198
5,213
<iframe src="http://www.youtube.com/embed/um1GQeos0yo" allowfullscreen="" frameborder="0" height="250" width="335"></iframe>
Perhaps the most relevant animated film since Initial D, this new piece from Chris Hung, better known as Chrison, dubbed, The Driver, though ridiculously short yet again, the 2:53 minute trailer remains a tease, with a full animated series to follow soon we hope.
Full Size:
The DRIVER - Official Trailer 2 - GT-R vs 350z - YouTube
Who is TheDRIVER?
"TheDRIVER" is an adrenaline-fueled animated series aimed to showcase the positive aspects of car culture and racing while educating viewers on the dangers and risks associated with the hobby.

Based on the belief that permanent change cannot be forced upon someone unless it is first changed within their hearts, "TheDRIVER" hopes to inspire viewers to drive responsibly out on the public roads.

The series follows the escapades of a mysterious driver out to rid the streets of Los Angeles of illegal street racers, drunk drivers, and other unsavory characters with his magical driving skills.
From the guy who brought you this, remember?
"Extreme Limit" 2001 - Official Short - YouTube