Item: Kenwood TK3107 Walkie talkie for sale.
Condition: New
Price: RM200 each NETT
Location: KL
Contacts: Call/SMS 016-4549894 (Jason) or pm
Package includes: 1 unit walkie talkie, 1 unit battery(KNB14), 1 unit desktop charger, 1 unit long antenna and 1 unit belt clip.
Communication distance approximately 5km. Suitable for car clubs convoys, security and event personnel communication.
Rm35nett For additional battery(KNB14).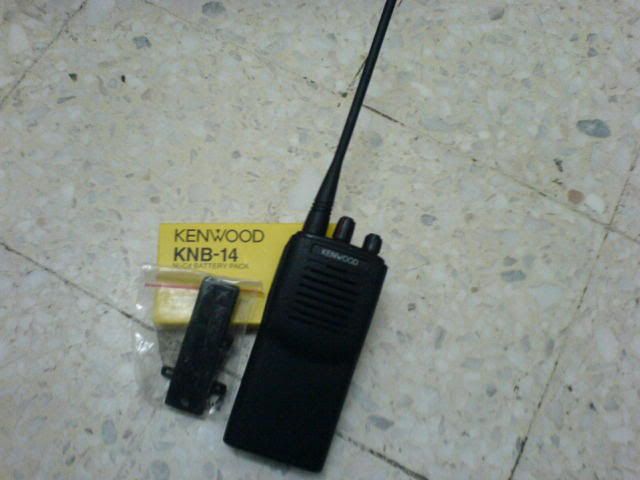 Please keep this thread clean.any enquaries, please pm me or call the number above.
TECHNICAL SPECIFICATION TK-3107
General
Frequency range Type 1: 450 ~ 470 MHz
Type 2: 470 ~ 490 MHz
Type 3: 490 ~ 512 MHz
Type 4: 406 ~ 430 MHz
Type M4: 400 ~ 420 MHz
Number of Channels 16 semi-duplex
Antenna Impadance 50 OHm
Channel Spacing 25 Khz (Wide) / 12.5 KHz (Narrow)
Operating Voltage 7.5 VDc ± 20%
Battery Life:(5-5-90 Duty Cycle) With KNB-15A - more than 8 hours at 5W with battery saver Off
Operating Temperature Range -30°C ~ +60°C
Frequency Stability ±0.0005% (-30°C ~ +60°C)
Dimensions (W x H x D) 58 x 125.5 x 35 mm with KNB-15A battery
Weight (net) 380 g with KNB-15A battery, antenna and belt hook,
170 g main body only
Receiver (Measurements made per RS-316-B)
Sensitivity EIA 12 dB SINAD: 0.25 µV (Wide)
0.28 µV (Narrow)
Selectivity 70 dB (Wide)
60 dB (Narrow)
Intermodulation 65 dB (Wide)
60 dB (Narrow)
Spurious & Image Rejection 60 dB
Audio Output 500 mW at less than 10% distortion
Channel Frequency Spread Type 1: 20 MHz
Type 2: 20 MHz
Type 3: 22 MHz
Type 4: 24 Mhz
Type M4: 20 Mhz
Transmitter (Measurements made per RS-316-B)
RF Power Output 4 W
Modulation 16K0F3E
11K0F3E
Spurious & Harmonics 65 dB
FM Noise 45 dB (Wide)
40 dB (Narrow)
Microphone Impedance -
Audio Distortion Less than 5%
Channel Frequency Spread Type 1: 20 MHz
Type 2: 20 MHz
Type 3: 22 MHz
Type 4: 24 Mhz
Type M4: 20 Mhz
Last edited: