4,000 RPM Member
Senior Member
4,000 RPM Member
Senior Member
Apr 4, 2009
4,831
5
1,638
Hi all, now i am selling this
Or go to
http://rb-aa.bosch.com/boaa-sg/Product.jsp?prod_id=59&ccat_id=24&language=en-GB&publication=1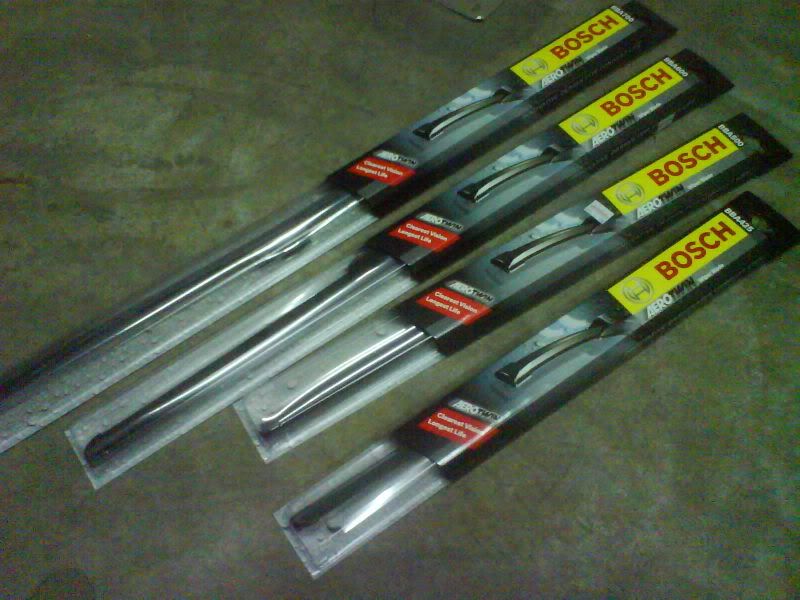 With the Aerotwin Bosch has redefined innovation with a design that combines optimal wiping efficiency with maximum convenience.

The advantages in overview:

Superbly effective, even at high speeds and under critical conditions
Evodium flex rails custom-designed for ideal performance in each individual vehicular application.
Balanced force distribution and optimal aerodynamics to clear every portion of the swept range with unexcelled efficiency
Enhanced convenience
Minimum wiper-induced wind noise thanks to reduction in aerodynamically exposed surface area
Improved winter performance, with no ice formation on joints and metal frames
Innovative plug-on connection for ultimate ease in blade replacement
Innovative design from Bosch
The perfect marriage of form and function
Elegant and extremely planar styling replaces joints and frame braces
Integral aerodynamic spoiler
Custom-designed evodium flex rails for a perfect fit
Extended service life
Even distribution of application force inhibits uneven wear
This balance also enhances resistance to insects and stubborn dirt
Tried and tested Twin dual-component technology for wiper blades

Price rm95 for most cars
if 24/14inch -rm110

And further info, u may contact Robert Bosch PJ

Please contact me:
012-2908159
Location: Jalan Ipoh daytime
weekends/night time: Serdang(South City), Puncak Jalil, Seri Petaling, Sunway, Subang, Puchong, Taman Desa. do call for more areas
weekends-saturday/ sunday- do give advance notice.
Last edited: