bro...impossible to grind the piston...we also amazed when we dismantled the head and found that the original piston of Myvi SE is almost same as L500 & L200...under groove so deep we thought it was underpowered...we really did grind some area in the head to lower down the compression...u can check with other Myvi owner whether their piston is same like this one...:hmmmm:





---------- Post added at 08:53 AM ---------- 6 hour anti-bump limit - Previous post was at 08:50 AM ----------





bro...gearbox is manual but have transplanted from Daihatsu K-car and rojak it up
i own a myvi se too.07 model and i have plenty of myvi friend who did extreme modification to their ride.whether NA or Turbo.we did a lot of research and modification so far, and the myvi piston is flat on the top. i might be wrong though, but so far as i know the top is flat. not like urs where is a lil bit similar to yrv piston. which got kawah on top.
this is yrv piston. 8:1 compression ratio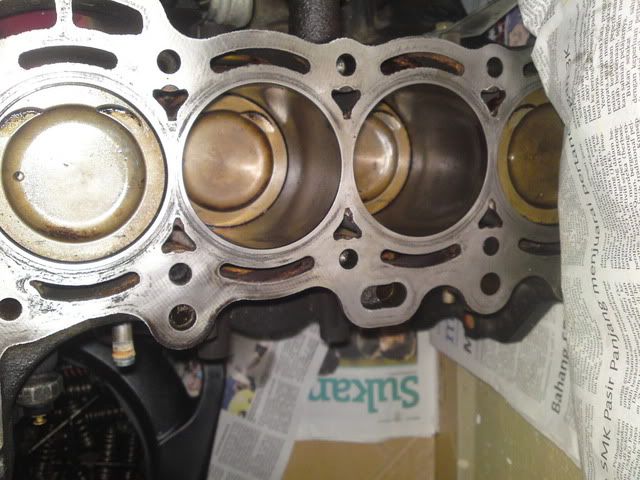 maybe u mechanic korek the original piston?
i dont think how logic it is if ur mechanic grind the head can lead to a lower compression.
and i can sure it totally different from L5 and L2.Both of that is stock in turbocharge system.their compression ratio should be lower. k3ve is NA,compression ratio 10:1 and how logic it is for NA to run a lower compression piston without turbo?
if the original myvi piston already got lower compression, why most of the tuners out there who doing BOT project will choose yrv piston for replacement?and i myself experience twice of engine kaboomm becoz of BOT by using stock piston. even with a thick metal gasket.
Last edited: