Senior Member
Senior Member
Senior Member
Senior Member
All New PROTON & PERODUA 2019
FULL LOAN / FAST LOAN
BOOKING & PROCESSINGLOW %FREEBIES & DELIVERY
MURAH
MUDAH
CEPAT
【
https://hi.jomwasap.my/Hi,Top1Jack
】
【
https://hi.jomwasap.my/Hi,Top1Jack
】
Call
【Jack +6012-253 5889】
BELI KERETA BARU DENGAN 4 LANGKAH YANG SENANG
1. Book kereta baru anda dengan Jack tanpa melawati bilik pameran & bayaran kalau full loan
2. Hantarkan documents dengan WhatsApp ke【
https://hi.jomwasap.my/Hi,Top1Jack
】atau email ke 【jacksiau889@gmail.com】
3. Tunggu Loan luluskan di dalam 2 atau 3 hari dan sign agreement.
4. Kereta akan hantar ke pintu depan rumah anda.
MURAH KASI TAU KAWAN ; MAHAL KASI TAU KAMI!!!
Kenapa ANDA harus memBELI dengan saya ???
Berpengalaman luas didalam bidang JUAL-BELI kenderaan
Perkhidmatan; layanan yang PANTAS & MESRA & JUJUR
Servis AFTER SALES (untuk servis @ masalah kenderaan @ renew insurans & roadtax)
Pelanggan mesti BERPUAS HATI dan GEMBIRA
Pelanggan akan menjadi KAWAN kepada saya
BERUSAHA bersungguh-sungguh untuk melepaskanLOAN anda!!! tapi pastikan nama anda bukan BLACKLIST@ CCRIS!!! CTOS takda masalah, sy bole tlg gaotim!!!
CONNECTION yang KUAT dengan HQ MANAGER CIMB MBB HLB PBB RHB ISLAM MUAMALA KUWAIT
ALL FREE GIFT GILA2
FREE Tinted Full Car FREE Reverse Camera
FREE Full Tank Petrol
FREE Door Visor
FREE 7" sun visor
FREE Roadtax Holder
FREE Coil Mat
FREE Windows Number
FREE Number Plate Holder
FREE Steering Lock
FREE Umbrella With logo
FREE Sun Shade
FREE Exclusive Keychain
FREE Pen With Logo
FREE Dash Mat
FREE Car Shopping Hooks
FREE Pen with logo
FREE Air Freshener
FREE Hp Holder
FREE Towel
FREE Beg Holder
TERM & CONDITION APPLY
Submit your documents today!!!
-IC
-License
-3 months Payslip
-3 months bank statement or KWSP
Berniaga:
------------
1. IC photostate
2. LESEN MEMANDU photostate
3. SSM 3 borang
4. PENYATA BANK 6 bulan
5. Photostate AKAUN SIMPANAN @ ASB
Skim SISWAZAH:
---------------------
1. IC photostate
2. LESEN MEMANDU photostate
3. DIPLOMA / DEGREE / SURAT TAMAT BELAJAR / SIJILTAMAT BELAJAR
4. TRANSKRIP 5. OFFER LETER (dah ada offer letter kalau tak kerja lagi pun takpa)
JUJURAN DAN PROFESSIONALISMA ADALAH MOTO KAMI
UNTUK SEMENANJUNG SAJA
RIBUAN TERIMA KASIH
Call
【Jack +6012-253 5889】
Please Click the WhatsApp Link
【
https://hi.jomwasap.my/Hi,Top1Jack
】
#Proton
#Perodua
#ProtonX70
#ProtonSaga
#ProtonPersona
#ProtonPreve
#ProtonIriz
#ProtonExora
#PeroduaAruz
#PeroduaBezza
#PeroduaAlza
#PeroduaMyvi
#PeroduaAxia
#standard
#executive
#premium
#SE
#Advance
#Gearup
#FullLoan
#FastLoan
#FreeService
#FreeGifts
#CashBack
#NoBookingFees
#NoDeposit
#Stockready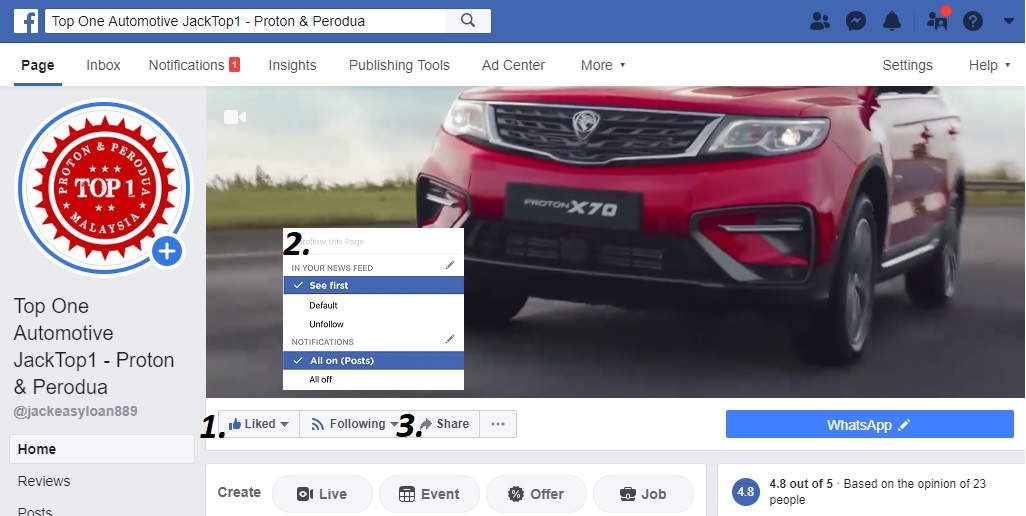 Last edited: