15 Year | Platinum
Helmet Clan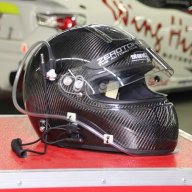 15 Year | Platinum
Helmet Clan
Jul 6, 2000
5,342
3,116
3,213
720ps Ferrari F8 Spider now in Malaysia - 2.9 sec / 770nm / 1,400kg
2.9 sec / 720ps / 770nm / 8,000rpm 3.9L V8 twin turbo / dry sump / 7 speed DCT / E-Diff / 1,400kg / 340kmh / RM1,178,000 before duty and options
Also revealed today is the recently spawned F8 spider, alongside the new 812 GTS spider SEA debut at Naza Italia's KL Ferrari showroom.
This new F8 Spider represents the Prancing Horse's latest stable of drop top stallions, which utilizes their new and compact RHT (Retractable Hard Top) architecture and as you've noticed on the 812 GTS, can substantially influence a Ferrari spider's physique, so it is more comprehensive than just wiring a couple of motors and a roof chop.
For reference sake, this F8 spider replaces the older 488 spider and pushes 50ps more, however it is still half a step behind the more extreme 488 Pista race horse. Also 20kg heavier naturally.
The 720ps / 770nm mid-rear-engined drop-top F8 continues to be propelled by Ferrari's most successful V8, but now include goodies from the 488 Pista's engine weight reduction programme. It'd shaved 18kg off the 488 spider's engine, even reduced rotational mass by employing titanium conrods, crankshaft and flywheel for starters.
They've also utilized the 488 Challenge's inconel exhaust manifold to further cut weight by 9.7kg.
Speaking of exhaust, the F8 Spider is said to feature its own V8 soundtrack via extensively tuned extractor plumbing.
This V8TT features Ferrari's "Wall Effect" rev limiter whereby instead of gradually cutting the rpms toward redline, the "Wall Effect" limiter allow full vigour of its rpm range and will stop the revs dead at 8,000 before the next gear, which Ferrari claims could improve straight line acceleration, therefore better laptimes.
The F8 spider's RHT Retractable Hard Top is similar to that of the 812 GTS, which work at speeds below 45kmh, take 14 secs to open and feature 2 provocative mounds on the tonneau cover. There's a lot going on in the rear of the F8 spider as promised by the RHT effort, even includes motorsport swan-neck inspired tonneau cover fins, which flow rearwards.
If you're keen, the F8 spider will be available for private viewing from now till 31 May 2020 at the Ferrari Malaysia Showroom
Ferrari F8 Spider Technical Specifications
Engine
Type V8 - 90° - turbo – dry sump

Overall displacement 3902 cc

Max. power output* 720 cv (530 kW) @ 8000 rpm

Max. torque* 770 Nm @ 3250 rpm

Specific power output 185 cv/l

Max. revs 8000 rpm

Compression ratio 9.6:1

Dimensions and weight
Length 4611 mm

Width 1979 mm

Height 1206 mm

Wheelbase 2650 mm

Front track 1677 mm

Rear track 1646 mm

Dry weight** 1400 kg

Weight distribution 41.5% front – 58.5% rear

Boot capacity 200 l

Fuel tank capacity 78 l

Tyres
Front 245/35 ZR 20 J9.0

Rear 305/30 ZR 20 J11.0

Brakes
Front 398 x 223 x 38 mm

Rear 360 x 233 x 32 mm

Transmission and gearbox
7-speed, dual-clutch F1 gearbox
Electronic controls
E-Diff3, F1-Trac, high performance ABS/EBD with Ferrari Pre-Fill, FrS SCM-E, FDE+, SSC 6.1
Performance
0-100 km/h 2.90 s

0-200 km/h 8.2 s

Max. speed 340 km/h

Continue reading the Post.
Last edited: