Oddly enough, I felt like an actual spectator at last weekend's TGR street race. Having attended countless motorsport events, it almost always seem like work. But not this time. This one felt special.
A couple of years ago, we had the KLGP, Malaysia's first street circuit event in decades, that hosted the likes of Lamborghini Super Trofeo racers and even the V8 Supercars. It was grand, ground breaking and exhilarating to witness, but a huge inconvenience at the same time come to think of it.
Access in general was a pain. The massive size and restrictions also meant it was hard to thoroughly enjoy the race experience. I remember it was a tough choice between the hospitality suite or the pits, or the viewing vantage points which felt like kilometers away from each other. Don't even mention the parking car park.
Toyota previewed their latest C-HR in Batu Kawan
Toyota Gazoo Racing Festival
TGR is hands down the most accessible racing festival one must visit at least once. Plus it's totally free for all. Fine, the Vios racecars may not be very fast but when coupled with the mini street circuit and die hard drivers going all out, every action seem magnified.
I shall list these things as my primary attractions at last weekend's TGR Festival.
Bite Sized Circuit
Cup Car Drama
Friends in Racing
Stars and Shows
Host and Hospitality
Bite Sized Circuit
About a month's duration was required to lace the vicinity of Batu Kawan Stadium with this 1.6ish km street circuit, along with its surrounding amenities. We're talking the same KLGP grade street circuit concrete block walls weighing 4 tons each, plus overhead fences and what not.
Then, a few temp buildings were erected, some were multi level, acting as offices and hospitality suites. Not forgetting the paddock tents as well. Lastly, a humungous stage and show stands just tops off the makeshift motorsport venue, out of no where, in a stadium car park.
At 1.6km, it's kinda like a go kart circuit but with walls. Together with the accompanying structures, all within a few seconds reach just makes it easier to breath in the entire experience.
For example, I can be having lunch at Hospitality one minute and in a snap, back to the Pits to catch up with the teams before their race, head back to hospitality level 2 to see the main straights and race start, check the big screens for the rest of race and then dash off to Parc Femme to see the cars and drivers return.
Cup Car Drama
The Vios Challenge is TGR's main highlight and in racing, action is guaranteed no matter at qualifying or race. With street circuits, this aspect quadruples.
For starters, there's no grass or gravel run-offs, nor tyres or Armco barriers cushioning you from ego-crushing shame. Any unintended contact with the walls mean big time physical and/or mechanical damage.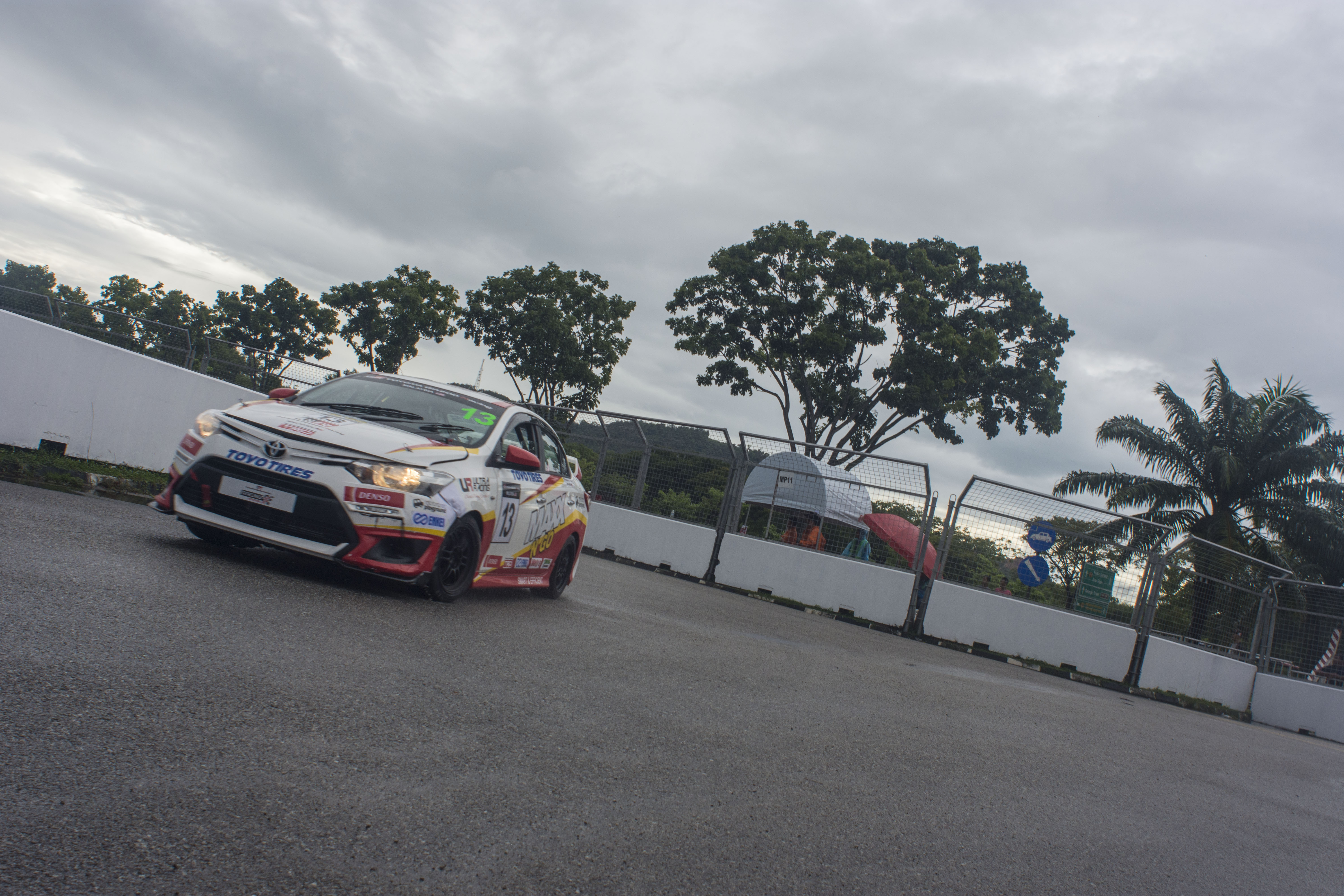 Those walls are the drivers' biggest barrier no doubt. Drive under the limits and fall back from the competition or play on the edge and accept the risks.
It was at this faithful TGR race, where I was able to witness the difference in performance from even the biggest names in local touring car racing, especially the Pro class, dubbed Super Sporting Class.
There were plenty of carnage throughout the weekend, cars ricocheting off the walls, dive bombings, door closing and and bumper to bumper action. Not forgetting displays of emotion as the drama unfolds. It's been a long time since I've felt such heart pounding moments from watching my peers battle it out.
Friends in Racing
It was a congregation of good company, friends and associates all weekend. These are people I've became very close with throughout the years, be it from within the Zerotohundred.com community, TIMETOATTACK or my recent years in racing.
Fellow journalists, media comrades were all on-site and also in awe of the unique TGR Fest. I think most of us had thoroughly enjoyed ourselves, with our exclusive access to the entire event and the accessibility of it.
There were familiar faces everywhere, be it teams, drivers, engineers or organizers. These are the same people who live and breath Sepang. I knew just about everyone at the paddocks, except for a handful of new entries.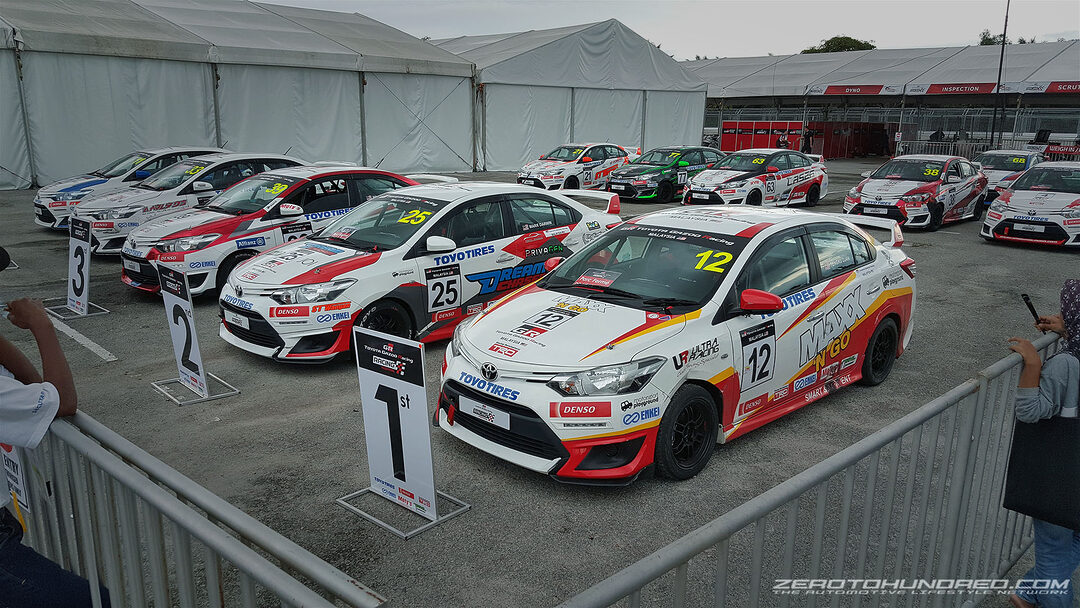 Team Dreamchaser is an entity I had the pleasure of clinching first place in Sepang's 1000km endurance race in 2015. Cy Ong the team owner fielded a big team and they are some of the known influencers in local touring car racing. They have big plans, so things are going to get pretty exciting further down the series.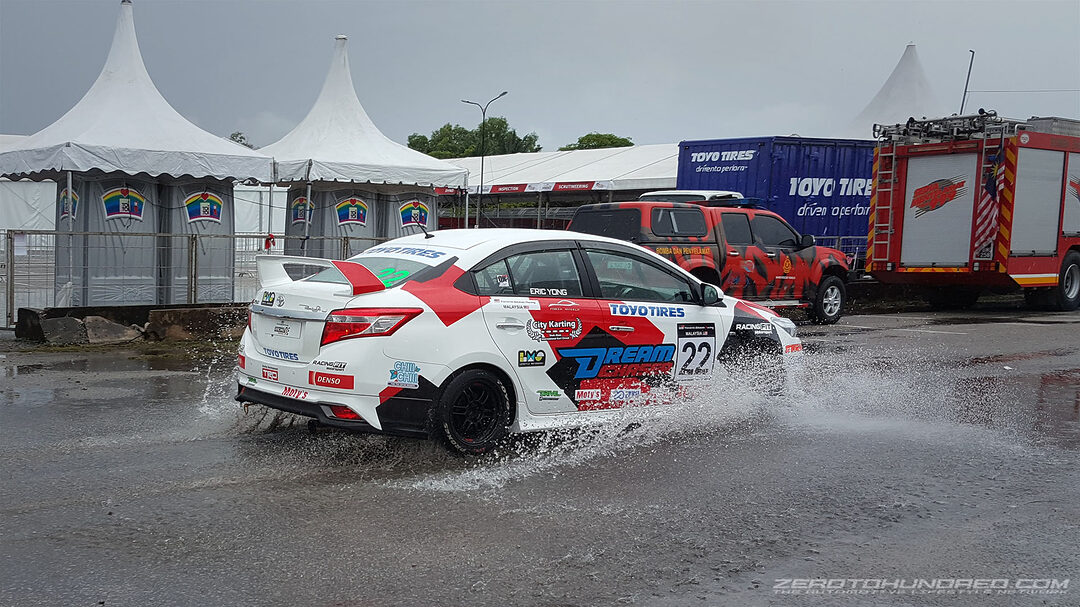 The people behind race organisation are Wing Hin Motorsports, who themselves are die hard Toyota loyalists. They have vast experience in racing and even more in fiddling with Toyota racecars. Wing Hin have been the only team racing Toyotas in the country, prior to focusing their talent at managing the Vios Challenge Series.
Stars and Shows
There were many known stars in TGR as well. First off, the Celebrities in racing. These are young public figures in entertainment with varying genres.
I saw just how mad their fans were, especially of Fattah Amin's and Janna Nick's. They were out there the entire day, in the scorching sun and pouring rain, just waiting for a glimpse of their prized idol(s).
Shawn Lee pretty much dominated the entire Promotional Class / Celebrity Class with his superb performance. Not only that, as a new guy in racing, he ranked 6th overall in qualifying, beating even the greatest jockeys of Sepang Circuit. That's how volatile street circuit racing is.
The young beatboxer's definitely got a bright future in racing and with his rising stardom, there's no telling what great things he can achieve in the near future.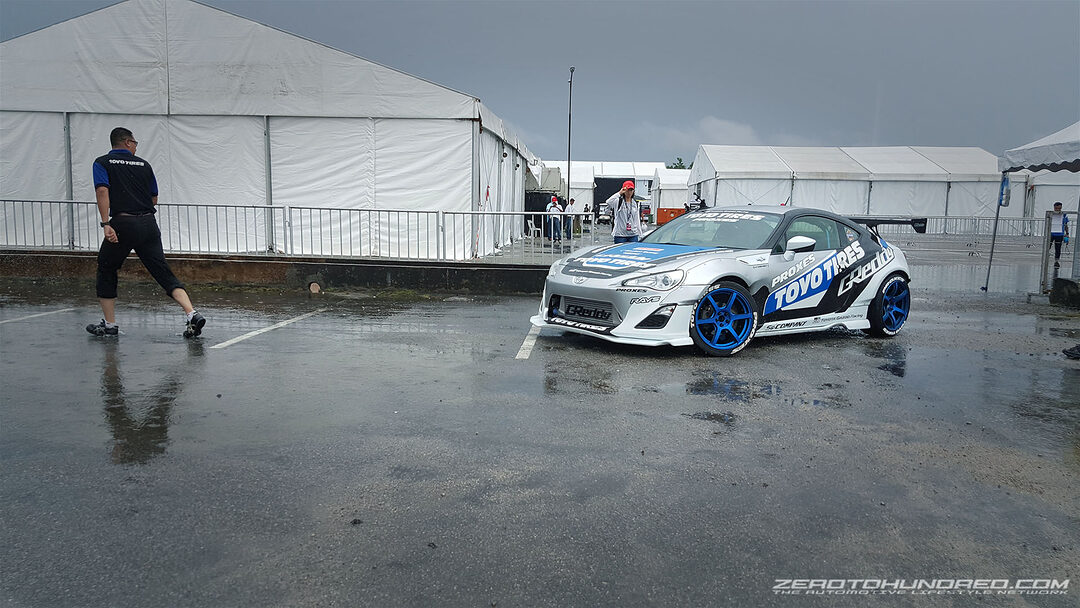 There were side shows during the TGR weekend and the Drift Demo was a crowd favourite. Imported from Japan are D1 stars Masato Kawabata & Hideyuki Fujino along with their widebody Toyota 86 twins. It was a Toyo Tires effort, a major sponsor of the TGR series.
Host and Hospitality
Someone need to give TGR organising team a pat on their backs for a job well done on the aspects of entertainment, hospitality and overall festive ambiance.
The host / emcee they've engaged for TGR was particularly entertaining. It's certainly not an easy candidate to pick but this guy nailed it. Got the crowd all hyped up he did and deployed all the announcements perfectly he had.
Melvin Aeria is his name and he's got the voice, the energy, talent and even spoke fluent English, Malay and Japanese. He is made for this and I hope TGR retains this guy in all their upcoming events.
Now, on to hospitality. Other than acting as Vip suite and for big screen live viewing, this is where the celebrities are housed when not out there racing or meeting fans.
It was a pleasure rubbing shoulders with them, and from time to time, having in depth chats about our passion for Motorsports.
Of course, this isn't a publicly accessible area but for those who could, it was a priceless moment. I especially enjoyed my time here because it's the best place to savour the race, also not forgetting food and beverages.
– Tom Goh
Next : TGR Round 2
When: November 25th and 26th in
Where: MAEPS, Serdang

Race Summary By TGR
Batu Kawan, Penang, 13 August 2017 – The sun shone brightly on the Batu Kawan race tracks today, signaling a hot day of racing both in temperatures and in racing quality.
After a damp opening day on Saturday, Sunday's races were run in contrasting warm weather, allowing the three classes of racing drivers to push their Toyota Vios to the absolute limits.
Following the ceremonial opening ceremony at noon where throngs of spectators were allowed onto the starting grid to get up close with all the Vios Challenge race cars and drivers, the 13 top-tier racing drivers from the Super Sporting Category took to the starting grid led by pole sitter Tengku Djan of Team Maxx N Go with Dream Chaser's Mark Darwin beside him.
As this was their first session on a dry track, the drivers were expected to be tentative but being seasoned racers, it was full throttle from the lights.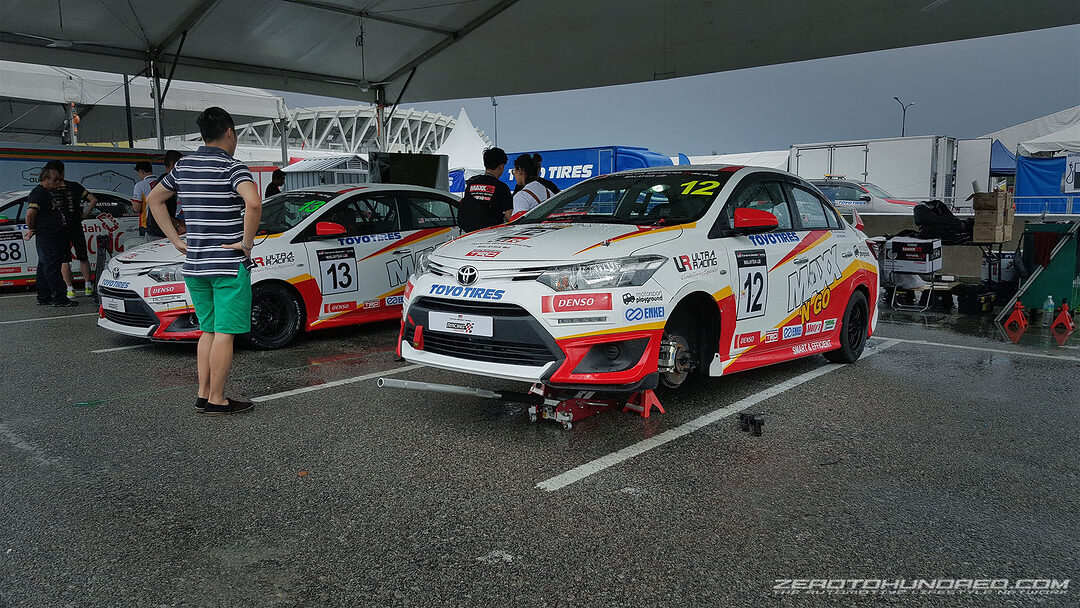 Tengku Djan was quickly away with Darwin in tow while Shafiq Ali had his hands full with William Ho breathing down his neck. Early favourite James Verappen who was running in a race in 7th with Boy Wong, clipped a wall and retired with a broken rim.
Boy then found himself locked in a keen battle with Mitchell Cheah while lower down, it was Dato Mohd Nasri who had a battle with Akina Teo and Vincent Ng having a great scrap for 9th position.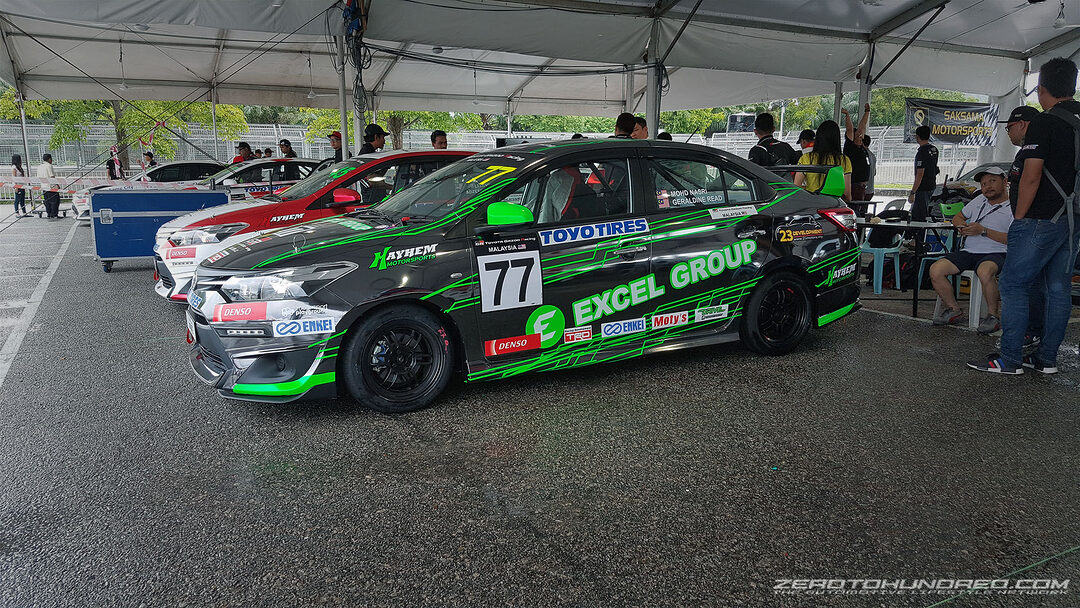 Tengku eventually won the 18-lap race with a gap of over 15 seconds from Darwin and Syafiq although the results currently remain provisional due to a technical investigation.
Race 2 of the Promotional Category once again saw beatboxer Shawn Lee make his lightning start from pole and pull away from the field with Shukri Yahaya and Danny Koo in tow.
Fattah Amin who did not finish Race 1 made a great start and was running in mid field for much of the race together with TRD Asia's Masaaki Murata but he soon caught Diana Danielle who was in 4th. He made a brave attempt to pass on the inside of 3 but the move did not materialize. He clipped the rear of Diana's car in mid corner and the resultant move sent both their cars into the barriers and into retirement.
Shawn went on to win his second race of the weekend with Shukri Yahaya and Danny Koo completing the podium positions.
Racing fans were not disappointed when they stayed for Race 2 for the Sporting Category. The race turned out to be one of the most thrilling of the weekend with close battles throughout the field. In fact, the drivers were so closely matched that 15 drivers were lapping within 1 second of each other.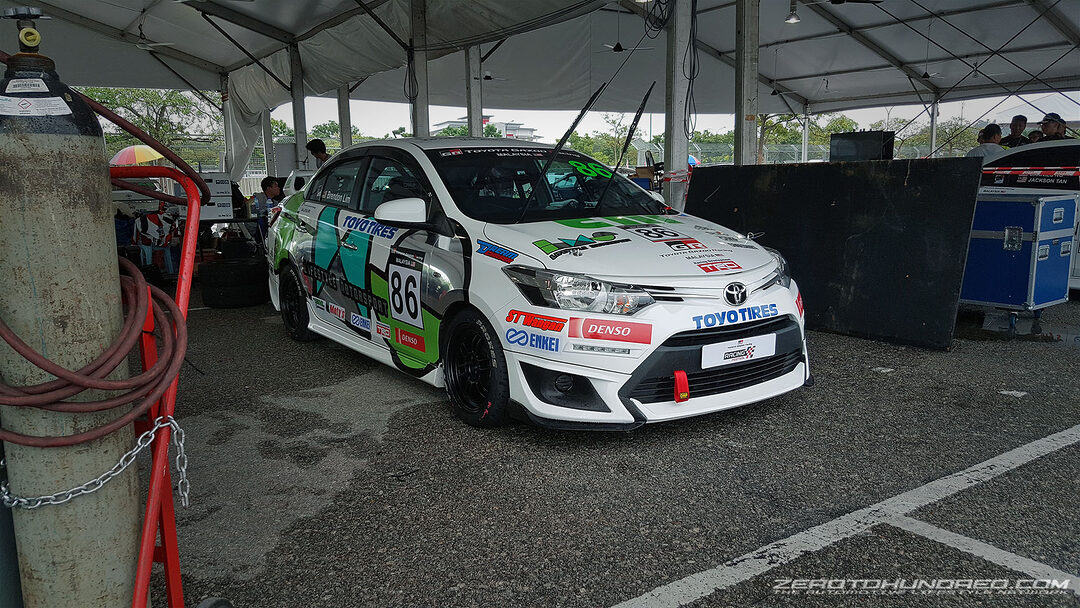 The constant jostling for positions kept fans on the edge as the top three drivers led by Race 1 winner Ken Foo, Patrick Tam and Brendon Lim could be seen exchanging paintwork on numerous occasions.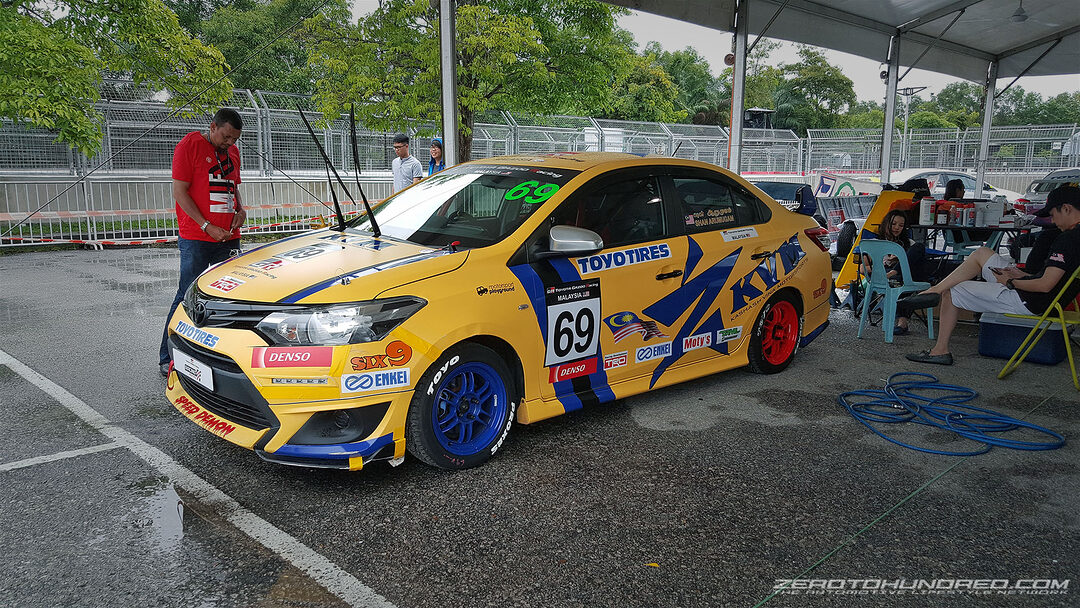 Patrick made numerous attempts to pass Foo but his efforts were regularly thwarted due to the matching performance of all the cars. With the final lap board appearing on Lap 17, Patrick made a do-or-die attempt on the outside going into Turn 1. Being on the dirtier line, he slid wide into the barricades and retired. Shanmuganathan whose view of the incident was shielded by other cars, ran into Patrick's car and duly retired.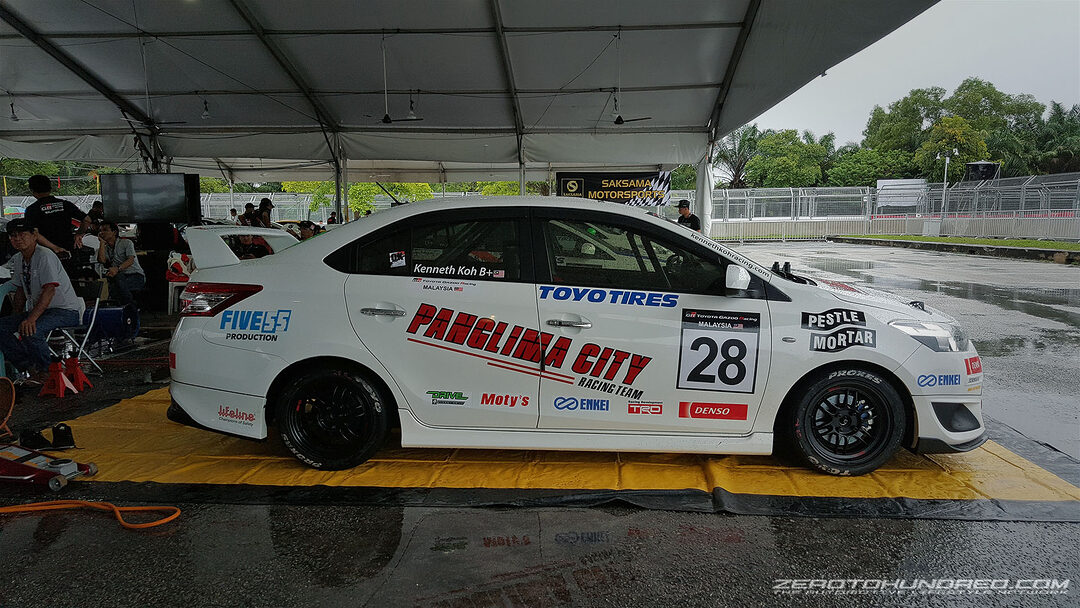 Kenneth Koh took his first podium with Brendon crossing the line in third less than a second behind.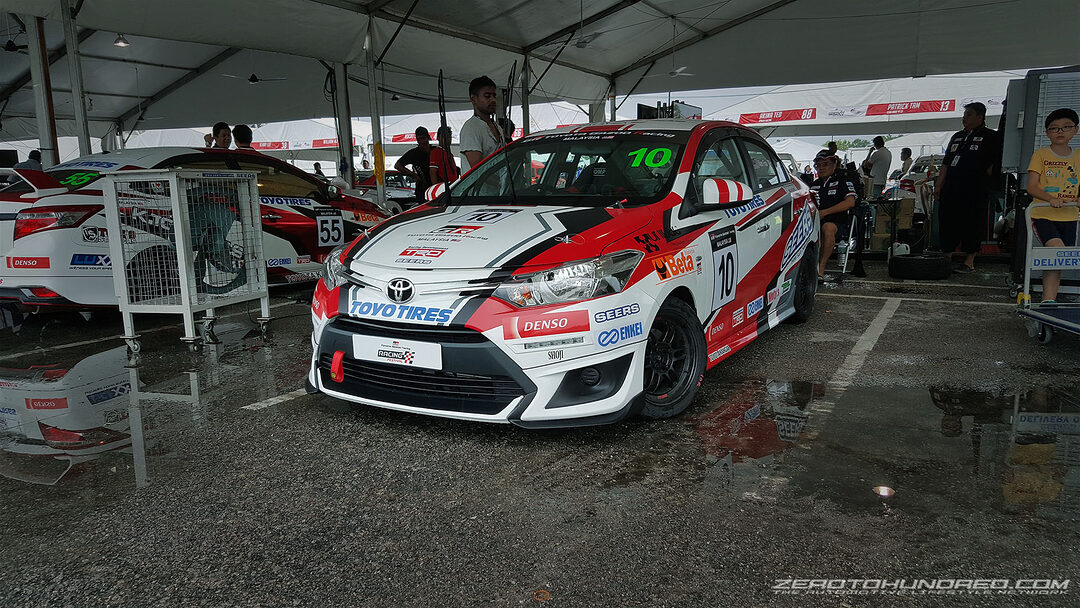 With the crowds pumped up following the Sporting Category race, there were great expectations for the final race of the weekend, Race 2 of the Super Sporting Category. What would Tengku Djan do from his 3rd position on the reversed grid while carrying a 20kg ballast for winning Race 1? Would he settle for points or attempt to win on the tight street circuit?
The question was quickly answered when he made a brilliant start to dive inside Mark Darwin in Turn 1 and began his pursuit of Shafiq. Shafiq increased his pace but was still finding difficulty shaking off Car 13 that was looming large in his mirrors.
Djan found the opportunity on Lap 3 when he found good drive out of Turn 9 to pull alongside Shafiq. Shafiq kept the inside line going into Turn 10 and when Tengku tried to turn in for the corner, they touched, sending Tengku into a half spin.
However, with background in drift, Tengku powered out of the slide and into the lead, never looking back from there to the chequered flag. The loser in the move was Shafiq who had to retire due to damage to his car.
There were more thrills further down the field when Kenny Lee was engaged in a serious battle with Akina Teo, James Verappen and Dato Mohd Nasri. Kenny finally managed to make a serious move on Lap 12 and James capitalized on the situation to also move into 9th position.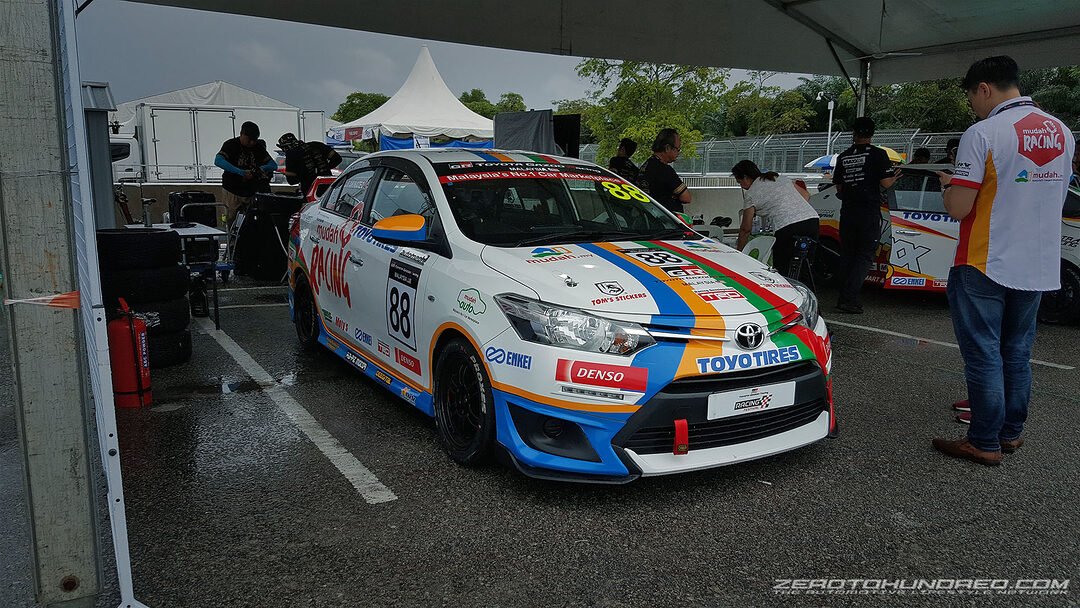 It was a fantastic weekend of racing with high-quality driving and the crowds who came out to Batu Kawan witnessed not only spectacular racing but also an amazing array of activities. The turn out on Sunday eclipsed Saturday's numbers with a total visitor count of over 28,000 enjoying the festivities at the very first Toyota GAZOO Racing (TGR) Racing Festival.
The next event will be on November 25th and 26th in MAEPS, Serdang and this event is expected to be as explosive and exciting as the first one in Penang.
For more information on the schedules, visit toyotagazooracingmalaysia or on facebook and instagram