If you're expecting actual sportiness from Honda's latest I-DCD Dual Clutch Sport Hybrid offerings, you'd be promptly disappointed and discover they're not nearly as eager as their Sport badges suggest.
Like most, many at least, I wanted to believe it's about time compact cars like the Jazz / Fit finally get its own pow-pow party trick, like how the Polo GTI had the early dry clutch DSG that proved to be a worthy firecracker.
This must be it, the new I-DCD Sport Hybrid. Plus, we Malaysians are the first people outside Japan to be endowed with this new toy, so that must count for something, right? After all, how hard can it be to amp up the already electric City and Jazz?
So, just last week, I took a drive with Honda and Co., on a 48hr first experience in both the new Sport Hybrids. We drove 500km through the east coast highways of Malaysia, with a mix of Kuantan winding twisties and the coastal roads of Terengganu to find out just how special Honda's new dual clutch, hybrid heroes are.
Barely a feet traveled, It becomes clear, the famed Sport Hybrids are hardly spiced up versions of the Jazz & City we've come to know. Instead, they've actually turned the Jazz & City into new, super efficient hybrid compacts we never knew.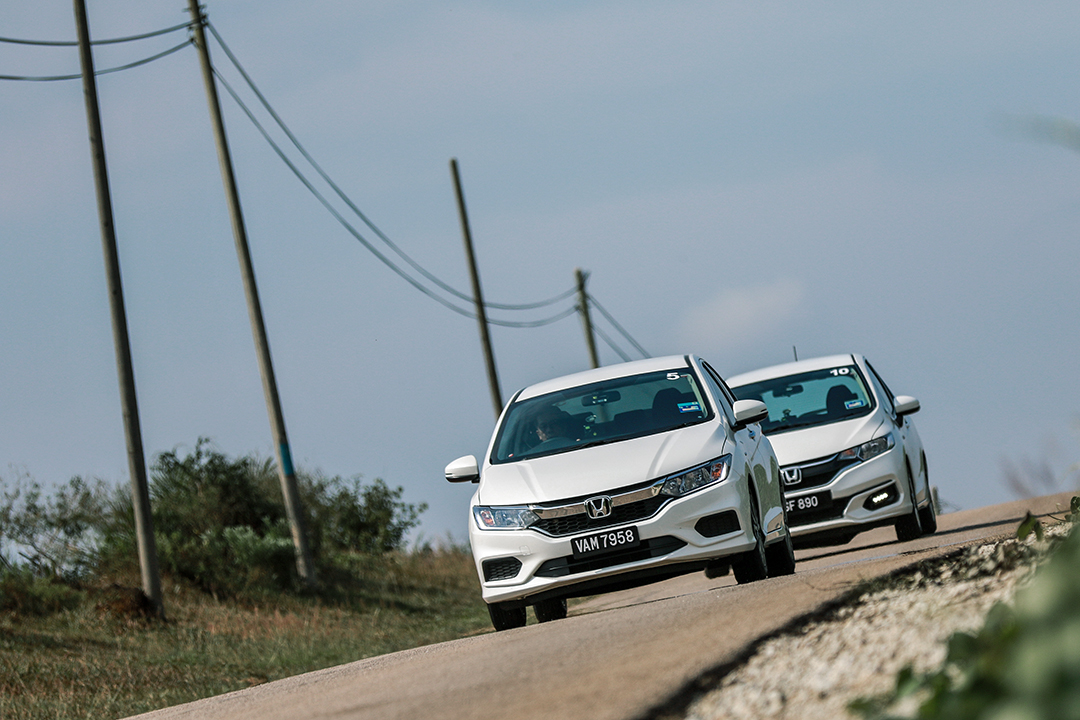 What's Special about the Sport Hybrid
In truth, Honda's latest I-DCD venture is the next evolution to their current hybrid cars. Now with dual clutch, bigger hybrid battery and ever more cutting edge. The only way to approach these new Sport Hybrids is to forgo their Sport badges and see them as next gen Honda hybrid replacements. Which, in real life, are brilliant new runabouts and if CVT was never your thing, you'd be damn pleased Honda's finally introduced their dual clutch box.
The recent Honda Sport Hybrid Launch
New Jazz Sport Hybrid packs more e-juice and 7-speed DCT! – RM87,500
Swipe Right to See More Above
New Electric Servo Brakes.
a hybrid car can regenerate energy under deceleration utilising its electric driving motor. But the issue with this is that it messes with brake feel as the motor tries to add resistance to generate voltage for storage.
Unlike conventional braked where braking pressure remain constant, this electric braking servo is adaptive where it continually changes how brake pedal travel relate to actual braking pressure.
For example, at high speeds, it provides more braking assistance for greater stopping power, whereas in low speeds, this assistance changes to provide smooth consistent braking without the over-servoed sensation commonly associated with hybrid cars during regenerative braking.
Brake feel is superb anywhere, electric servo is tuned to perfection and does what the box says. Each application is supple and accurate, even at higher speeds as the electronic servo compensates brake pedal travel.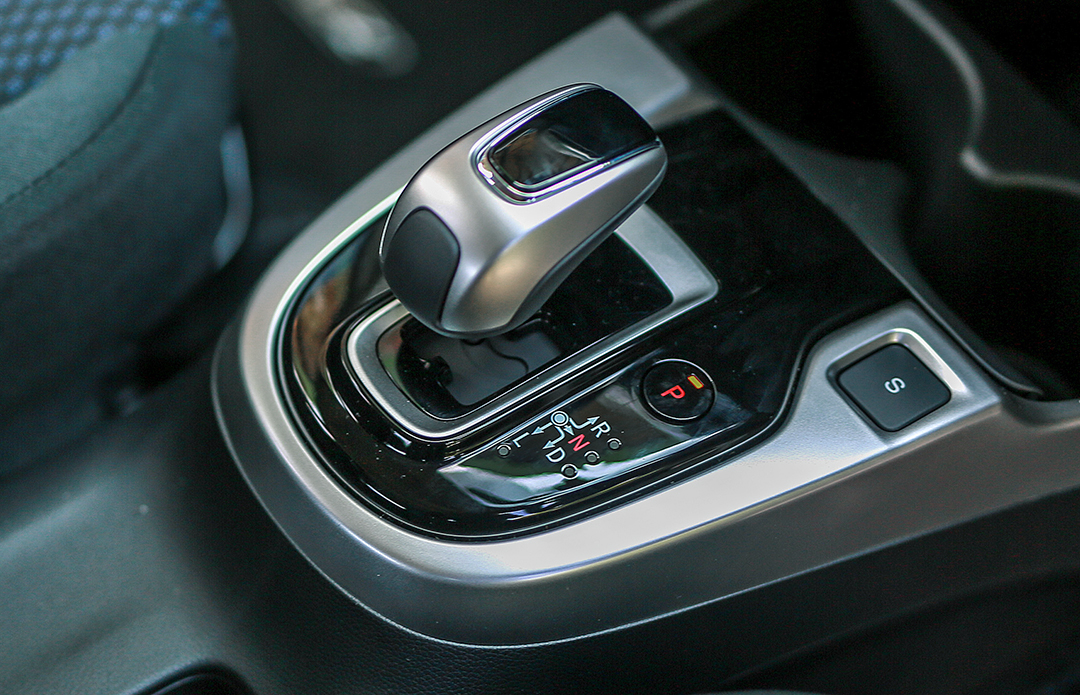 Shift By Wire
It's quite a joy to operate the shift knob in the new I-DCD cars. It feels futuristic, the knob is light and feels clicky when in use. There's no longer a shift gate for P, R, D in the Jazz Hybrid's gear shift console. Instead one simply move the knob into desired drive mode, release and it springs back to resting postion. There is also a separate P button for Park now. In addition, the City gets steering paddle shifters. Ironically, the Jazz doesn't get those.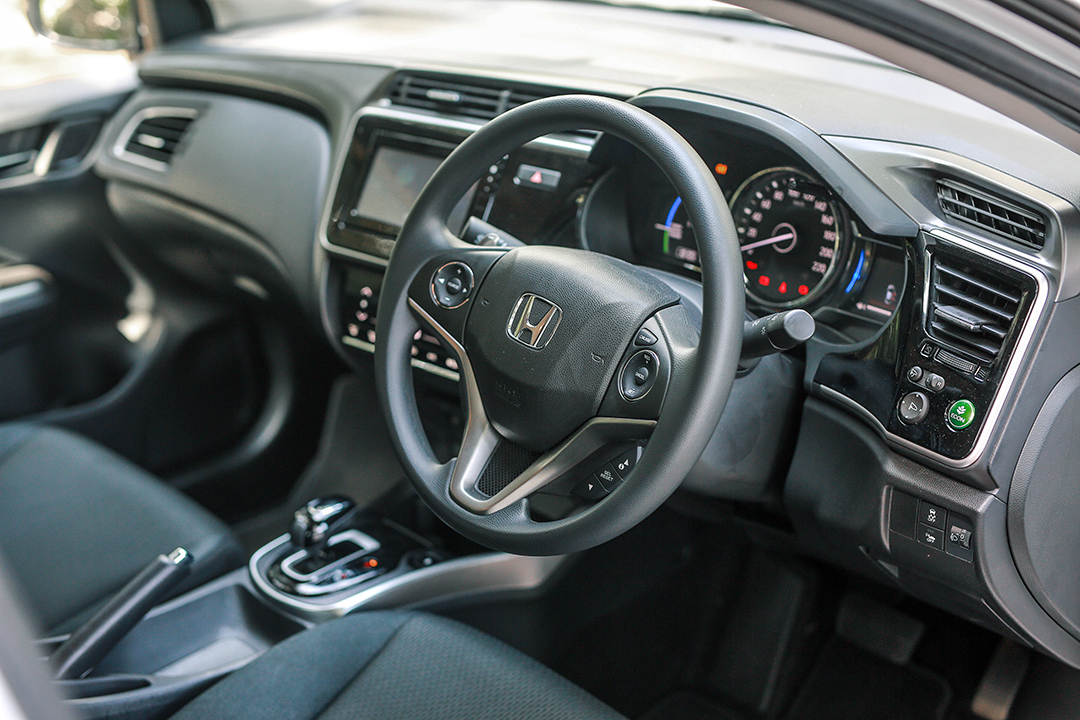 The Sport Hybrid Drive
City Sport Hybrid I-DCD
Suspension is well damped and its talent shows on the high speed twisty strips of karak. I wouldn't go so far to call it sporty but its obvious that they've made these I-DCD cars a touch more firm than their conventional models to deserve the Sport Hybrid badge if not, at least to offset the extra weight.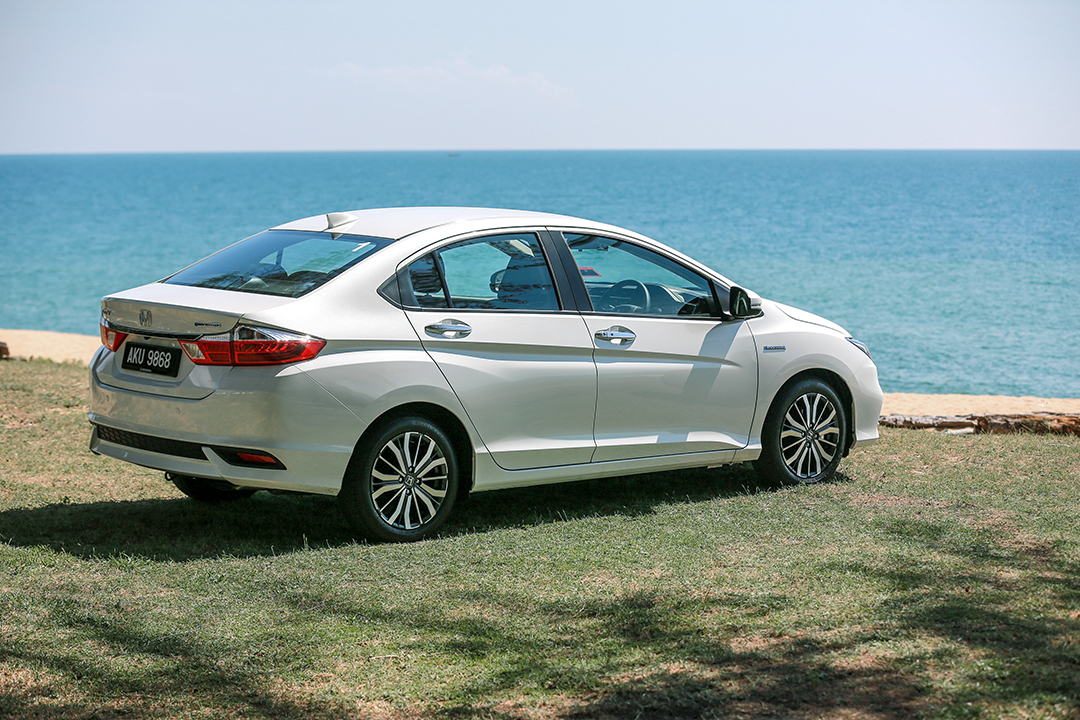 However, in addition to the City's tail end, its new hybrid battery and structural improvements, had in many ways contributed additional mass. This translates into a somewhat pendulum-ish effect when operating the City at the twisties.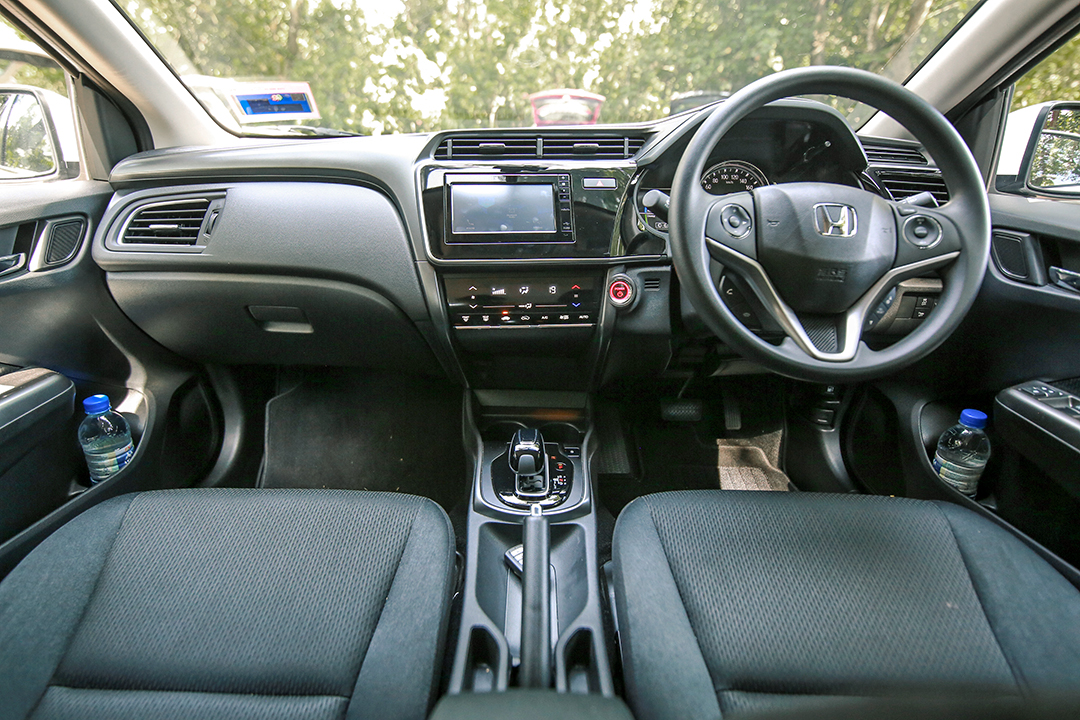 It is where the City and Jazz will feel most different from what we used to know. Although not as distinct and better managed than say, a Hyundai Ioniq. Overall, the new I-DCD City feels a touch more planted and mature than before.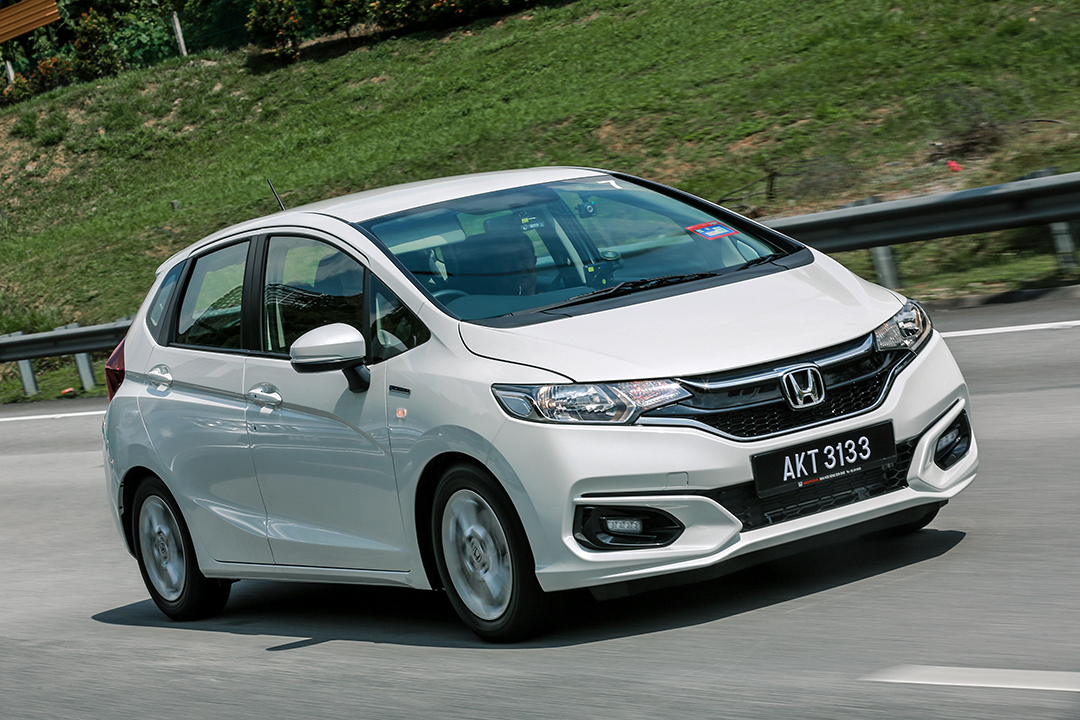 Jazz Sport Hybrid I-DCD
I can't say that same for the Jazz in this aspect. The ride in the little hatch is noticeably sharper, a little edgier and firmer on the undulating east coast highways.
In urban driving, both the Jazz and City remain similar in ride feel. The good news is, you don't feel the throwing weight from the hybrid battery as much as the City, and difference felt is substantial.
Dual Clutch
The Jazz, especially has gone through a growth spurt. Traditionally, it was like a town car, a shopping car, happily zipping in short city journeys. Venturing anywhere else such as the highway in the regular CVT box felt kind of strenuous when commuting past the speed limit, especially during overtaking.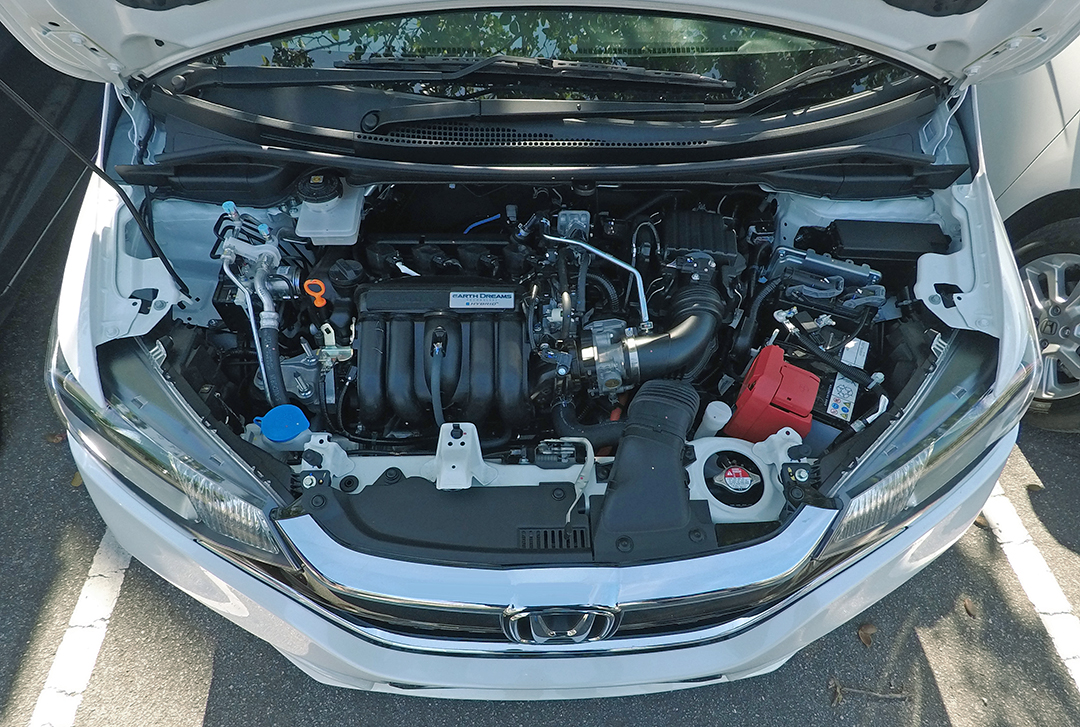 In the new I-DCD, its dual clutch box feels direct and operates like clockwork. No more rubber band-ish power delivery here too, as the climbing revs actually reflect the rise in speed.
Also, don't expect pop-pop fireworks just because it's got a dual clutch box. In here, it's all about efficiency, so you could say the I-DCD operates much like an automatic transmission, but a much better one.
Sport Injection
To promote sportiness in the new Sport Hybrids, Honda has made some structural improvements on both the cars but more targeted at the sedan City. The Jazz is inherently a hatch, thus requiring less work on its already rigid body.
City:
Sees improvement in body rigidity of up to 24%.
New rear frame, a structural addition behind the back seats.
Front a-pillar strengthened as well
Rear damper shaft is now bigger in diameter
Jazz:
New Performance Rod in the rear subframe improves driving stability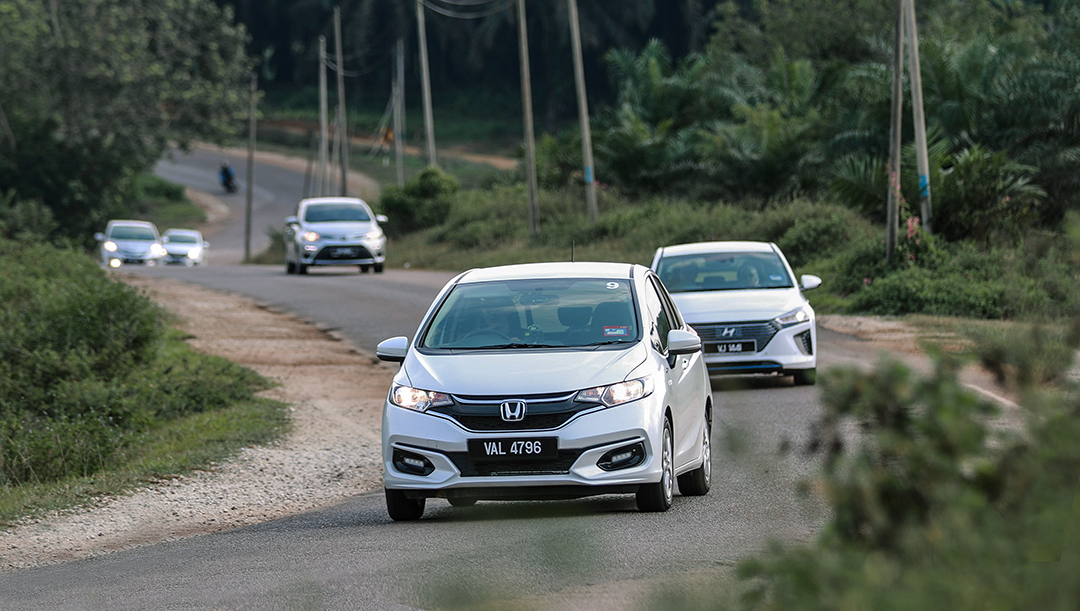 Hybrid drive
Honda's prepared a host of similarly ranged competing cars to compare against their Sport Hybrid. The only benchmark candidate worth noting is definitely the Ioniq, Hyundai's first hybrid car, which has set the standards of how hybrid cars should be like.
Transition
In the Honda Sport Hybrid, transition between engine power and full EV is virtually seamless. This benefit is felt in all aspects, be it in city or highway driving, coming to a stop and so on.
The Start / Stop function
Finally, a start / stop feature everyone will love. Honda's spent quite a bit of effort here to take seamless hybrid experience to the max so do read on. The Start / Stop function is a default feature these days in any car worth mentioning. Needless to say, it's even more crucial in current hybrids.
But even in the today's hybrids, most car manufacturers have yet to solve the issue of warm a/c air as the engine shuts off when the car arrive at a standstill. This is because conventional a/c pumps require a running engine to continue functioning.
But the new Honda I-DCD Sport Hybrids doesn't use conventional a/c pumps, instead it employs an electric motor pump that runs independently no matter if the engine is running or not.
The result?
Cabin temps remain unchanged no matter how long the Sport Hybrid Jazz & City stay "idle" on battery power without the engine running.
Start / Stop moments are almost non existent be it when the engine turns off or comes alive in traffic.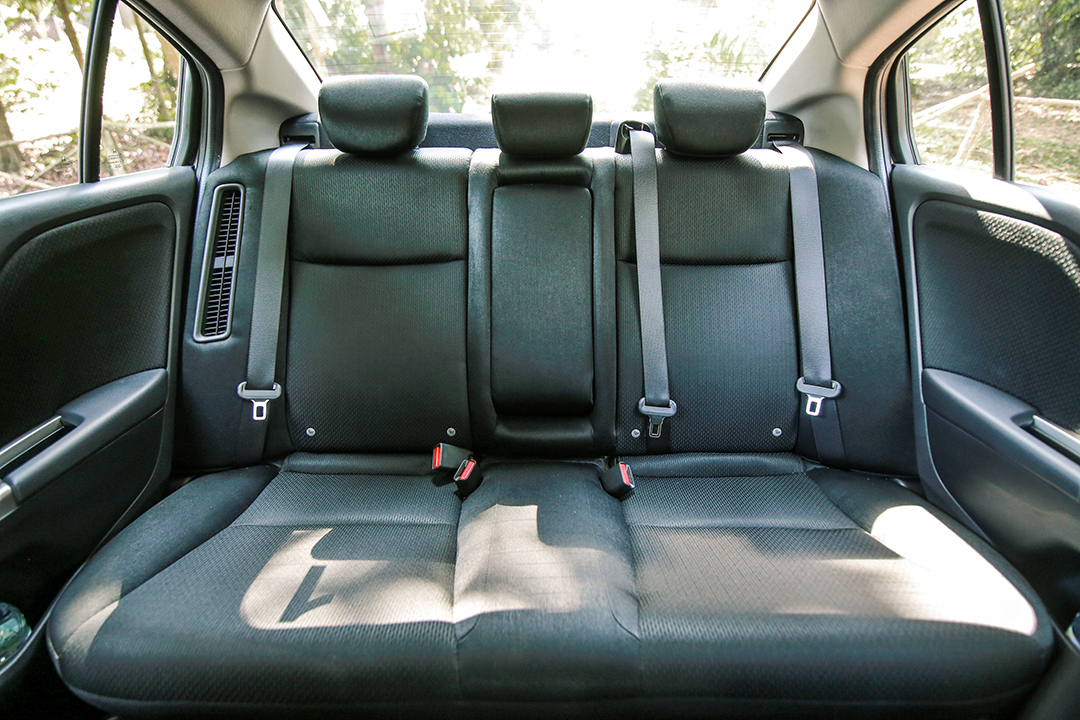 Ambiance
NVH in the City Hybrid is more than decent. Cabin noise is well managed and far better than expected. This is contributed by new insulators that strive to dampen overall noise and harshness. However, rear seating can feel warm during long distance driving as a result from battery heat.
Verdict
All in all, the hybrid experience is very well concealed, almost non existent except for when it creeps off the line or does really low speeds in full E. Which is why it's hard to appreciate the gimmicks of the Sport Hybrid's hybrid drive. When compared to the highly competent Ioniq, Honda's Sport hybrid just isn't anywhere as futuristic in overall presence, operation and experience.
But unlike the Ioniq, Honda's Jazz and City were never genuine hybrid vehicles to begin with, and to achieve a hybrid drive that is as seamless is mighty impressive. When coupled with Honda's own, new blend of new electric brake servo and a/c pump, just heightens the hybrid experience further.
Prices and Specs
City Sport Hybrid I-DCD
| | | | | |
| --- | --- | --- | --- | --- |
| Variant | Honda City 1.5L S | Honda City 1.5L E | Honda City 1.5L V | Honda City 1.5L Hybrid |
| Selling Price | 71,308.49 | 77,063.21 | 83,865.09 | 83,827.36 |
| GST 6% | 4,278.51 | 4,623.79 | 5,031.91 | 5,029.64 |
| Selling Price (Inclusive GST 6%) | 75,587.00 | 81,687.00 | 88,897.00 | 88,857.00 |
| Road Tax (1 Year) | 90.00 | 90.00 | 90.00 | 90.00 |
| Registration Fee | 150.00 | 150.00 | 150.00 | 150.00 |
| Number Plate (Inclusive GST 6%) | 53.00 | 53.00 | 53.00 | 53.00 |
| Ownership Endorsement Fee | 50.00 | 50.00 | 50.00 | 50.00 |
| Retail Price Without Insurance (Inclusive GST 6%) | 75,930.00 | 82,030.00 | 89,240.00 | 89,200.00 |
| Sum Insured | 75,000.00 | 82,000.00 | 89,000.00 | 89,000.00 |
| Surcharge for White Orchid Pearl | N/A | N/A | N/A | 120.00* |
Jazz Sport Hybrid I-DCD
| | | | | |
| --- | --- | --- | --- | --- |
| Variant | Honda Jazz 1.5L S | Honda Jazz 1.5L E | Honda Jazz 1.5L V | Honda Jazz 1.5L Hybrid |
| Selling Price | 68,082.08 | 73,770.75 | 80,572.64 | 79,751.89 |
| GST 6% | 4,084.92 | 4,426.25 | 4,834.36 | 4,785.11 |
| Selling Price (Inclusive GST 6%) | 72,167.00 | 78,197.00 | 85,407.00 | 84,537.00 |
| Road Tax (1 Year) | 90.00 | 90.00 | 90.00 | 90.00 |
| Registration Fee | 150.00 | 150.00 | 150.00 | 150.00 |
| Number Plate (Inclusive GST 6%) | 53.00 | 53.00 | 53.00 | 53.00 |
| Ownership Endorsement Fee | 50.00 | 50.00 | 50.00 | 50.00 |
| Retail Price Without Insurance (Inclusive GST 6%) | 72,510.00 | 78,540.00 | 85,750.00 | 84,880.00 |
| Sum Insured | 72,000.00 | 78,000.00 | 85,000.00 | 84,000.00 |
| Surcharge for White Orchid Pearl | N/A | N/A | N/A | 120.00* |
Notes
Prices and specifications are subjected to change without prior notice.
For Company Registration:

Registration Fee is RM500.
Road Tax is doubled.

5 years warranty with unlimited mileage*
Free labour service applicable up to 6 times within 100,000km or 5 years*
For Hybrid Variants only:
8 years warranty for lithium-ion battery with unlimited mileage*
*Terms and Conditions apply