3 talented mechanics were picked over a weekend of intense battle and gameshow in search for Malaysia's best mechanic. There were a total of 20 participants, the cream of the crop filtered from over 1,200 entries through months of elimination process via inaugural Castrol Car Mechanic Contest 2017 Grand Finale.
But it was veteran mechanic Sangar Ganesh who was declared champion, standing out amongst thousands of mechanics throughout the nation. He possessed over 18 years of experience.
The Castrol Car Mechanic Contest 2017 was launched in April this year and was created to find and award the best technicians in the car maintenance industry. The entrie contest was open to 1,200 mechanics from every Castrol Auto Service (CAS) outlets in the country.
These establishments are Castrol's most trusted and professional workshops throughout Malaysia. Via this contest, every theoretical knowledge and practical expertise of the mechanics were put to the test to prove their talent and experience in the art of car maintenance and repair.
Through all 80 professionals who participated in the qualifying and regional rounds, only 20 individuals were selected for the Grand Finale – the third and final round – where they had to contend in a Practical and Theory Challenge to seize the coveted title of the 'Castrol Car Mechanic Contest Champion' in Malaysia.
Sangar Ganesh from 'Castrol Auto Service Syarikat Seng Hin' in Bukit Mertajam, Penang, won the coveted title of 'Castrol Car Mechanic Contest Champion'. As champion, Sangar had to overcome tough competition, and go through three rounds of gruelling skill challenges over a period of four months.
Apart from winning this prestigious title, Sangar was also presented with an all-expense paid trip to catch the Renault Sport Formula One Team in Singapore. Bong Teck Hua from 'Castrol Auto Service Nan Rong Automobile' in Johor Bahru, Johor and Ho Weng Seng from 'Castrol Auto Service Sunday Motor' in Ipoh, Perak, were named the second- and first-runner up respectively at the awards ceremony in Genting Highlands.
Keow Mei-Shan, Marketing Director Malaysia & Singapore said, "Our Castrol Auto Service outlet mechanics are all experts in their field, and this contest is just one of the many programmes we have in place so that the mechanics are always on a continuous journey of improvement, to ensure they are always on top of their game.
In addition to this, it has always been our longer-term goal to support the mechanics and owners of the CAS outlets so that we grow a sustainable business together to ensure a better future for all. I am also grateful to our technical partners, the 'School of Skills', in their capacity as top professionals in the automotive field, who acted as judges for the contest and helped design the contest to be an extremely challenging one."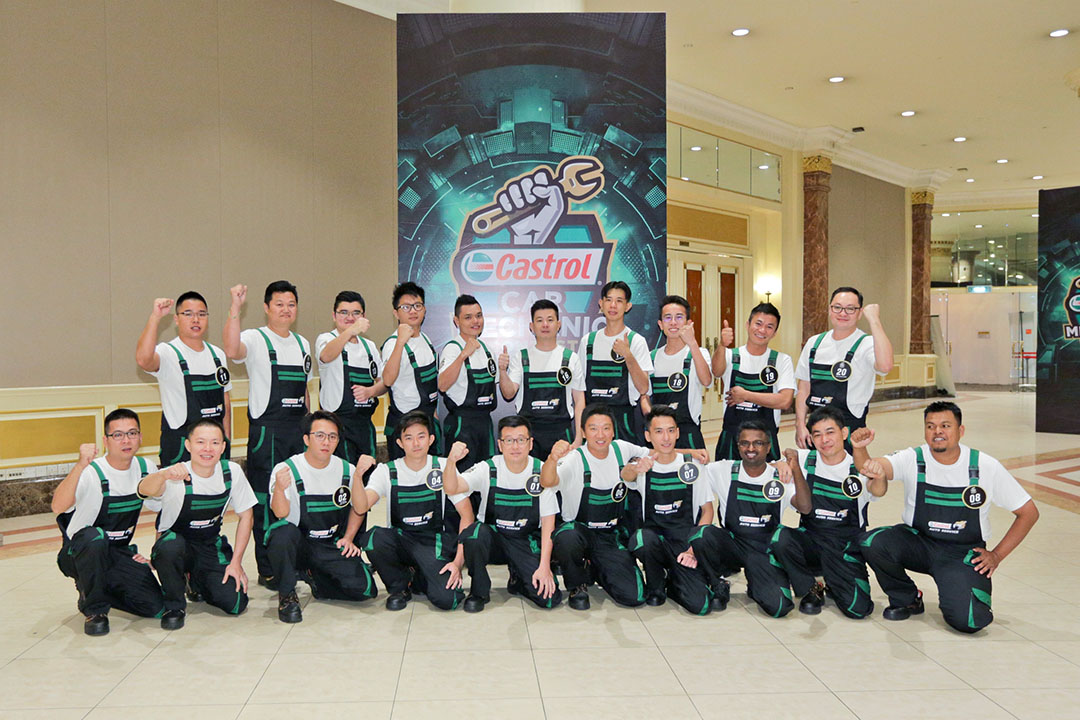 "The competition was keen and all our contestants were pushed to the very limits as they had to go through a series of demanding challenges. We tested them on their automotive and product knowledge through theoretical challenges, and we also tested their on-the-job skills and professionalism in handling their day-to-day job requirements through practical challenges," added Keow Mei-Shan.
Speaking on his win, Sangar said, "I am extremely happy to have won first place in this competition. It is a tremendous achievement for me to have earned this coveted title, especially when I had to compete against some of the most knowledgeable and skilful mechanics in the country. In my 18 years as a mechanic, this is the first time I have won something so prestigious.
I am looking forward to catch the Renault Sport Formula One Team in Singapore, as I have never had the opportunity to experience a live F1 race. I know my family is very proud of me, and I want to thank my boss, Mr. Goh Joo Chin for all the support he has given me, and to Castrol for providing this opportunity, as it has given me even greater hope for the future!"
To find out more about Castrol and its products: www.castrol.com/my