Performance is not a gimmick in Honda's newly arrived Jazz Sport Hybrid. This time, they've even included their latest 7-speed dual clutch box which is integrated with a more compact electric motor at 30ps / 160nm. This hybrid system is now twice as powerful compared to its predecessor and when combined with its petrol 1.5L I-VTEC engine, makes a total of 137ps! and yes, it will come with paddle shifters!
Swipe Right to See More Above

I-DCD 7-Speed DCT & Drive Motor
Honda calls it the I-DCD, short for Intelligent Dual-Clutch Drive Hybrid system. This is essentially a combination of drivetrain and electric drive assembly, powered by a lithium-ion battery with 1.5X the energy capacity or 50% more than its previous IMA (Integrated Motor Assist) powered predecessor, as seen in the previous Jazz or Civic Hybrid.


Drive in Full EV Mode
Yes, the Jazz Hybrid can now be driven in full electric mode where applicable. This is finally possitible with its independent positioning and functioning of both its electric motor and engine. Even at standstill in traffic, its air-con continues to blow chilled air, retaining cabin temperatures. This is possible via new motor driven air con compressor which wasn't available back in the IMA hybrid days. Gone are the days of stale air during traffic jams then.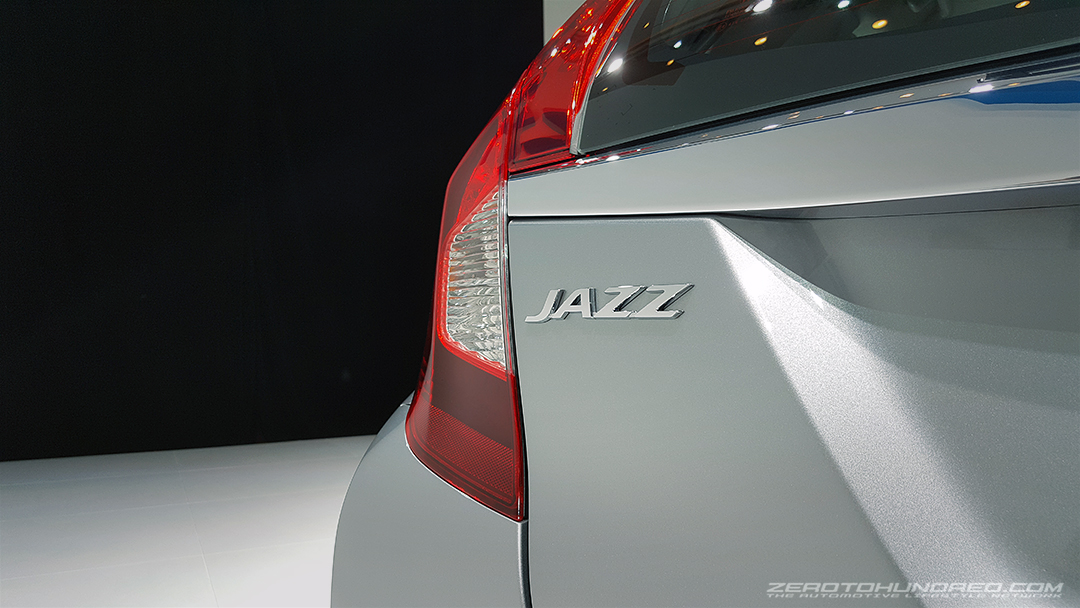 Tried, Tested and Tropicalized
Guess what, Malaysia is the only country outside of Japan to get the Jazz Hybrid, which is known as the Fit Hybrid. With our scorching temperatures, immense humidity and peak hour traffic, it would be imperative that these JDM continue to perform here. That's exactly what the engineers at Honda Malaysia's R&D facility were busy with in the recent 2 years.
They've tested the I-DCD Jazz Hybrid out on real world local roads worth over 7000km, which consists of heavy traffic, windy road and uphill routes. They've not only deemed it feasible here, but have made adjustments to perfect the Jazz Hybrid further to cater to Malaysian needs.
Only the Hybrid Get These
Shift By Wire
Unlike conventional automatics before, there's no longer a shift gate for P,R,D in the Jazz Hybrid's gear shift console. Instead it gets the Shift by Wire which means the knob acts like a joystick, pivoting in place to your desired gear position. Much like today's BMWs or Porsches.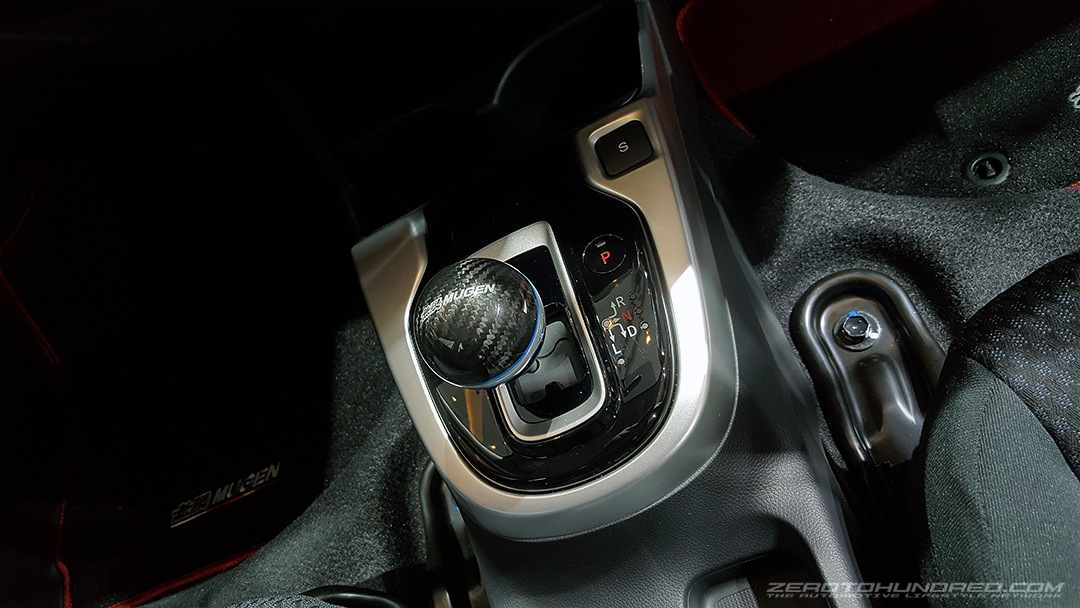 *ignore the Mugen shift knob, refer to the photo above to see how different and compact the Shift by Wire console typically look.
3D Speed Meter Design
The Jazz Hybrid's instrument cluster gets Honda's 3D Speed Meter multi function display which displays various details such as Energy Flow, Sport Meter, Fuel Economy, Drive Info, Customization and Eco Display
Cruise Control
There's also cruise control function in the Jazz Hybrid which should contribute to fuel efficiency.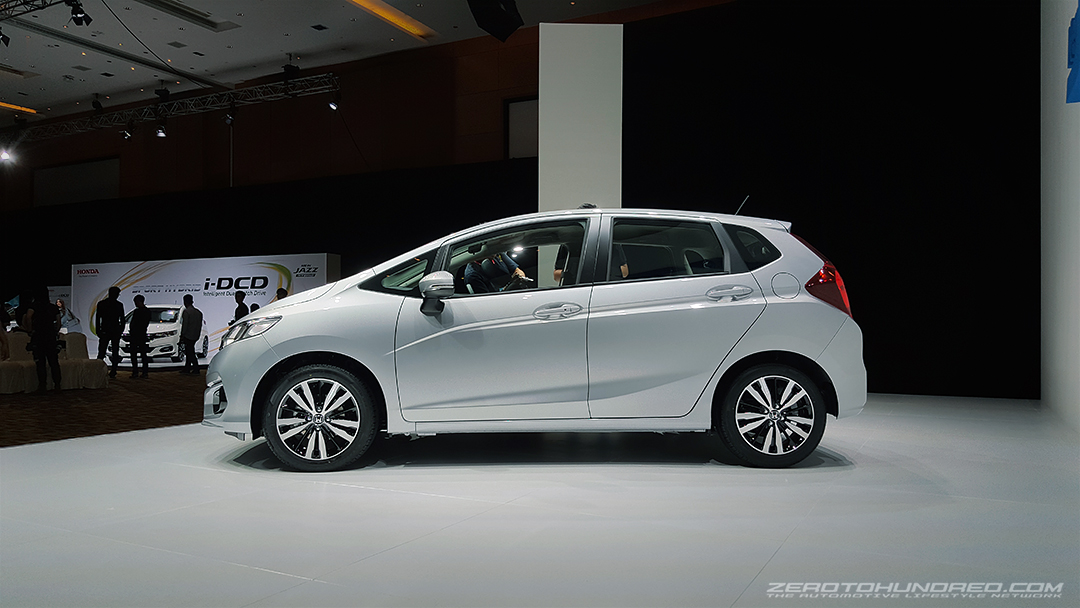 Prices
New Jazz Hybrid: RM87,500 (OTR with Insurance)
New Jazz Petrol S Variant: RM74,800 (OTR with Insurance)
New Jazz Petrol E Variant: RM81,000 (OTR with Insurance)
New Jazz Petrol V Variant: RM88,400 (OTR with Insurance)

Jazz with Mugen Pack
Honda also unveiled the Mugen Jazz Concept Car today, as a sneak preview to the public on what's in store by October this year. The optional Mugen pack will be made available to potential Jazz buyers at RM5,670 which will consist of front, side and rear under spoiler and tailgate spoiler. However, other items you see in below photos that aren't mentioned above may not make it to our market.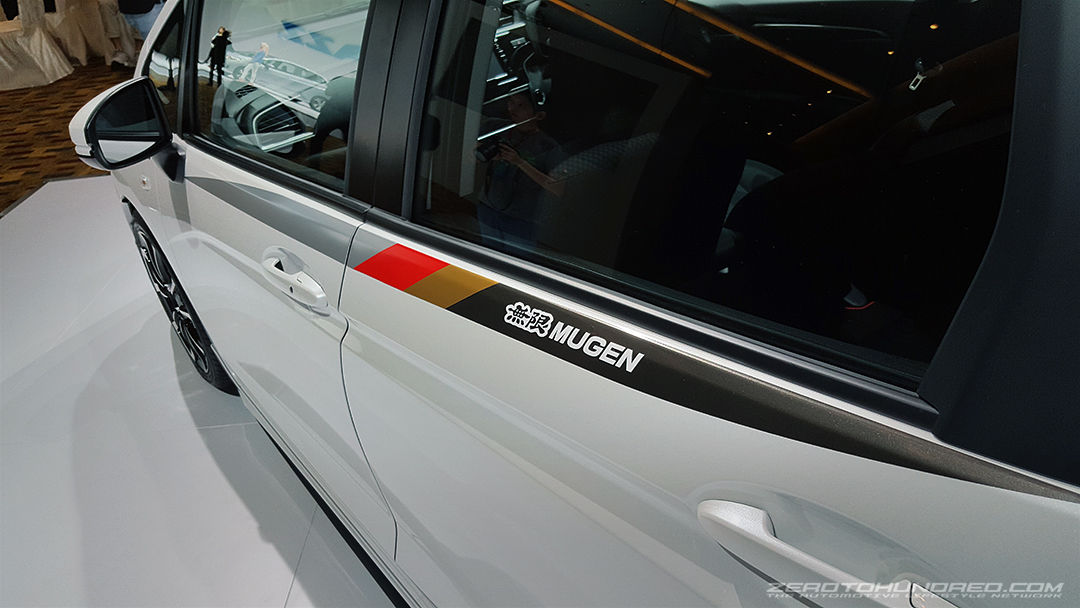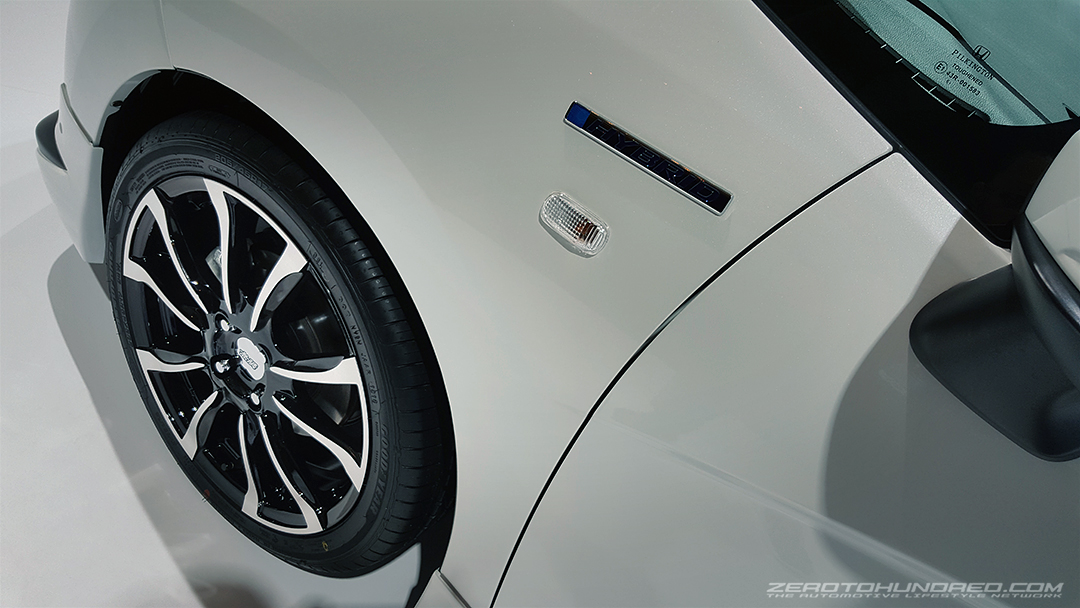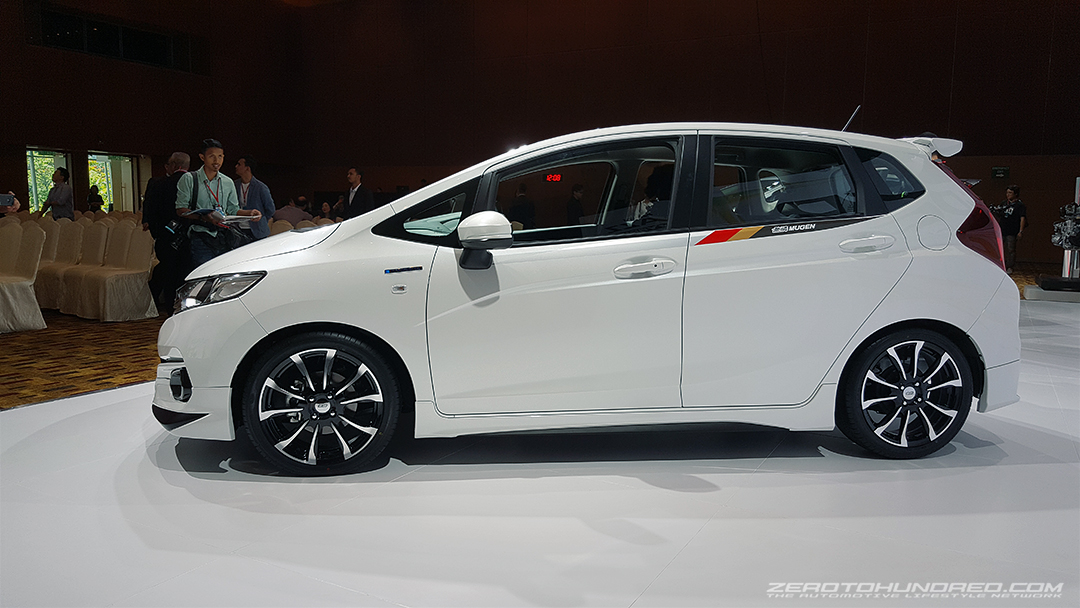 Hybrid Shades
The New Jazz Hybrid will be available in these colours:
Lunar Silver Metallic
Modern Steel Metallic
White Orchid Pearl

Hybrid Warranty
The new Jazz Hybrid will get a 5 year warranty with unlimited mileage at 10,000km service intervals via 91 authorised Honda dealers. It will also receive a 8 year warranty for its Lithium-Ion battery on top of the standard warranty.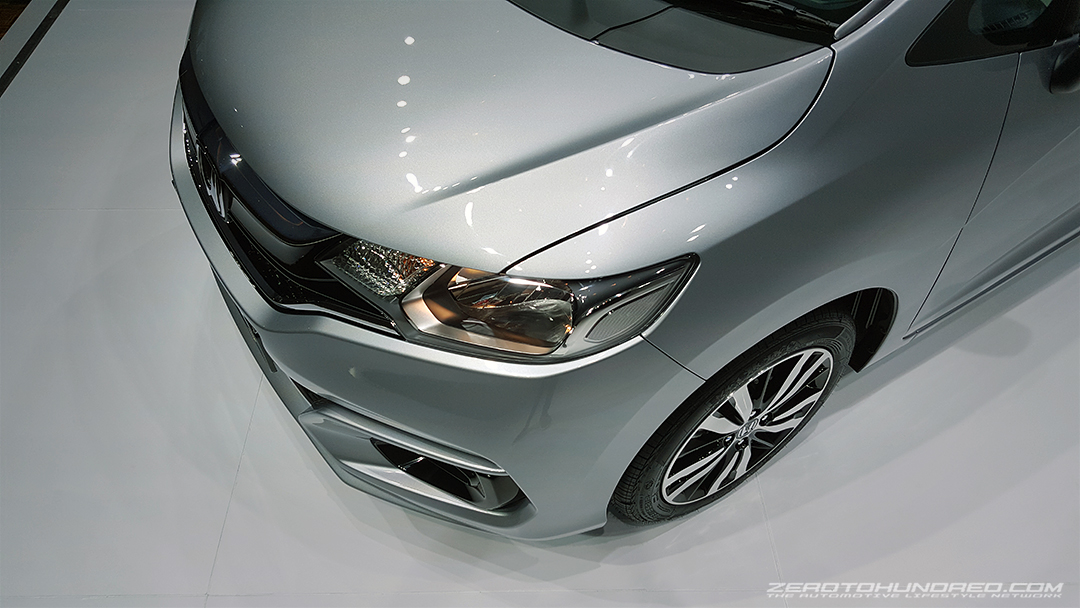 Jazz Specifications
Models
Honda Jazz 1.5L S
Honda Jazz 1.5L E
Honda Jazz 1.5L V
Honda Jazz 1.5L Hybrid
Engine
Engine Type
4 Cylinders, 16 Valve, SOHC i-VTEC
4 Cylinders, 16 Valve, SOHC i-VTEC
4 Cylinders, 16 Valve, SOHC i-VTEC
4 Cylinders, 16 Valve, DOHC i-VTEC
Fuel Supply System
Electronic Fuel Injection (PGM-FI)
Electronic Fuel Injection (PGM-FI)
Electronic Fuel Injection (PGM-FI)
Electronic Fuel Injection (PGM-FI)
Displacement (cc)
1497
1497
1497
1496
Maximum Power [PS(kW)@rpm]
120(88)@6600
120(88)@6600
120(88)@6600
Engine: 110(81)@6,000
Motor: 30(22)@
1,313 – 2,000
Maximum Torque (Nm[kg-m]@rpm)
145(14.8)@4600
145(14.8)@4600
145(14.8)@4600
Engine: 134(13.7)@5,000
Motor: 160(16.3)@
0 – 1,313
Transmission
Transmission Type
Continuous Variable Transmission (CVT)
Continuous Variable Transmission (CVT)
Continuous Variable Transmission (CVT)
7-Speed Dual-Clutch Transmission (7DCT)
Steering System
Type
Electric Power Steering (EPS)
Electric Power Steering (EPS)
Electric Power Steering (EPS)
Electric Power Steering (EPS)
Turning Radius at Body (m)
5.4
5.4
5.4
5.26
Brake System
Front
Ventilated Disc
Ventilated Disc
Ventilated Disc
Ventilated Disc
Rear
Drum
Drum
Drum
Drum
Suspension System
Front
MacPherson Strut
MacPherson Strut
MacPherson Strut
MacPherson Strut
Rear
Torsion Beam
Torsion Beam
Torsion Beam
Torsion Beam
Dimensions
Overall Length (mm)
3989
3989
3989
3989
Overall Width (mm)
1694
1694
1694
1694
Overall Height (mm)
1668
1668
1668
1668
Wheelbase (mm)
2530
2530
2530
2530
Tread Front (mm)
1492
1492
1476
1492
Tread Rear (mm)
1481
1481
1466
1481
Curb Weight (kg)
1079
1091
1099
1158
Ground Clearance (mm)
137
137
137
137
Fuel Tank Capacity (Litre)
40
40
40
40
Boot Capacity Rear Seat Up (Litre)
363
363
363
314
Boot Capacity Rear Seat Down (Litre)
881
881
881
835
Wheels and Tyres
Alloy Wheels
15″
15″
16″
15″
Tyre Size
175/65 R15
175/65 R15
185/55 R16
175/65 R15
Spare Tyre
15″
15″
15″
Temporary Repair Kit

Know More