TC Subaru Malaysia officially debuts the all-new Subaru XV today. Since the release of the original XV back in 2012, the new XV sees vast improvements especially in its chassis department where it now employs a global platform, also shared by the Impreza. The new global platform is said to reduce shake and body roll to deliver a greater driving experience.

All-New Subaru XV
Following the success of the previous XV, the new XV is ever more urban, promising heightened levels of driving confidence, comfort and control. There will be 2 variants offered in Malaysia, namely the:
2.0i-P:
Auto Leveling LED headlights with C-Shaped LED DRLs
Chrome window trims and silver roof rails
2.0i:
Gets Halogen complex surface reflector headlights
Black window trims

Colours:
Sunshine Orange
Dark Blue Pearl
Pure White
Ice Silver Metallic
Dark Grey Metallic
Crystal Black Silica.

Prices:
Subaru XV 2.0i on introductory price of RM118,819 OTR without insurance
Subaru XV 2.0i-P at RM125,868 OTR without insurance

First impressions
Just a few months ago, I flew to Taipei for a first hand look and feel of the XV, albeit in LHD. The following will be my first impressions of the all-new XV. The LHD and RHD XV are said to be identical in every other aspect other than steering position. Even on the topic of Euro NCAP performance, there should be no difference in their ratings, after all, Subaru actually brought a CKD sample from Malaysia over to Japan to have it crash tested and obtained similar results.
At first glance, the all-new XV could pass off as a facelift attempt to the untrained eye. This familiar design direction almost dilute the fact that the new crossover sits on a brand new Subaru platform and even feature their latest direct injection boxer engine.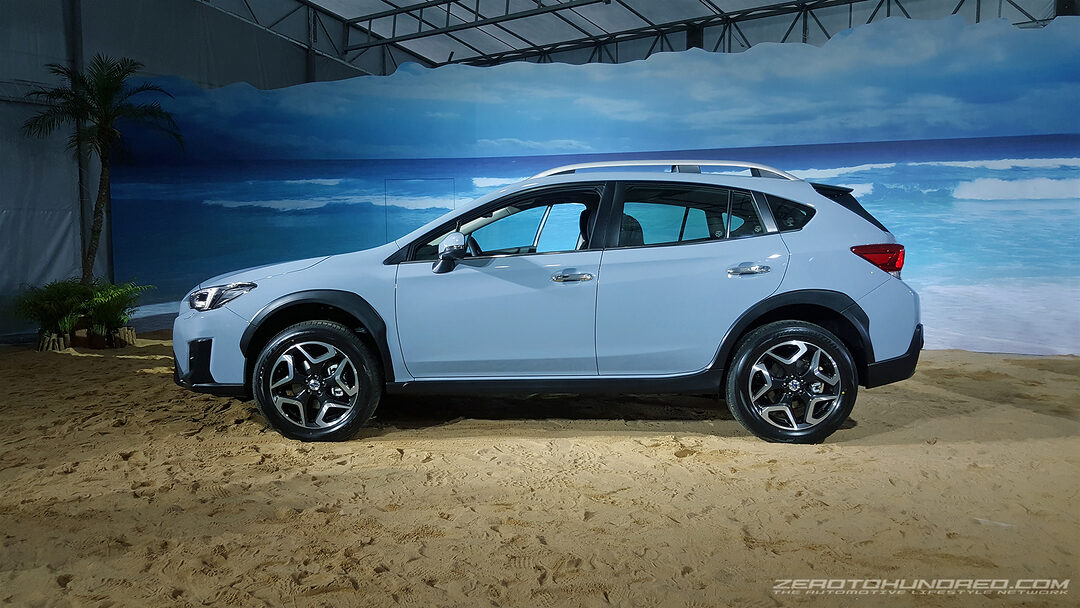 I flew, with Motor Image and a dozen or so adversaries to Taipei to experience the brand new 2018 XV. Yes 2018, simply because the XV will only arrive Malaysia first quarter of next year, with CKD production to commence soon this year. Should you wait? Read on then.
NEW X-MODE
We arrive Nangang Exhibition hall, where the launch was located, they then directed us to a test arena which was specifically built to show off the famed crossover's new off-road capabilities, the X-Mode.
X-Mode is in fact pretty cool, It is a driving feature built on top of Subaru's symmetrical AWD that enables the XV to embark on challenging terrain, or on actual off-road circumstances even. This ability is made possible with the use of individual braking as a form of torque vectoring on the 4 wheels. It even has hill descent control to allow the XV to crawl down steep downhills automatically without driver input.

New Engine & New Tranny
The first test ground included an elaborate makeshift dirt course, followed by a variety of ramps which you can see from my Instagram video post above. The test had to accommodate journalist from a number of regions so it was a quick, get in, conquer the courses, boom and you're done.
That being said, my time with the XV 2.0i-S was limited. I wasn't able to extensively sample the new and lighter direct injection flat four nor the uprated CVT tranny unfortunately.
For what's worth, the new 156ps 2.0L direct injection boxer felt more responsive and eager than before. With almost 80% of the engine components replaced, they managed to shave engine weight by almost 12kg. That's not all, a further 7.8kg is removed via the XV's new Lineartronic CVT transmission, which has also been substantially revised to feature auto-step shifting and 7-speed mode to simulate a sportier drive.
Rigid Chassis
Mostly, I was able to experience the XV's new rigid body. It is miles more solid than the wobbly-er old XV and it is very apparent from the first drive onwards. The new XV is built on recently conceived Subaru Global Platform, which is said to be 70% more rigid than before, while the lower centre of gravity improves handling with decreased body roll. This platform also gets new, more responsive steering via quicker steering gear ratio.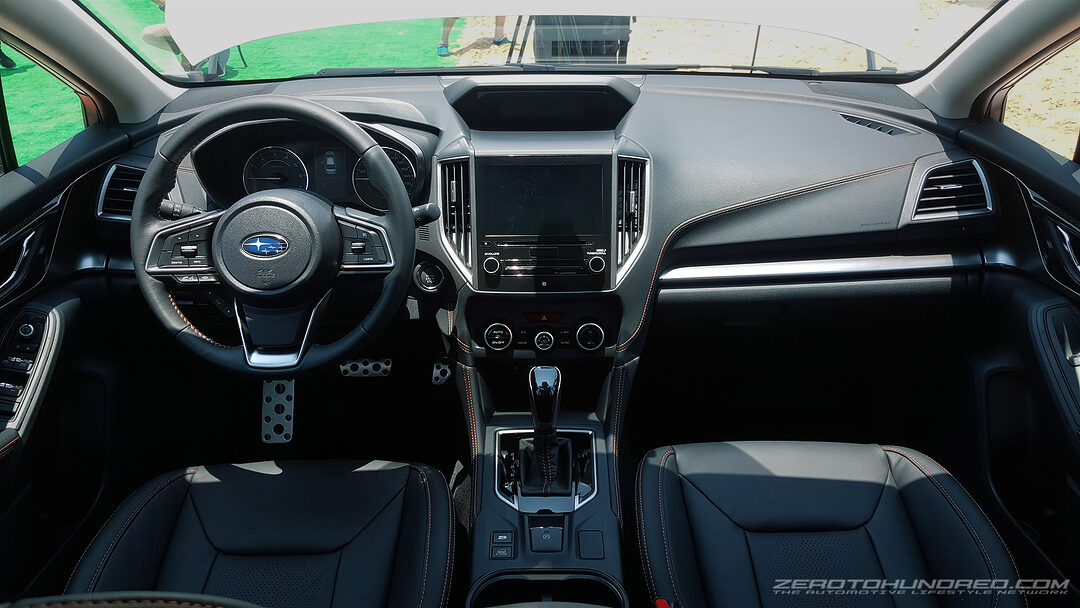 Fancier Interior
This is yet another great aspect of the all-new XV, the improved interior. It sure is a huge upgrade from the previous XV with better material choices, fitting and details. There's actual thread stitching at the edges of its leather-like interior, which encompasses the seats, door cards and even the dashboard. Padded upholstery and soft touch details dominate the interior. There's an obvious sense of sportiness as well as pemium-ness when inside the new XV.
Entertainment wise, an 8 inch touch screen display system sits on its dash and offers Apple CarPlay among other mobile connectivity features.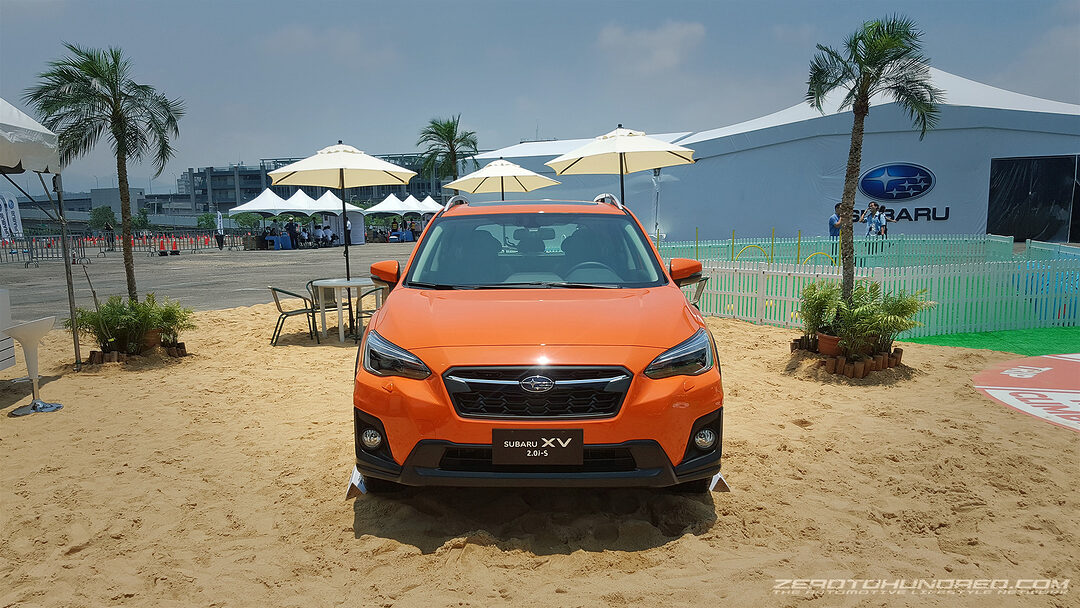 New Body
The New XV is literally a Subaru Impreza on stilts, one with 220mm ground clearance but posses a striking resemblance to its predecessor. Its new body sits wider while giving a low stance appearance. There's the iconic hexagonal grille, new black claddings to highlight its ruggedness as well as updated, shuriken looking wheels.
New Headlights
New C-Shape headlights is steering responsive and allows the headlight beam to pan and move in sync with its steering direction. With High Beam Assist, the new XV uses a monocular camera that is integrated into the rear view mirror. This system then reads the view from front and back to judge between switching the high or to retain low beams.
More about Subaru: www.subaru.asia