The Pilot Sport tyre range is undoubtedly one the most highly regarded in the world. It is the definitive tyre choice for many drivers and has evidently proven its talent time and time again. Every PS iteration was as impressive as the last one and out of the box, all PS tyres are renowned for its confidence inspiring, well damped ride. It is also a tyre known for endurance and remain resilient throughout most of its lifetime.
Tyre Test: Michelin Pilot Sport 4 vs Comparison Tyre
The PS4 is Now in Malaysia
The Pilot Sport 4 has finally landed and it looks really good. Firstly, it has motorsport focused Pilot Cup tyre inspired sidewalls which adds to its desirability. Then, because it is largely inspired by tread pattern on street-focused Formula E racing tyres, helps the PS4 achieve greater dry and wet handling as well as more reactive steering in the said conditions. The ability to tame extreme torque generated in Formula E road racing have also trickled into development of the new PS4 which helps it excel in real driving conditions.
This PS4 is actually a refreshed PSS
Following developments of the Pilot Sport range on tyre websites for months, we stumbled on the Pilot's plot twist. While the Pilot Sport 4 name suggests evolution to the PS3, it isn't actually so. In fact, it has little to do with it. The PS4 is actually based on a refreshed Pilot Super Sport, the more performance oriented model, which actually sits below motorsport-grade Pilot Cup 2. So, that in essence mean you get new PSS performance in a PS4. Sounds good? There's more good news ahead.
According to Michelin, during a comparative testing based on 18″ tyres, the Pilot Sport 4 was 99% more capable in everyday situations when compared to the original Pilot Super Sport, with 10-15% improvement in wear. With the remaining 1% deficit being marginal difference by a couple of tenths when testing at a long circuit. That's like getting Macbook Pro power for Macbook price.

New Features of the PS4
"Ultra-reactive" tread pattern design:
Promises to adapt to the road and provide crisp steering.
Wide and deep longitudinal grooves:
For improved performance in wet conditions
Designed with dynamic response technology:
Use of Aramid and Nylon in the the tyre belt said to help the tyre to continually conform to the contours of the road, delivering best traction available for the condition.
Tread compounds derived from Formula E and WRC:
Tread pattern inspired by Formula E racing tyres, heavily influencing PS4's ability to handle extreme torque and to posses reactive handling on normal road surface for both wet and dry conditions.
Tyre compound features unique blend of elastomers and hydrophobic Silica:
A compound blend to facilitate dispersing of water and to help the tyre remain flexible to deliver improved wet grip and braking.

PS4 Tyre Test
During the launch event, Michelin conducted a tyre comparison on a test course via a series of slalom manoeuvres, including the all-important braking test. This is done via:
2 Parallel Courses

Course 1: Dry Slalom + Wet High Speed Braking (Mercedes)
Course 2: Wet Slalom + Dry Braking (BMW)

4 Cars:

Course 1: Mercedes C200 Coupe on Michelin Pilot Sport 4 Tyres
Course 1: Mercedes C200 Coupe on Comparison tyres
Course 2: BMW 320D on Michelin Pilot Sport 4 Tyres
Course 2: BMW 320D on Comparison tyres
Runs

2 Runs in each car
Course 1: Michelin, Michelin, Comparison, Comparison (Mercedes)
Course 2: Michelin, Michelin, Comparison, Comparison (BMW)
If you need to know, the comparison tyre used for this benchmark is Bridgestone's RE003. However, the objective of this test is not to compare these tyres head to head. Instead, Michelin aims to showcase the Pilot Sport 4's superior performance despite being a pure road tyre against one of today's highly rated road tyre. Both tyres ran identical tyre pressures, in staggered 225/45/18 sizes and 255/40/18 sizes.
First Impressions:
For one, the new PS4 looks great, tread pattern is conservative as ever but this time they've introduced a new sidewall design. If you've ever noticed the sidewalls on their crème de la crème motorsport derived Pilot Sport Cup tyres, you'd be pleased to know the new PS4 mimics this similar flushed yet contrasty motif which Michelin likes to call the Velvet Design.
Now as for actual driving impressions, I need to reiterate the target here is not to compare against the Bridgestones, nor is this test regulated in any way. This test terrain that we had was harsh. I'm talking water filled pot holes, exposed asphalt, undulating surfaces, dips and such.
This course was in the least ideal condition for any tyre to shine, furthermore artificial rain constantly floods it creating a hell like surface for tyres. Where it is almost impossible to even compare 2 equivalent road specced tyre side-by-side as the the evil terrain would likely have their individual advantages cancel each other out in the end, let alone this particular test.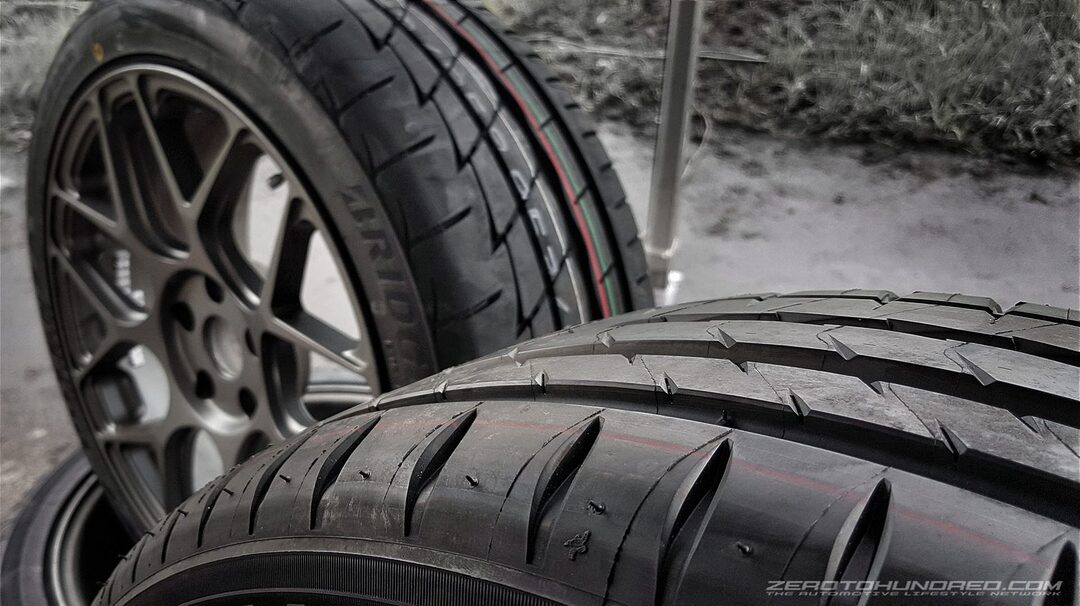 For the record, these comparison BP RE003s displayed characteristics of a high performance tyre and handled reasonably well in the terrain faced. But like most tyres, on an autocross stage such as what we have here, even the BPs had to succumb to imminent slip when the going gets tough.
The PS4 however, was world's apart on the test course. What seemed like an undramatic walk in the park on the Michelins felt like potential tarmac rally stage otherwise. For starters, steering is remarkably responsive and even more noticeably so when compared with the other tyre. The PS4 felt relentless through the course and there's a sense of firmness where most tyres would give in and feel soft.
Braking
Braking in Course 1 begins with a dash from zero on dry land, gunning to about 80kmh before slamming the brakes at a designated full wet braking zone. This braking zone is perpetually wet and conditions worsen with the rapid pounding. The surface of this area is like an open wound with the tarmac exposed and riddled with loose asphalt. Simulating the worst possible surface to stop a car.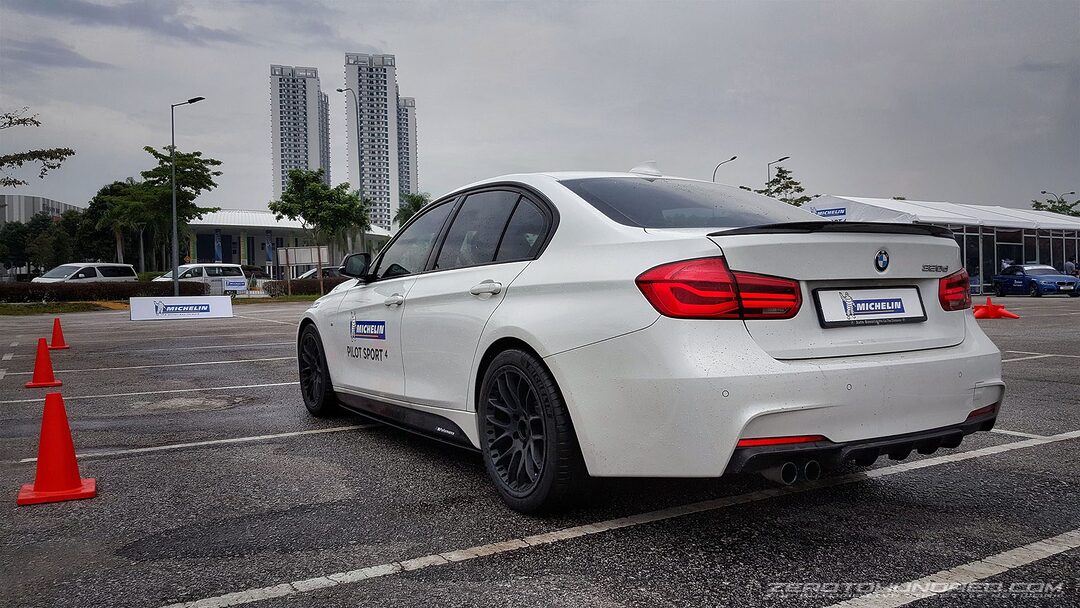 To be honest, I wasn't particularly impressed during the 2 initial runs with the PS4 in this exercise. Not until the 2 consecutive runs in the comparison tyre which felt like an eternity to come to a complete stop especially with the end of the zone closing in, simulating a more convincing scenario.
It is also harsher in the comparison tyre where sensation of these bumps and loose gravel would travel into the cockpit and can be felt via the steering. There is noticeably more slip here as well, thankfully not upon initiation but towards mid to end of braking. In this back to back braking test, you can literally feel the precious seconds go by as the car consumes that much more road to stop. There is also a hint that we've hit the limit and gone to extremes.
On the PS4 however, the car remain substantially calmer under braking despite being in the same conditions. Just as in the slalom, these tyres remained composed and taut throughout the braking exercise. We've got braking results to share, and do check out the video of this test to know more: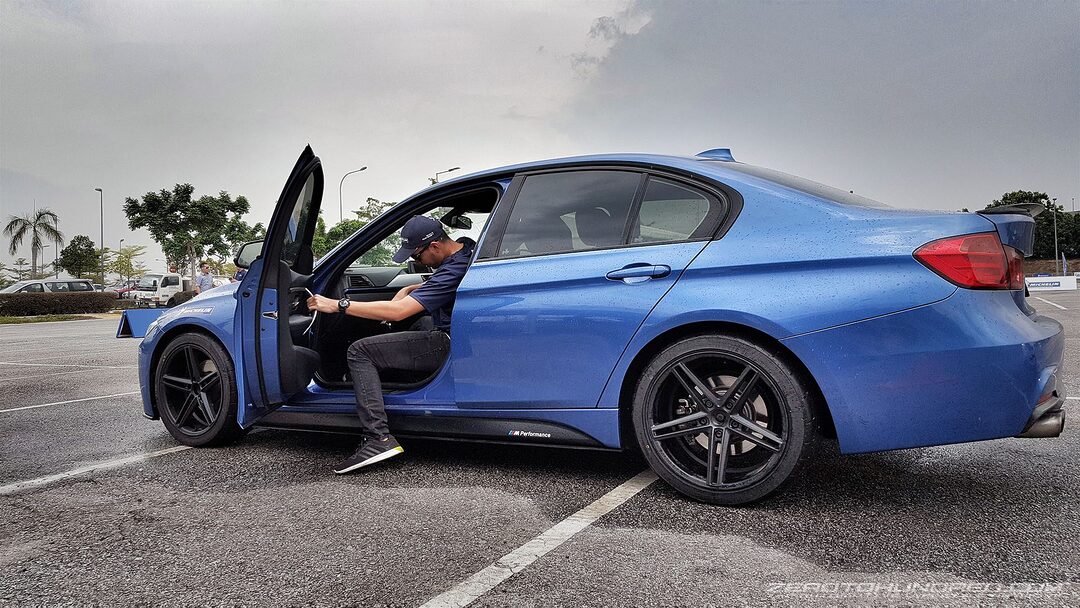 Michelin Pilot Sport 4:
Run 1: 31.6m
Run 2: 31.1m
Comparison Tyres:
Run 1: 34.4m
Run 2: 34.4m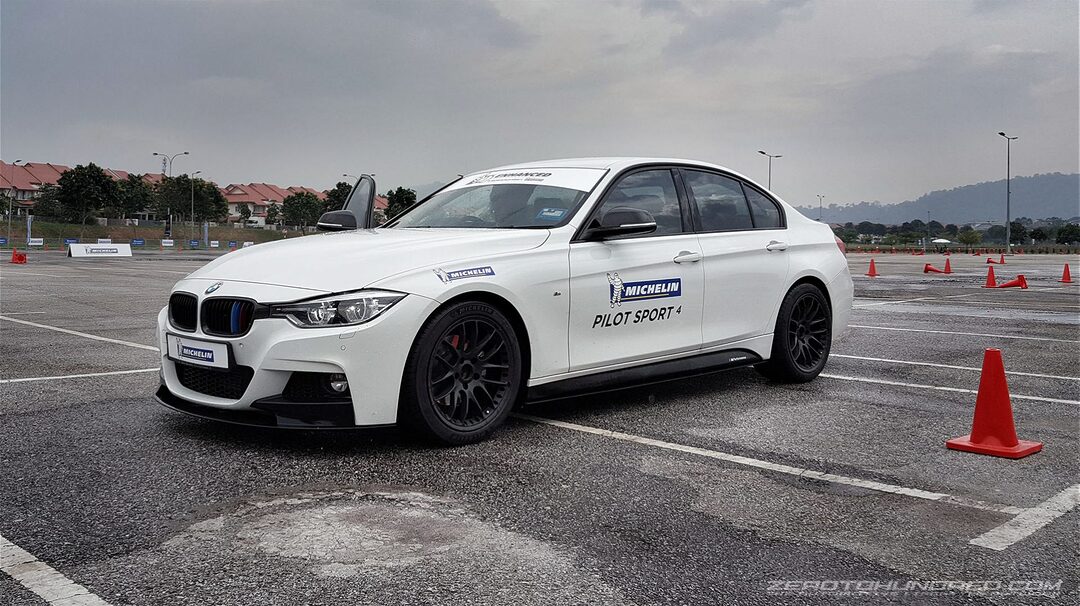 Verdict
The combination of wet and dry tarmac at both the slalom courses are designed to agitate grip. Producing a perfect proving ground to excrete every drop of performance from these tyres.
And yet honestly,
Despite the comparison tyre being great for what it is and more than sufficient for discerning drivers, I was blown away by just how much more performance the far superior PS4 can provide over an already great tyre, it's just nuts.
Somehow, the PS4 has the uncanny ability to mute noise and dilute harshness in any situation. Like when exploring grip in the comparison tyre on the other hand, every scrub and scrape was more like a rub and tug for Michelin.
Tyre Sizes
Michelin Pilot Sport 4 Tyre Sizes that are available in Malaysia: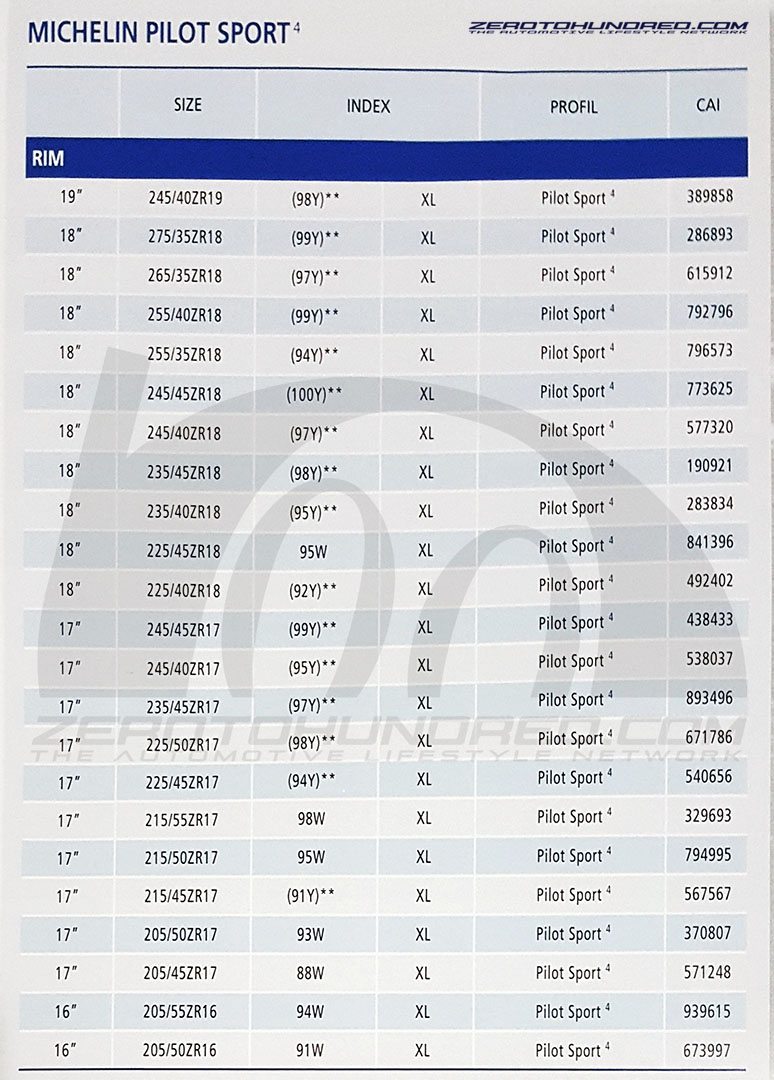 Tyre Test: Michelin Pilot Sport 4 vs Comparison Tyre