Naza Italia Sdn Bhd – the official importer and distributor of Ferrari cars in Malaysia was recently given the award of Ferrari's 'South East Asia Dealer of the Year' for 2013, outshining many other dealers within the region and the world for its outstanding sales. It is said that Naza Italia was seen to have a 30% increase in sales as compared to 2012, putting itself in the spotlight as one of Ferrari's best dealers in the world.
At the same time, Naza Italia was also nominated as one of Ferrari's top-four dealers in the world at Ferrari's Global Conference last November which was held at Ferrari's home ground in Maranello, Italy.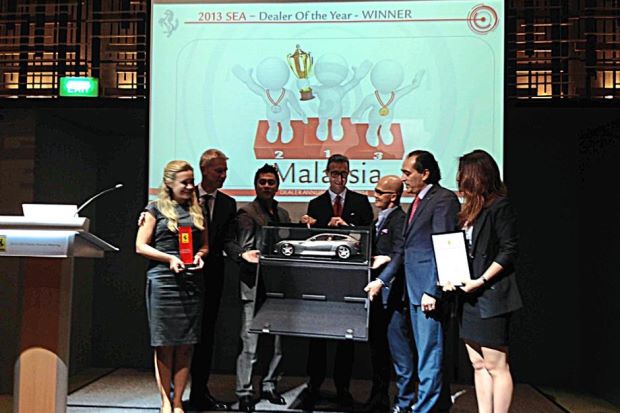 Datuk Wira SM Faisal SM Nasimuddin, the executive chairman of Naza Group said – "We are honoured by this award from Ferrari S.p.A and feel it is a great testament to the hard work and dedication put into providing the best experience of this brand to Malaysians."
Naza Italia began to spawn the outstanding success in 2013 with the launch of the all-new Ferrari F12 Berlinetta and Ferrari's tailor-made programme which enables clients to customise and personalise their Ferrari to their own choosing, at a cost of course. Since the launch of the 458 Italia in Malaysia, we have seen an increase on the number of these exquisite marques on Malaysian roads which translates as a part of Naza Italia's success in its sales.
With the launch of the all-new Ferrari 458 Speciale a couple of weeks back in Sepang during Ferrari Racing Days, Naza Italia commented that this shows its commitment to the market, thus ensuring more variety to the Malaysian cliental market. As of at the launch, more than 20 units of the 458 Speciale has been booked beforehand and set to receive by Q3 2014.
The 'Dealer of the Year' candidates are evaluated on factors such as sales target achievement, overall performance, sales, after sales and a marketing key performance indicator. With all these factors checked, Naza Italia raised to the top as the ASEAN's Dealer of the Year 2013.