Whilst enthusiasts around Kuala Lumpur were fully packed up last weekend with back-to-back automotive events, were talking Formula 1 in Sepang, Retro Havoc in Shah Alam and MOB fest in Bukit Jalil Stadium, you would have imagined everyone would be fully concentrated on these extensive affairs.. but you thought wrong!
Up north on the coast, there was a little BMW owners club called Manjung Bimmers who had been keeping their hands filled in the last few months to ensure their event's success as they were about to hold what is the largest BMW owners gathering to ever be recorded on Malaysian soil! And let's be honest, we weren't going to miss that out. Although short handed, we managed to get our northern correspondent, Rikmun Lim to attend the event and witness what was going to be a record breaking celebration.
He began the day by making the journey with a couple of avid BMW enthusiasts from Ipoh just after sun rise. A quick breakfast to gear up the drivers and passengers alongside and they were all set to make a brisk run through some b-roads of open highways towards Teluk Batik which is about an hour plus away.
Upon arrival – they were greeted by a flock of beemers from different generations who had driven through the night from different parts of the country just to support the BMW owners community. These array of passion and camaraderie are upmost special in the eyes of enthusiasts like us because it is not easy to bring together people of similar interest and dedication to the society and support such event held hundreds of miles away from their homes, however the Manjung Bimmers team had managed to gather these enthusiasts together all in the name of charity and affection to their automotive passion.
Officiated by YM Raja Muzafar Shah ibni Almarhum Raja Muda Musa; the event was held in the name of charity, where the club were to raise funds for an O.K.U shelter home known as Persatuan Insan Masalah Intelek Perak that caters to those with down syndrome and as of now, are taking care of over 300 students within the state of Perak. It is said that the effort indeed managed to raise over RM10,000 for the beneficiary shelter home in just 3 hours, showing absolute sign of success from the event.
Of course – other than charitable efforts, the event was filled with entertaining, family oriented attractions that kept the participants entertained throughout the day whilst the kept count of the BMW iteration to make the record breaking gathering!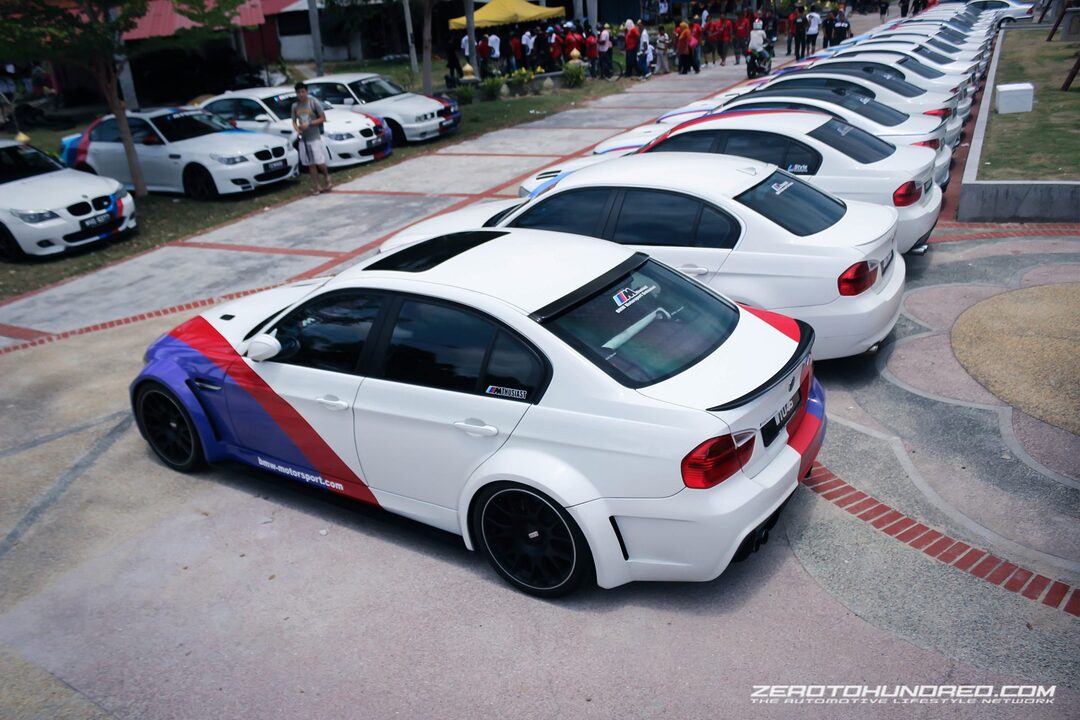 The Manjung Bimmerfest retains more than just excitement, as the patrons were also busy before hand to prep up their wheels for the event. The organisers came up with a theme enabling the owners to play 'dress-up' on their cars. Looking into the current styling and culture of 'Camo' cars; owners were asked to dress up their cars in military camouflage outfit. We were quite stunned with the many stylings that came up on the day.. check it out!
With a final count of 680 examples of the Bavarian marque, joining over 22 BMW owners club from around Malaysia and fully filling up Dataran Hadhari in Teluk Batik; the Manjung Bimmerfest ended with an astounding success. We at Zerotohundred.com would like to congratulate the organising team, Manjung Bimmers and thanks to Mohd Esmee Fariss a.k.a "Sarjan John" for getting Zerotohundred involved in your event.
Word from the grapevine is that these folks are not sitting rest right now because they're already planning on another big event, next in the line!