To commemorate 5 million facebook fans – Porsche reached out to their fans about making a special edition 991. Initiated last February, the design was opened to the popular social media network, via an online configurator to visually create a special design for this milestone. 5 months down the line, the configurator was shut and Porsche reviewed all the designs.
The configurator allowed users to not only select specifications on the car, but also a theme colour with matching wheels and an option to choose between the Sports or Design exterior packages. Painted in aqua blue and matched with albeit white wheels – the one-off 991 Carrera 4S looks menacing and is an absolutely special car. Although Porsche has no plans to create more of this special edition, they have started another competition, to allow a very special facebook fan to drive the car!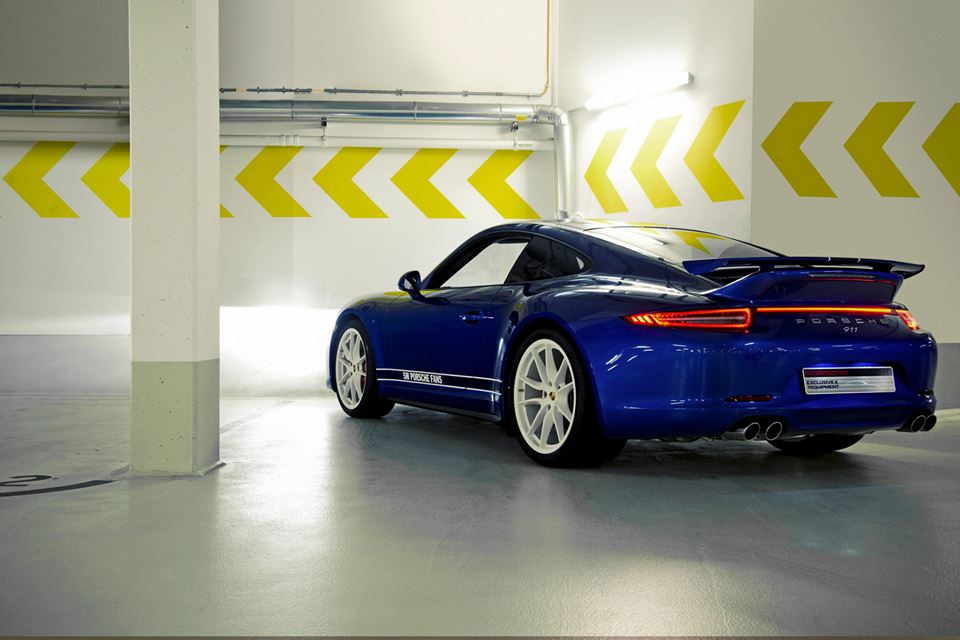 Dubbed the Porsche 911 Carrera 4S 5 Million Facebook Fans Edition – it has one of the longest name ever fitted to a car. The exterior features the Sports exterior package which comes with a double rear-wing, sports exhausts and complete aerokit for the 991. At the same time, PASM (Porsche Active Stability Management) and sports suspension comes as 'standard' with the one-off example.
Engine remains the same – powered by Porsche's 3.8-litre flat-6 that produces 400bhp. This will aid its zerotohundred sprint in 4.3 seconds and all the way to a top speed of 185mph.
Interested in driving one? visit www.porsche.com/5million and enter the competition. It's simple enough – just get as many facebook friends of yours to like the Porsche page and the one with the highest number of likes will get the exclusive opportunity to drive the one-off 991 at Porsche Experience Centre in Silverstone.