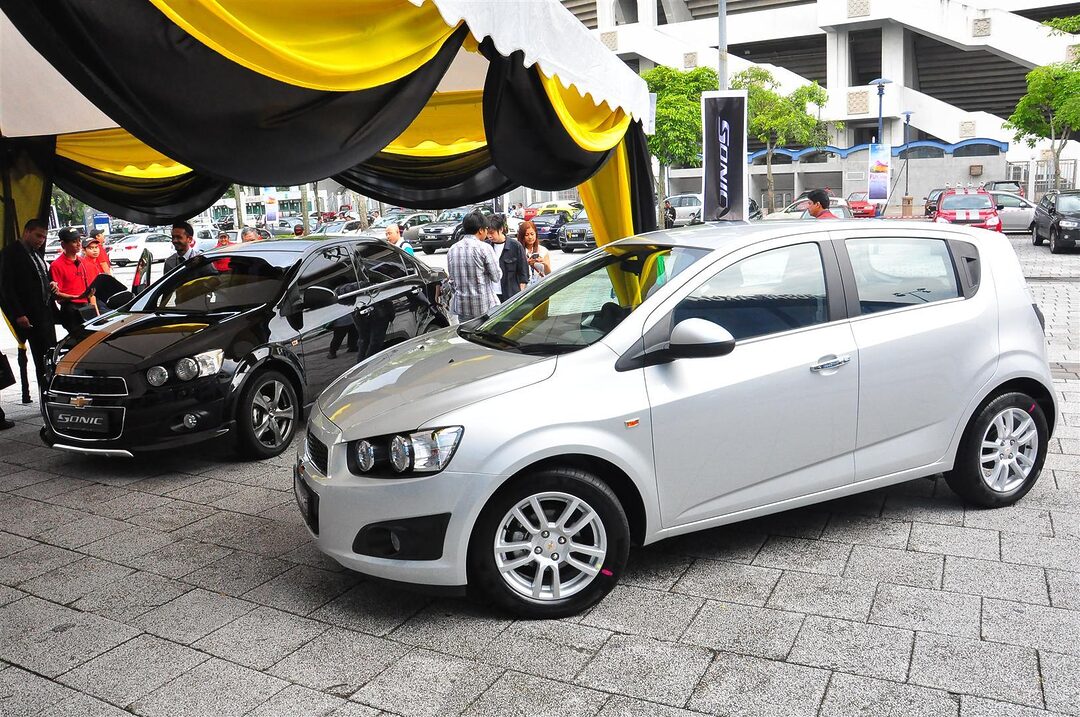 According to the Mayan calendar, the world was supposed to have ended on 21st December 2012. So far , we're still here and well on our way into 2013. As for the Chinese, the new year hasn't begun just yet and requiring a little more preparation than usual in order to usher in the new year with better health, wealth and prosperity. And prepare we must when there's going to be a long holiday, allowing us to find our way home once more, which is why NAZA Quest Sdn Bhd has come up with a nation-wide after-sales service promotion for Chevrolet owners.
NAZA Quest is providing a set of complimentary and promotional car services to ensure everyone gets to wherever they're headed comfortably and safely, from 2nd January till 9th February 2013.
This campaign includes all Chevrolet owners – Spark, Aveo, Optra, Nabira, Lumina, Captiva, Cruze, Colorado, Sonic and Orlando; and will be welcomed at any authorized 3S dealerships in Malaysia (including East Malaysia), where a complimentary 40 points check and diagnostic scan will be provided, RM88 SEMI SYNTHETIC lubricant service with oil filter change for petrol fueled Chevrolet vehicles, and RM100 rebate from the total service bill for diesel fueled Chevrolet vehicles can be had.
NAZA Quest also announced the development of GM Tech Dexos 1 and Dexos 2; both fully-synthetic engine oils that cater to spark-ignited petrol engines and diesel engines respectively. These motor oils are unique formulations made specifically for General Motors and provide greater fuel efficiency and best engine protection with superior cleansing technology that will enable Chevrolet owners to extend their vehicle's service interval to 15,000km.
GM Tech Dexos 1 (for petrol fueled vehicles) is currently priced at RM62 per litre / RM248 for 4 litres.
Other benefits include:
• Oil Consumption – Improved volatility related oil consumption (reduced impact on after treatment systems)
• Aeration – Improved aeration control
• Sludge Protection – Improved sludge protection
• Corrosion Protection – Improved corrosion protection for global engine shipping
• Used Oil Pumpability – Improved used-oil low-temperature pumpability
• Viscosity Control – Improved shear-stability and Improved high-temperature oxidation control
GM Tech Dexos 2 (for diesel fueled vehicles) is currently priced at RM52.50 per litre / RM315 for 6 litres.
Other benefits include:
• Combined oil for Diesel & Gasoline Engines
o One GM service oil for all engine types, including backwards compatibility
(but w/o covering dexos 1 Fuel Economy performance)
• Fuel Economy – o A first in Diesel oil specification
• Improved after-treatment compatibility/durability
• Improved oxidation stability
• Improved corrosion protection
• Improved used oil low-temperature pumpability
Terms & Conditions of the CNY Service Campaign
1. The promotion is only applicable to vehicles sold by Hicomobil, Hicom-Chevrolet or NAZA Quest only (Aveo, Cruze, Captiva, Colorado, Sonic, Orlando, Lumina, Nabira, Optra, and Spark models)
2. This promotion is not applicable for non-lubricant service works such as component replacement and repair works.
3. This promotion is not available for customers who are enjoying free labour packages.
4. NAZA Quest Sdn Bhd reserves the right to amend or withdraw any of the terms and conditions without prior notice.
5. It is only valid at the Chevrolet authorized Service Centres as follows:
• NAZA Quest Auto S/B (Jln Ampang, KL) 03- 4252 0288
• NAZA Quest Auto S/B (Kg Baru, KL) 03- 2694 8001
• NAZA Quest Auto S/B (Puchong, Selangor) 03- 8071 5777
• NAZA Quest Auto S/B (Petaling Jaya, Selangor) 03- 7960 1086
• Progressive Quality S/B (USJ Subang, Selangor) 03- 8025 1033
• Pantai Bharu Holdings S/B (Klang, Selangor) 03- 3342 3636
• Bangi Car Sales S/B (Kajang, Selangor) 03- 8925 8252
• Titanium Lifestyle Corporation S/B (Sg Petani, Kedah) 04- 421 8001
• Intensive Dynasty S/B (Bukit Mertajam, Pulau Pinang) 04- 588 0707
• GB Motors S/B (Ipoh, Perak) 05- 506 2133
• Edaran NHL S/B (Melaka) 06- 283 9200
• Chevy Line S/B (Johor Bharu) 07- 289 2277
• Golden Crew S/B (Kuantan, Pahang) 09- 515 6127
• Magi Design Far-East S/B (Kota Bharu, Kelantan) 09- 744 6889
• Ismaco S/B (Kuching. Sarawak) 082- 338 686
• NAZA Quest Auto S/B (Kuching, Sarawak) 082- 233 628
• Syarikat JL Motorworld S/B (Miri, Sarawak) 085- 658 895
• 97 Automobile S/B (Bintulu, Sarawak) 086- 315 000
• 97 Automobile S/B (Sibu, Sarawak) 016- 854 8477
• OBM Automart (M) S/B (Kota Kinabalu, Sabah) 016- 830 8829
• Boston Auto S/B (Sandakan, Sabah) 012- 334 0068
• NA Classics S/B (Labuan) 087- 425 406