Over the weekend, Malaysia witnessed one of the best collection of cars to be put on display in Kuala Lumpur. With some of the automobile greats like Aston Martin celebrating 100 years of excellence, and Porsche 911 celebrating its 50th birthday this year, ASIA KLASIKA brought together these exotic brands and names to highlight their success and heritage together with the Malaysian fanatics.
Organised by Historic Motoring Ventures, ASIA KLASIKA was held at the MATRADE Exhibition and Convention Centre and displayed almost 100 of the most beautiful and astonishing classics and modern exotics of our time. No doubt it was going to be a Supercar Festival with massive brands like Aston Martin, Porsche, Lamborghini and Ferrari taking part.
As a petrolhead, car is a timeless piece of art to us. And an event like ASIA KLASIKA certainly pops our interest to some of the rarest machines, not only on our roads, but also in the world. Although it was no match for international events like Goodwood Festival of Speed, being a small country, this event certainly was an eye opener for the fanatics because these cars are mostly garage queens. Without further a do – we are going to post up some of the highlights from the shows, and also share with you guys some of our favourite cars from the event.
Being a Porsche fanboy – there was no doubt that the Porsche 50th anniversary tent caught my attention. Displaying some absolutely pristine examples of 356s and 911s, the Porsche booth certainly stole the crowds attention. Especially when theres a rare, and fully restored 911 classic.
Travelling all the way, from across the causeway, this 911 Classic has won numerous competitions. From top to bottom, the car has been fully restored to its original condition, with original parts which are hard to come by, considering the car is almost 50 years old.
This race prepped 930 was easily one of the coolest cars at the show. With fitted roll-cage, bucket seats, orange painted Fuchs alloys.. Damn I'd love to drive this around Sepang and not care about how fast I go. All I know is im driving a 911 and im having the best time of my life!
This 930 Targa caught my attention too! Although hiding at the back, it was no doubt one of the cooler 911s parked at the booth. It was also the only 930 Targa there. Someone should seriously RWB a 930 in Malaysia!
The GT3 RS4.0. Showing here is 1 of 600 examples ever made. Also, 1 of 7 units in Malaysia and my favourite modern supercar. Only offered in Carrera white or black, this is one of two black units in Malaysia and it pulled only a certain level of crowd. The big wing attracted many but only the enthusiast know what kind of monster this is…and how rare it is to come across one. I wish to drive it one of these days..
… But talking about rarity.. No 911 at the Porsche booth was going to beat the presence of the 993 GT2. Built to meet homologation requirements, this was the original widowmaker, packing 450bhp powered to the rear wheels with no electronic malarky stopping it from bringing the driver the sensation of driving a car that is always constantly trying to kill you. Only 57 were ever built and this was 1 of the 7 right hand drive units ever made in the world. Rumours are – there are 4 of these 993 GT2s in Malaysia, and all of them are right hand drive.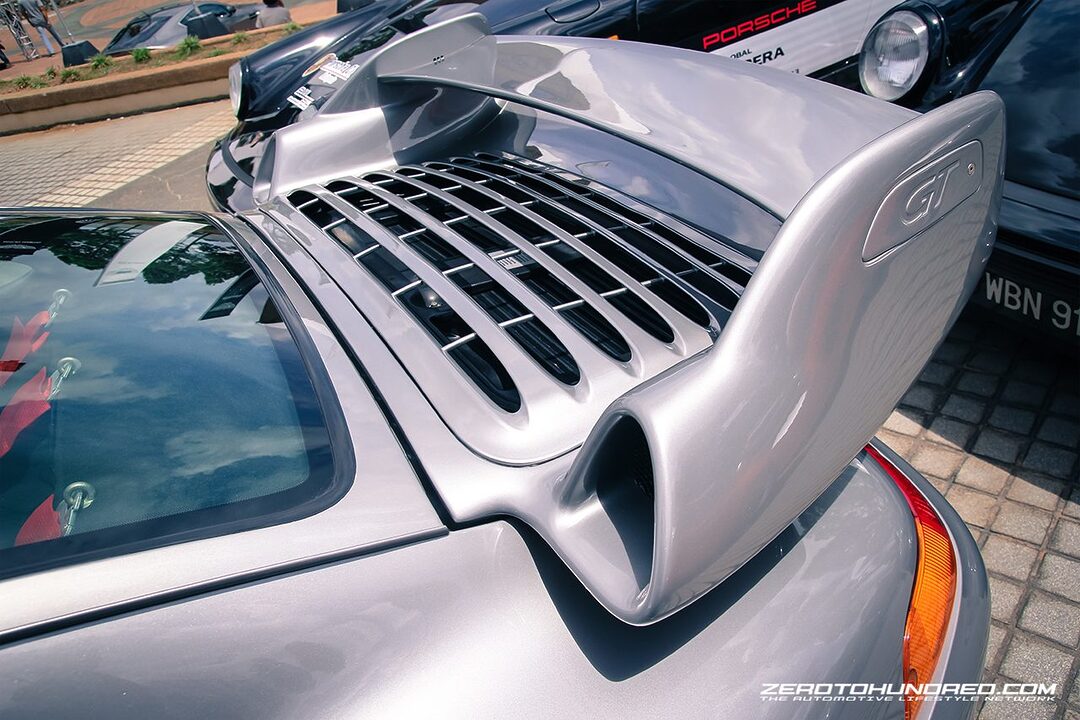 CHECK OUT THAT WING! What a beauty!
Heading over next to the Lamborghini booth – HRH Sultan of Johor has kindly displayed his rare bulls at the Lamborghini stands and brought the crowd to a halt, because of this big red thing!
Yeap..! This is Lamborghini LM-002. Lamborghini's only SUV in their history of Supercars. Only a handful of this were ever made and it is no doubt extremely rare. At the same time, it is difficult enough to find one as pristine as this! But being a car collector himself, HRH Sultan of Johor has kept this since new, together with the two cars parked next to this big red thing.
Not many people know about the Jalpa. But this right here, is the grand daddy to the baby bull, also famously known now as the Gallardo. I've never come across a Jalpa before and although I don't think it sits as magnificent as a Miura or a Countach – I find it very exclusive and special compared to its daddy. The name came from a famous breed of fighting bulls, however it was no jet fighter, because it was only fitted with a 255bhp 3.5-litre V8. This was at a time when BMW was making an almost similar figure with the E30 M3.
If you're thinking something more…British – Don't despair because Aston Martin took the largest stand at the ASIA KLASIKA show. Pairing with the brands latest flagship model, the Vanquish with a pair of 1994 Aston Martin Virage Vantage and Volante from HRH Sultan of Johor's collection, it was a magnificent sight.
However, taking the limelight away from the 3 beauty – was an angel created by famous design studio called Zagato. You've heard of it right? Sitting directly opposite of the 3 musketeers, the DB7 Zagato needed no spotlight to pull the crowds attention. Bringing just its sheer beauty, the DB7 Zagato was a reworked version of Aston Martin's grand tourer with only 99 examples ever made.
Sitting too at the stand was the Rapide's ancestor – the Aston Martin Lagonda. I've never come across it before and it looks even longer in the flesh. In fact, it could be mistaken for a boat! But garnished in British Racing Green, the Lagonda certainly aroused the attention of the crowd, because they wern't exactly sure what it was. It looks like an interpretation of the 21st century, back in the 20th century.
If you've always wanted to see the Aston Martin James Bond drove in The Living Daylight – heres a glimpse of it.. In red.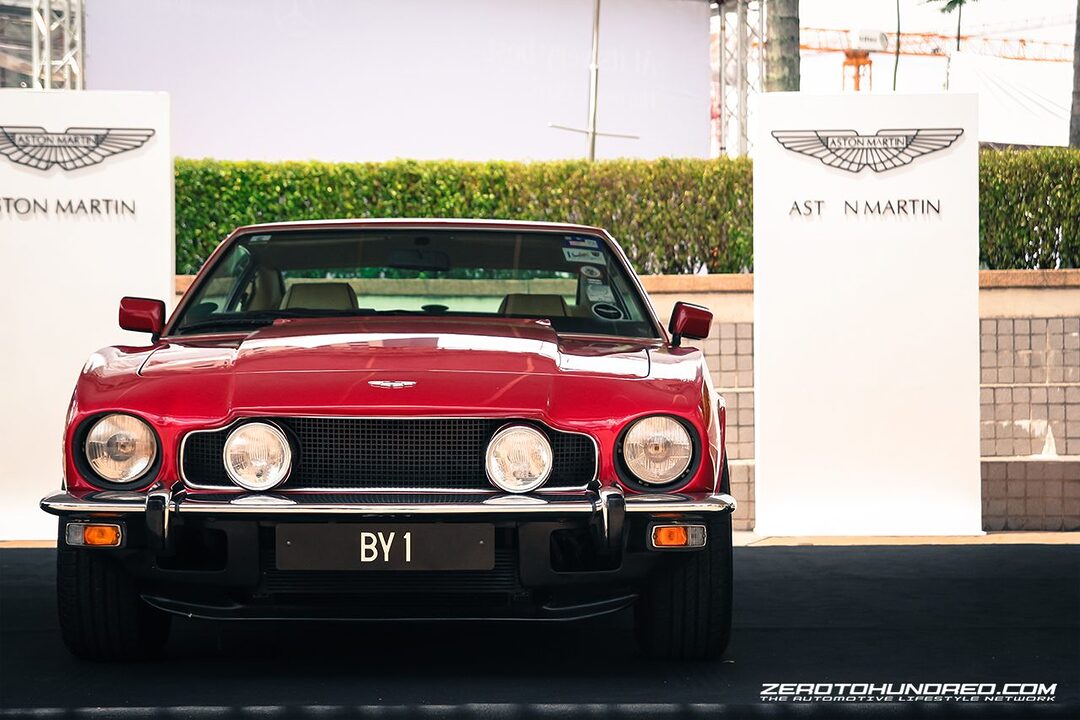 What made this event special was not the collection of cars that made its way to the show – but it was the owners and fans interacting with each other, appreciating their precious possession. Moving from one car to another – there are some hidden gems hiding at the show; and sad to say it wasn't catching much attention.
There were also some automotive related memorabilia items that the public can purchase and bring home. I found the bumper of the Mustang GT500 Super Snake to be particularly interesting! At the same time, there were a collection of books, magazines and encyclopaedia on classic cars at the booth too.
On the topic of 'Legendary Italian Cars' – just stepping out of this booth. I came across an Italian car that I have always envied. Not badged by any of the Italian big names, the brand was lost and forgotten despite their participation in Formula 1. At one point, the company owned Maserati until Ferrari took over and eventually in 2004, the company liquidized. History lesson aside, there was one car that I absolutely adored and it was their Pantera.
Making its first debut in 1970, the De Tomaso Pantera was not a desirable machine back then. Powered by a V8 supplied by Ford at that time, the Pantera produced an underrated 330bhp. Packed with American muscle, this car was mass produced at first until the company stopped production, and started again in small scale in the late 70s. By the time its 20 year lifespan ended, only 7260 units were ever produced and the company went bust.
In my eyes however, this is a car that I would have to own some day. The curves, the lines, the beautiful noise it makes.. It would be an absolute hoot to drive around it one. And oh! Do you see 6 tail-pipes there? Because 4 is too mainstream..
The selection of Mercedes-Benz were not as impressive as last year. Their booth is certainly missing a 300SL Gullwing, an SLS Gullwing and an SLR. But it certainly sparked the interest of a few people, from the 280SL 'Pagoda'. That is a very cool Mercedes. Kate Moss had one!
This Kenmeri Skyline was also there at ASIA KLASIKA. Its epicly rare in our country, although in Japan its another story. I saw this car being rebuilt, and it certainly looks good now despite the rebuilt still remains incomplete. But fitted with those black 'over-fenders' and Watanabe wheels, all this car needs is to be slammed.
I never appreciated the Ferrari Testarossa because I always thought it looked absolutely overdone. But seeing one in the flesh again, changed my perception of it. It think this car was perfectly designed for its time. Regardless of the way it drives, the Testarossa is definitely a beautiful car. Oh! This had Capristos on it too..
More on the lost and forgotten, this is a Bugatti EB110 (for those who might be wondering) and it is certainly an underdog Bugatti. It came at a time when all the attention was focused to the Lamborghini Diablo and many simply forgot the EB110 when the Veyron came out. But heres a fun fact – the Veyron was fitted with quad-turbos right? Well, it was fitted here on the EB110 first in the 90s. Only 300 odd so units were built and it is rare to see one as immaculate as this!
HRH Sultan of Johor brought along this ultimately huge pickup from America. Its called the Dodge RAM 5500 Heavy Duty and it was here, on duty to carry his cars from his Palace in Johor, and all the way back. Not many may have noticed this at the event, because its just a truck, but in America, people actually drive this on a daily basis and i could only imagine what its like. This car is huge! Definitely one of the scariest car to appear in your rear-view mirror on the road.
All-in-all, the event was a success with a large range of cars, coming from classics all the way to modern exotics. These were the highlight cars of the show and we hope that next year will beat this awesome range of cars. Certainly, we can't wait to see what Sultan Johor brings for this exhibition next year!