This year saw the Audi R8 LMS Cup, a series that is very similar to Lamborghini's Blancpain Super Trofeo and Ferrari's Challenge events, graced Sepang circuit for the very first time. More interesting however, was the fact that the series saw some interesting names like Alex Yoong and Aaron Kwok – both of whom were behind the wheels of an R8 LMS Cup car, racing in different categories. The Audi R8 Cup cars also participated in the grueling 12-hour MMER event at Sepang.
Round 8 of the Audi R8 LMS Cup saw a dominant performance from Alex Yoong, who led from start to finish, taking the chequered flag ahead of China's "Franky" Cheng Congfu and Adderly Fong of Hong Kong. Yoong's second win in just as many days saw him regaining overall lead with 141 points, ahead of his closest rivals Fong (132pts) and Lee (121pts), before heading into Rounds 9 and 10 in Shanghai, China.
"We saw a very competitive speed race in extremely hot weather conditions. The fact that all entries finished the race once again shows the great reliability of our GT3 race cars. It was an excellent debut of our brand cup in Malaysia. The circuit and facilities are fantastic. And the passion of the motorsport fans here at Sepang has been great", commented Rene Koneberg, Director of Audi Sport customer racing Asia.
While Yoong managed to stay clear at the start, Cheng ducked down the inside of Fong on turn one, with the Hong Kong racer falling back to third. Marchy Lee retained his fourth position. The top four drivers opened up a gap from the chasing pack behind them, pushing each other to the limit but unable to close the gap on the car in front. Cheng underlined his strong performance with the fastest lap of the day. Yet, it was Yoong who set the pace and dominated from start to finish. The positions were unchanged by the chequered flag, giving Yoong his second win in two days, followed by Cheng, Fong and Lee.
Behind the top four, the race saw an impressive battle for fifth position. On lap three Sun Zheng tried to overtake Kyong-Ouk You, however his manoeuvre allowed room for Wei Fung Thong to pass both of them. Thong, an eighteen year old talent from Hong Kong, pulled away from the more experienced drivers and finished the race in an excellent fifth position ahead of Korean You. Italian driver Massimo Vignali claimed a superb seventh place for Round 8 of the Audi R8 LMS Cup. He came out on top in a close battle with Jeffrey Li and also managed to overtake Sun Zheng, after the Chinese driver spun towards the end of the race.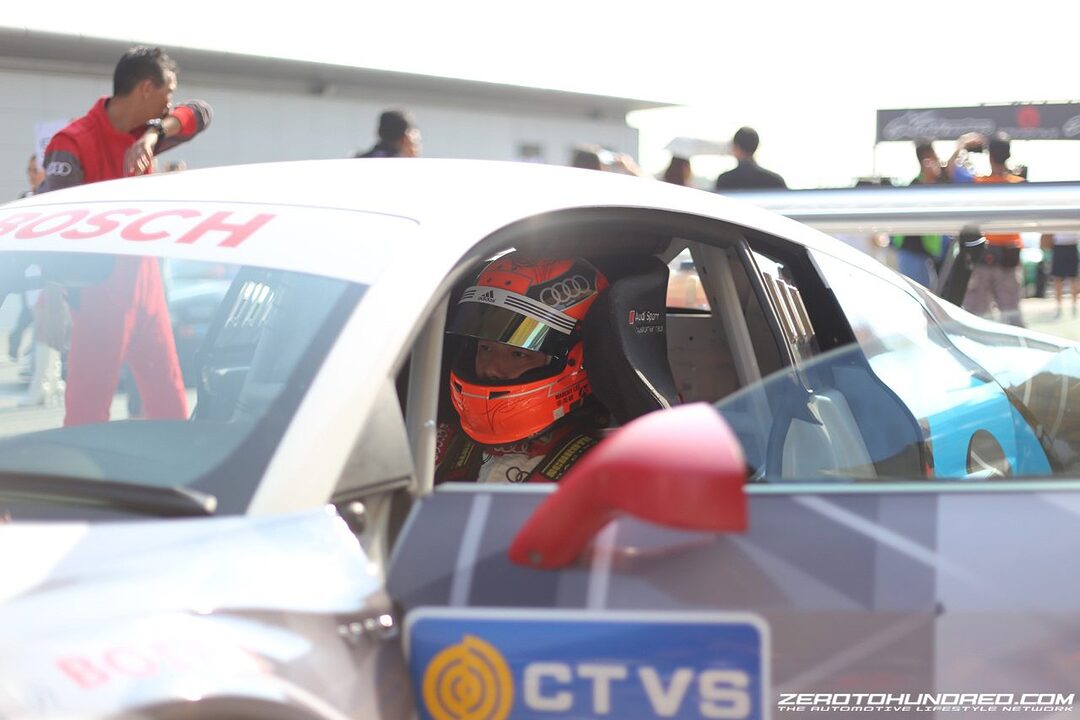 In the amateur competition, Aaron Kwok was able to underline his strong form in Sepang by overtaking Alex Au on lap one. Au battled back and it was on lap six that he finally managed to regain the lead from Kwok and defend it until the end of the race. With back to back wins in Malaysia and a total of 176 points, Alex Au managed to wrap up the overall amateur title. With three races to go, and 90 points clear of second positioned Eric K, he cannot be caught.
Also decided in Sepang was the special Dealer trophy for the 2013 championship. Adderly Fong's third place meant that Team KLM secured the title for participating Audi dealerships. With the Malaysia rounds over for the Audi R8 LMS Cup, attention now turns to the 12-hour Malaysia Merdeka Endurance Race (MMER) taking place at Sepang on Sunday. Audi has four entries in the challenging endurance race, three of which come from the Audi R8 LMS Cup. One entry comes from an Audi supported team
of the GT Asia. Altogether, eight drivers from the Audi R8 LMS Cup will also get behind the wheel for the MMER.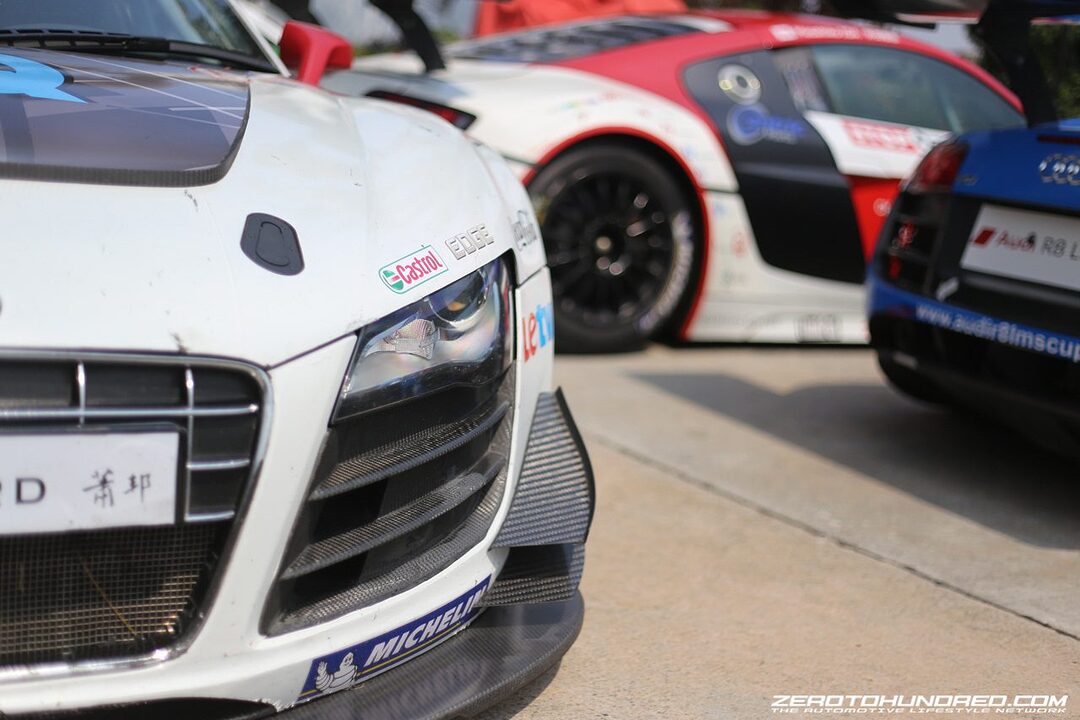 Results after Rounds 7 & 8 @ Sepang, Malaysia:
Overall Ranking Car No. Driver Class Team Time
1 8 Alex YOONG Pro Audi TEDA Racing Team 26:12.876
2 25 CHENG Cong Fu Pro Audi Ultra Team 26:14.156
3 68 Adderly FONG D KAMLUNG Racing 26:15.650
4 1 Marchy LEE Pro Audi GQ Racing Team 26:19.894
5 66 Wei Fung THONG Pro Castrol Racing Team 26:25.689
6 55 Kyong Ouk YOU Pro Audi Korea 26:30.8
7 6 Massimo VIGNALI D Team ZheJiang Aotong 26:39.1
8 15 SUN Zheng Pro Brothers Racing Team 2 (BRT) 26:55.8
9 7 Jeffrey LEE Pro Audi Chinese Taipei Team 26:56.6
10 12 Alex AU Am Wrightspeed 27:06.2
11 99 Masahiko IDA D Team Chengdu New Elements 27:11.6
12 88 Aaron KWOK Am Audi Hong Kong Team 27:20.9
13 27 ZHANG Ran Am Audi Michelin Racing Team 27:33.3
14 5 REN Wei Am Brothers Racing Team 1 (BRT) 27:40.5
15 13 SUN Jing Zu Am Z Racing 27:49.1
16 9 SHAO Xuesong D Team Better Life 28:16.0
17 17 Benjamin LEE Am J-Fly Racing 27:18.4
18 77B Ashraff DEWAL Am Tiger Racing Team 27:22.4
The next race weekend of the Audi R8 LMS Cup will be held at the Shanghai
International Circuit from 25-27 October in China.
Overall Standings:
Ranking Driver Points
1 Alex YOONG 141
2 Adderly FONG 132
3 Marchy LEE 121
4 CHENG Cong Fu 71
5 Kyong-Ouk YOU 60
6 Rahel FREY 49
7 SUN Zheng 36
8 Jeffrey LEE 31
9 Alex AU 29
10 André COUTO 27
11 Earl BAMBER 27
12 Massimo VIGNALI 26
13 Eric K 19
14 Wei Fung THONG 16
15 Hideki Francis ONDA 7
16 Dino CRESCENTINI 6
17 Aaron KWOK 4
18 ZHANG Ran 4
19 Jacky YEUNG 4
20 SHAO Xuesong 3
21 REN Wei 2
22 Hugues RIPERT 1
23 Masahiko IDA 0
24 SUN Jing Zu 0
25 Richie HO 0
26 Benjamin LEE 0
27 Ashraff DEWAL 0