Paving the way of the future – it was a race of the racing hybrids in Sepang last Sunday. Taking home a one-two finish for the GT300 class were Honda CR-Z GT hybrids from two hot teams – AUTOBACS Racing Team Aguri & Mugen. As the flag goes off and the grid starts dispersing, the race became a fierce battle between the two CR-Zs.
Despite taking pole position during qualifying, ARTA's CR-Z GT driven by Shinichi Takagi only managed a small lead for the first 5 laps of the race. It was absolutely tight, with its close competitor right up its tail. Only until the 7th lap – where they managed to pull a 2-second lead over Mugen's CR-Z GT and kept the lead all the way to the finish.
It's been a rough time for ARTA as they've been returning with rather disappointing results from the last 2 rounds – "so I have to admit that I felt pressure coming into this race at Sepang." says Shinichi Takagi. The team admits that it was not easy, and that because their closest and biggest competitor, the Mugen CR-Z GT were also running the same tyres and machine made the race that much more interesting.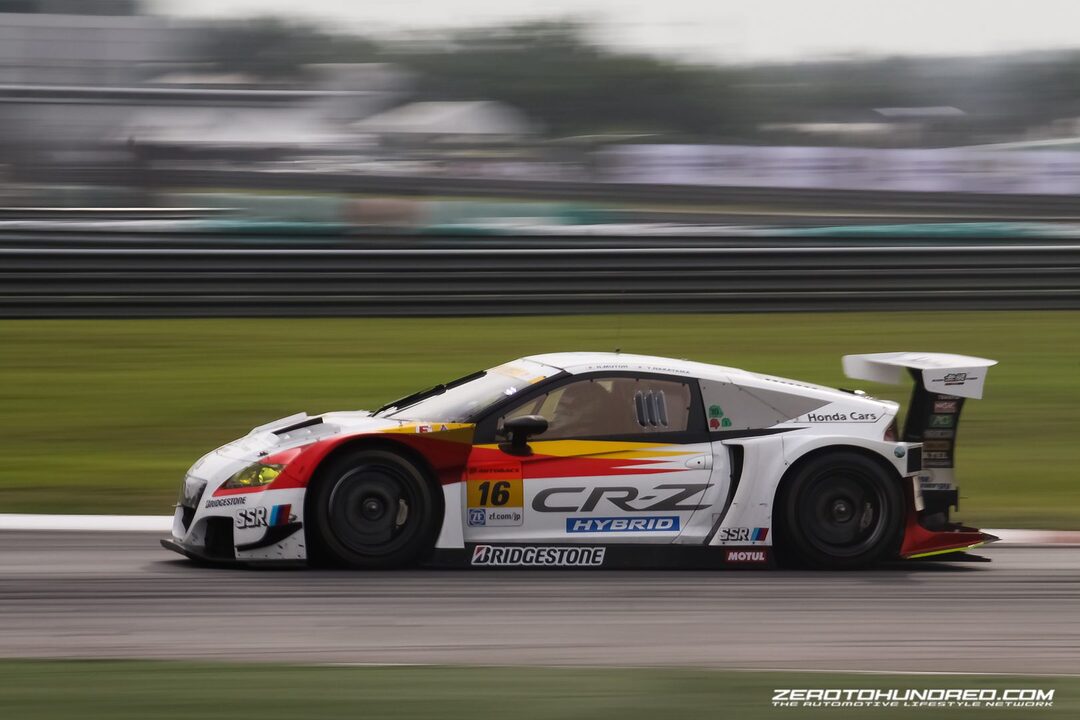 Position #2 went to the Mugen CR-Z GT – which too was experiencing the same situation as it's rival. Although they are seemingly similar to each other, one small factor kicks in as the Mugen team has a weight handicap that they had to carry. Despite the minor disadvantage, they still manage to keep a close 2-second gap between the #1 car.
It was nothing short of exhilarating to watch the two hybrids chasing for the win, but another interesting battle was between the Subaru BRZ R&D Sport – GAINER Rn-SPORTS DIXCEL Mercedes SLS – and ManePa LAMBORGHINI GT3 who were fighting for position #3.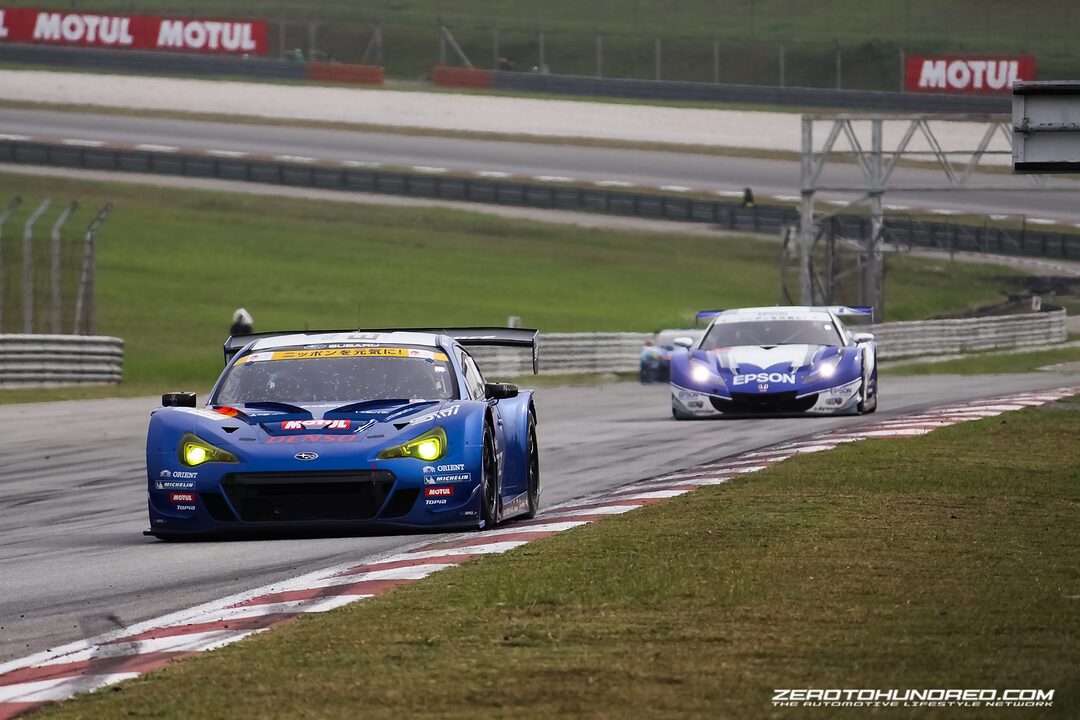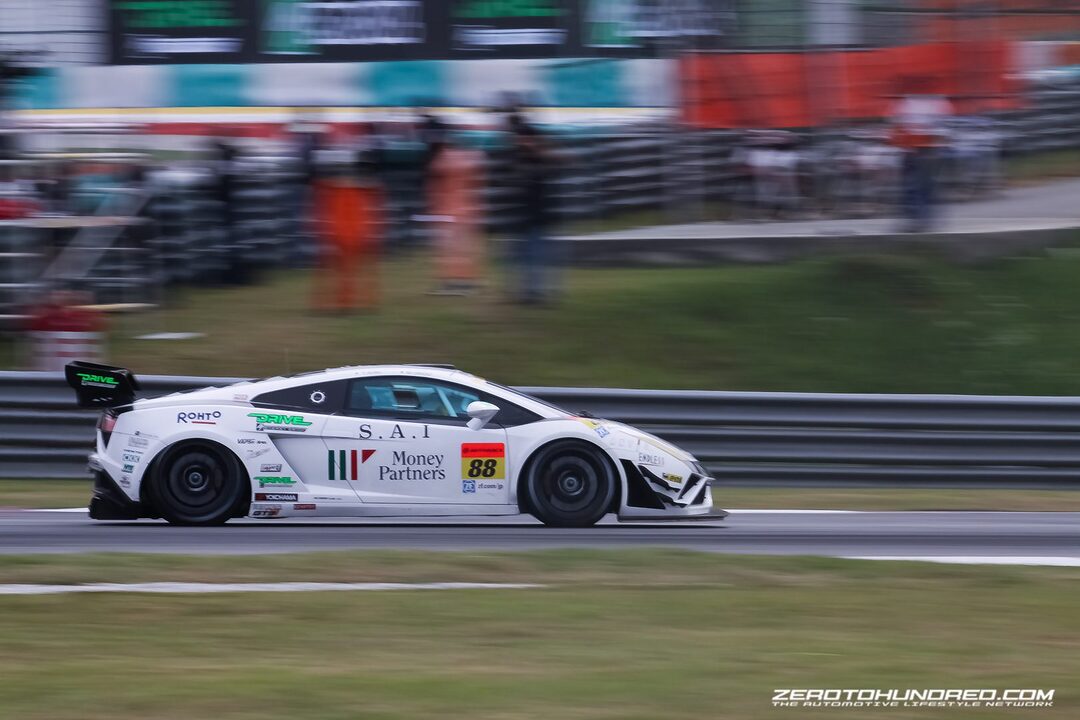 Coming from 7th on the grid, Gainer Dixcel SLS driven by Katsuyuki Hiranaka/Bjorn Wirdheim made up 3 places by the first turn and pulling team Subaru BRZ down by 1 position. At the same time, ManePa Lamborghini driven by Manabu Orido/Takayuki Aoki were also running strong and chasing down. Although they did not manage a podium finish, they certainly gave the Subaru BRZ a good fight, as they were hunted down with many close calls on turns between the two teams.
In the end though, Gainer Dixcel SLS took home the 3rd position and marking their podium finish at Super GT Round 3.
Results of Super GT Round 3 – Sepang International Circuit
1
55
ARTA CR-Z GT
Honda CR-Z / J35A
Shinichi Takagi
Takashi Kobayashi
1:51'08.104
51
BS
2
16
MUGEN CR-Z GT
Honda CR-Z / J35A
Hideki Mutoh
Yuhki Nakayama
2.089
51
BS
38
3
11
GAINER DIXCEL SLS
Mercedes-Benz SLS AMG GT3 / M159
Katsuyuki Hiranaka
Bjorn Wirdheim
21.509
51
DL
50
4
61
SUBARU BRZ R&D SPORT
SUBARU BRZ GT300 / EJ20
Tetsuya Yamano
Kota Sasaki
30.643
51
MI
12
5
88
ManePa LAMBORGHINI GT3
GALLARDO GT3 / CEH
Manabu Orido
Takayuki Aoki
39.268
51
YH
6
4
GSR HATSUNEMIKU BMW
BMW Z4 GT3 / P65B44
Nobuteru Taniguchi
Tatsuya Kataoka
51.607
51
YH
34
7
10
GAINER Rn-SPORTS DIXCEL SLS
Mercedes-Benz SLS AMG GT3 / M159
Tetsuya Tanaka
Masayuki Ueda
58.6
51
DL
2
8
62
LEON SLS
Mercedes-Benz SLS AMG GT3 / M159
Haruki Kurosawa
Tsubasa Kurosawa
59.747
51
YH
16
9
86
CRYSTAL CROCO LAMBORGHINI GT3
GALLARDO GT3 / CEH
Kouji Yamanishi
Shinya Hosokawa
1'13.270
51
YH
22
10
3
S Road NDDP GT-R
NISSAN GT-R NISMO GT3 / VR38DETT
Kazuki Hoshino
Daiki Sasaki
1Lap
50
YH
11
0
ENDLESS TAISAN PORSCHE
PORSCHE / M97/79
Kyosuke Mineo
Naoki Yokomizo
1Lap
50
YH
2
12
52
OKINAWA-IMP SLS
Mercedes-Benz SLS AMG GT3 / M159
Hironori Takeuchi
Takeshi Tsuchiya
1Lap
50
YH
32
13
48
DIJON Racing IS GT-R
NISSAN GT-R NISMO GT3 / VR38DETT
Hiroshi Takamori
Katsumasa Chiyo
1Lap
50
YH
4
14
21
ZENT Audi R8 LMS ultra
Audi R8-LMS ultra / CJJ
Akihiro Tsuzuki
Richard Lyons
1Lap
50
HK
15
2
EVA RT TEST-01 PETRONAS MP4-12C
McLaren MP4-12C GT3 / M838T
Kazuho Takahashi
Hiroki Katoh
1Lap
50
YH
16
5
MACH GoGoGo SYAKEN Ferrari 458
Ferrari 458 GT3 / F142
Tetsuji Tamanaka
Junichiro Yamashita
2Laps
49
YH
17
30
IWASAKI apr R8
Audi R8-LMS ultra / CJJ
Yuki Iwasaki
Igor Sushko
2Laps
49
YH
18
360
RUN UP GROUP GT-R
NISSAN GT-R NISMO GT3 / VR38DETT
Takuya Shirasaka
Atsushi Tanaka
2Laps
49
YH
19
9
NAC KOUKAKUKIDOUTAI ARISE DR PORSCHE
PORSCHE 911 GT3 R / M97/79
Shogo Mitsuyama
Hisao Shigeta
2Laps
49
YH
20
50
Exe Aston Martin
Aston Martin V12 Vantage GT3 / V12
Masaki Kano
Hideto Yasuoka
3Laps
48
YH