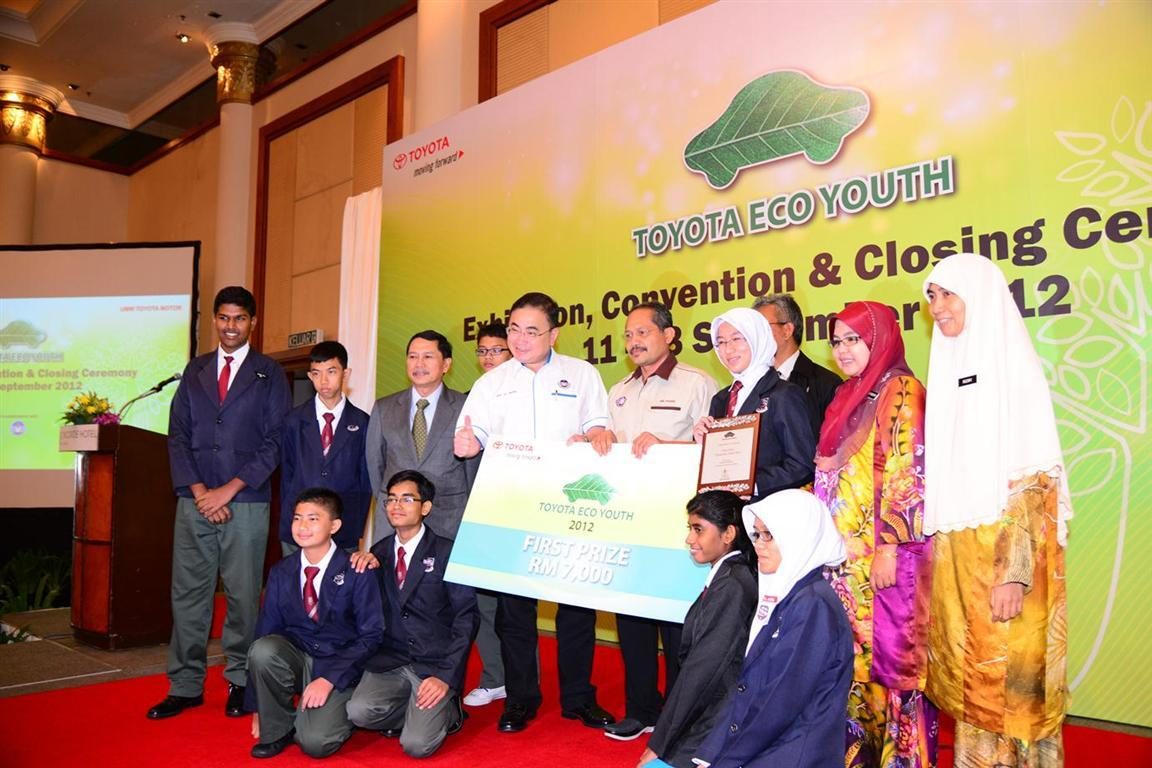 UMW Toyota Motor recently organized their 12th annual Toyota Eco Youth (TEY) programme which came to a close at the Concorde Hotel in Shah Alam; where over 200 students, teachers and those from the Ministry of Education made it to the programme that aims at targeting environmental issues as part of the company's global goal towards a greener, more sustainable world.
The event was also attended by and officiated by Yang Berhormat Datuk Ir. Dr Wee Ka Siong, Deputy Education Minister 1, Ministry Education of Malaysia and Yang Berbahagia Datuk Ismet Suki, President of UMW Toyota Motor.
In his welcome speech, Datuk Ismet thanked the Ministry Of Education for their continued support and cooperation, while congratulating the participating students for their hard work and creativity in coming up with interesting projects.
"Some of the projects we have seen this year have been nothing short of extraordinary. Even the community residents and municipal council leaders who had worked with these students were amazed and impressed with the students' dedication and commitment," he remarked.
"The main idea was to give the participating teams an opportunity to work with their immediate communities and local council to see how they could be agents of change for environmental woes," explains Datuk Ismet.
The Environmental project began by UMW Toyota in 2001 initially saw 8 schools participating and has grown now to 16 schools nationwide.
From finding environmental problems around their schools and coming up with innovative ways to resolve them using Toyota's 8-Step Problem Solving Methodology, the programme is now extended to community level since 2011.
Datuk Ismet adds that the TEY had helped the students see that there is no problem too big that cannot be solved if they take a proactive stand to do something instead of leaving environmental problems such as trash and clogged drains to 'someone else', usually the authorities. The efforts of the students also managed to draw the interest and participation of close to 5,000 communities nationwide.
The implementation of the project formed only one aspect of their overall performance. TEY participants also put in many hours creating a presentation for the award ceremony, getting publicity for their projects from the local or national media, posting their project progress on the TEY blog and planning side projects.
Yang Berhormat Datuk Ir. Dr Wee Ka Siong, Deputy Education Minister 1 commended the TEY programme as an excellent out-of-classroom lesson that teaches students more about the environment, team work and working life than any textbook can.
"I hope that these valuable lessons and life values will be cherished and continue to be practised in your future endeavours to benefit even more people in expounding the green message," Datuk Wee said.
Datuk Wee added the country needs a workforce who is not just skilled and dedicated but can also utilise green technology to minimise the carbon footprint of their business and prevent over-exploitation of the earth's precious resources.
The Toyota Eco Youth environment programme is part of the three social pillars of UMW Toyota's CSR initiatives.  The other two pillars are the Toyota Traffic Tots Road Safety programme and the highly anticipated Toyota Classics concert for philanthropy.