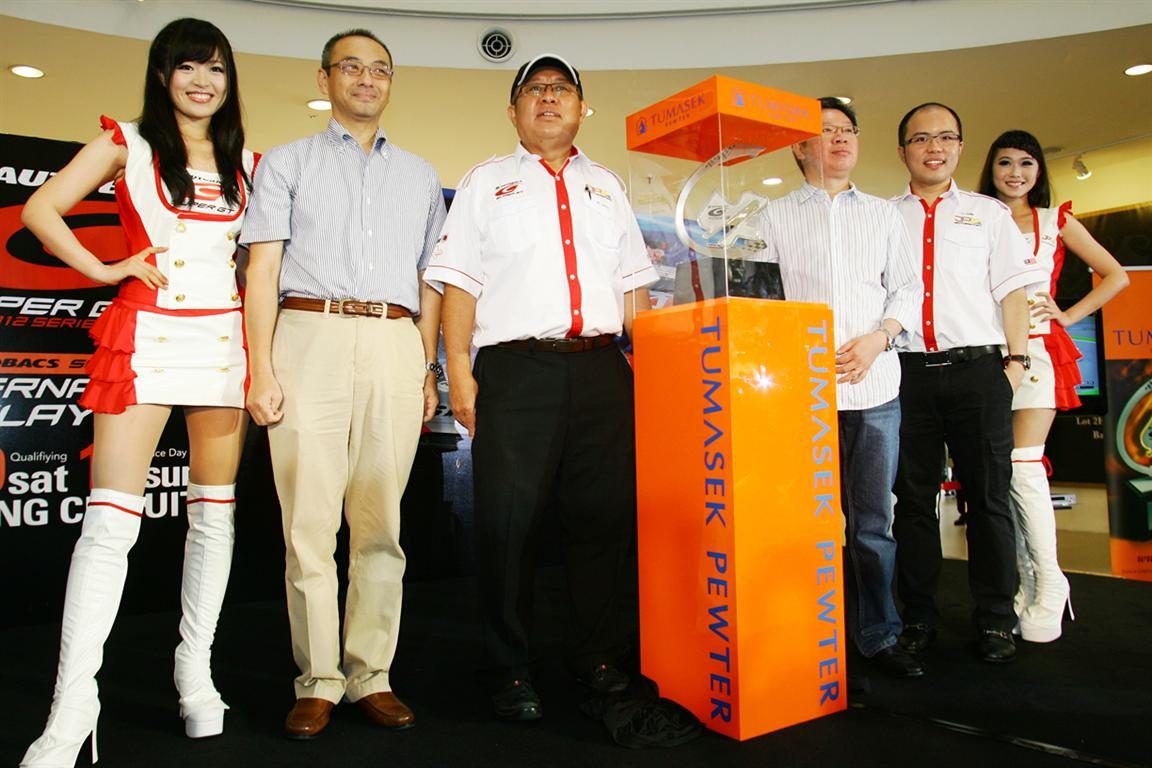 Bangsar Village II was the venue for which the official launch of The SUPER GT 2012 Round 3 Malaysia took place, held by JPM Motorsport who took the opportunity to unveil their SUPER GT Trophy.
The event was graced by none other than Mr JP Chin, founder of JPM Motorsport, Mr TJ Chin, Managing Director of JPM Motorsport; Mr Yochiro Ueno, MD & CEO of Honda Malaysia and Mr David Tan, Managing Director of Tumasek Pewter, who presented their prestigious trophy to Mr Mr JP Chin.
In conjunction with this grand launch, JPM Motorsport has announced that they will support the Kids for Kids Charity Foundation, which focuses on children's welfare by contributing RM50 of every SUPER GT tickets sold at RM100 (only at roadshows) to the cause. The beneficiaries are Stepping Stones Home, Rumah Kanak-Kanak Angels and Agathian's Shelter.
Looking to break the previous year's much anticipated Biggest Super and Performance Car Gathering record during the SUPER GT event, Mr JP Chin quipped "This year, we are looking at more entrants to break the record of previous year. With your support, we will surely achieve it!"
Also, the Malaysian Final round of the Sony Playstation 3 Gran Turismo 5 Asia Online Tournament – SUPER GT Cup was held there as well, with which the winner will represent Malaysia to compete with 5 other finalists from Hong Kong, Korea, Singapore, Thailand and Indonesia to crown the title of "Asia's Fastest!"
During the Super GT race day, there will also be a Dance Competition, where the top two best 'Street' choreographed college dance teams will battle it out on the centre stage!
Later in the night, the event promises a Dance Party, where 10 professional dance crews showcasing their rave dance moves to the live beats of a hot Japanese DJ!
Available for four-wheeled fans will be the AFFIN Bank Motorshow, held in co-participation with Sime Darby Motors, NAZA World, Lamborghini and other major Japanese and Korean manufacturers such as Honda, Nissan, Toyota, Mazda, Subaru and Hyundai.
Even aftermarket accessory makers Motul, Denso, V-Kool, Paint Shield, ENEOS, McKee Racing will be showcasing their goodies for motor-heads alike.
For those with finer tastes, race-goers will be able to feast their eyes upon the collection of exotic car-makes, with confirmed participation from the likes of Ferrari, Maserati, Porsche, and Mercedes Mclaren SLR, promising to make an appearance.
Other continental automakers from Alfa Romeo, BMW, Ford and even Land Rover, who will provide alternative viewing for 4×4 lovers will be adding to the mix of car makers making an appearance at the SUPER GT event at Sepang.
If that's not enough, adding to the excitement will be private owners who will be displaying some of their prized cars and bikes collections allowing patrons to feast their eyes upon the Lamborghini Murcielago LP670-4, Lamborghini Aventador LP700-4, Morgan Aero Super Sport, 3 times Le Man Winner re-make Ford GT40, the 2,400cc Triumph Rocket 3 motorcycle and many more!
Of course, there will also be a few SUPER GT Race Cars on display, making it a true haven for the automotive enthusiasts!
That's not all though, two-wheeled lovers will also be able to check out Ducati and Harley Davidson bikes at The AFFIN Bank Motorshow, which will definitely satiate your large appetite for high performance vehicles.
Car clubs have also been invited to take part in trying to break last year's Malaysia Book of Records by holding the 2nd Edition of the Biggest Super and Performance Car Gathering!
The objective is simple; to gather more than last year's 405 cars at the Sepang International Circuit's (SIC) main straight, which will feature cars from Ferrari, Lamborghini, Porsche, Aston Martin, and other road-going variants of the SUPER GT race-machines such as the Lexus SC430, Honda NSX, Nissan GTR and Mazda RX7.
Currently, an expected hord of more than 5,000 patrons is likely to be headed for the SUPER GT event this year, especially for the SUPER GT Pit Walkabout where fans will be able to meet and greet SUPER GT race drivers as well as feast their eyes upon the attractive Japanese Race Queens!
Tickets are currently on sale with Grandstand tickets being priced at RM100/pax and can be purchased online or at any organised roadshows. Children under the age of 12 enter for free.
For Every ticket purchased, each ticket-holder will stand a chance to win attractive prizes from 50'' TVs, Compact Cameras, DSLR, Samsung S2, Net Book, Anti Virus Product by AVIRA, GARMIN GPS, V Kool Tinting Services, Paint Shield Detailing and motorcycles from NAZA in a lucky draw!
Lastly, if you find yourself in need of transportation to the Sepang International Circuit (SIC), Skybus will be providing patrons with shuttle services to and from the track (KL Sentral – SIC – KL Sentral).
Corporate Bulk Discounts are still available and for those interested more information may visit JPM Motorsport's website For further queries and/or for more information please log on to SUPER GT Malaysia's website.