For any motorcyclist, one of the most important items to always have securely fastened onto your noggin is the helmet. Lets face it, you'd be considered disabled if you lose your limbs, but you'd be considered dead if you lose your head. Even though you've got your eye on a Shoei, Arai, Shark or even a Scorpion helmet, they're probably going to cost you a considerable amount to own, which is why GIVI Asia has just launched 8 new helmets this year; 5 of which having been designed in Italy and the other 3 designed locally here in Malaysia with pricing ranging from RM150 to RM990, it makes good sense to consider these outstandingly designed helmets that now come with features that's usually associated with higher-end helmets and at a higher price-point.
Meet the GIVI Modular X.01 Comfort (GIVI Italy) that's Lighter than most modular helmets, it includes removable summer and winter chin rests, caps for the jet version and anti-fog spray, an anti-scratch visor and double homologation enables the X.01 to be used without the chin rest. The ventilation system is available with three frontal air systems, two superior sides, one on the base of the chin rest and two rear extractors. Available in white, black and with racing graphics.
The GIVI X.08 Modular (GIVI Italy) may also be another modular helmet within this year's new range of helmets, only it comes to those who prefer a modular helmet at a lower price point. The simple push of the central button on the chin rest means it can be raised with one hand. The visor can be opened independently and thanks to the new bayonet system created by GIVI, the main anti-scratch visor and internal sun visor can even be removed without the aid of any tools. The double homologation allows use in jet and full face versions. The air ventilation system is enhanced by chin rest vents; two at the front and an extractor at the rear. Available in white and black.
The GIVI Fullface H 40.2 GT (GIVI Italy) happens to be an ideal choice for the sport tourer owner, it has a tri-composite fibre shell (fibre, carbon, Kevlar) with a sophisticated ventilation system through three air inlets and two air extractors. The helmet comes with a standard anti-scratch smoked sun visor (with an optional 75% smoked version), removable nose cover which prevents fogging and removable wind protector integrated in the chin guard. Available in white, black, with racing graphics and black demo graphics.
The GIVI Jet X.07 (GIVI Italy), this model features a thermoplastic material shell, extra padding in the cheek area of the innards for a better fit on the face. The aerodynamic shaping of the visor prevents turbulence under the chin, aids air flow and with the new innards guarantees quietness on the road ahead of its predecessors. The new sun visor is also more protective for the eyes. Available in silver and matt black.
GIVI has graciously turned some its attention to providing something for the kids, the GIVI HPS Junior (GIVI Italy) has been designed specifically for children, is protective, light, comfortable and can be personalized with PVC adhesives. The unique thermoplastic shell and chin strap with micrometric adjustment allows you to have two sizes at your disposal. The rapid lock/unlock belt system is secure and reliable yet still easy used by children. Available in white only.
The GIVI M10.0 (GIVI Asia) is an urban jet helmet that pretty much guarantees constant air flow with a ventilation system that uses one frontal vent and four air-extractors on the shell. It features a double visor (internal smoked sun visor and transparent anti-scratch visor), anti-allergenic innards that are removable and washable and a quick release strap with micrometric adjuster. Available in silver with & without graphic and black with & without graphic.
Similar to the M10.0, the GIVI M11.0 (GIVI Asia) is also an urban jet helmet, but with a slightly different ventilation system that uses two frontal vents and three air extractors on the shell. It features a double visor (internal smoked sun visor and transparent anti-scratch visor), anti-allergenic innards that are removable and washable and a quick release strap with micrometric adjuster. Available in gun-metal with & without graphic and solid white with & without graphic.
The M11.0 and M10.0 models are similar in characteristics, however they do differ in terms of shape, colour and weight.
Finally, we rest at the GIVI HPS 10.4 Roma (GIVI Asia), when it took the helmet market by storm upon its launch in 2009. This ergonomically designed helmet which features efficient air ventilation, an anti-scratch visor, a quick release buckle and breathable fabric interior that is removable/washable, is now offered with two brand new graphic designs. Available in pearl white, solid white with graphics, matt black, metallic black with graphics, gun metal and metallic silver.
These helmets that hail originally from Italy are ECE 22.05 certified, although these helmets do not usually find their way into the United States of America, these helmets usually lack the DOT (Department of Transportation) stamp, which is still fine because while these two certification bodies differ in terms of test procedures, they are undoubtedly highly trusted.
Price Summary:
GIVI Modular X.01 Comfort
- White (RM850)
- Black (RM850)
- White Red Black (RM990)

GIVI X.08 Modular
- White (RM800)
- Black Metal (RM800)
GIVI Fullface H 40.2 GT
- White (RM680)
- Black (RM680)
- Raching White (RM700)
- Racing Black (RM700)
GIVI Jet X.07
- Silver (RM450)
- Matt Black (RM450)

GIVI HPS Junior
- White (RM200)

GIVI M10.0
- Silver With Graphics (RM175)
- Silver (RM160)
- Solid Black (RM160)
GIVI M11.0
- Gun Metal With Graphics (RM250)
- Solid White With Graphics (RM250)
- Gun Metal (RM220)
- Solid White (RM220)
GIVI HPS 10.4 Roma
- Gun Metal (RM150)
- Metallic Silver (RM150
- Solid White (RM145)
- Metallic Black (RM145)
- Metallic pearl (130)
- Matt Black (RM130)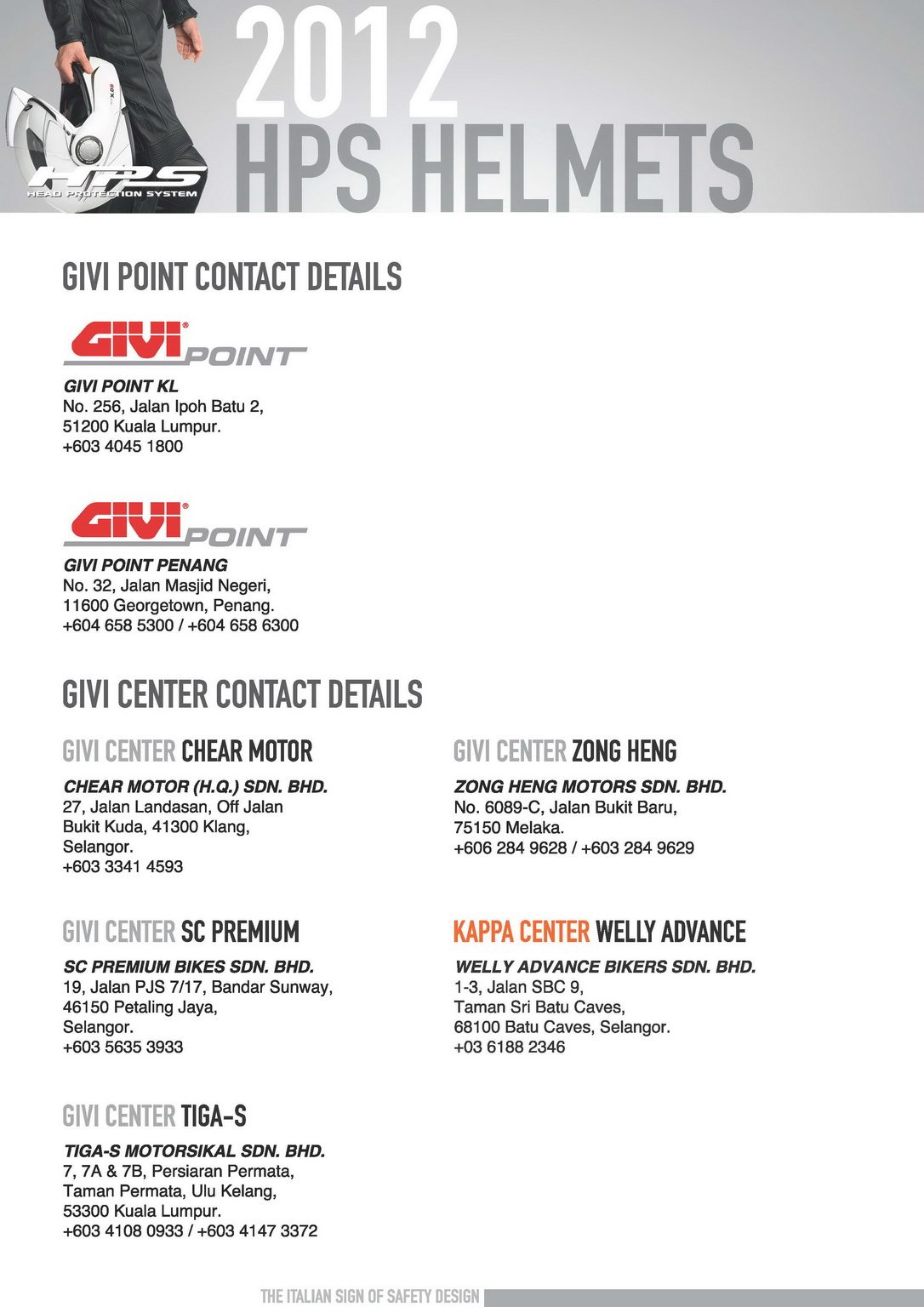 Related Posts