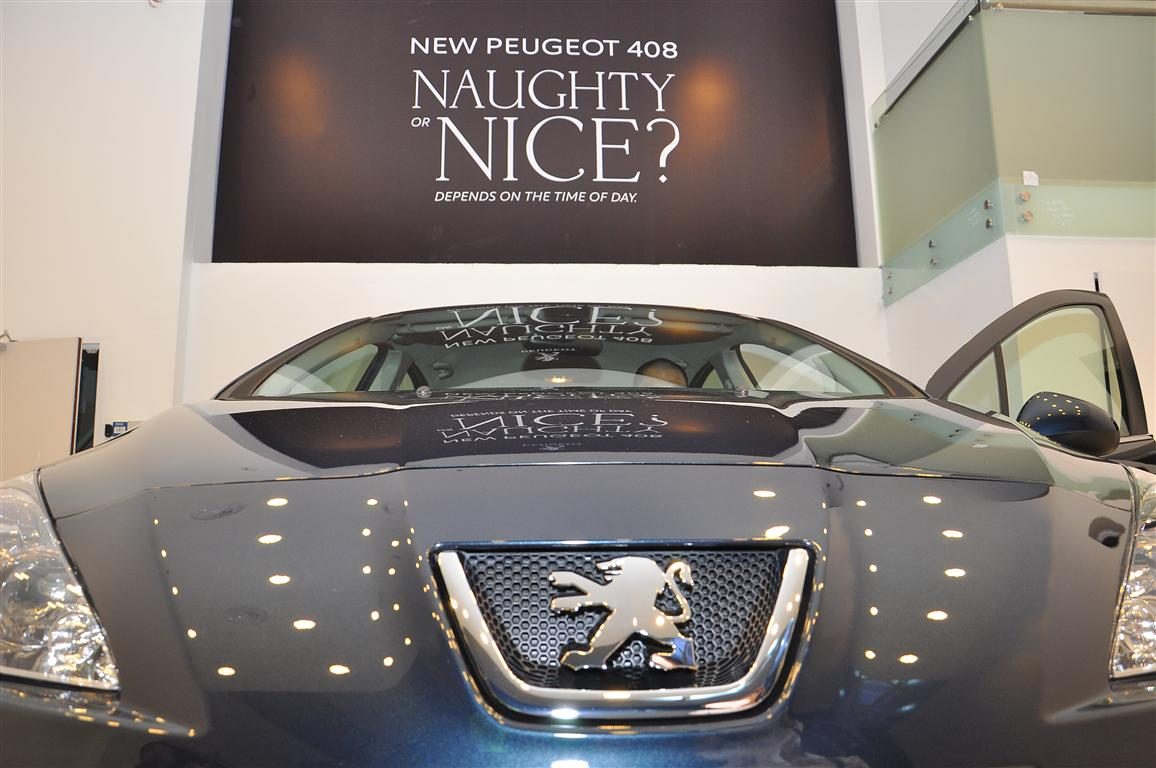 Nasim Sdn Bhd, the official distributor of the Peugeot brand in Malaysia, has just launched the highly-anticipated all-new Peugeot 408 that offers performance, space, elegance and best of all – safety, and is set to redefine the Malaysian C-Segment market.
SM Nasarudin SM Nasimuddin, Joint Group Executive Chairman of the Naza Group of Companies, was present for the 408's launch at the new Peugeot Blue Box in Glenmarie and said: "The all-new 408 is ideal for young professionals with families who are looking for a car that offers space, performance and elegance."
The 408 combines harmony, elegance and dynamism, all of which provides a high-level of comfort and premium quality, whilst looking plenty sleek.
At the front, the all-new 408 features Peugeot's trademark feline headlights, thin chrome strips on the radiator grille, and sculptured lines on the bonnet that flow naturally into the wide, slopping windscreen. The sides of the 408 feature carved wheel arches while the plunging body line from the rear lights to the front wing illustrate the image of a dynamic, modern and robust vehicle.
The rear lights of the all-new 408 are ruby red that are trimmed with a clear white strip that hint at a lion's claws within the cluster. At night, they take on the form of three diagonal strips that are a tribute to Peugeot's historic models such as the 307 CC and the 504 coupe.
Inside, the all-new 408 offers the largest cabin space in its class. Its long 2,710mm wheelbase, its width measuring 1,815mm and its height at 1,525mm provides ample leg room, elbow room as well as head room.
Featuring automatic dual-zone air-conditioning system with rear air-conditioning vents, World In Peugeot Sound with six speakers with CD/ MP3 playback capability, USB and Bluetooth connectivity, instrument panel LCD, tilt and telescopic steering and one-touch power windows with anti-pinch for all four windows, to provide the very best in comfort and enjoyment. Equally impressive is the all-new 408's boot which offers 562L of space, premium leather seats, leather-wrapped steering wheel with aluminium inserts, auto-dimming rear view mirror and a rear armrest with two cup holders, cruise control with a speed limiter, 17" alloy wheels, "Follow Me Home" functionality for the headlamps, sensor-activated headlights and wipers and automatic retractable side mirrors.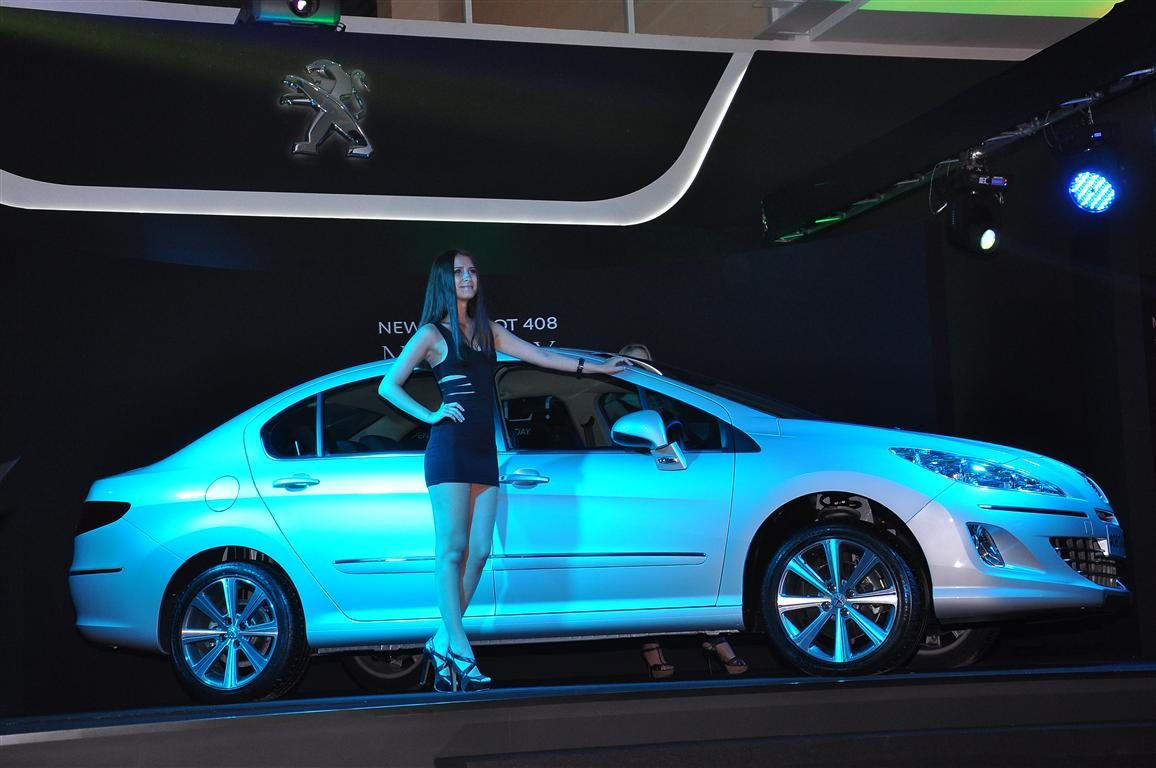 Available in only two variants: a sporty 408 1.6L Turbo and a more elegant 408 2.0L NA; it would seem rather certain that many would be picking the turbo unit over the NA variant predominantly because it's not just the usual turbo 1.6L 4-cylinder Prince engine, instead it now possesses Peugeot's Turbo High Pressure (THP) that's seen in the RCZ with direct injection. Power figures won't be as high as the RCZ of course, but rather it will pump out 163bhp and 240Nm of torque making it the most powerful C-segment sedan in the market with a 6-speed
The NA variant produces 18bhp and 40Nm less than the Turbo mill at 145bhp and 200Nm of torque, but both engines share a common auto adaptive transmission with Triptronic and sport mode, just that the NA variant comes with a 4-speed gearbox versus the turbo's 6-speed that catapults the 408 to 100kmh in just 9.2s (12.5s for the NA) with a top speed of 215kmh .
The 408 Turbo and 408 2.0 are fitted with independent with MacPherson-type struts and antiroll bar for the front suspension to offer precise road holding. At the rear, the suspension comprises of a deformable U-shaped cross member and an integrated antiroll bar to provide good vibration control and well-controlled body movement. However, the Turbo variant will provide a firmer ride.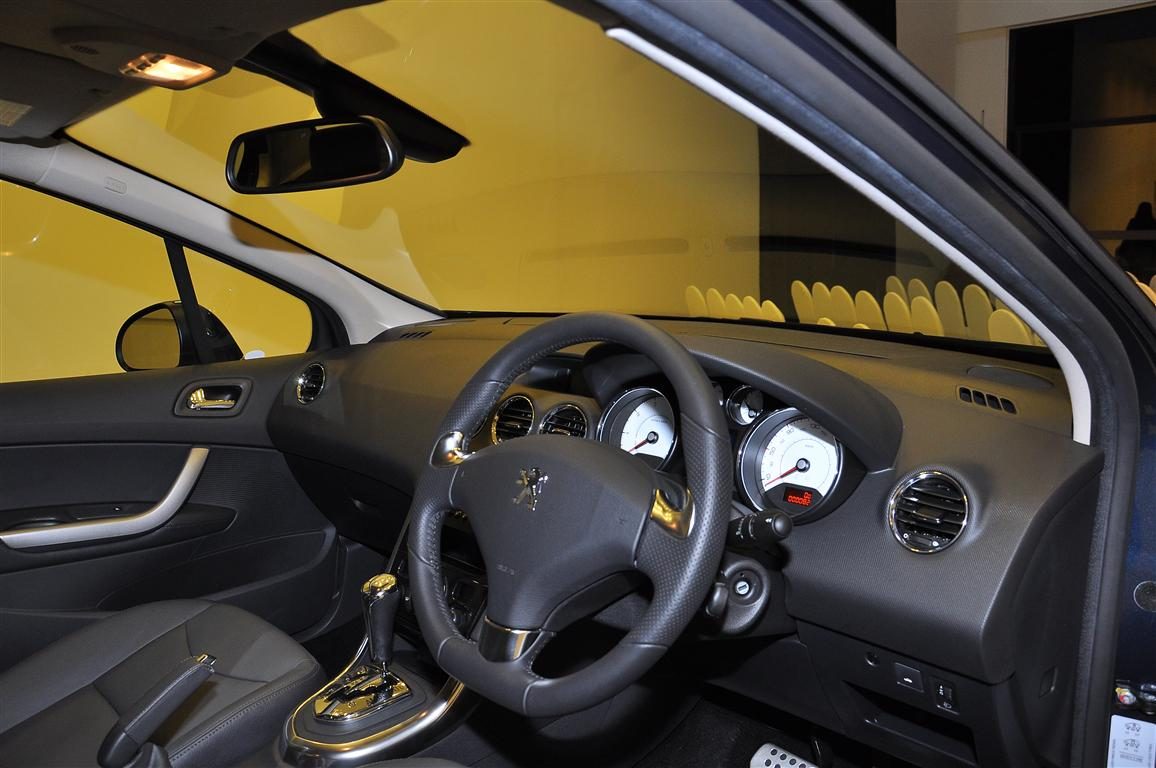 In terms of safety, both variants feature two smart airbags, ABS, EBD and EBA, among others. The car has also been designed with a double-impact force dissipation channel to provide maximum passenger compartment protection; but the 408 Turbo possesses an additional set of driver and front passenger side airbags, front and rear curtain airbags, electronic stability programme (ESP) and anti-skid regulation (ASR).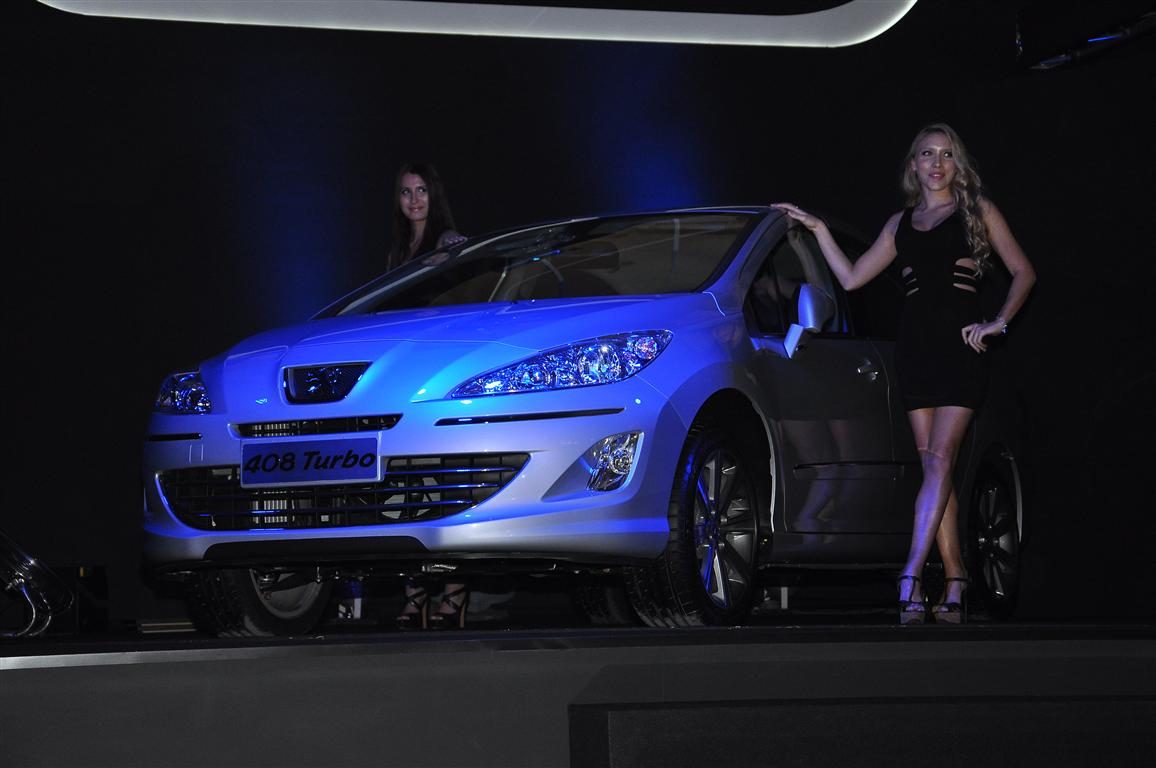 The new 408 is indeed packed with a plethora of options and features as En SM Nasarudin announces that the all-new 408 being manufactured at the Naza Automotive Manufacturing (NAM) plant in Gurun, Kedah will also be exported to regional markets in the coming months to Australia, Thailand, Taiwan, Indonesia, Singapore, Sri Lanka, Brunei, Nepal, Bangladesh and the Philippines.
Dato' Samson Anand George, COO of Nasim said the 408 will contribute significantly to the company's sales target of 9,300 units this year, which will represent a 72% jump from its sales in 2011.
Currently, the 408 will come with Nasim's recently introduced five-year warranty with unlimited mileage as well as with Nasim's existing life-time 24 hour Peugeot Assistance service and its exclusive Peugeot Privilege membership, all of which is aimed at providing the best ownership experience for its customers.
The all-new 408 was launched at the new Peugeot Blue Box in Glenmarie, and is scheduled to commence operations in June this year. Built at a cost of RM15 million, the 82,000 sq. ft. facility will not only be Nasim's flagship outlet but will also house the largest Peugeot service centre in the country, able to service up to 66 cars a day.
The on-the-road price of the 408 Turbo is RM125,888 while the on-the-road price of the 408 2.0 is RM109,888 and comes with a choice of six colours:
– Alpine White
– Velvet Silver
– Metropolis Bronze
– Aster Grey
– Bourasque Blue
– Premium Black
COMMENTS FROM PREVIOUS PLATFORM
05-22-2012, 09:02 PM
  #2

600bhp Member

Join Date: Oct 2010

Location: Kuala Lumpur

Posts: 692

Likes: 28

Liked: 110 / 81 Posts

Re: LAUNCH: Peugot 408 (From RM109,888 and 125,888 OTR)

---

Decent specs, decent looking compared to most coming from Pgt but proportionally, still look a bit too chubby like the older version Altis.
Btw does this thing come with paddle shifter?

(0)
05-25-2012, 08:31 AM
  #10

Moderator

Join Date: Aug 2007

Posts: 4,793

Likes: 960

Liked: 1,109 / 512 Posts

Re: LAUNCH: Peugot 408 (From RM109,888 and 125,888 OTR)

---

nice car….great price too for a conti car…

(0)