Following the opening of the Penang Harley-Davidson showroom,there were two new additions to the range of Harley-Davidson motorcycles made available here in Malaysia and they are the solo-seated Softail Slim and Sportster Seventy-Two (72), which have been given a blast from the past treatment that sees them retain their classic styling attitudes; only it's been merged with current power and tech for these low-rider bad-boys.
With the introduction of these two new motorcycles at the same time from Harley-Davidson, it can now appeal to both mature and younger demographics simultaneously.
The Seventy-Two's sleeker size and thinner white-walled wheels definitely wreaks of youth, perfect for those whose young at heart and may find the Softail Slim a little too mature for their liking.
The Softail Slim comes with a 1,690cc air-cooled, twin-cam motor mated to a 6-speed Cruise Drive Switch from Harley-Davidson that will help you control all 134Nm of torque. The uniqueness about the engine is that its low-end torque has been merkedly improved upon with light-weight pistons and its also got Engine Idle Temperature Management System (EITMS) which effectively shuts down the rear cyclinder when idling, reducing engine heat felt by the rider.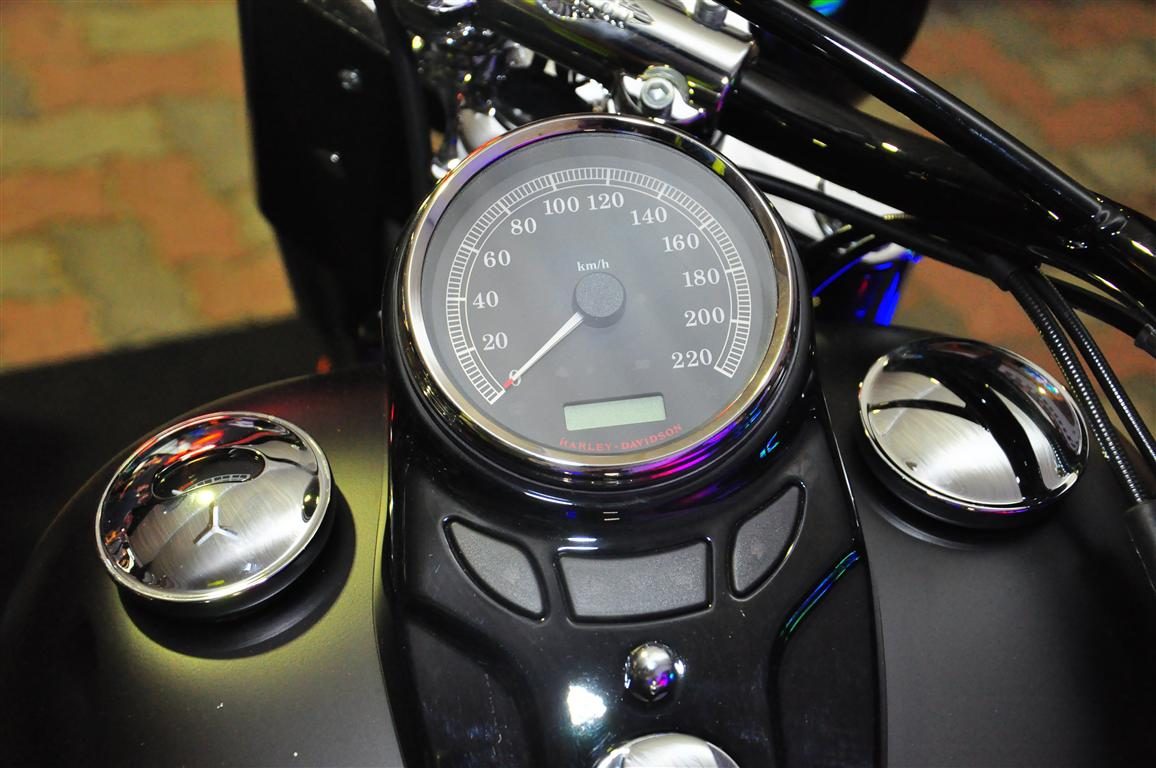 The Softail Slim definitely wreaks of heritage and tradition with its solo seat, chrome-plated steel surround and especially them half-moon foot boards and a rigid-suspension look that's quite synonymous with Harleys back in the day. In fact, it may look like its got a rigid-suspension at the rear, but the reason why it's called a softail (versus a hardtail) is because it actually has it's suspension's hidden into the guts of the bike, so you do get some modern comforts with that vintage feel. And to have a tank that's shared between fuel (left) and engine oil (right)l, further personifies that feel even further.
On the other hand, the youth-appealing Seventy-Two still shouts Harley heritage and tradition, with a smaller and subsequently lighter 252kg heft with a 5-speed transmission mated to a smaller 1,200cc air-cooled Evolution motor with 99Nm of torque at 3,500rpm. A sleeker 7.9L peanut-shaped fuel-tank certainly adds to that "bad-a55" appeal.
So far both bikes are draped in matt-black paint finish, accented by heaps of chrome. In terms of pricing, the Softail Slim and Seventy-Two carries a nett price-tag of RM158,000 and RM131,000 respectively (excluding road-tax and other processing fees).
http://youtu.be/ebChCHYv4Ac
http://youtu.be/RKxQtRpaBo0
Harley-Davidson Softail Slim
Harley-Davidson Sportster Seventy-Two (72)