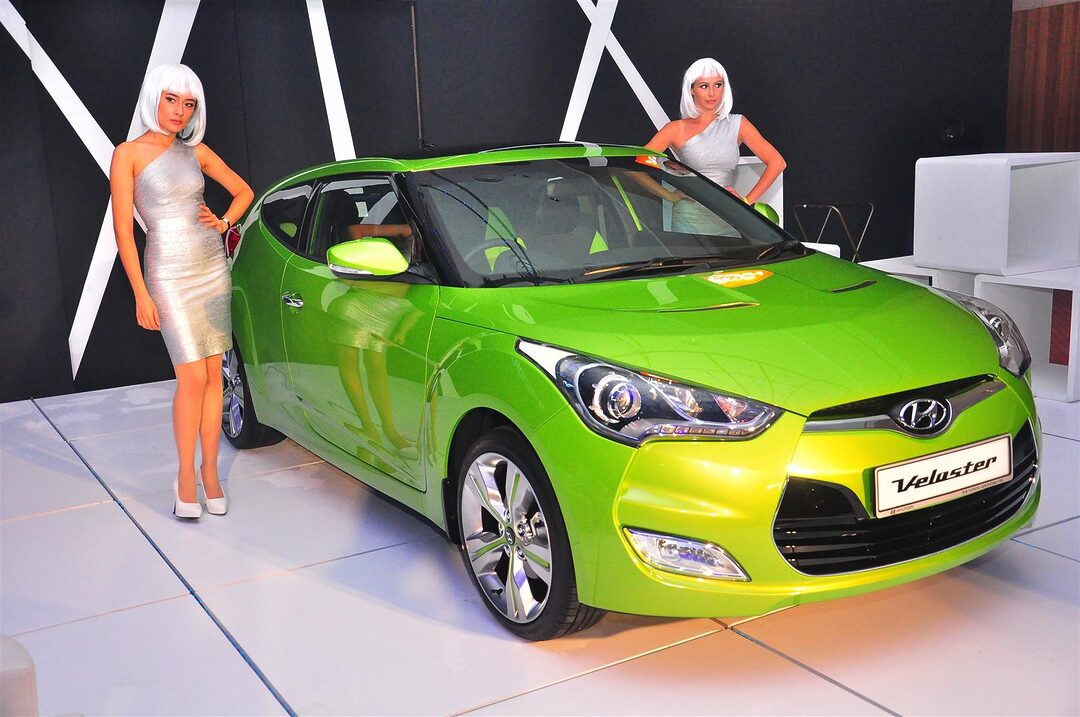 There's a new unique looking Hyundai running around town at the moment and though it's got the usual shape of a hatchback, the Korean manufacturer has boldly given it a rather unique 3-door appeal (1 + 2 functional door layout as Hyundai calls it) – that's right, it's the 1.6L NA Hyundai Veloster!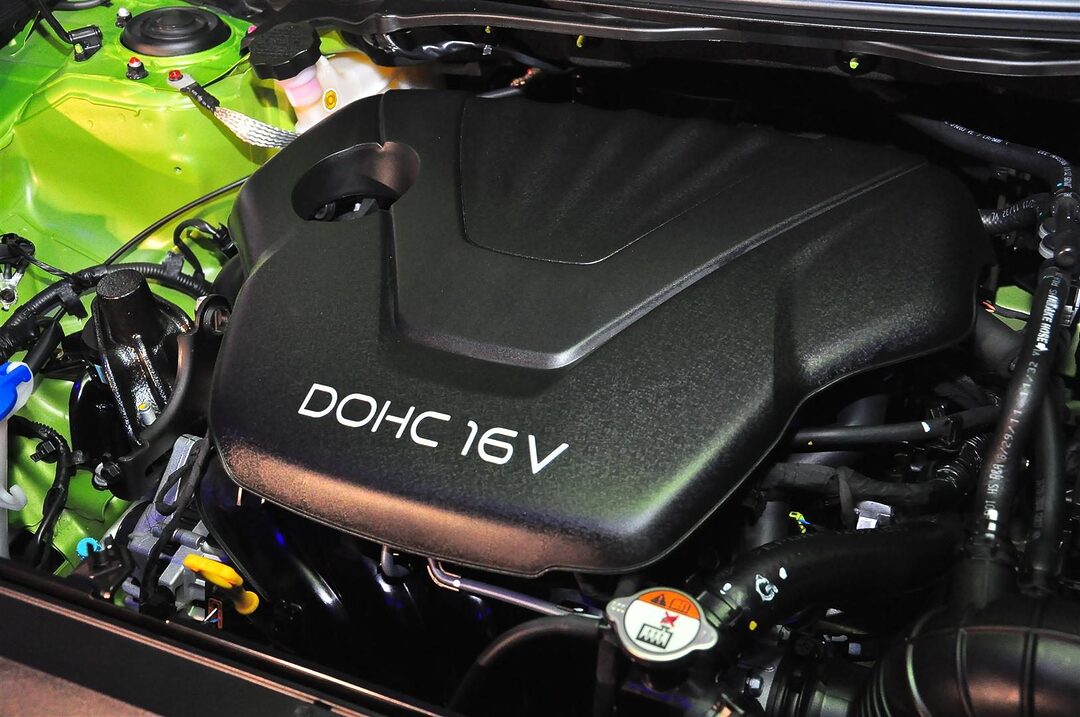 The Veloster now comes with a starting price of RM116,888 (OTR), and sadly there's no turbo variant to be had, only an all-aluminium Naturally Aspirated 4-cylinder Gamma 1.6L engine now lies under the hood, providing 130bhp at 6,300rpm and 158Nm of torque at 4,850rpm.
To manage power delivery, there's either a 6-speed Manual/Automatic transmission, depending on your choice of three variants: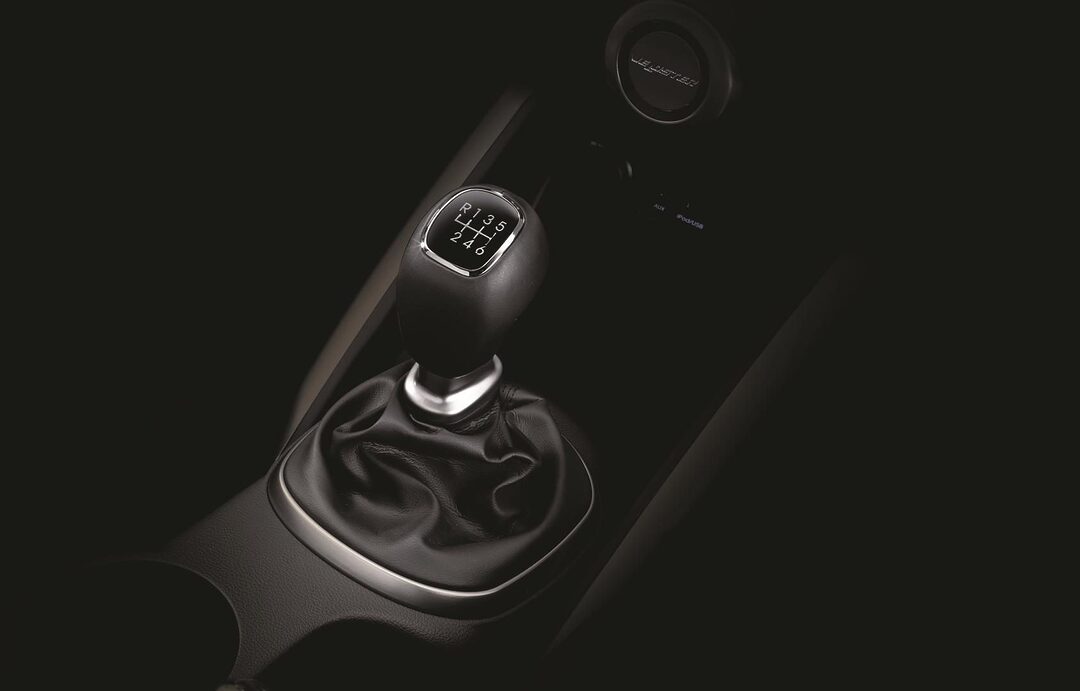 – Veloster Gamma 1.6 M/T (RM116,888 – OTR)
– Veloster Gamma 1.6 A/T (RM121,888 – OTR) or
– Veloster Gamma 1.6 A/T Premium (RM132,888 – OTR).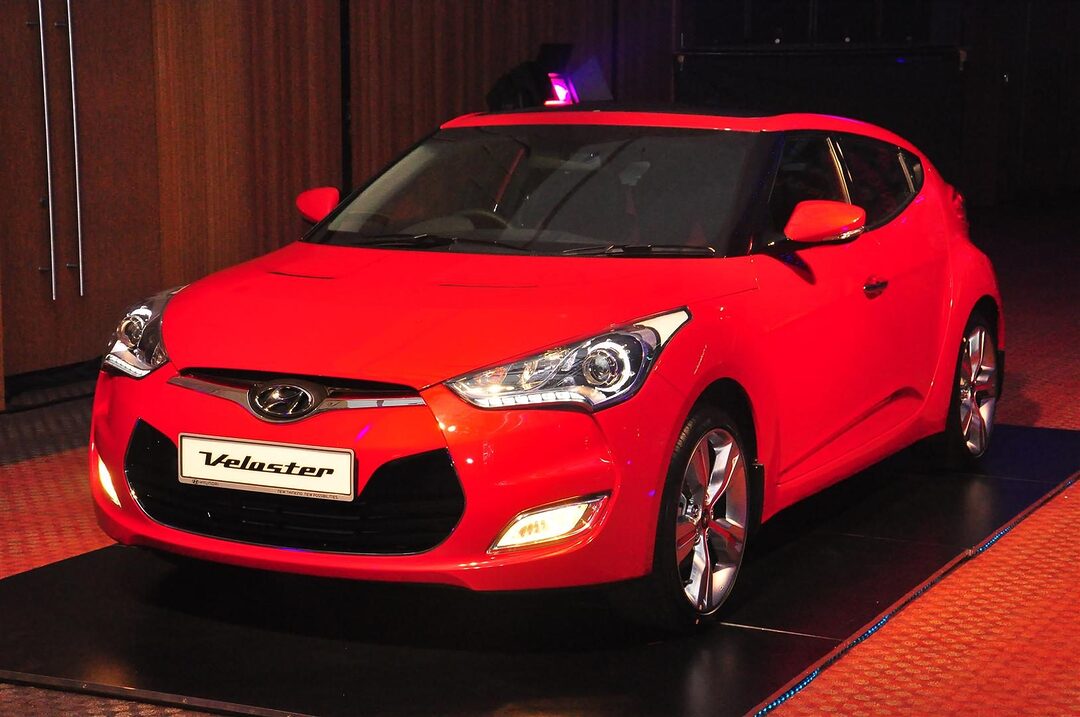 Now there's the complicated task of choosing which colour your new Veloster stead will be draped in and it may be best to have a seat and really ponder if you should have it in Green Apple, Sleek Silver, Sonic Silver, Veloster Red, Vitamin C, or White Crystal.
In terms of warranty, HSDM (Hyundai Sime Darby Motors) is offering an attractive 5-year or 300,000km (whichever comes first) for all its new vehicles and has graciously included a 24-hour road assist service which both new and current Hyundai owners can enjoy.
The Veloster is fitted with a McPherson strut front suspension, coil springs, gas shock absorbers and a 24 mm diameter front stabilizer. The rear suspension is a light-weight V-beam coupled torsion beam axle (CTBA), a Hyundai-first with an integrated stabilizer bar to allow bracing of the arms for greater stiffness and to further control body roll. The rear suspension also uses monotube shock absorbers for better ride comfort and handling.
As standard, HSDM has provided the Veloster with 17" alloy rims wrapped by Hankook Ventus Prime2 215/45 tyres that has disc brakes peeking out from all four corners. In addition, there's cloth seats, a double-DIN 7" LCD touch-screen headunit, 4-speakers + 2 Tweeters, Smart Key with Start-Stop button, Dual SRS Airbags and ABS (Anti-lock Brake System) being made available in the lone Veloster with a 6-speed manual transmission.
The Veloster A/T, for an additional RM5,000, will get you ESP (Electronic Stability Programme), VSM (Vehicle Stability Management) and HAC (Hillstart Assist Control). All that makes it seem that the lone M/T variant is meant to attract the eyes of the enthusiast who would perhaps prefer some 'man and machine' bonding moments out on the open roads. After all, it's been said that real drivers use all three pedals.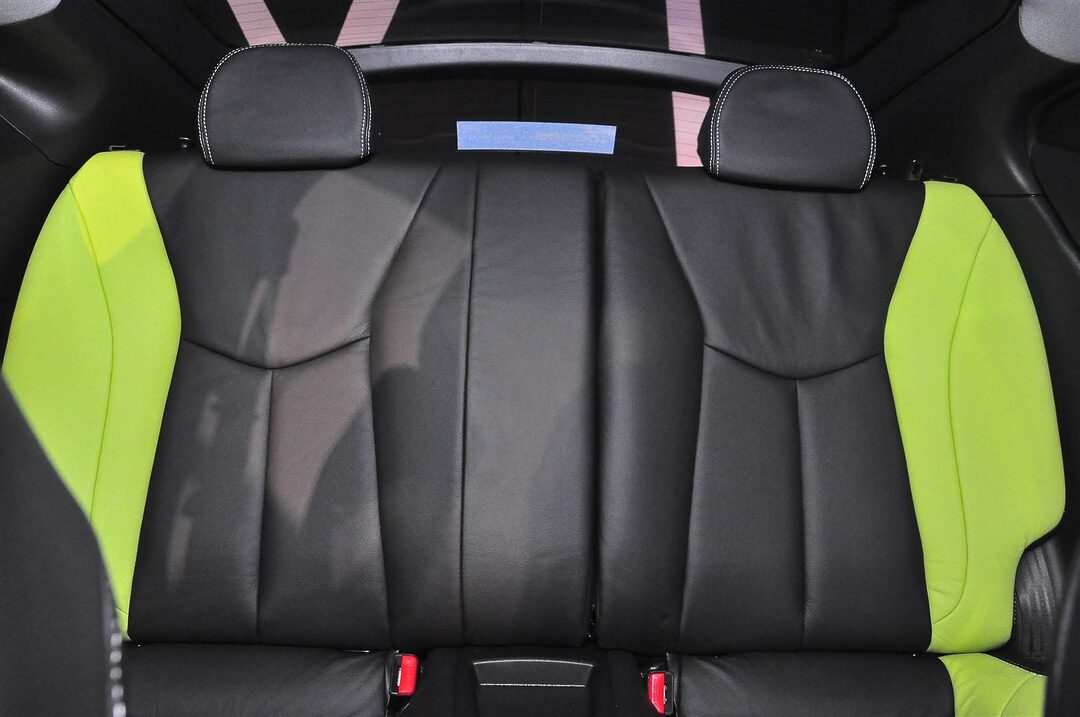 HSDM has thankfully allowed the cloth seats to be opted out and replaced by some sporty-looking leather upholstery; only that'll set you back an additional RM2,000 on your final bill.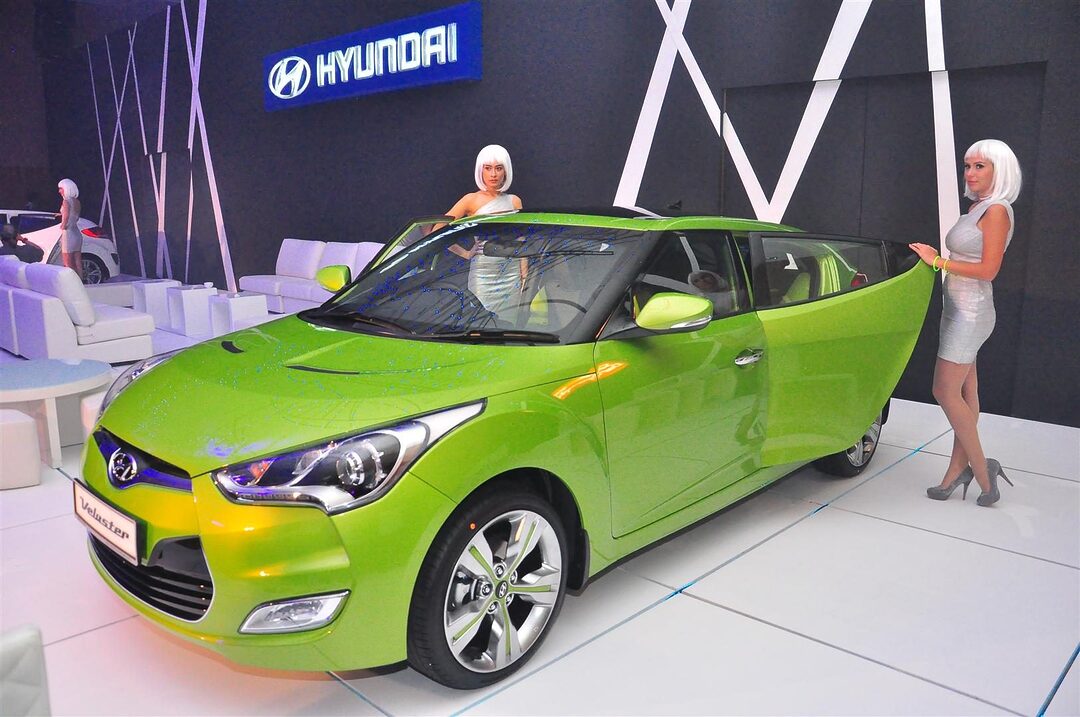 As for the range topping Veloster (A/T) Premium variant, costing an additional RM11,000 from the Veloster A/T, there's a lot more to be had. Starting with up-sizing the rims to 18" alloys with body-coloured matching strips (if you've chosen Veloster Red, Vitamin C, Sonic Silver or Green Apple, and gets wrapped by Hankook Ventus Prime2 215/40 tyres.
You'll also get Projector headlamps with LED, Rear LED Lamp combination, a set of aero-wipers and leather seats (also with matching body colour accents). A Premium Sound System is also in the list which includes an amp to drive all speakers, including an additional  centre-speaker as well as a subwoofer. There's even Bluetooth connectivity, Automatic climate controls, a reverse camera and a rather large panoramic sun roof.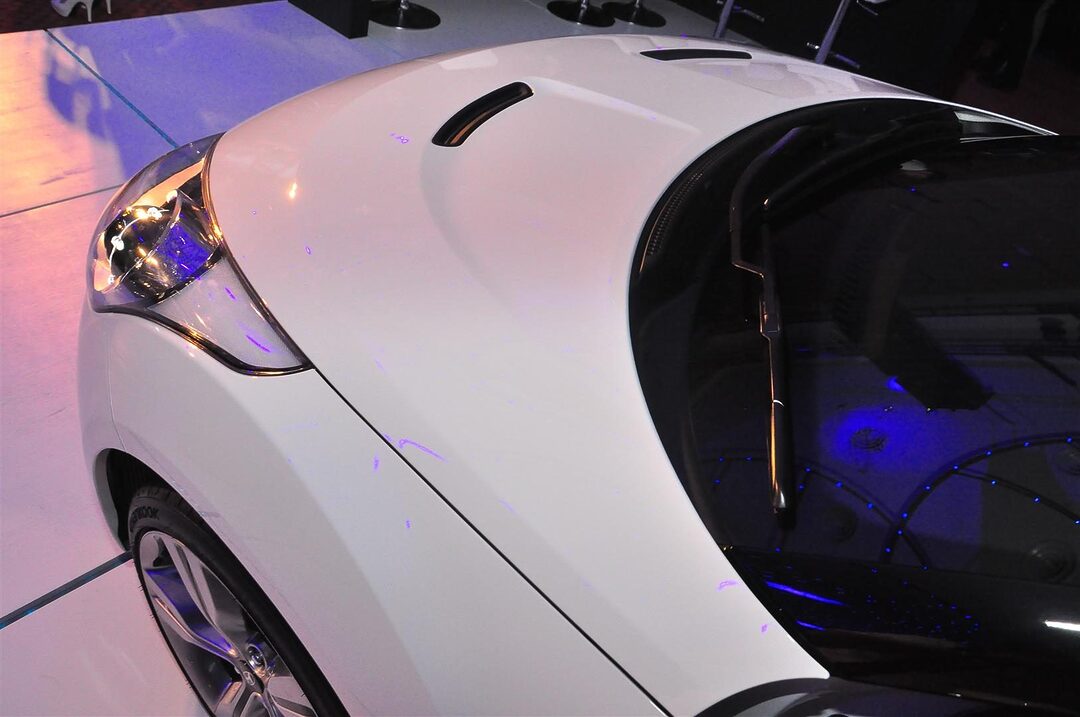 Since there's no turbo variant for the Veloster (yet?), the cut-outs located on the hood are now for show, having been sealed up by what looks to be rubbery inserts.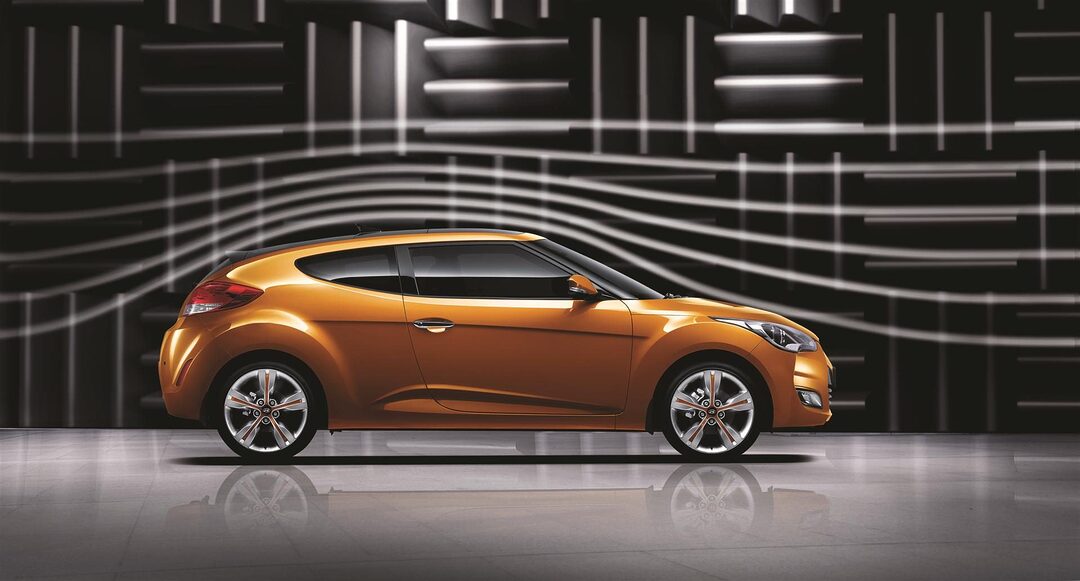 Overall, from the side profile of the Veloster, it looks rather aerodynamic, which has been confirmed by it having a drag coefficient rating of 0.32Cd. However, though sleek as it may seem, rear passengers will need to mind their heads when the boot shuts.
If we had to guess, you should still have the question "why 3-doors and not the usual 4?" floating around. According to Hyundai, the single rear-door is actually known as a 'kerbside door'. Though, Hyundai wanted to make the Veloster a coupe, they also wanted to provide it with a little more convenience, and so it was given that single door for rear passengers to conveniently enter/exit the vehicle – where the kerb is located (safety first). Honestly, from that point of view and from the type of wet-weather we've been experiencing, having that door certainly provides for a lot of convenience when letting in rear-seated passengers as the sky throws down its barrage of mini water-droplet bombs.
http://youtu.be/wrQEusZc0M4