It all started with Alif borrowing a friend's Evo IX for a night. He'd drove it up some mountain roads in Melbourne and fell in love with the Evo's distinct 4WD handling and agility. So he bought one as soon as he could. Naturally wanting to drive it to the limits, he took it to Winton Raceway, a local circuit in Melbourne. Soon, he'd found himself comparing lap times with friends who drove other tuner cars based on the likes of the STIs, GTRs, Silvias and other Evo owners. Thats when he knew the Time Attack bug had bitten him deep.
One modification after the other, Alif found his car bordering a non road legal car due to noise and emissions (Yes they are strict about that stuff in Australia). After deciding to go all out into Time Attack events, he then sold his Evo 9 for an older Evo 6 TM as a base for his time attack build. Reason being the Evo 6 TM is about 100kg's lighter than a stock Mitsubishi Evo IX.
The "Blue Arrow" was built by Chasers Motorworks with contributions from several other parties all around Australia. The car is powered by an an Evo 6 4G63 engine with a Mivec Evo IX head mod. The engine runs on a Motec M800 ECU tuned by Paul Flourentzou, a Motec Guru himself and is then ignited by a Motec CDI. No one runs on a stock turbine these days, so Alit's Blue Arrow is currently force fed through a Garrett GT35 base turbocharger. Coupled with the other mods, it gave an ouput of 572whp on a 4WD Dyno Dynamics Dyno at just 29psi of boost.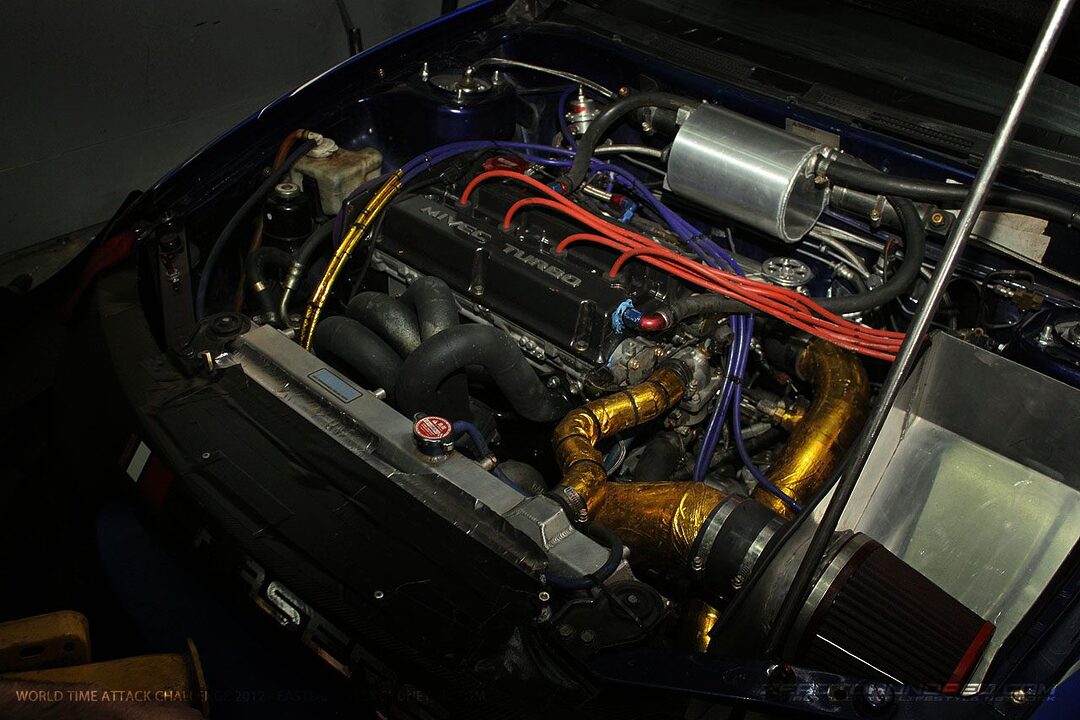 The Blue Arrow is also pretty green , it's fueled with E85, 85% Ethanol + 15% gasoline as blended by Martini Race Fuels. Now what transmits all this power and torque to the wheels is a Albins Dogbox transmission and is ready to for full on, flat shifts. As for the rolling stock, the Blue Arrow has a MAC Suspension setup with refined adjustments by Trutrack Suspensions. It rolls on Diamond Class TE37 shoes fitted with sweet Advan 295mm sized A050 soles. With great power comes brakability. Equiped with race Brembo Monoblocks from a V8 Supercar, the car stops on Alif's command.
Alif Hamdan
In 2011 , Alif made his way to a Time Attack event and won himself an 8th position. This year , Chasers Motorworks went all out on their setup with brilliant aerodynamics (crucial in Time Attack these days) which placed him high up in the 2nd place within the Open Class World Time Attack event.
What else could we say to this Malaysian young driver, but the one word that could describe it. "Bravo" and hope he makes it first next year in 2013.
Words from Alif Hamdan :
The journey to WTA (World Time Attack) 2012 has been fun from an enthusiast point of view. I learned as a driver through the use of our Motec Data Loging and Video logging, it helped me drive the car to its limits and I was consistently breaking PB's (Personal Bests) lap times. The data we collected from the countless aero tests helped us tune and refine the aero balance. The hardest thing about aero is probably making the mechanical grip synchronize with aero grip.
The biggest obstacle was to drive a car with lots of aero. It's a little unnerving when you have to accelerate into a corner to make it through a corner. A great example is the Turn 9 at the Sydney Motorsports Park (previously known as Eastern Creek). In the "Blue Arrow" you have to carry speed, if not the nose of the car will push wide and you'll be sent straight off the circuit to the gravel. Getting my self trained up to drive that way took alot of confidence in the car and in the team.
My plans for the future is to come back in 2013 to Win the World Time Attack Open Class. Once that is achieved I would like to go to Japan and compete in the Tsukuba's Time Attack events to see how I fair. Do hope to get more contributors and sponsors to push this project further, broader and bigger.
The Blue Arrow – Mitsubishi Evolution VI Tommi Makinen
572 wheel horse power on Dyno Dynamics 4wd Dyno at 29psi on E85 Martini Race Fuels
Total wet weight of car without driver is 1260kg.
GT35 based turbo (custom)
Hypertune intake plenum
Hypertune Throttle Body
HKS GT intercooler
MoTEC M800
MoTEC CDI
MoTEC VCS
Brembo Monoblocks (from a 2006 V8 supercar)
TE37SL with Advan A050 295mm
All Aero and mechanical work is in house at Chasers Motorworks, West Melbourne, Victoria.
All fabrications done at FABRaiCATIONS, Breaside, Victoria.
All suspension work done by TrueTrack, North Melbourne, Victoria.
All gearbox work is done ALBIN's, Ballarat, Victoria.
All oils used were from Motul, Link International, Australia
The Driver
Name : Alif Hamdan
Nationality : Malaysian
Age : 21
Thank you so much to all Sponsors, Suppliers and supporters.
Written by Alif Hamdan & Jinkl
Photos by : Glenn Trollope @ Seamew Tan & Tom
It's an honour for us at Zerotohundred.com to have Alif Hamdan and Chasers Motorworks run Zerotohundred.com and the TIMETOATTACK branding on the Blue Arrow. Above is a picture of all of us!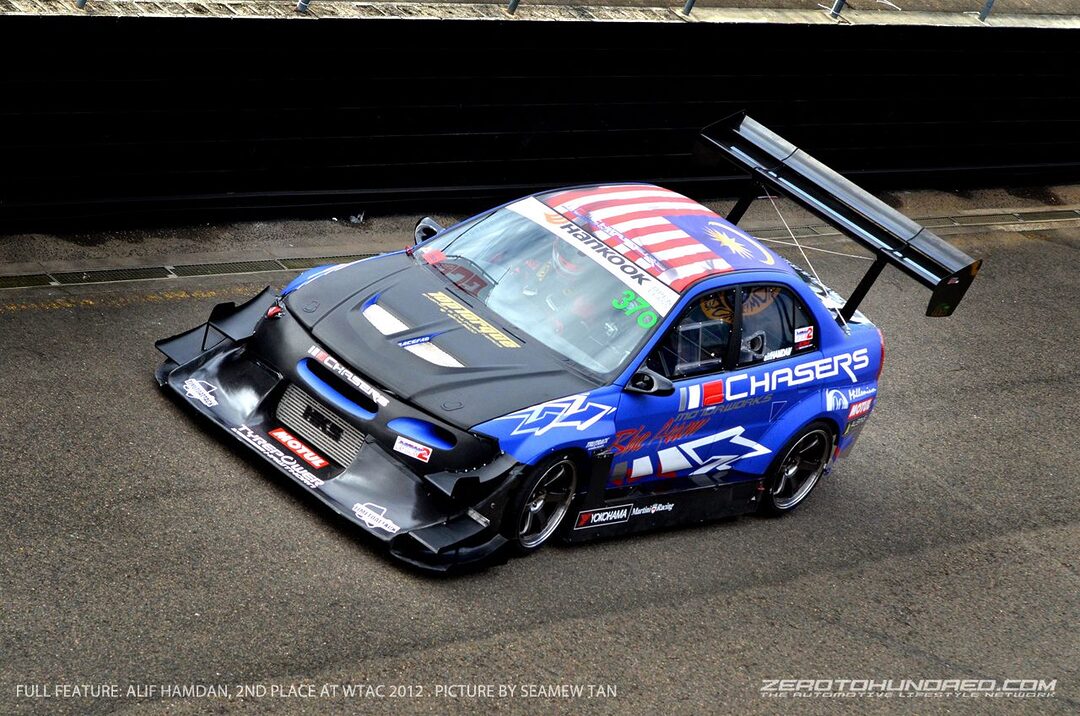 Proudly flying the Malaysian flag!