There's a new range of motorcycles in Malaysia and it goes by the name of DAIICHI (not the nuclear plant that blew up in Japan), which offers owners more for less, with three Megelli 250cc motorcycles and a naked 650cc bike being offered for the time being.
The first of the three Megelli variants is the 250MR that's basically a super motard that will appeal to those who wish to enjoy the scenes of flora and fauna that can only be found off the 'paved' path.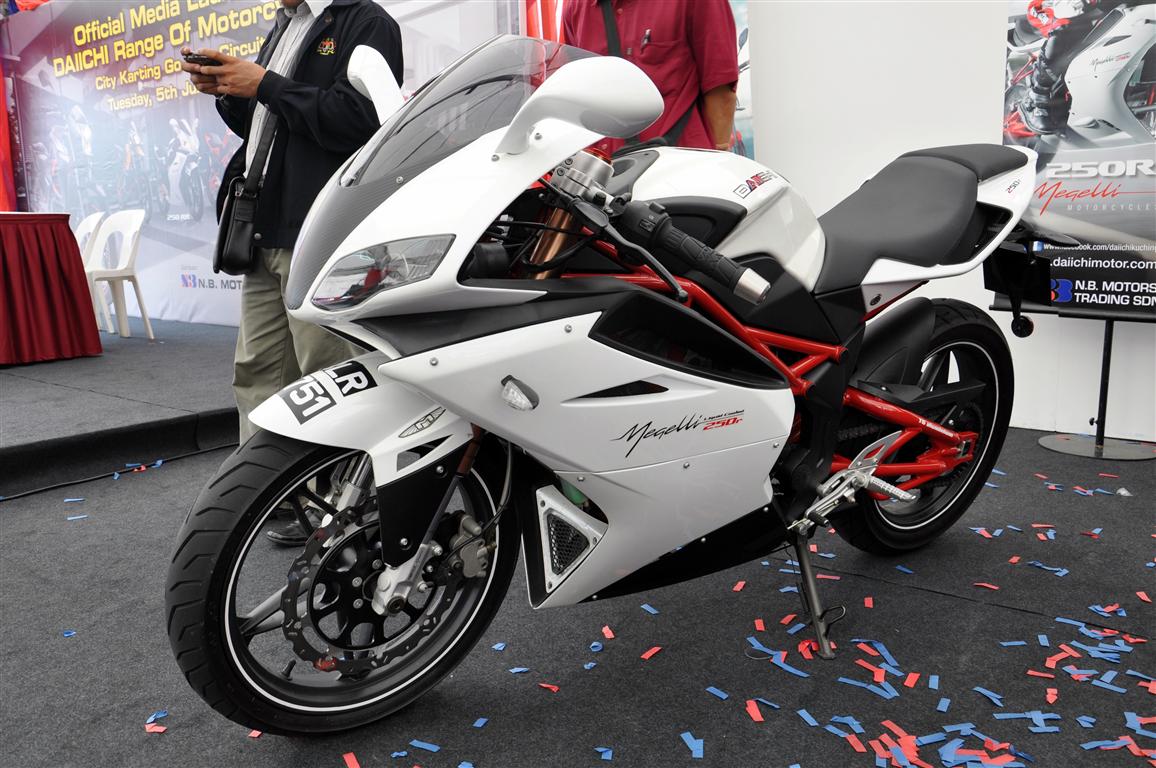 The Megelli 250RR is up next, featuring a very sporty looking fairing that seems rather similar to a Ducati 1098, except it retails at a fraction of the Ducati. Nonetheless, it's still a looker and should be DAIICHI's bread winner. It has to be noted that not only were the styling cues very similar to the 1098, but so was the ECU sourced from the Italian motorcycle manufacturer.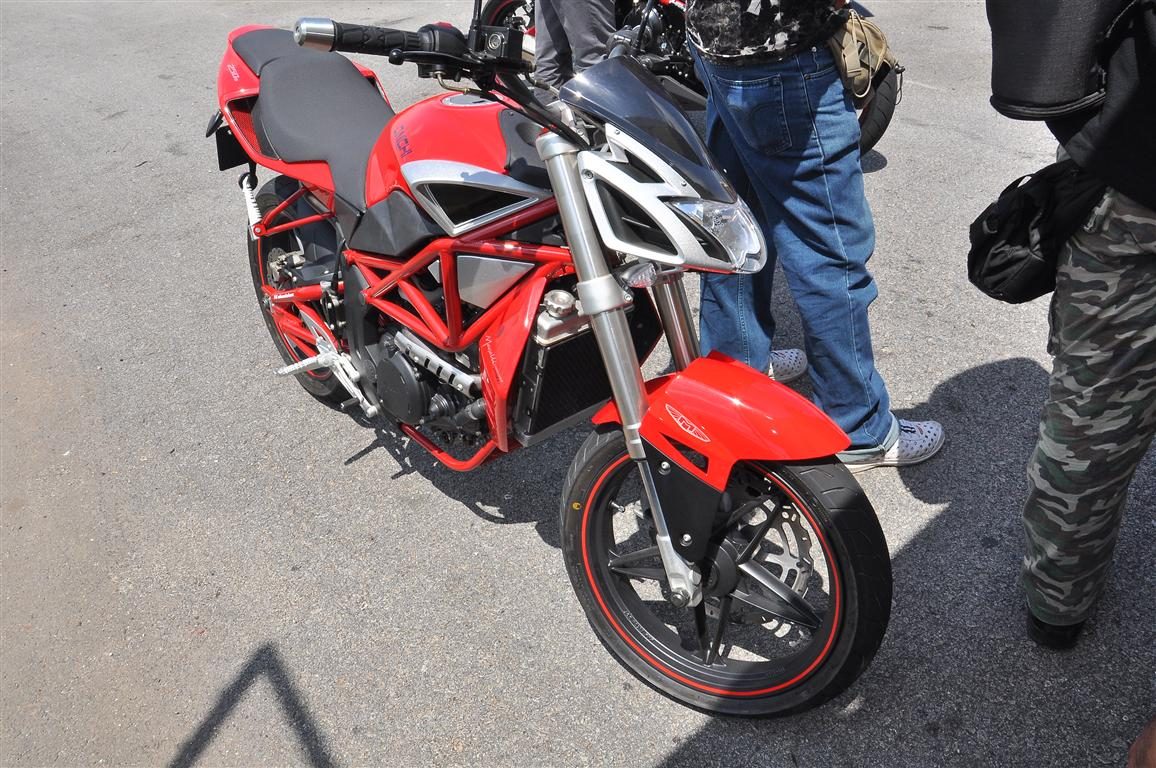 Lastly, if both the 250MR or even the 250RR doesn't seem to suit your likes, then perhaps a naked streetfighter may, with the Megelli 250SR; unfaired, exposed and with a higher set of handle bars for a more upright and comfortable riding position.
All three 250cc variants come with an electric starter as standard (no kick-start) and are powered by a 4-stroke single-piston motor that provides 24bhp at 9,000rpm and 22.4Nm of torque at 7,000rpm; all of which gets mated to a 6-speed manual transmission with a wet clutch. Fuel tank capacity is at 7L.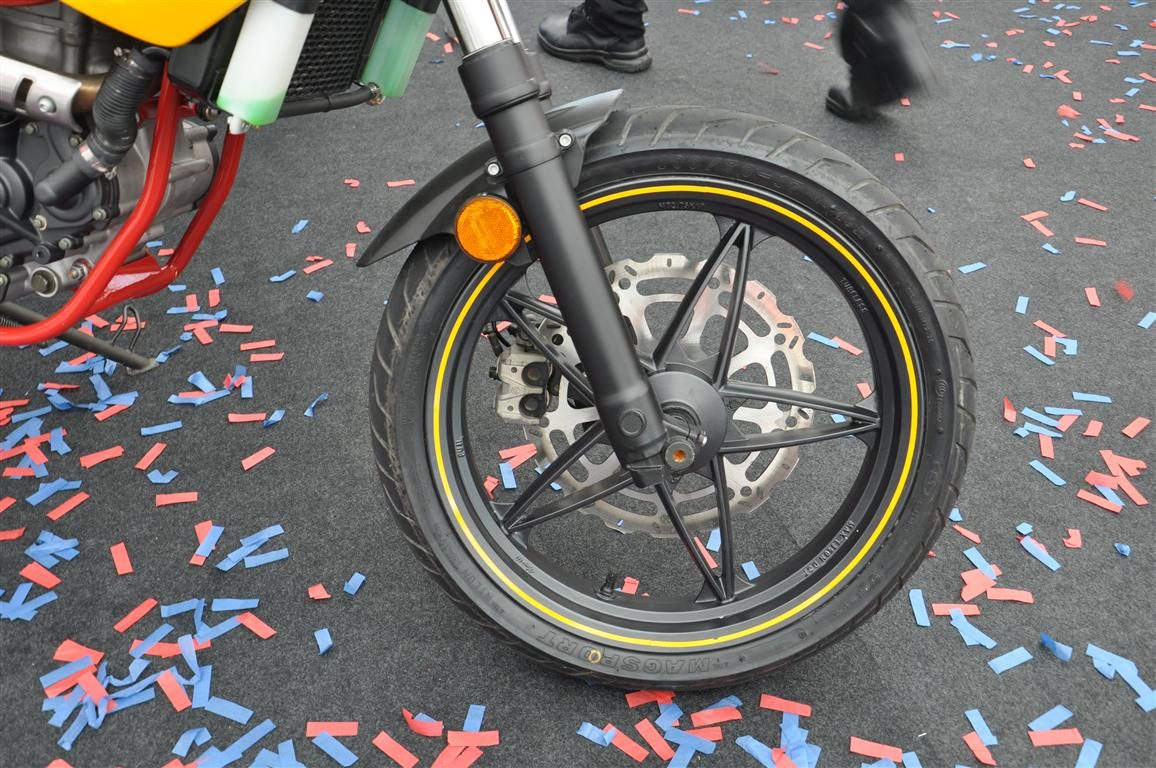 Both front and rear 17" rims are made of aluminium with the front wrapped by a 100/70 tyre and a 130/70 tyre for the rear.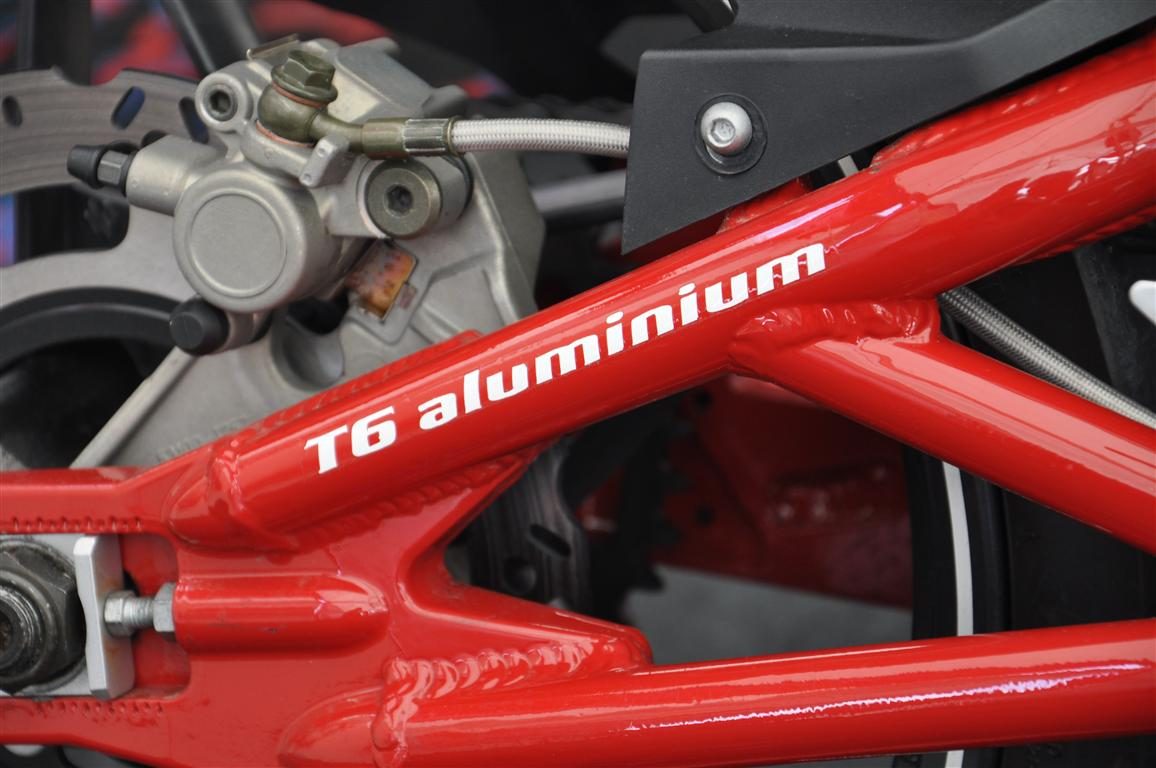 The use of T6 (aircraft-grade) aluminium chassis helps to keep dry weight (without fuel, coolant and lubricants) down with the 250MR weighing in at just 127kg; the 250SR at 135kg and the 250RR at 137kg.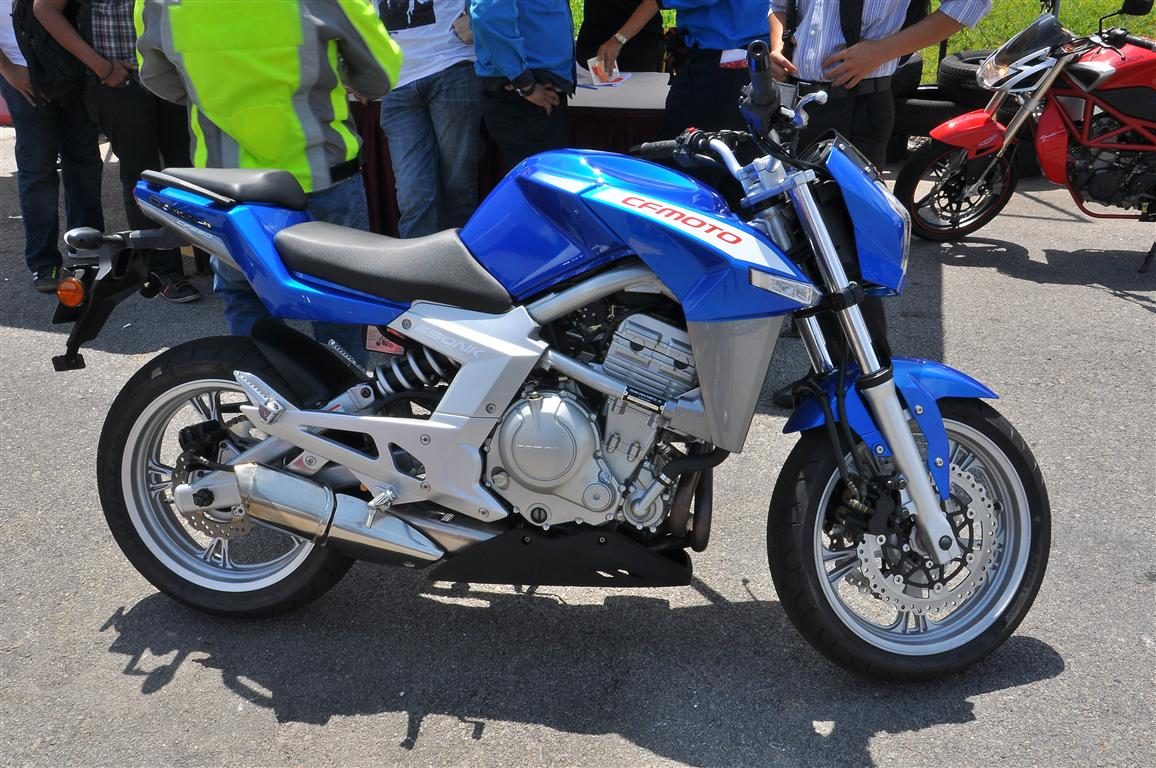 However, should you find yourself looking beyond the displacement of the Megelli variants, there is the naked 650cc DAIICHI CFMoto 650NK being offered with a 4-stroke DOHC 2-piston motor with 8 valves and 650cc of displacemnt, it produces 66bhp at 8,500rpm and 62Nm of torque at 7,000rpm that's mated to a 6-speed manual transmission.
The OTR prices for the models are as follows;
1) Megelli 250MR retails at RM16,520.00
2) Megelli 250SR retails at RM16,720.00
3) Megelli 250RR retails at RM17,750.00
4) CFMOTO 650NK retails at RM28,000.00
N.B. Motors Trading Sdn Bhd is the official importer for the DAIICHI range of motorcycles and have partnered up with Tropicana Motor World to help distribute and help provide maintenance services at their outlets throughout Malaysia.
The bikes are available for test rides at Tropicana Motor World outlets, but as indicated by Kuching-based N.B Motors Trading, their initial batch of 25 motorcycles has entirely sold out with a total of 80 units on back-order.
However, NM Motors thankfully has a production facility that is capable of churning out 300 complete units per day and a fresh container of 23 bikes will be hitting out shores in a week's time.
Current DAIICHI owners within the Klang Valley are able to service their motorcycles at:
No 1, Jalan 13/55A,
SS13, 40100 Shah Alam,
Selangor, Malaysia.
Tel : 03-5569 5749
COMMENTS FROM PREVIOUS PLATFORM
06-06-2012, 01:10 AM
  #2

1bhp Stock

Join Date: Mar 2011

Location: Kuala Lumpur

Posts: 4

Likes: 0

Liked: 0 / 0 Posts

Re: DAIICHI Motorcycles – A New Level of Affordability!

---

ducati wannabe bike? simmillar ooo

(0)
06-06-2012, 06:19 PM
  #15

Senior Member

Join Date: Jun 2005

Location: KL, Malaysia

Posts: 1,114

Likes: 106

Liked: 526 / 226 Posts

Re: DAIICHI Motorcycles – A New Level of Affordability!

---

the design of the RR is handsome, no doubt. but how does this new kid compares to the years and years of refinement on the Ninja? I think the Ninja is hard to beat.. as its been perfected over the years.

I'm not a bike person either, just sail boats.
06-07-2012, 10:31 AM
  #16

200bhp Stage II Member

Join Date: Jul 2008

Posts: 240

Likes: 6

Liked: 50 / 33 Posts

Re: DAIICHI Motorcycles – A New Level of Affordability!

---

to be honest, i dun like any auti/bike brand from taiwan/korea/chinna like demak, bonus, naza, KTN, comel, kia, daewoo, syangyong etc, but this 250RR is exceptional…. hehheeheh…. very nice bike with affordable price……

———- Post added at 10:31 AM ———- 6 hour anti-bump limit – Previous post was at 09:28 AM ———-

how about this? any comment?

(0)
06-11-2012, 12:33 PM
  #23

100bhp Junior

Join Date: Jun 2009

Posts: 104

Likes: 10

Liked: 15 / 11 Posts

Re: DAIICHI Motorcycles – A New Level of Affordability!

---

wonder how the single cylinder 250rr will fare against the v-twin blade 250 efi which sells for just a little below rm14k now. should be an interesting comparison since both have asian bloodlines.

(0)
| | |
| --- | --- |
| The Following User Likes lowpro For This Useful Post: | |