Benelli Keeway Motorcycles (BKM) Sdn Bhd, along with their partner – QianJiang Group of China (QJ), has launched two brands here in Malaysia in an effort to provide yet another affordable range of motorcycles for those who have their hearts and minds set on owning a set of motorized 2-wheelers, and in doing so the company has released three Keeway bikes, two larger displacement Benelli bikes and a partridge in a pear tree.
Keeway motorcycles has been well established in Europe for the last 13 years, with their exports reaching more than 100 countries including North and South America, Central and South East Asia and now here in Malaysia. Their main products ranges from 50cc scooters to 600cc motorcycles as well as All-Terrain-Vehicles (ATVs) and some electric vehicles; all of which are manufactured in Wenling, China.
Benelli on the other hand, is one of Italy's oldest motorcycle manufacturers, having been established in 1911 in Pesaro, Italy; only to be acquired and subsequently renamed by the QianJing Group in 2005 to Benelli Q.J.
Benelli Keeway Motorcycles (BKM) Sdn Bhd was established in November of 2010 and has been awarded a licence allowing the Malaysian company to exclusively assemble motorcycles as well as ATVs from both Keeway and Benelli which possesses an engine capacity of 200cc and above, right here in Malaysia – all thanks to their 28,000 square feet assembly plant located in Bukit Beruntung. Plans seem to be underway to include the opening of their flagship concept store sometime in September in Kuala Lumpur, as well as further launches of another 4 more motorcycles by the end of this year.
For starters, BKM has unveiled the first five models, being the Benelli TRe1130K, Benelli TnT899, Keeway Dorado 250, Keeway TX200G and Keeway RKV200G.
The sports tourer Benelli TRe1130K (RM69,999 OTR) possesses a 1,130cc 3-cylinder engine coupled to a 6-speed manual gearbox that helps transmit power to the rear wheel via a drive shaft. Its 123bhp engine promises usable power throughout its rev range that's perfect for both urban and extra-urban use.
Next on the Benelli list is the TnT899 (RM61,999 OTR), which happens to have a rather similar to another Italian-bred streetfighter, except Benelli is categorizing this one as a Super Naked with the same 3-cylinder engine block but with 899cc, allowing you access to 118bhp. Power is transmitted to the rear wheel via a 6-speed gear box that's coupled to a drive-shaft.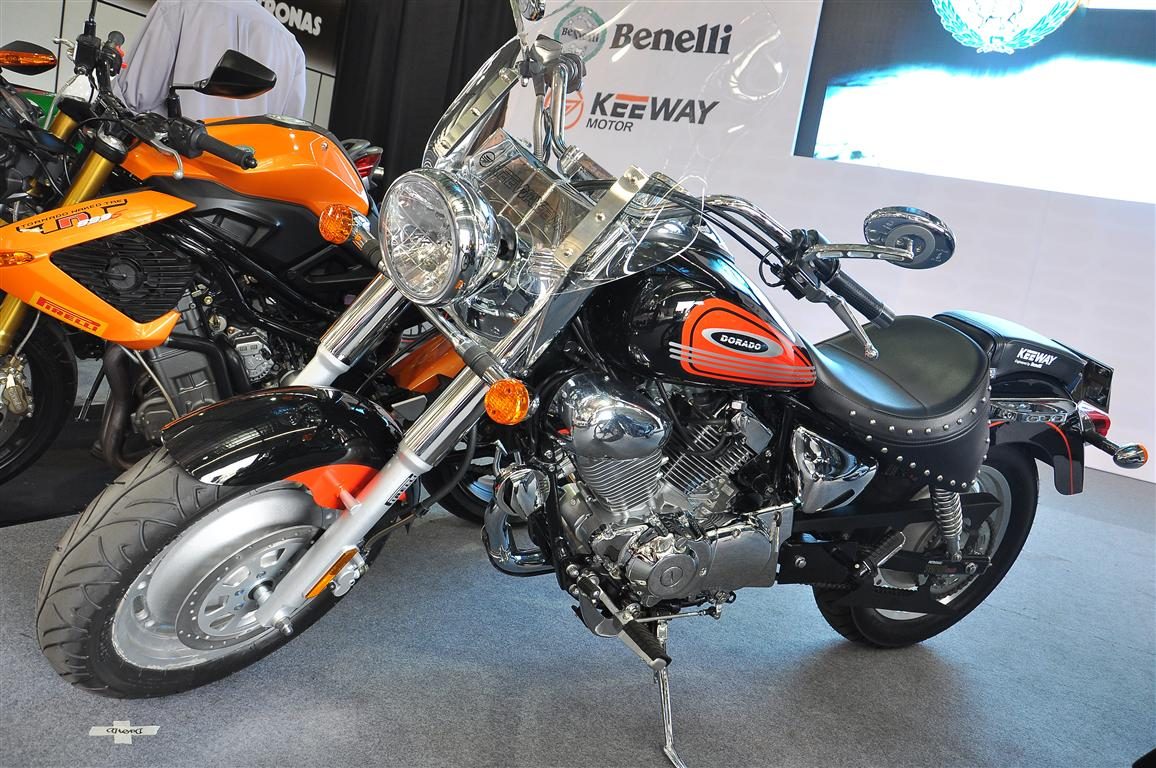 The Keeway Dorado 250 (RM11,999 OTR)is the highest displacement bike in the current Keeway range which offers riders a seating position that's slung low, just like that chopper-feel as you cruise along comfortably with a 249cc dual-piston engine providing 19bhp and 19Nm of torque.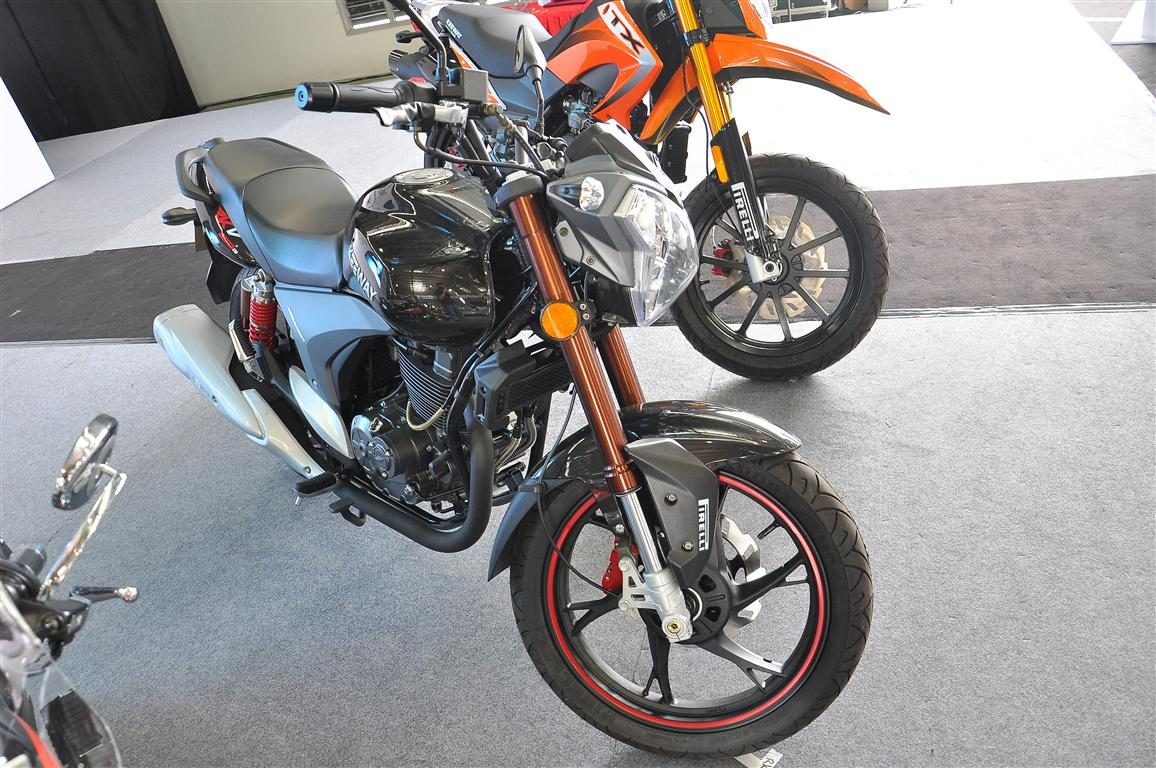 But if it's low-key looks that appeal to you, although the headlamp seems to take after the TnT899, there comes a more conventional-looking Keeway RKV200G (RM7,299 OTR) that should help you get the daily work-load done. However, if you're more inclined towards looks within the 200cc range, then the TX200G (RM6,999 OTR) should appeal to the young as well as the young at heart.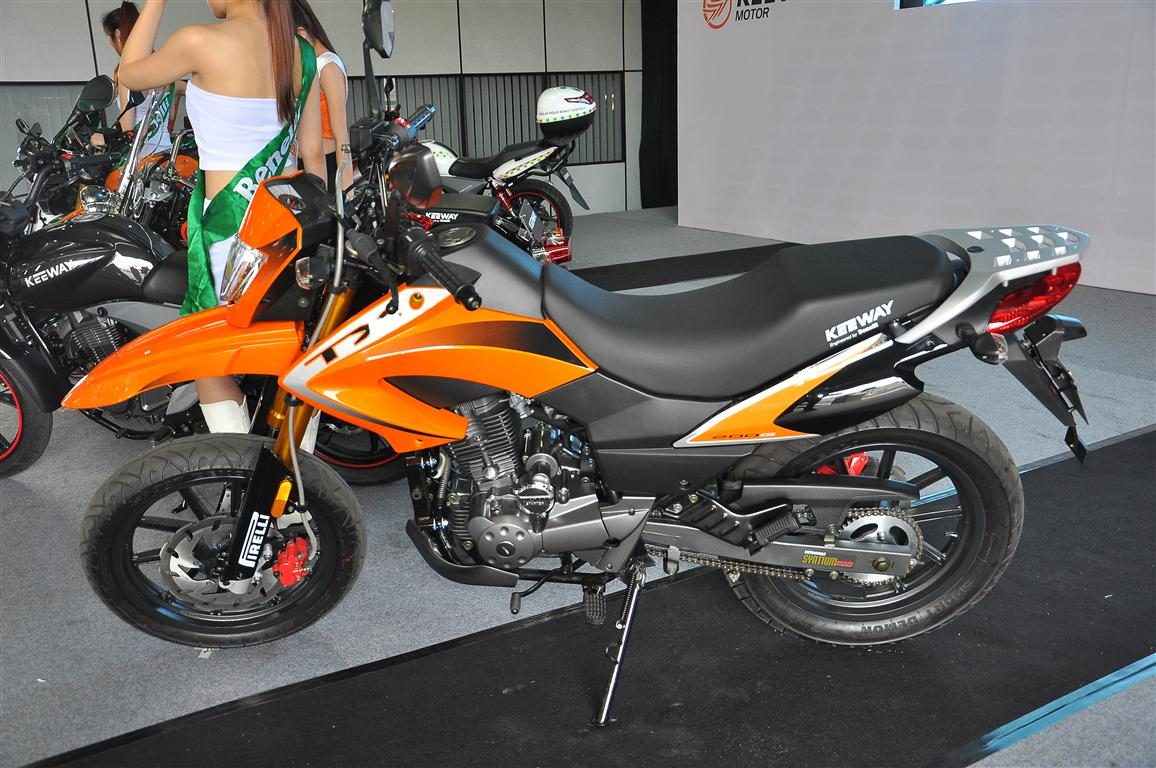 Both 199cc single-piston bikes are chain driven with a 5-speed gearbox except the way they're engines have been tuned with the RKV200G providing 16bhp and 14.5Nm of torque and the TX200G providing 13bhp and 13.5Nm of torque.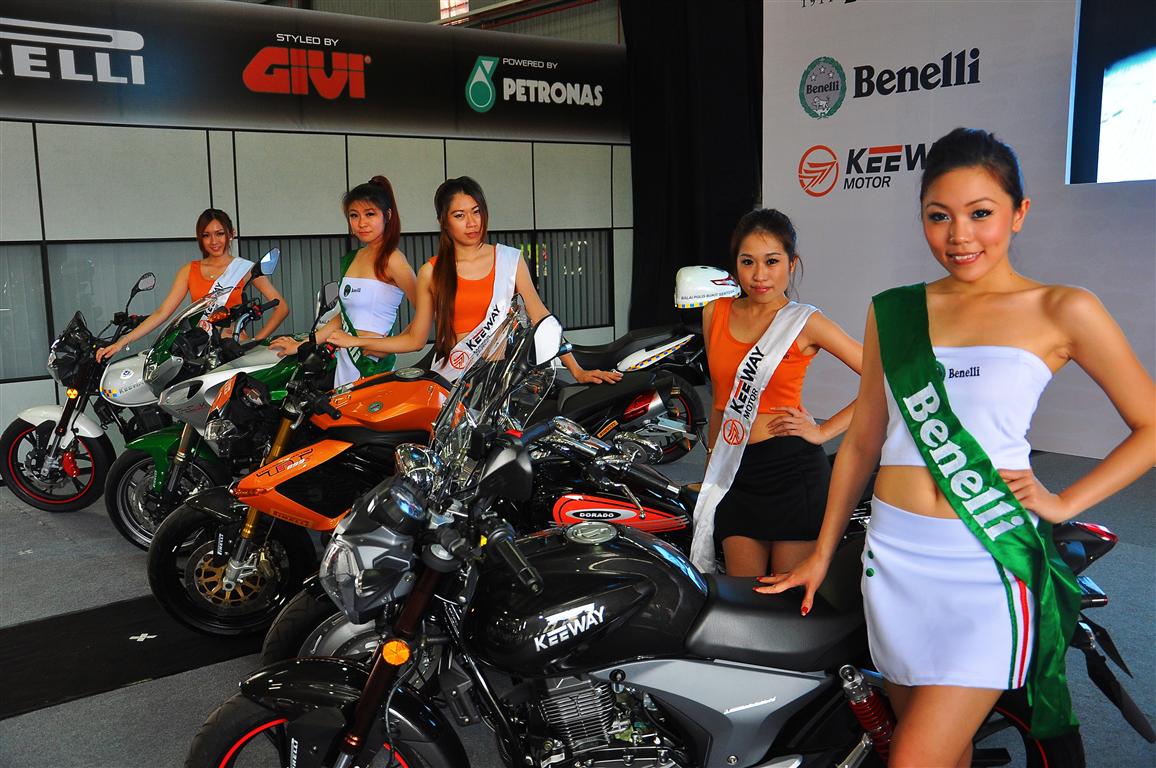 All BKM products will be available from motorcycle dealers throughout the nation and the motorcycles will come with a one year warranty and free servicing (terms and conditions apply) up to 10,000km with a 1800-88-3811 Bike Assist hot-line number for owners.
For more information on the products or dealer network, please visit www.benelli.keeway.my
Benelli TnT899
Benelli TRe1130K
Keeway Dorado 250
Keeway RKV200G
Keeway TX200G
BABES!!!
COMMENTS FROM PREVIOUS PLATFORM:
07-08-2012, 04:05 AM
  #5

From Facebook

Re: Benelli Keeway Motorcycles Opens For Business in Malaysia!

---

at first i had my doubts beeing china and all but glancing over some review from the uk i felt a little more assured

(0)