Following Bermaz's JV announcement with Mazda Motor Corporation, Japan, Bermaz (or rather Mazda Malaysia Sdn Bhd) has also indicated that they've brought in the all-new Completely Built-up (CBU) Mazda BT-50 pick-up truck that they say combines total truck utility with looks, style and comfort of a premium passenger car; something they call on as an "Active Lifestyle Vehicle" concept.
A 4-cylinder, 16-valve, MZ-CD 2.2L common-rail direct-injection diesel power-plant can be found under the hood that's good for 147bhp at 3,700rpm and 375Nm of torque that can be had from 1,500-2,500rpm. This pretty much makes it 'king' within the 2.5L diesel pickup category.
If that's not to your liking, there's a larger displacement MZ-CD 3.2L diesel engine available, but not in your usual 4-banger guise, rather, it's got an additional cylinder that'll help produce 197bhp at 3,000rpm and 470Nm of torque from 1,750 – 2,500rpm.
The Mazda BT-50 pickup is available with either a 6-speed manual (2.2L only) or automatic transmission (2.2L and 3.2L only) and only and gets mated two engine variants.The BT-50 gets 17" alloy rims for both engine variants that's wrapped by 165/65 tyres, while stopping power comes from a pair of discs up front and drums at the rear.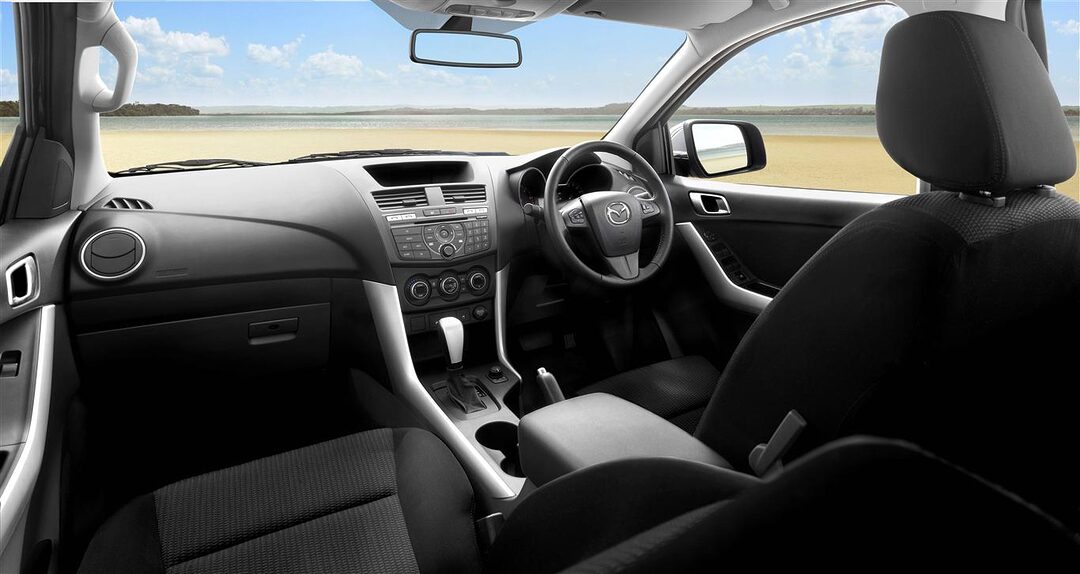 In terms of equipment, the BT-50 gets auto rain sensors, folding external mirrors with turn signal, 6-speakers, cruise control (Available with 3.2L M/T and A/T and 2.2L A/T only), leather-wrapped steering wheel with audio controls, leather-wrapped shift-knob and a keyless entry system.
When it comes to safety, both 3.2L (A/T and M/T) and 2.2L (A/T) engine variants gets 4-wheeled ABS (not available with 2.2L M/T), DSC (2.2L A/T only), Traction Control, Hill Hold Assist and Dual front airbags.
Lastly, the BT-50 can be had in 5 metallic colours of Gun Metal Blue, Cool White, Highlight Silver, Titanium Grey and Sparkling Gold.
Price Summary:
- Mazda BT-50 2.2 (M/T) – RM89,841.60 OTR + Ins
- Mazda BT-50 2.2 (A/T) – RM90,244.80 OTR + Ins
- Mazda BT-50 3.2 (A/T) – RM107,051.75 OTR + Ins
Related Posts