Word has it that Malaysian auto enthusiasts will soon see the return of an automotive icon to our shores. As we eagerly await the launch of the spiritual successor of the legendary AE86, we at Zerotohundred.com decided to take a drive back to where it all really started.
Long before the Toyota AE86, Toyota already had a strong history in the sports cars market. It was way back in 1965 that Toyota introduced their first production sports car, the Toyota Sports 800. Also known as "Yota-Hachi", which is Japanese for "Toyota 8", it featured a 790cc two-cylinder boxer engine and a front-engine, rear-wheel drive configuration.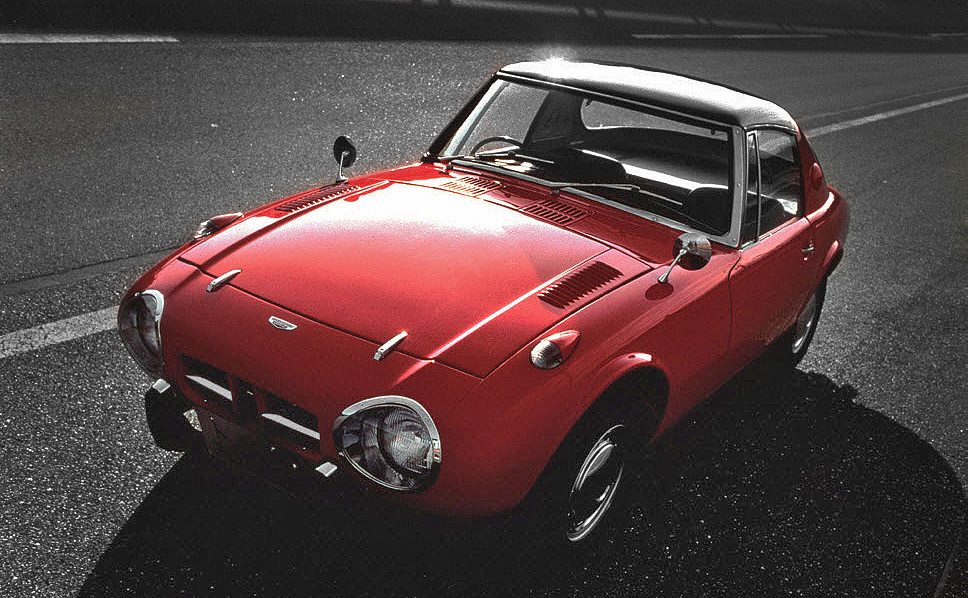 The car's lightweight and highly efficient engine, aluminium body panels and unibody construction helped it win many endurance races in its time, helping it outpace more powerful competitors that required more frequent pit stops for fuel.
From a design standpoint, the Sports 800 was among the first production cars to feature a lift-out roof panel, or targa top, pre-dating even the Porsche Targa.
Following closely on the success of the Sports 800 model, Toyota launched the 2000GT in 1967. Staying true to the FR (front-engine, rear-wheel drive) layout of its predecessor, the Toyota 2000GT was considered to be one of the most exciting "driver's cars" ever produced. Its design is widely considered by car experts to be a true classic, with an extremely low roofline of 116cm at its highest point.
The 2000GT made its most famous screen appearance in the 1967 James Bond movie, You Only Live Twice, starring Sean Connery.
Toyota's sports car heritage continued with the Toyota AE86. Many of us know of this iconic car from the landmark Japanese manga series, Initial D. In the series, the main character, Takumi Fujiwara, uses his father's Toyota AE86 for drift-style racing and making his tofu deliveries. The manga series was so successful that it was later adapted into both a long-running anime series as well as feature films
First introduced in 1983, the AE86 generation of the Toyota Sprinter Trueno and Corolla Levin was a small lightweight coupe that was among the last rear wheel drive cars of its type, at a time when most passenger cars were being switched to front-drive. Popularly known in Japan as "Hachi-Roku" (Japanese for "eight-six", the AE86 stood out from the crowd with its 4-cylinder twin-cam 1.6L 4A-GE engine with a maximum gross power output of 130hp (96 kW) and 110 lb-ft (150 N-m) of torque in standard form.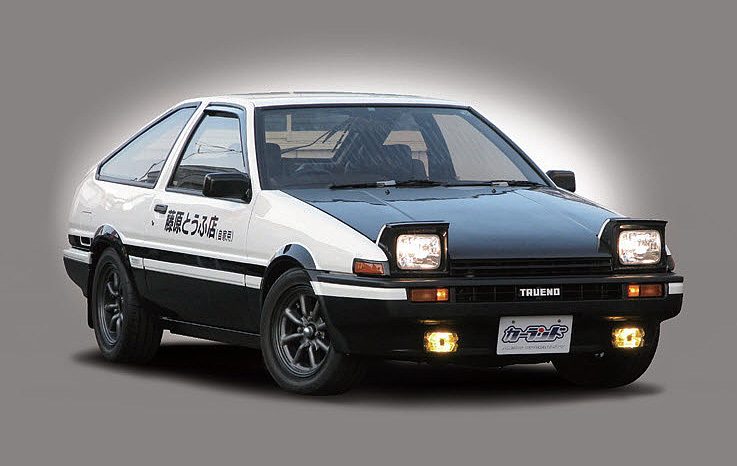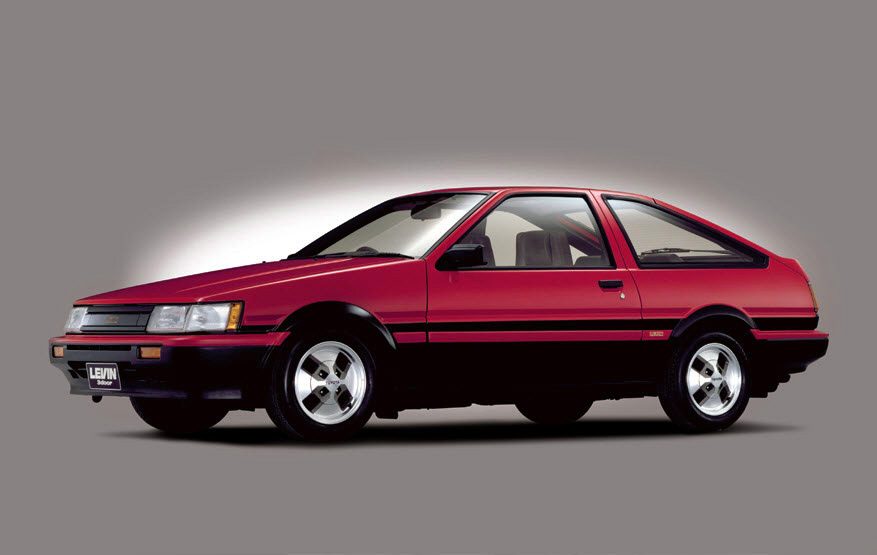 Off the street, the AE86 made several appearances in prestigious races like the ever-challenging Dakar Rally and the British Touring Car Championship. Today, the AE86 enjoys the reputation of being a sideways, rubber-shredding, no-nonsense sports car. With those characteristics, it has become the much-adored car for the Drift King, Keiichi Tsuchiya.
With a huge, global cult following even after decades since the very first Toyota sports car, it was only logical that Toyota looked back into its historical archives for inspiration. The first sign of this came at the Tokyo Motor Show in 2009. Inspired by the Corolla-based AE86 sports coupe of the '80s, the FT-86 concept car was powered by a 2.0-liter boxer four engine, sending power to the rear wheels. Toyota focused on keeping the weight down to improve handling. The engine sits lower in the engine bay to aid aerodynamics while keeping the center of gravity close to the ground.
The FT-86 concept car was closely followed by the launch of two other concept models, namely the FT-86 G Sports at the 2010 Tokyo Auto Salon Show and the FT-86 II at the 2011 Geneva Motor Show. Off the back of these concepts, rumours at that point were that Toyota was already preparing to launch a production model of the 86.
These rumours proved to be true shortly after; The Toyota 86 was officially launched at the 2011 Tokyo Motor Show. Sporting 2+2 seats in a 2-door coupé body style on a front-engine, rear-wheel drive layout, the car is powered by a 200ps 2.0L boxer engine that promises even greater performance, better balance and higher efficiency than the original AE86.
While the new 86 is a complete revolution on the original Hachi-Roku, it is still very much spiritually connected to the Toyota sports coupés of old, offering the precise handling of an FR layout with the ideals of a lightweight, sporty coupe. With the available 6-speed manual transmission, it will once again impress both the general car market as well as hardcore enthusiasts.
In essence, the new Toyota 86 still carries the bloodline of past Toyota sports cars, albeit being pumped with an all-new heart. One could see this as a new and improved version of the old AE86, or an original 21st century sports car.
We have gotten in touch with UMW Toyota Motor, and they have promised to provide us with a Toyota 86 to review once this new icon is available. We can't wait to see it in the flesh and get hands-on with its performance. Keep watching this space for more!
In the meantime, there is the already some information available on the Toyota website: Toyota Malaysia – Toyota 86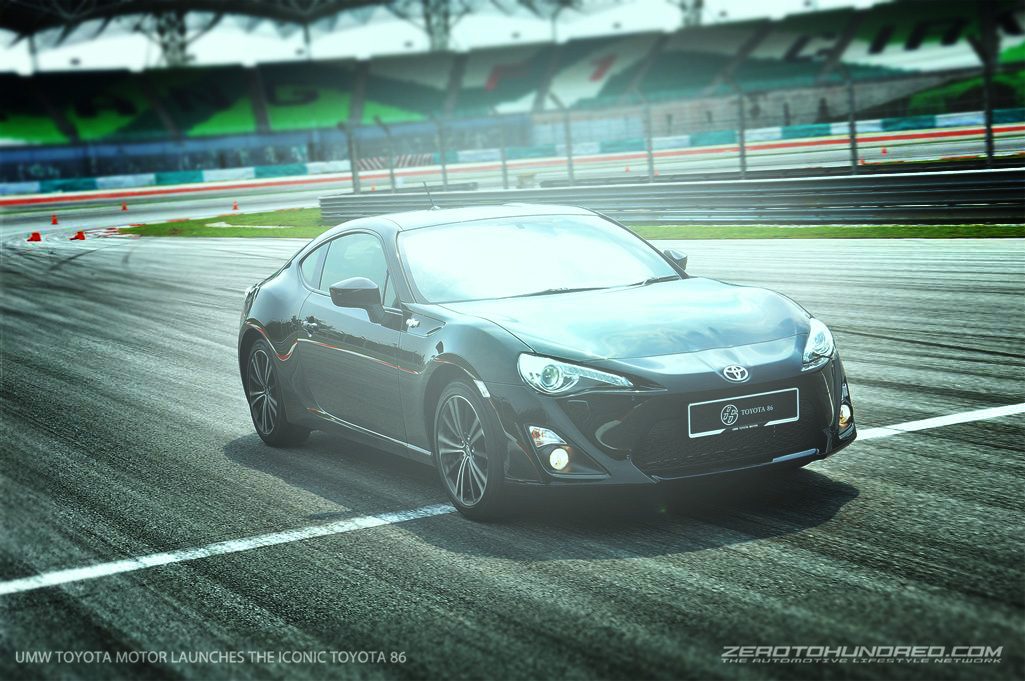 Toyota 86 Specifications and Prices
Zerotohundred: 8.2s (AT), 7.6s (MT)
Top Speed: 225 km / h
Engine: 1998 cc D-4S flat-four boxer engine (FA20)
Power: 197 bhp / 7000 rpm
Redline: 7400 rpm
Torque 205 nm / 6600 rpm
Weight: 1,230 kg
Fuel: 5.91L/100km Automatic / 6.5L/100km Manual
Fuel Tank: 50 L
Wheels: 17″
Tyres: 215/45R17 all round
Price: RM243,000 Manual / RM249,000 Auto
Official Link: http://www.toyota.com.my/toyota-86/
Toyota 86 in Malaysia Related Posts:
Migrated comments from old platform:
The Following 17 Users Liked d4rk For This Useful Post:

168henri

 (05-28-2012),

alwynleong

 (05-28-2012),

bera

 (05-28-2012),

BMW fanatic

 (05-28-2012),

Civic Type R

 (05-28-2012),

D.K.Prince

 (05-28-2012),

D7zul

 (05-28-2012),

Dayline668

 (05-28-2012),

DewA_LavaU

 (05-31-2012),

IketaniX

 (05-28-2012),

Mr.Chaser

 (05-30-2012),

nappx

 (05-28-2012),

nocturnal

 (05-28-2012),

paohyean

 (05-28-2012),

sinatra_shinoda

 (05-28-2012),

Temujin

 (05-28-2012),

WPQ800

 (05-29-2012)
05-31-2012, 08:51 AM
Quote:
Originally Posted by
AE111_SEG
Guys…it is MITI who determines the based price before tax… not UMW. That is why Prius which is tax exempt is still more expensive then the US. What to do need to protect our local products mah…. To make matters worse I was told that sports coupes are in a different tax bracket compared to 4 door hatchback… so all I can say is ..dont buy new cars and force them to rethink the NAP. They will have no choice since the lucrative tax money stops. Their biggest earner is from cars below 100K due to volume ….if ppl stop buying protons, perodua, , vios …you see lah..they will have no choice to come to a compromise…. If you really have to buy a car…get a good 2nd hand…
I suspect with the recent BNM tightening of credit will have some impact on the outcome of the NAP announcement coming soon..
I'm sorry I don't quite get your drift. So what are normal folks supposed to buy if not for the protons, peroduas, vios and etc?
05-31-2012, 01:13 PM
Quote:
Originally Posted by
quicksilver7
I'm sorry I don't quite get your drift. So what are normal folks supposed to buy if not for the protons, peroduas, vios and etc?
Stop buying temporarily to show who is the boss. If you really have no choice then buy a cheap good 2nd hand car.
There is no other way out. We as the public must take a stand together only then change will come
otherwise we keep complaining is only going to deaf ears……
06-27-2012, 09:45 PM
im puzzled with the fuel it uses….can it take ron 95?
Related Posts