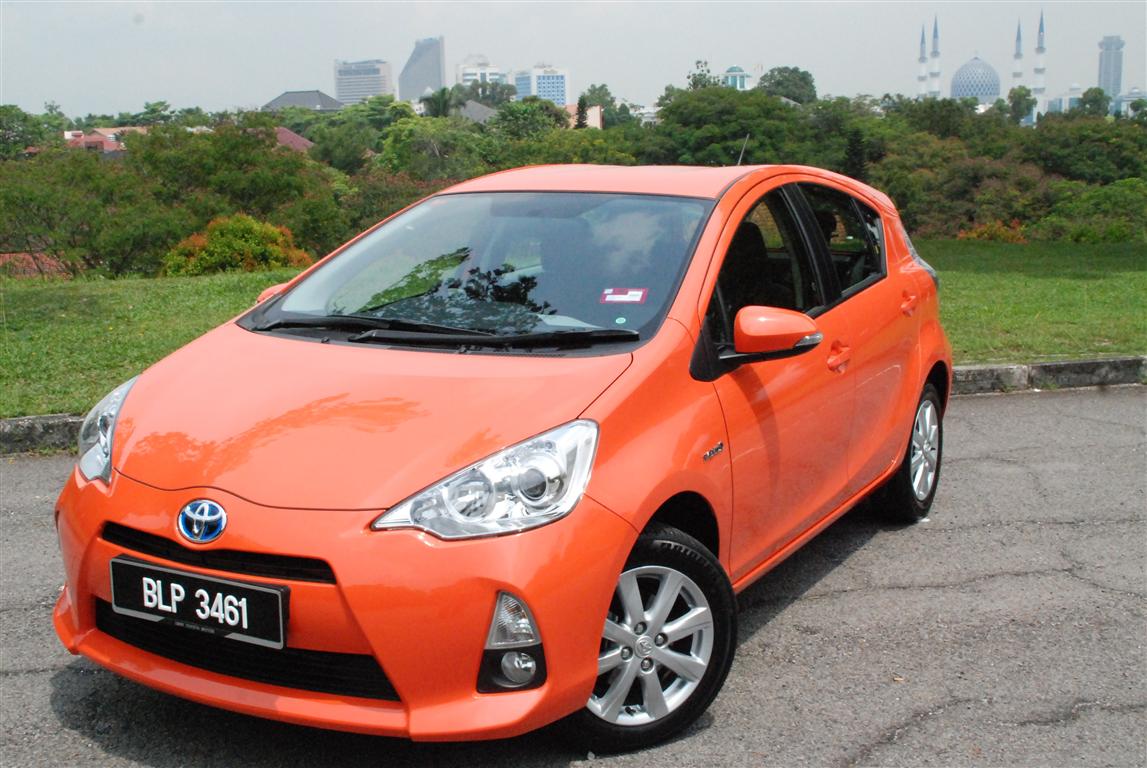 We've often got ideas of hybrid vehicles being rather sluggish on the take-off, boring and uninspiring to say the least, but times are changing and it becomes especially and evidently so when you find yourself behind the wheel of a Toyota Prius C (C for 'City').
The Prius name has undoubtedly gathered greater momentum of late and with the introduction of a compact variant of the original Prius, it's added a little more pull-factor with its somewhat sportier outlook, thanks to the muscular rear arches that lends it that 'pounce-forward' sort of appearance.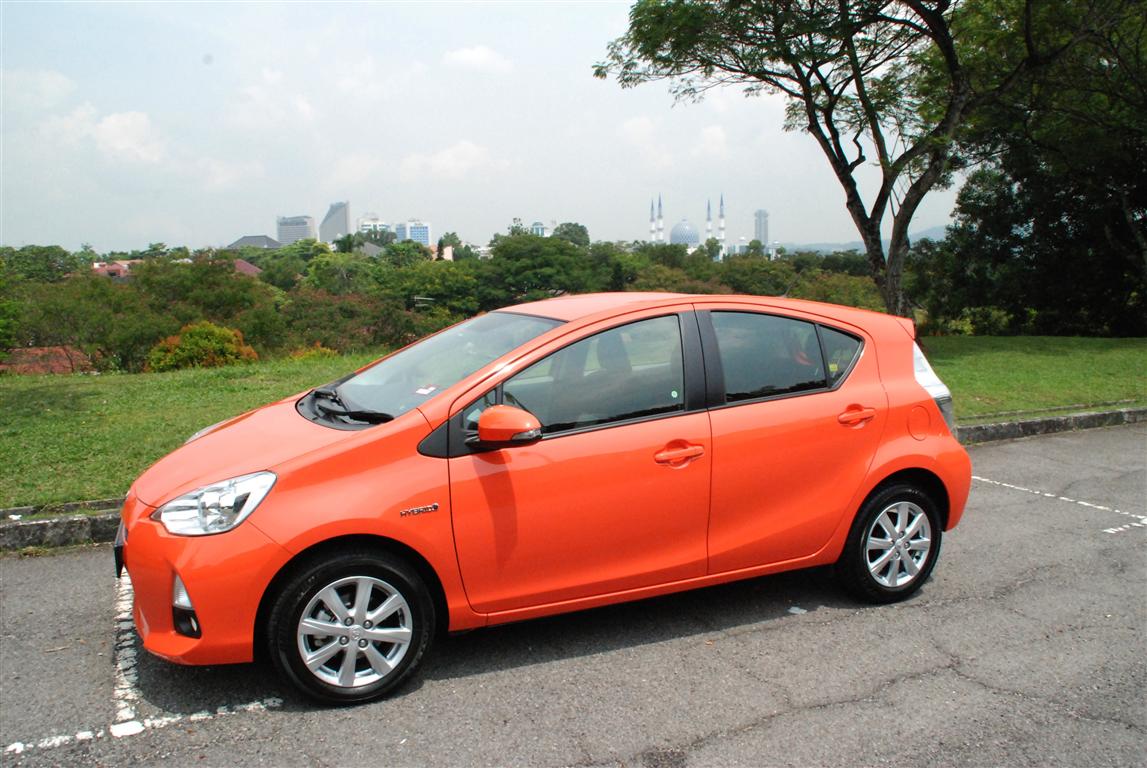 And 'pounce-forward' it can with its 1.5L (1NZ-FXE) 4-cylinder petrol engine that's capable of 72bhp at 4,800rpm and 111Nm of torque at 4,000rpm. The engine is coupled to an electric motor which supplies an additional 60bhp and 169Nm of torque for a combined output of 132bhp and 280Nm of torque. All that enables the Prius C the capability of keeping up to speed with most naturally-aspirated 1.8L petrol propelled cars out there and the best part of it is that in some instances, you may even find yourselves slowly waving at them as you make your way past with a snicker and a grin at 190kmh, thanks to its 0.28Cd (0.03Cd more than the Prius)!
Having a key-less entry system is wonderfully pampering and so very easy to get accustomed to, even for a couple of days, which had us reaching for our non-keyless entry car door handle and expecting the locking-mechanism to disengage. DOH!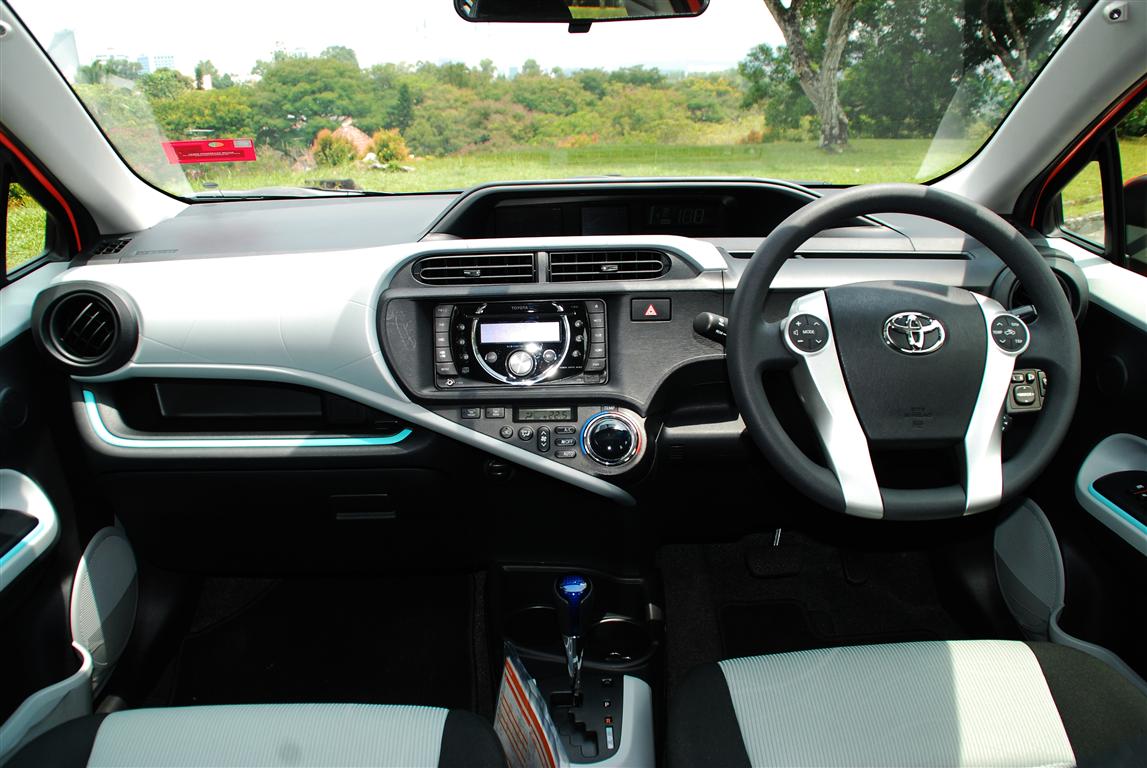 The combination of the light and dark grey interior of the Prius C gets a nice touch of aqua-blue lining on the front and rear armrests as well as around a small pocket in front of the passenger, even though it still retains that typically Prius layout, adding a little youthful-vibe which really helps to brighten things up a little. Even the centre-mounted 3.5 inch full-colour TFT multi-information display (MID) definitely helps to melt away the seriousness that accompanied the larger Prius' interior. After you've found the right seating position for yourself and enjoying all that headroom, closing the door behind you may be quite a let-down as you find yourself listening to the door's sheet-metal resounding within the cabin.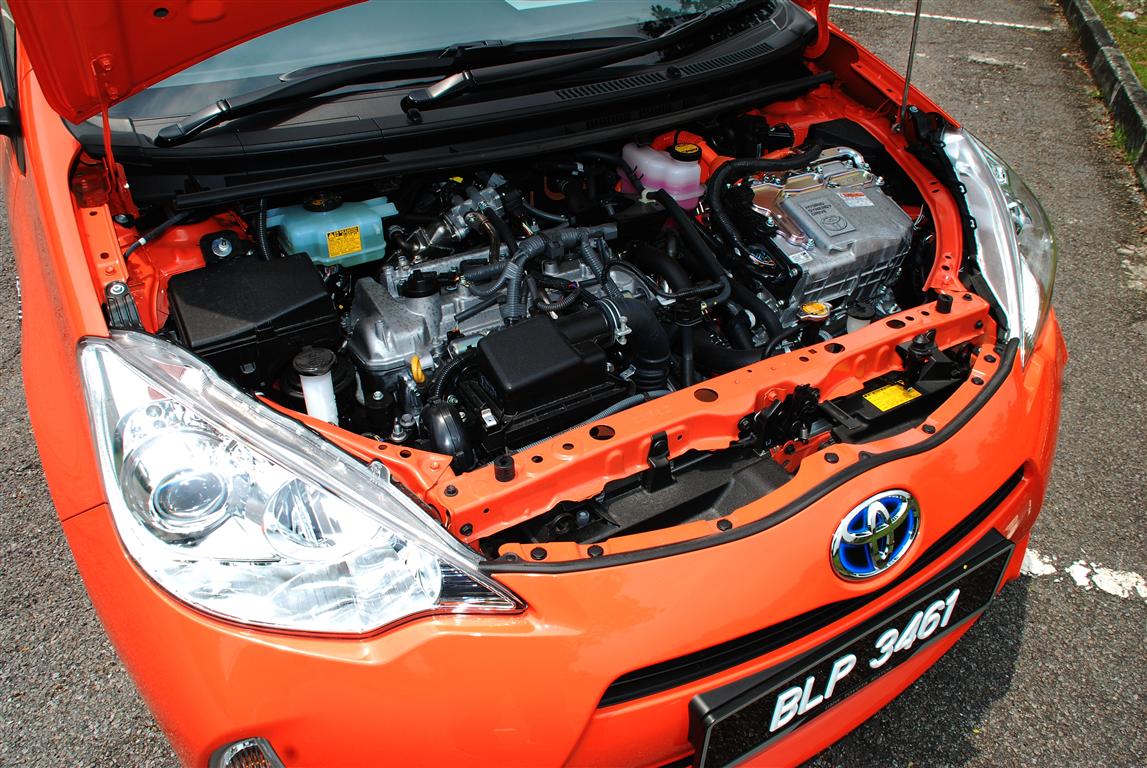 As usual, it still feels quite unusual to have a vehicle start-up silently with only the MID indicating that the car is 'READY' for motion as its 1,140 kerb weight gets going purely on electric propulsion for almost 2km (we managed 1.7km on a relatively hot day) on a flat stretch of road, as long as your foot remains skilfully light and you don't exceed the 50kmh mark, after which the engine will engage almost seamlessly with very little vibration and although it comes with a choice of ECO Mode or EV Mode (depends on how much electrical juice the battery has), we were happy enough to leave it in Normal Mode for whenever we need that bit of power to get ahead in traffic.
However, when the engine engages you start to get a little wide-eyed and you can feel a smirk come about as the Prius C starts to tempt your right foot to give it a little more of a prod and then from there, it's just all joy and you begin to wonder what else this city-goer has in-store when faced with roads that's got more twists than a pretzel.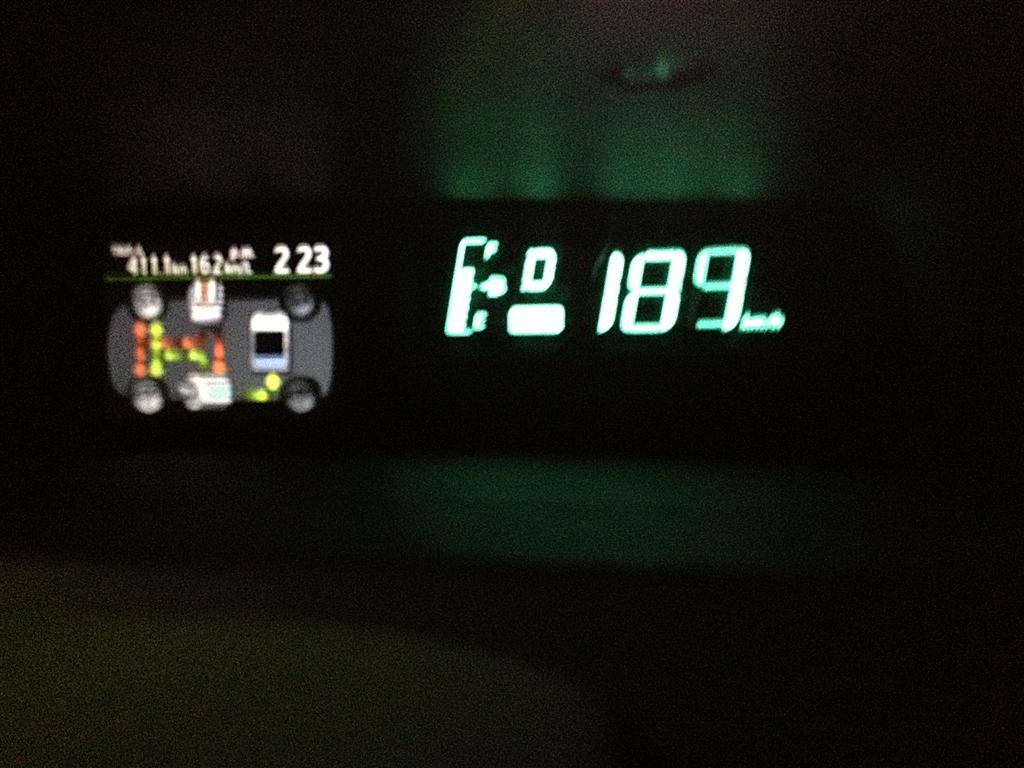 As we began to put the Prius C through its paces, we began to feel the rear to be significantly less planted than the front, requiring some heavy braking before throwing it around a tight corner, just to ensure we didn't over-steer the Prius C, which is a tad of a let-down when it takes about 11 seconds to reach 100kmh and is capable of topping out at a tickle past 190kmh (relatively loudly).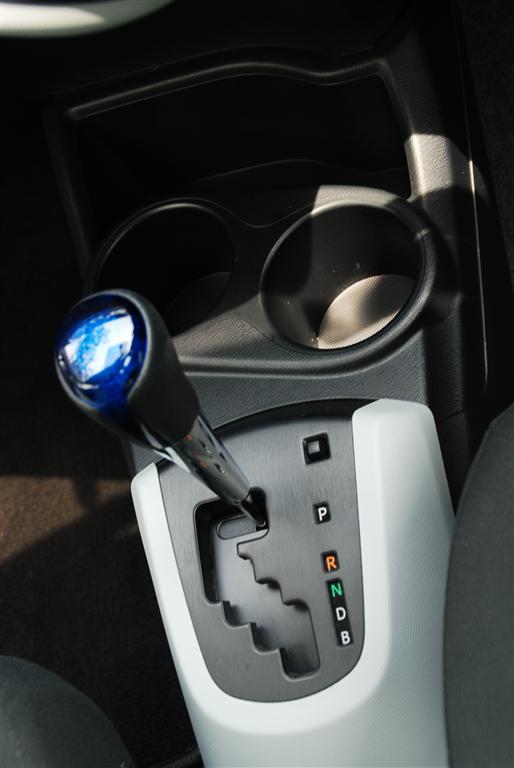 Acceleration is fairly consistent all the way up till about 130kmh with the Prius C's e-CVT, after which it begins to feel like it's loosing some steam, but only some as you keep the pedal to the metal and before you know it, you're up to 180kmh where it really begins to struggle on towards the 190kmh summit.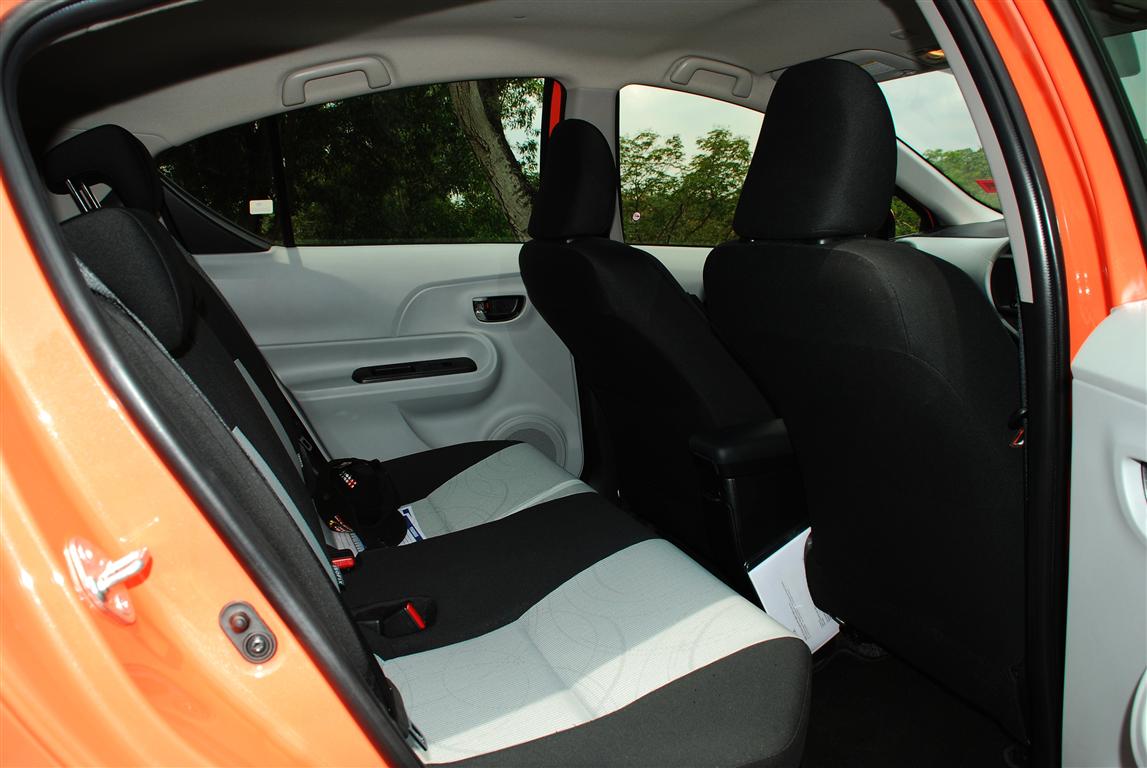 Around 'pretzel' roads, the brakes need a little more coaxing to bleed speed with its front discs and rear drums as the torsion beam tail-end feels rather light, even with the 30.5kg Nickle-Metal Hydride (NiMH) battery located under the rear seat, as though wanting to step-out when entering corners. It's still got that understeer about it even though we've gone into a corner a little too 'hot' prompting us to 'manage' the way we drive in order not unsettle the hatch from it's Bridgestone RE080 185/60 R15 tyres. Perhaps a set of 195/55 R16 tyre and rim combination could help the car feel more planted? But whatever the case may be, we're not recommending any hard mid-corner braking at speeds beyond what the sign says for most.
However, when things do get tricky there's Anti-lock Brake System (ABS) with Brake Assist (BA), Vehicle Stability Control (VSC), Traction Control (TRC) and Electronic Brake-force Distribution (EBD). If things turn out for the worst, you've got 7 airbags (including driver knee airbag) for you and your occupants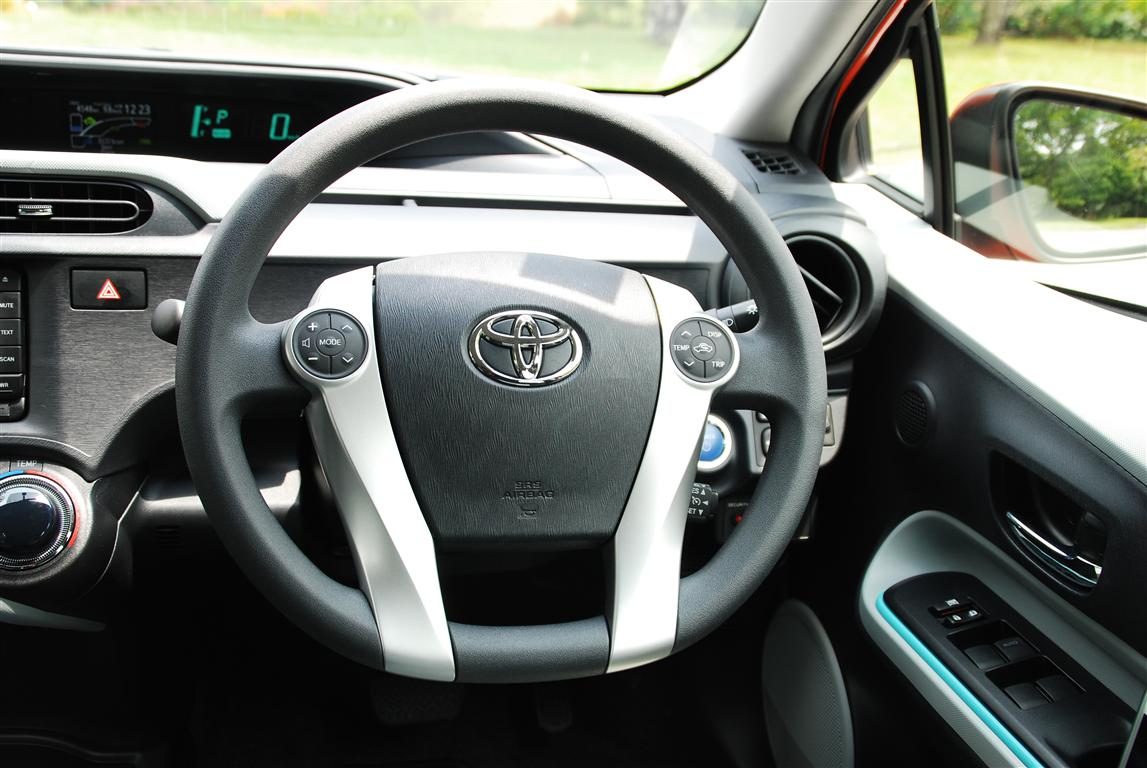 In short, the Prius C is without doubt a great city-going hatch that's able to both crawl and zip around in traffic. It'll even shut down its engine, allowing you to run purely on the electric motor for a shot distance till you run out of electric 'juice' or manage to get it past 50kmh or your foot just decided to get heavy so you could slot yourself into that spot.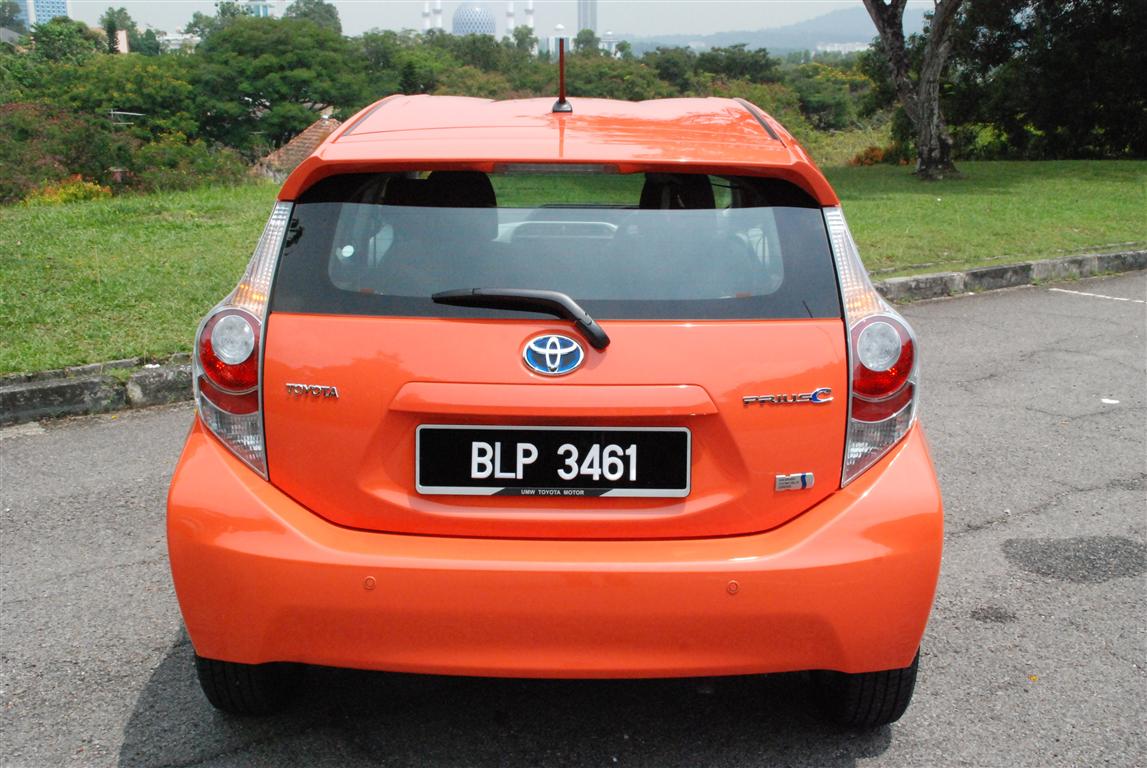 Even though you may find yourself a tad irritated by the 'resounding' door, the Prius C is still able to flip that frown the other way as you listen to your musical collection on your iPhone that nicely fits into a slot, still tethered the headunit via USB, and located just next to the hand-brake. All that driving ability does make the Prius C wonderfully easy to bond with in a just a few days and with a price tag of RM97,000 flat On-The-Road including Insurance, it does help to put this hatch at the top of the list for many – pondering whether to get it in Lime White Pearl Crystal Shine, Silver Metallic, Black Mica, Super Red V or the popular Citrus Orange Mica Metallic our test car came with. And if you feel that the current double-DIN headunit isn't to your liking, UMW Toyota does have an optional upgrade that comes in the form of a 6.1 inch colour touch-screen that's DVD, MP3, USB, AUX-Jack, Ipod, Bluetooth, Reverse Camera (included) capable along with what looks like PAPAGO Navigation maps of Malaysia, Singapore and Brunei.
Toyota Prius C (RM97,000 OTR + Ins) Engine Specifications:
-         Engine: 1NZ-FXE
-         Displacement: 1,497cc
-         Petrol Engine Power: 72bhp
-         Torque: 111Nm
-         Electric Motor Power: 60bhp
-         Torque: 169Nm
-         Combined Engine Power: 132bhp
-         Combined Engine Torque: 280Nm
COMMENTS FROM PREVIOUS PLATFORM:
| | |
| --- | --- |
| The Following 3 Users Liked Jay For This Useful Post: | |
07-24-2012, 08:47 PM
  #6

2000bhp Senior

Join Date: May 2010

Location: Sabah

Posts: 2,334

Likes: 632

Liked: 536 / 312 Posts

Re: REVIEW: Toyota Prius C (RM97,000 OTR + Ins)

---

I love toyota but sigh… From this, I have to say that Insight wins.

(0)
Related Posts