I have always wondered how early car buyers went around choosing the product that most interests them, sure the Ford Model T might not have had many competitors in fact it operated as a near monopoly, so I'm guessing buyers had to make do with whatever the market had to offer. This is echoed in Henry Fords comment "You can have it in any color you want as long as its black".
Air conditioning didn't even exist then nevermind the radio, what's carbon fiber and what the hell are electronically power windows? Power steering is definitely out of the picture and so is ABS, DSC, SPORTS mode, SMG, paddle shift, get my drift?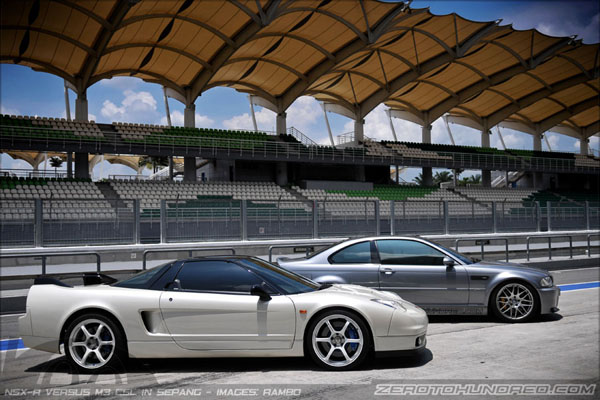 Drivers would have been guys of a particular physique with ripped arms and a great stamina for I'm sure it wasn't easy dealing with the bumpy ride, choking cabin conditions, and the searing heat from the engine would have made a puddle out of any of todays' drivers. See, we are so spoilt by technology these days that we EXPECT such things as air conditioning, radio/FM/AM/CD/MP3/WMA, electronic windows, cruise control, ABS, DSC, SMG paddle shift, Bluetooth, I-pod dongle, auto gearboxes and of course electric powered chairs. If a car does not feature any such things it comes in the form of a Proton and is only a last choice option for many. Clearly such a vast array of driver amenities and capital letters is a need instead of a luxury these days and that is only a small fraction of what is on offer, how can you forget air bags?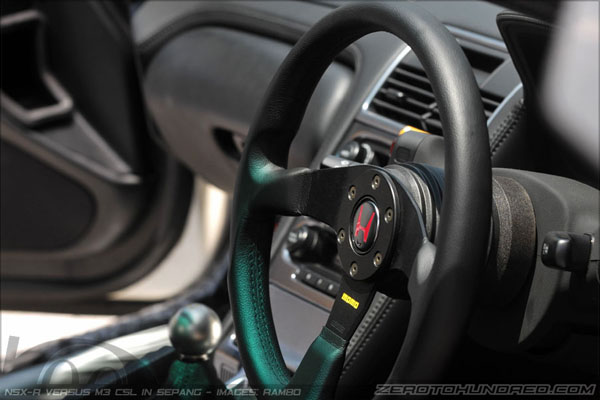 I admit I'm stereotyping all drivers and there are those who fall into different categories; those who like their cars luxurious instead of sporty, they like cars that sit 15 people even when they have one kid and a dog, some of them like their car to come in screaming purple/pink, while others like them in subtle white. And then there are those who like uncompromised sports car that offer nothing close to a luxury item, not even a cigarette lighter. They prefer single-minded cars that threaten to kill you at every jab of the throttle and require a certain amount of skill, dedication and determination. These cars sometimes emerge from the deepest darkest corner of a manufacturers factory to satisfy the few who dare conquer such animalistic machines. This brings me to our story, the BMW M3 CSL and the god like NSX Type R.
We got our hands on the NSX-R through a close friend who just happens to be a pro racer for A1GP Team Malaysia. We caught up with him on a track day in Sepang and brought along another close friend to use as a measure for the abilities of the NSX-R. Our very own official zerotohundred ride, the M3 CSL.
These two cars are a representation of the sporting abilities of their respective manufacturers and this stands as a true test of the manufacturers build standard as the both are past their still new date with a combined age of 10 years. The NSX-R is a reincarnation of the legendary NSX that single handedly shook the entire supercar industry in the 90s. It remains as the supercar of choice for many pro drivers and is rated equivalent to a Ferrari 360 Challenge Stradale whose Nurburgring Nordschleife time it tied. The BMW M3 CSL on the other hand is a tribute to a legendary 1970s racer, the original BMW 3.5 CSL IMSA of which only two exist today. The 2003 CSL was created to the most purist of standards. It is a car full of purist driving dynamics, a car so pure in every respect; air conditioning and radio are options.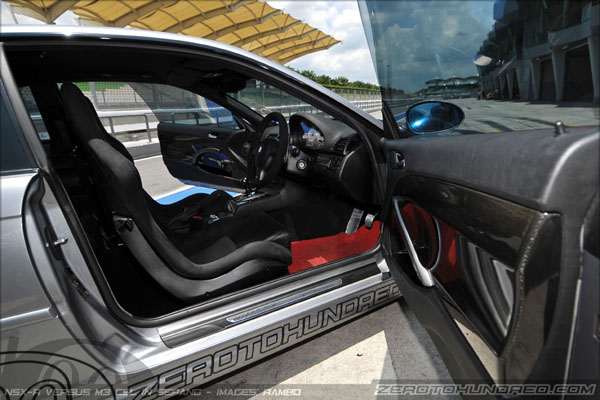 Fairuz took us for a ride in both; we figured we'd let him drive because, well, he's just a better driver. And so he shined, entering corners at crazy speeds and exiting them at even crazier speeds, we were reduced to mere weight ballasts for him to achieve the most from the cars but what he did accomplish was mind blowing enough. Now we don't recommend such driving patterns in any vehicles except those that are dedicated to track driving like the NSX-R and CSL are track oriented machines and the streets only serve as their second home. Chances are all of us will come across an M3 in our everyday driving and may just come across an NSX every three days or so, but I'll bet you money that very few people have actually seen an M3 CSL (besides this one of course) and the sighting of an NSX-R is even more occasional.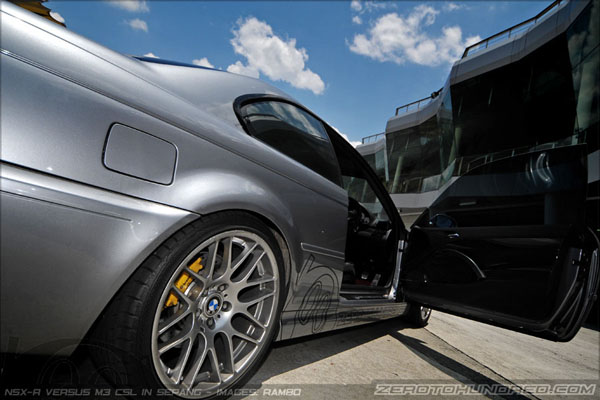 I labeled the NSX-R godlike for a reason; you know it exists but it's so rare that some question its existence (yes its true) and it's mighty enough to take your life away. The NSX-R is a step forward in the design and performance of the car that shook Ferrari, the original 1990 NSX, as a matter of fact, it could just be thought of as a different car altogether since its an improvement upon the already impressive Type S.
Released in 2002 for JDM only, the NSX-R featured a more aggressive rear spoiler and hood vent along with various refinements to reduce weight to a Ferrari hunting 1270kg. Under body panels, front air fences along with a small rear diffuser systematically work to produce balanced downforce. The entire thing is powered by a mid-mounted C32B vee six engine. The 3.2 liter naturally aspirated powerplant is good for 276.2bhp@7, 300rpm. Meager for today's standard but considering its power to weight ratio is a formidable 217.48bhp per ton, discounting this car as a threat at any track event will be a serious underestimation. The 304Nm of torque or 224.2ft lbs is available at 5,300rpm and maxes out at 8,000rpm, get my point now? That's without taking into consideration the legendary handling and the road hugging ground effects.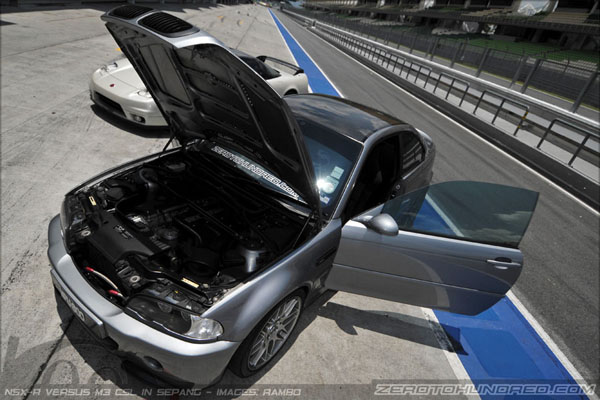 The aerodynamically induced down force that the NSX-R generates forced Honda engineers to opt for a harder suspension setting that increased cornering performance. That along with the increased damping rates, larger stabilizer bars, reinforced damper mounts and rear control arm bushings contribute for a sharper, more responsive drive. Body rigidity has been stiffened with the implementation of strut tower bars and the limited slip differential has been tuned to allow for the increased cornering ability. So planted was the car that Honda had to work with Bridgestone to develop a custom asymmetrically patterned Potenza R070. Apparently repeat Suzuka Circuit testing during the tire's development laid the groundwork for detailed balancing of the tire grip in tune with balance of the suspension settings. Work efforts with BBS helped develop the lightweight wheels. Even the braking system had to be improved to work under high temperature and against fade, in fact the hydraulic assistance had to be increased and the ABS had to be tuned to match the stiffer suspension settings.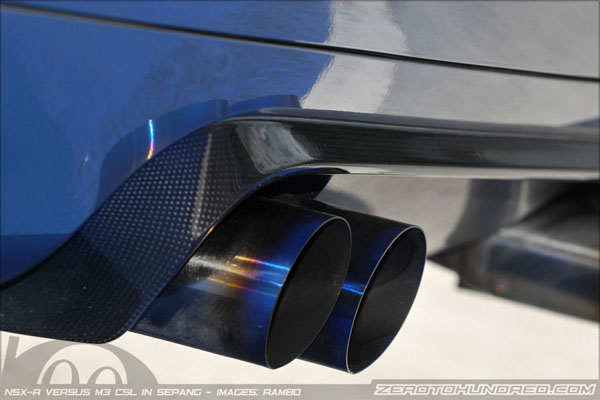 As the NSX was created in a time where SMG gearboxes were merely alphabets, the CSL was born into a time full of technological advancements and so its apparent in its design, engine, gearbox and the extensive use of lightweight material. BMW recognized the fact that the surge in weight can only be halted by radically reducing all moving masses. What is truly amazing is that even though its engineers had to reduce moving parts within the engine, the CSL is more powerful and lighter than the already vibrant M3. The CSL effectively combines supreme agility with the ultimate driving experience in its purest form, well, nearly. BMW followed a specialist formula in creating the CSL; the intelligent lightweight technology which basically means consistent reduction of weight by using the most appropriate materials at the most appropriate point. The entire weight of the car was reduced by 110kg over the standard M3 by using one of the most important materials in Formula 1; carbon fiber reinforced plastic. This helped reduced the CSLs overall weight to just 1,385kg. But the use of carbon fiber at the most extreme ends of the car allows the beemer to achieve higher speeds in bends. Even the clearly visible flaps by the bumper serve to reduce front axle lift by a significant margin.
To further reduce lift forces, the boot of the car is made out of sheet moulding compound (SMC) and the integrated spoiler also serves in conjunction with the CFP rear diffuser to significantly contribute to the cause. Even the exposed carbon fiber on the roof serves to reduce weight and because of its exposed position, lowers the car's center of gravity. All that weight reduction would expectedly increase performance, but to count on weight reduction alone was not enough so the engine had to be tuned to serve a purpose, to power the ultimate driving machine.
Lets get one thing straight though, naturally aspirated engines have to work harder than forced induction engines to produce horsepower. They have to be free revving and capable of outrageous rev limits, that's why Formula 1 cars rev to 19,000rpm. So the CSL has the exact same straight six engine as the standard M3 and is a product of BMW's high-speed engine concept. It allows a particularly short transmission ratio giving the car the push it needs throughout the entire speed range. BMW also contracted six individual throttle butterflies that ensure the engines responds accurately to the gas pedal whenever required.
The M3 engine gets an all-new air intake system in its CSL form, it has an extra-large carbon fiber air collector that ensures an ample flow of air to the 3.2 liter engine, in fact it supplies the engine with enough air for it rev all the way to 8,000 rpm. The combined used of camshafts that have longer valve opening times and modified exhaust valves resulted in a power hike and all that while sticking to the lightweight philosophy of the CSL, even the exhaust system is made of pipes with thinner than usual walls at the side. Such pin point performance seeking detailing has led to a max output of 360bhp which is available at 7,900rpm while max torque of 370Nm at 4,900rpm. For your information, that equals 111bhp per liter which is a respectable figure for a naturally aspirated engine. Oh and just for the record, the CSL has the highest output per liter of any production six cylinder in the world.
The CSL that is featured here is a not completely stock, in fact, it's a monster in its own respect. The use of a Gruppe M exhaust kit together with Bilstein PSS9 coilovers creates terrifying G forces while aftermarket Brembo brakes and a Turner Motorsports oil cooler and a racing thermostat help keep things in check. I speak from months of personal moments with the CSL, it does scare the piss out of you but you are so confident with its abilities, you're smiling yet terrified at the same time, weird sensation I tell you but I highly recommend it.
The one thing that gets me every single time is the gear change, up or downshift. Considering the CSL comes exclusively with BMW M's Sequential M Gearbox with Drivelogic. The unit is based directly on Formula 1 technology and is an integral part of the car's personality. The CSL is well known for the benefits the SMG Drive logic offers. It can shift either through the shift lever, through the blade like paddles on the steering wheels, automatic mode, and you have your choice of eleven tailored gearshift modes. The gearbox also offers a wide range of additional functions to make your life easier such as launch control that accurately shifts the gears for you right before the rev limit. But it is this very gearbox that has came under criticism from purist parties saying its the one flaw that the CLS has. If a car that is created with driving pleasure in mind, then it has to be a manual, so they say, but for me, I finding myself trying hard not to melt at every single downshift.
Now, I cant begin to tell you how well the CSL corners, there is such a wide array of oily bits put to use just to keep the thing leveled and it does so amazingly. There is really very little or no body roll at all, all you feel is the rear wheels pulling out a little when you're reaching the limit. Very handy for spirited road driving or balls out track driving, but so is the NSX. In fact, the NSX has a mid engine rear drive layout which basically means a more grounded feel in and through corners, the front engine rear drive layout of the CSL may see it becoming oversteery at the limit.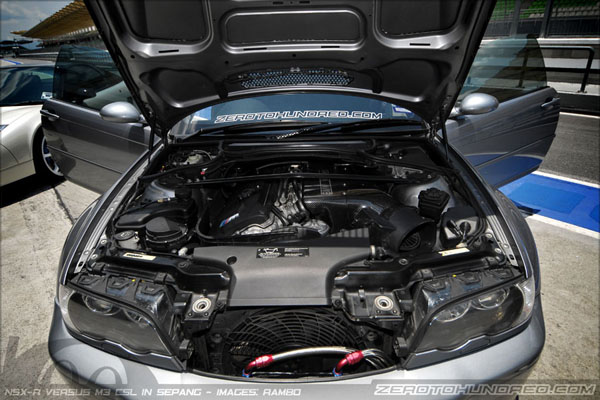 But what the CSL looses out in terms of driving dynamics, it certainly makes up for in smoother power delivery and ultra fast gearshifts, 0.08 seconds to be precise. Even the fastest of manual gearshifts wont be able to match that, giving the CSL a technological advantage over the NSX. The CSL has what is called the M Track Mode which is essentially a button on the Alcantara finished steering wheel that allows the driver to use all the car's longitudinal and lateral acceleration to the physical limit of the driver, better suited for track use of course.
So which is the better car between the two? Well to get to the point, we didn't really test which is faster, we were going more for the drive of the car. By having a pro driver in Fairuz Fauzy telling us how each car felt, a conclusion was drawn that each car is suited to different drivers. The NSX may be fast in one drivers hands and the CSL slower while the CSL may be faster in a different drivers hands, I'm sure you get it. So which is the car that got the most attention that day and was the drivers choice? Fairuz went for the NSX-R for its natural feel on track but lets not forget that he's a single seater racer, a natural feel would naturally be his forte while if you ask me, I would go for the CSL just for its raw dynamics and utter brutality plus I love sleeper cars, not stunners. I know not everybody will agree with me, so tell me, what will it be? NSX-R or M3 CSL?
NSX-R SPEC SHEET
Engine C32B V6
Position Mid Longitudinal
Aspiration Natural
Valvetrain Belt-Driven DOHC, 4 Valves per Cyl w/VVT
Fuel feed Electronic Fuel Injection
Displacement 3179 cc / 194.0 cu in
Bore 93 mm / 3.66 in
Stroke 78 mm / 3.07 in
Compression 10.2:1
Power 206 kw / 276.2 bhp @ 7300 rpm
Specific output 86.88 bhp per litre
Bhp/weight 217.48 bhp per tonne
Torque 304 nm / 224.2 ft lbs @ 5300 rpm
Redline 8000
Body / frame Aluminum Monocoque w/Carbon Fiber Hood
Driven wheels RWD w/LSD
Front tires 215/40R17 Bridgestone Potenza R070
Rear tires 215/40R17 Bridgestone Potenza R070
Front brakes Vented Discs w/Specially Developed ABS
Rear brakes Vented Discs w/Specially Developed ABS
Steering Rack & Pinion
Suspension DoubleWishbones w/torion Bars,
Weight 1270 kg / 2800 lbs
Wheelbase 2530 mm / 99.6 in
Front track 1510 mm / 59.4 in
Rear track 1540 mm / 60.6 in
Length 4430 mm / 174.4 in
Width 1810 mm / 71.3 in
Height 1160 mm / 45.7 in
Transmission 6-Speed Manual
Gear ratios 3.066:1, 1.956:1, 1.428:1, 1.125:1, 0.914:1, 0.717:1, :1
Final drive 4.235:1
Top speed 280 kph / 174.0 mph
0 – 60 mph 4.7 seconds
0 – 100 mph 11.6 seconds
Nurburgring time : 7:56 mins

M3 CSL SPEC SHEET
Engine: Cast Iron Block, Water Cooled, S54 Inline-6
Position: Front Longitudinal
Aspiration: Natural
Valvetrain: DOHC 4 Valves per Cyl w/Stepless VANOS 2
Displacement: 3246 cc / 198.1 cu in
Bore: 87 mm / 3.43 in
Stroke:91 mm / 3.58 in
Compression: 11.5:1
Power: 268.5 kw / 360 bhp @ 7900 rpm
Specific Output: 110.91 bhp per litre
Bhp/weight: 259.93 bhp per tonne
Torque: 370 nm / 273 ft lbs @ 4900 rpm
Redline: 8000
Body / frame: Unit Steel
Driven wheels: RWD
Front tires: 235/35ZR19
Rear tires: 265/30ZR19
Front brakes: Vented & Cross Drilled Discs w/Single-Piston Swing Calipers, ABS
F brake size: 345 mm / 13.6 in
Rear brakes: Vented & Cross Drilled Discs w/Single-Piston Swing Calipers, ABS
R brake size: 328 mm / 12.9 in
Front wheels: F 48.3 x 21.6 cm / 19 x 8.5 in
Rear wheels: R 48.3 x 24.1 cm / 19 x 9.5 in
Steering: Rack & Pinion w/Speed Sensitive Rack & Pinion
F suspension: Struts w/Coil Springs, Tube Shocks, Anti-Roll Bar
R suspension: Multi-Link w/Coil Springs, Tube Shocks, Anti-Roll Bar
Weight: 1385 kg / 3053 lbs
Wheelbase: 2729 mm / 107.4 in
Front track: 1518 mm / 59.8 in
Rear track: 1525 mm / 60.0 in
Length: 4492 mm / 176.9 in
Width: 1780 mm / 70.1 in
Height: 1365 mm / 53.7 in
Transmission: 6-Speed Manual
Gear ratios: 4.23:1, 2.53:1, 1.67:1, 1.23:1, 1.00:1, 0.83:1, :1
Final drive: 3.62:1
Top speed 250 kph / 155 mph (limited)
0 – 60 mph 4.8 seconds
0 – 100 mph 10.9 seconds
Nurburgring time : 7:50 min
Ed's Note: I forgot to mention the one crucial thing about the NSX-R, its heritage. I never mentioned that the NSX-R was originally introduced in 1992 again for JDM only. It was produced in limited numbers that totaled 483 NSX-Rs and major changes included a blueprinted engine that produced 280bhp in stock form, an upgraded final ratio for the gearbox, a more aggressive suspension and an extensive weight reduction program that ultimately resulted in the car weighing 1230kg only, down from 1350kg.
In its development stage the NSX was tuned by a number of big names that included the legendary Ayrton Senna, Japanese F1 driver Satoru Nakajima and American Bobby Rahal. The NSX was the only car Mclaren had to outperformed when they were developing the Mclaren F1, Mclaren designer Gordon Murray declared, " the moment i drove the NSX, all the benchmark cars – Ferrari, Porsche, Lamborghini – I had been using as references in the development of my car vanished from my mind. Of course the car we would create, the Mclaren F1, needed to be faster than the NSX, but the NSXs ride quality and handling would become our new design target."
Special Thanks Goes Out To: Fairuz Fauzy, Jon Beale, Kee of Links and his crew.
More in the gallery