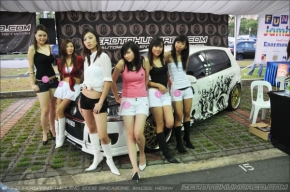 In yet another exciting round of car park sprint races, the second leg of the 2008 MPT Sprint/Supersprint was a day (and night) of new records, smoking cars and an overwhelming influx of race queens. The number of competing drivers more than doubled this time, with familiar faces like Lester Wong and Desmond Soh back in the scene. Having missed the previous round, they more than compensated for their absence with spectacular performances.
Highlights of the day included live demo runs by the Nissan GT-R R35s, one driven by Lester Wong, the other by Desmond Soh. Also showcasing its run on the track against the Godzilla was Benny Yap's Porsche GT3. It was an exhibition of exotic cars that day; with a Lotus Exige, Lamborghini Gallardo Superleggera, Porsche GT3 and countless Nissan GT-R R35s.
Moving indoors, the main tentage was a flurry of happenings too. The Carrerista Jamboree 2008 roadshow housed a sneak preview of the Formula Fun Prix 2 miniature karts were set up for kids to try and get a feel of karting. Formula Fun Prix is one of the many programmes lined up for the biggest motorsports carnival of the year, Carrerista Jamboree 2008, to be held over the last 5 days of the year at Changi Exhibition Centre.
In the previous Qualifying Round of the Race Queen Search 2008, 21 girls vied for a place in the semi-finals and only 16 made it through. In this Wild Card Round, 12 girls competed for the last 8 places in the semi-finals. Besides the new group of contestants, the babes from Round One were also on-site to mingle with the crowds and introduce themselves to the public. Wendy Tow, winner of the 2007 MPT Race Queen Search, returned to be a guest judge for the Wild Card Round.

Making a special appearance at the event was Hafiz Koh, youngest and only full-time professional local race driver. A role model for kids, Hafiz aims to inspire the young and to instil a keen interest for motor racing in them.
As the MPT Sprint/Supersprint series progresses, the intensity of the competition and the degree of concentration escalates. Round Three is set to be held on the 6th of September, back at the same venue. Watch Desmond Soh return and fight to better his time in his Subaru STI, the 24 Race Queen Search semi-finalists battle it out for a spot in the finals and more Carrerista Jamboree highlights!