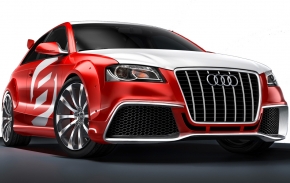 We all love fast cars, no I'm not being single minded because chances are if you're reading this, you love fast cars as well. So that also means you despise anything that does nothing but go slow, like diesel engines. The thick black smoke and laziness of diesel engines is the anti-Christ of our go fast religion until now.
Audi has been working overtime to produce a little car that goes fast on diesel power. Sounds simple don't it? But what if that engine is also one of the most powerful incarnation of Audi's 2.0 liter common-rail turbo diesel engine? And that is also happens to produce 221hp and 331 lbs-ft of torque? And to help lay down all that diesel power, a 6-speed transmission and Audi's Quattro all-wheel-drive system is contracted to muscle those massive 20 inch wheels.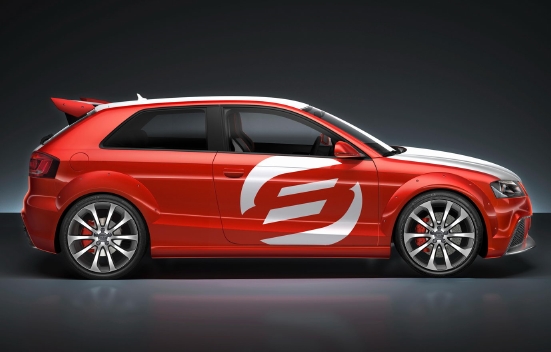 Audi is to unveil its "A3 TDI Clubsport Quattro"at this month's 27th annual Lake Worther Tour in Austria. The German manufacturer has announced that its super A3 completes the century sprint in 6.6 seconds and doesn't stop pushing all the way to 240km/h.
And of course, because it's a race car, it comes equipped with carbon brakes and six-piston brake calipers. It also features Audi's driving dynamic system that allows the driver to change the throttle response, exhaust sound, the level of power assistance for the steering, ESP settings and the operating mode of the dampers that deploy Audi's magnetic ride technology.
Race cars are never complete without exterior mods and sticking to that, Audi has adorned the bi-coloured A3 TDI Clubsport Quattro with a large DTM styled roof spoiler, bolt on wheels arch extensions that house 20 inch alloy wheels wrapped in 265/30 R20 tyres, a new grille, new front and rear bumpers along with a rear diffuser that incorporates two large exhaust pipes.
Engine
– Four-cylinder TDI with common-rail injection system
– Displacement of 1968 cc, output of 165 kW (224 hp) and torque of 450 Nm
(331.90 lb-ft)
– Optimized exhaust system
– 0 – 62mph in 6.6 seconds, top speed 149mph
Power transmission
– High-efficiency six-speed manual transmission with a lightweight casing, open gear lever gate made of aluminium
– Quattro all-wheel drive with extremely fast-action multi-plate clutch
Chassis
– Four-link rear suspension for dynamic handling and good comfort
– Power steering with highly efficient electric drive
– Wheels measuring 9 J x 20, tyre size 265/30
– Six-piston brake calipers and ceramic discs at the front wheels
– Audi drive select driving dynamics system with Audi magnetic ride adaptive damper control
Body and interior
– Length 4,254 millimeters (167.48 inches), width 1,825 millimetres (71.85
inches), height 1,385 millimetres (54.53 inches)
– Motorsport-look design, large rear spoiler
– Racing bucket seats and extra aluminium components in interior
Source: CarScoop