The Asian Festival Of Speed promotion campaign continued apace with ticket giveaways during the Metropolitan College's Auto Fiesta 2008 in Subang Jaya last Saturday. The AFOS booth was packed with race fans curious to know more about the upcoming season opener which is expected to be the biggest AFOS Event ever.
Two AFOS Projectracequeen girls were on hand to give away more than 1000 tickets during the event to motorsport and car enthusiasts eager to catch the 2008 AFOS at Sepang International Circuit on 15th-18th May 2008. Those present were also given a chance to take photos with the S&D Motorsports' Asian Touring Car Series entry, the Chevrolet Optra of Frank Yee.
Catch more AFOS road promotions with the 'AFOS Pit-Stop' in the heart of Kuala Lumpur on Tuesday and Friday and the AFOS College road-shows on Monday, Tuesday and Friday this week.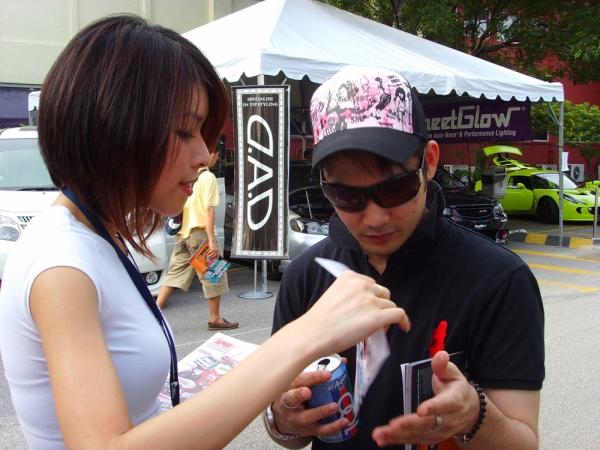 The Asian Festival Of Speed in Sepang will feature six outstanding races, Formula V6 Asia, Asian Touring Car Series, Formula BMW Pacific, ATCS 1500Max Challenge, Asia Supercar Challenge and the Formula Asia 2.0.
Those interested to catch the Asian Festival Of Speed can WIN tickets online, just log on to www.afos.com, click the top banner and answer two simple questions to win.
Tickets for the Asian Festival Of Speed are also available online at www.axcess.com.my and at the door during the event for RM12. Children under 13 and Senior Citizens enter free. For more information on ticketing call Ticket Axcess at 03-7711 5000
For further information, visit www.afos.com